Everyday is Xmas.. Have a look on our selection of last minute gifts, to offer all year long!
13 min read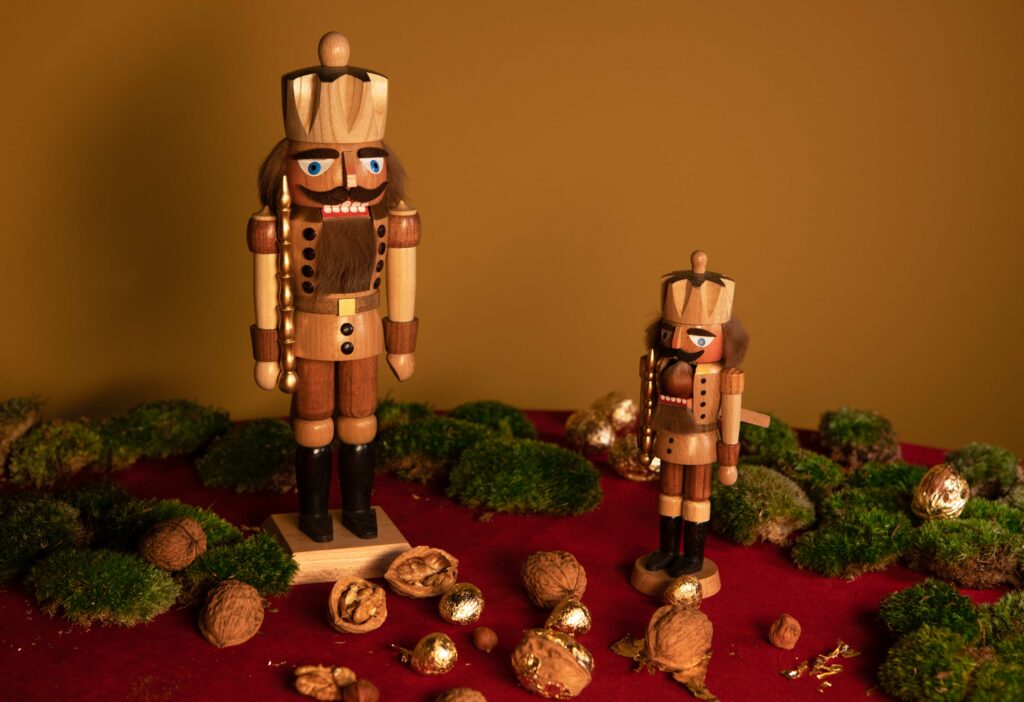 Christmas is just around the corner and it's an opportunity to discover our selection of last minute gifts, spreading an authentic real French spirit in your place but not only. From candles, perfumes, decorative or other any other utilitarian elements. By Al & CW
---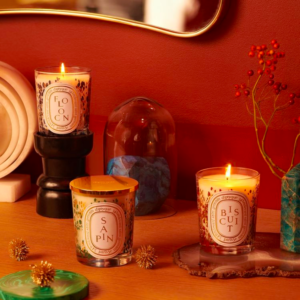 We're glad to start this Christmas selection, with three brand new tasty limited-edition scented candles imagined by Diptyque (already mentioned in our full candle article here), all adorned in a shower of gold and gem-like colors. Here, the spirit of the fairy season is really represented through those those distinct singular interpretations of seasonal scents (photo credits: Diptyque).
Indeed, the fragrances of Sapin (Pine Tree), Flocon (Snowflake) and Biscuit (Holiday Pastry) are nearly close to the reality and would fulfill you some gourmet and wintertime inspirations. Along an authentic Christmas atmosphere, enjoy the elegant gildings and malachite green around those glassed jars, while appreciating the woody, snowy or pastry notes emanating from the premium wax elaborated by Diptyque. Thus, the manufacturer tended to reflect as much as possible the emblematic atmosphere of these convivial celebrations, especially since the Sapin candle notably captures the invigorating intensity of an aromatic mountain pine tree, completed with Guaiac wood and moss touches. On top of that, in order to preserve its fragrance and protect its wax, this scented candles are delivered with an elegant golden bakelite cap. Available in 70g/190g.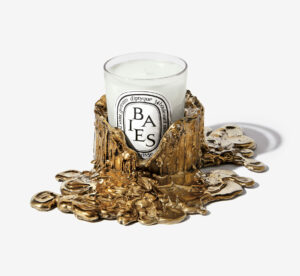 Then, still in the magic of the end of the years, Diptyque extends its tribute to the three founders of this multi-faceted house, Christiane Montadre-Gautrot, Desmond Knox-Leet and Yves Coueslant, by renewing their everlasting wish of entertainment, from the early days of the first (and still flagship) store, located at 34, boulevard Saint-Germain in Paris.
Indeed, this place was also known as a curiosity cabinet where the passing guests could admire different types of objects. As providers of nothing and everything, the feeling is pursued here with the "Marchants de tout et de rien" line, of course composed of candles, but also perfumes, or any kind of glassware, along Scottish wool blankets and even handcrafted candle holders… Thus, those pieces of art can obviously be made of different materials, starring black wax featured in a Medici vase, completed by bronze items realized by Osanna Visconti or even ceramics flows fulfilled by the artist Cécile Bichon, without forgetting a series of candlesticks developed in the shape of chessboard pieces. As you can figure it out nearby, the art of the table is also anchored in the DNA of Diptyque, with its lot of porcelain crockery, Murano glassware, cutlery rests, napkin rings, among many other treasures.
More information on the official website or on our article about scented candles.
---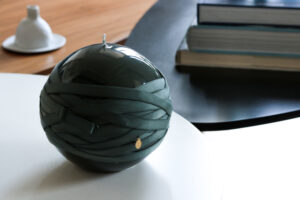 Pursuing on this candle line, this time Bona Fide visits the enchanted shapes of an enchanted and design candle, nested somewhere between an artwork and a design object. Benefiting of the wax expertise of this contemporary French house, mixed with a perfectly round and colored decorative candle.
Here, Bona Fide has associated with the artist Rébecca Fabulatrice who decided to wrap those candles in ribbons, in a way creating a very original and real artisanal object, to consume or not. Once again, the curves of this limited-edition (only 50 pieces of each) are highlighted by the quality and brightness of wax, with countless reflects and available in multiple colors. Adding to this, in the same spirit of the other collections of Bona Fide (our article here), those candles have been named in tribute to 4 women appreciated by the house (Gabrielle, Sonia, Vivienne and Diane).
As a matter of fact, those four different models (pearly white, vermilion red, storm gray or lime green) are adorned with fine fabric, paying a certain tribute to haute-couture. € 160.
More information on the official website.
---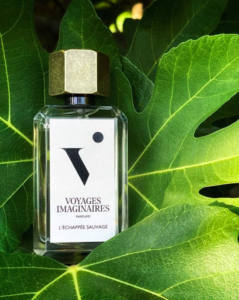 In terms of perfumes, the choice is wide but let us introduce a couple of recent gems, such as the new creation of Voyages Imaginaires. Baptized L'Echappée Sauvage, this beautiful fragrance has been granted this year by the prestigious Expert Prize of Fragrance Foundation France, honoring, in partnership with Cinquième Sens, this honest author perfumery declination. Born from the imagination of two passionate about natural quality scents, two artists in the persons of Camille Goutal, nose and photographer, and Isabelle Doyen, perfumer and teacher of perfumery, associated to launch this Voyages Imaginaires adventure in 2020. Deeply inspired by souvenirs and journeys, they consider their fragrances as true haute-couture creations, but ready-to-wear at any time of the day.
In a constant quest of new flavors and combined sensations, the Voyages Imaginaires collection has been exploring a palette of notes reduced to natural contents and organic wheat alcohol, in order to sublimate each raw material.
Therefore, inspired by some invigorating stopover on a Mediterranean island, their acclaimed Echappée Sauvage perfume has been conceived as a hymn to the generous southern heat, glorifying woody and creamy figs, along fresh pine needles lying on the ground. This frankly wild fragrance is a sweet contrast between the warmth of a bunch of juicy cedar trees and tonka beans, and the tangy freshness of bergamot and lemon. Adding to this, don't miss the subtle peppery notes aroused by pink berries which are able to enhance this efficient effect. 75ml
More information on the official website.
---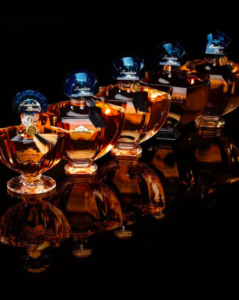 We follow this scented tour with an exceptional fragrance symbolized by Guerlain, as a tribute to vanilla. Continuing the original and popular wake of Shalimar, that was initially inspired by the legendary love that united the Emperor Shah Jahan and Princess Mumtaz Mahal in 17th-century India, the bee house generates in 2021, an extraordinary vintage revisited eau de parfum. That's why, this collector item has been called Shalimar Millésime Vanilla Planifolia (photo credits: Guerlain).
Indeed, while keeping the graphic codes of the native Shalimar flask, created in 1925, in the middle of the Roaring Twenties, by Raymond Guerlain and setting like a bat on a pedestal, the innovation settles in a typography based on geometric Art Deco lines. On top of that a leather tie wraps around the collar, revealing the explicit olfactory notes of Planifolia vanilla tincture that embody this unique composition. For your information, this emblematic Shalimar edition is fulfilled here with luxurious essences in its palette, with essentially Madagascar vanilla which is nearly overdosed in the composition.
Therefore, take the chance to get immersed into those different oriental facets revisited here by Guerlain enhanced by woody, slightly leathery and spicy notes. As far as we know, Guerlain is one of the few houses able to develop its own vanilla tincture, and this ancestral know-how makes it possible to extract the odorous molecules from vanilla via some maceration into alcohol from organic farming. 50ml
More information on the official website.
---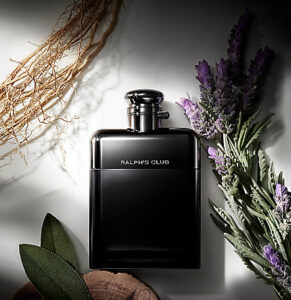 Then, why don't you meet at the Ralph's Club? Indeed, we don't need to present anymore the iconic American designer Ralph Lauren, famous for having redefined a certain American style through his personal vision for fashion reflecting a modern and luxurious lifestyle and dedicated both everyone, also available in decorative furniture, accessories and fragrances (photo credits: Ralph Lauren).
Furthermore, the new eponym fragrance by Ralph Lauren evokes a meeting place, where culture and fashion could interact. Preserved in an elegant black packaging composed of a clean-lined flask and its hinged stopper, adorned with the Ralph's Club monogram, this sensual and masculine eau de parfum is made exclusively from premium distilled ingredients and fulfilled with an exceptionally high level of naturalness.
Therefore, once open, you would be surprised to smell fresh Mediterranean notes of lavandin and clary sage, counterbalanced by the warmth of Virginia cedarwood and vetiver, both harvested under fair and safe working conditions, in order to offer a lasting and sensual woody wake.
"When I create, I imagine an own world. I imagine every detail of the place, the man, the woman, what they wear, until their perfume" admits Ralph Lauren.
More information on the official website.
---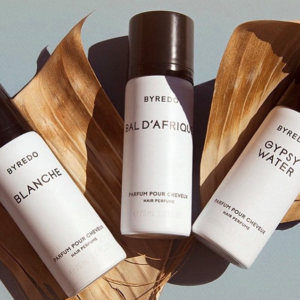 Let's continue with fragrances but this time with hair perfumes, embodied among others by Bal d'Afrique, a reference already known as one of the first creations of the Swedish company BYREDO. At the time of its formulation, the founder Ben Gorham was obsessed by translating its travelling memories into olfactory sensations. Therefore, he found the way to transcribe the memories found on the diary of his father who stayed in Africa between 10 and 15 years, enough to propose an imaginary journey as well as a complete celebration of how the creator sees African culture and its influence (photo credits: BYREDO).
Imbued with magical universe, this Bal d'Afrique is a real love declaration for the African continent, with the wish to celebrate the African style and spectrum on anyone's perception. Therefore, through main exotic notes of India rose, Buchu, Neroli, Jasmine petals and Moroccan cedarwood, you could easily figure out a warm experience stepped into dance, art and music. This time, you can be seduced to spray this perfume dedicated to sublimate any kind of hair style.
The BYREDO line of hair perfumes is available in many versions. More information on the official website.
---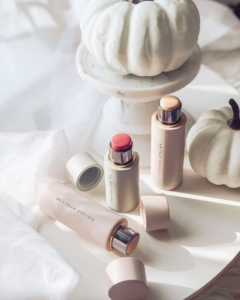 Gucci
is not only synonym of
fashion
brand since it is also worn by
Gucci Westman
, a
makeup
artist and
entrepreneur
, based in
New York City
but who grew in
Sweden
. She launched different lines within her
Westman Atelier
, in order to sublimate
ladies
and
gentlemen
, and therefore is highly acclaimed by celebrities, such as
Jennifer Aniston
,
Drew Barrymore
and
Cameron Diaz
(photo credits: Westman Atelier).
Thanks to a multicultural background, she followed her path and experiences, to create a very personal beauty care line, called Westman Atelier. That's why she opted for minimalist but shiny design for her products, with a vegan and cruelty-free commitment, since her ranges are developed using clean and environmentally friendly ingredients. Therefore, you can be sure that those products are free of silicones, parabens, phalates, PEG nor mineral oil. They mostly grant many years of research and development, proposing a certain innovation to your skin.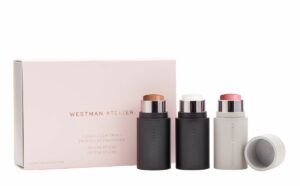 In fact, through its different options offered,
Atelier Westman
launched for
Xmas
, a festive
coffret
baptized
Clean Glow Trio
. This
box
includes a trio of
sticks
, available in
travel size
and of course adorned with glamorous
shades
. For instance, this
line
is complementary and would naturally enhance your
skin
complexion.
Thus, according to your version, you may find the Face Trace Biscuit contour stick, made to distinguish yourself with its elegant beige undertones. With its creamy formula, rich in nutrients, it would somehow imitate the natural shadows of the face. In the other hand, you would be seduced by the illuminating effects and the fresh look provided by the translucent Lit Up stick. Without forgetting the Baby Cheeks Petal blush stick that would add you a touch of elegant pink taint, to your makeup.
More information on the official
website
.
---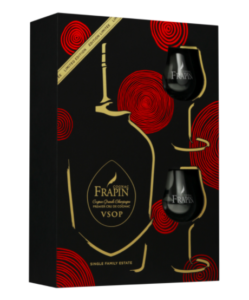 Coming exclusively from the 240ha wine-growing estate of Frapin, luckily located in the heart of the Cognac Premier Cru, that we already discovered during our visit last summer (our article here), we propose you their gift suggestion. Therefore, in this box, you would find a VSOP flacon along two tulip glasses (photo credits: Frapin).
The occasion to discover again the more than centennial and traditional know-how of the Frapin family, with premium grapes which are harvested, distilled on the lees and even aged on the estate. Cherry on the cake, this package benefits from eco-designed material, in recyclable and reusable mono-materials, produced in Europe, made from a removable wedge, a 100% recycled cardboard and solvent-free glues. Adding to this, the surrounding hot-stamped decoration reminds in a way, through its shapes, a certain perceptible roundness and generosity in the Frapin Cognacs. Indeed, don't miss its bright golden-orange dress, displaying a complex but fruity fragrance of citrus, adorned with discreet vanilla notes. Once in mouth, this aromatic intensity offers an harmonious and balanced moment, composed of sustainable flavors of orange, before a final spicy touch that would undoubtedly seduce you with its hints of cinnamon and pepper. Therefore, we invite you to adopt this timeless and design coffret, able to amaze and initiate your beloved ones to premium Cognac, at any time of the year. € 69
More information on the official website.
---
Still in the spirit line, you could be easily tempted by the trendy Bellevoye whiskey, which is a French triple malt whiskey! Indeed, all of its ingredients, including barley, are produced entirely in France. Rich of a collection that is now available in five versions of surprising triple malts, which wear the colors of the French flag, in terms of a Bellevoye Bleu to appreciate in a "fine grain" finish, Bellevoye Rouge in "Grand Cru" finish and even Bellevoye Blanc in a "Sauternes" finish. Adding to this, lately we could have also discovered their newborn Bellevoye Prune developed in a "plum eau-de-vie" finish, along a peaty version, called the Bellevoye Noir (photo credits: Bellevoye).
For your information, three of the best French single malts were selected to compose the blend of each Bellevoye whiskey; notably since they were elaborated during their primary aging in French oak barrels in their respective distilleries, resting for a different period of time depending on their nature. Thus, we could count between 3 and 8 years for the Bellevoye Bleu, Bellevoye Blanc and Bellevoye Prune, between 5 and 10 years for the Bellevoye Rouge and Bellevoye Noir.
After blending, these triple malts get finalized during approximately 12 months in the core of the favorite barrels of the Bellevoye cellar, situated in Charente, and each version with its specific finish. At last, these noble spirits are produced in very low volumes, which completes their exceptional character. € 49 for the box of 3 x 20cl.
More information on the official
website
.
---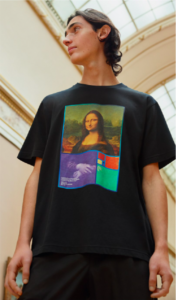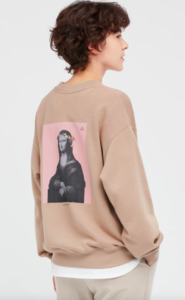 With the aim of developing public interest in Art and being a dynamic player in supporting any kinds of artistic initiatives, the Japanese textile company of UNIQLO has been partnering with some of the World's most famous museums (MoMA New York, Tate Modern London, MFA Boston, MACBA Barcelona) since 2013 and go on this way, this year with the Louvre Museum. This partnership will therefore be spread over a period of four years with the launch of an unprecedented clothing collection inspired by the masterpieces of the Louvre Museum. This collaboration also aims to promote certain operations to happen soon in the museum.
As a result, the UNIQLO Tee-shirt collection (UT) was named "Louvre Museum" and its graphic part was imagined by the English designer Peter Saville, mainly famous for the innovative design of many famous record covers he designed in the early 1980s, in particular for the Joy Division and New Order music bands. Those limited-edition pieces are illustrated by rarely known inventory numbers of Louvre Museum artworks and also honor the representation of women in the history of Art (photo credits: UNIQLO).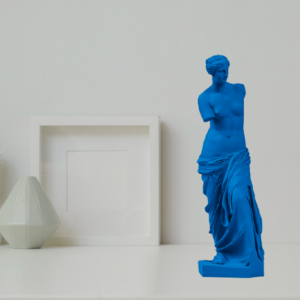 These clothes are naturally available in UNIQLO boutiques but also in the Louvre Museum online store. In fact, this market place is designed as a true representation of the actual exclusive products related to the Louvre thematics, but also previews, capsule collections or any kind of limited-edition souvenirs proposed by the Boutiques de Musées entity and visible in many French museums.
In particular, you would find countless daring collaborations that aim to enhance the Louvre Museum but as well many other French cultural places, such as here beautiful books and cultural games about history, along personalized watches from Swatch, specific tableware imagined by the porcelain manufacture of Bernardaud, plus objects related to the Pyramid revisited by JR or even perfumes imagined proposed by the Officine Universelle Buly.
---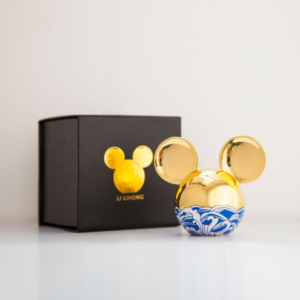 Who already said that artworks were not accessible? The LOFT Gallery is an authentic art gallery founded in 1985, based in Paris, and which has been offering since 2020, a specific concept named "ART FOR ALL" dedicated to democratize contemporary art.
Indeed, once you enter the gallery or connect on their online platform, you would be amazed to observe that some of the iconic masterpieces, realized by several artists represented of the gallery, are available in small limited-edition formats (numbered between 300 and 1000 copies) and accompanied by a unique certificate of authenticity. The occasion to discover a part of the catalog through a veritable line of mini-artworks to collect. Therefore, opt for your favorite artist, depend on its style and own universe, since the common point between those decorative and artistic objects is undoubtedly the quality of their realistic reproduction. Moreover, an affordable price is synonym for an invitation to anyone of us to put a first (or another) step in art collection.
Those multiple miniatures (and sometimes furniture pieces) are naturally designed in direct collaboration with the artists or their beneficiaries, even wearing as much as possible the artist's signature and highlighted in a sober but elegant protective box.
More information on the official
website
or directly in the
LOFT Gallery
, 3 bis & 4 Rue des Beaux Arts, 75006 Paris (France) / Phone : 00 33 (0)1 46 33 18 90
---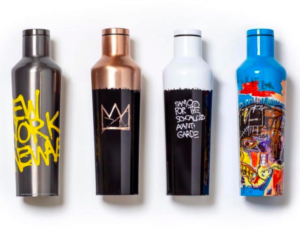 Staying on the
arty
side of life, why don't you adopt this new generation of metal
gourd
? Thus, its revolutionary shape is coupled with an
eco-responsible
concept, developed in
Florida
and paying a real tribute here to the illustrious
Haïtian-American
artist
Jean-Michel Basquiat
, who is often honored within
retrospectives
in the most famous
museums
of the World (photo credits: Corckcicle).
As far as we know, the
American
brand
Corkcicle
has decided to avoid
plastic
in its products and ever tended to propose one of the most
trendy
ways to drink water or whatever you like, while impressing any your
contemporary art
enthusiast friends. Cherry on the cake, this
limited-edition
gourd is able to keep your
drinks
at the perfect temperature during hours and prove in a way your taste and support for
creative
initiatives. Available in 4 versions, this
Corkcicle
artwork offers you many perspectives for other
capsule collections
to discover now or later. € 59
---