Enjoy a magical journey at the Royal Hainaut Hotel in Valenciennes and admire some UNESCO registered terrils!
13 min read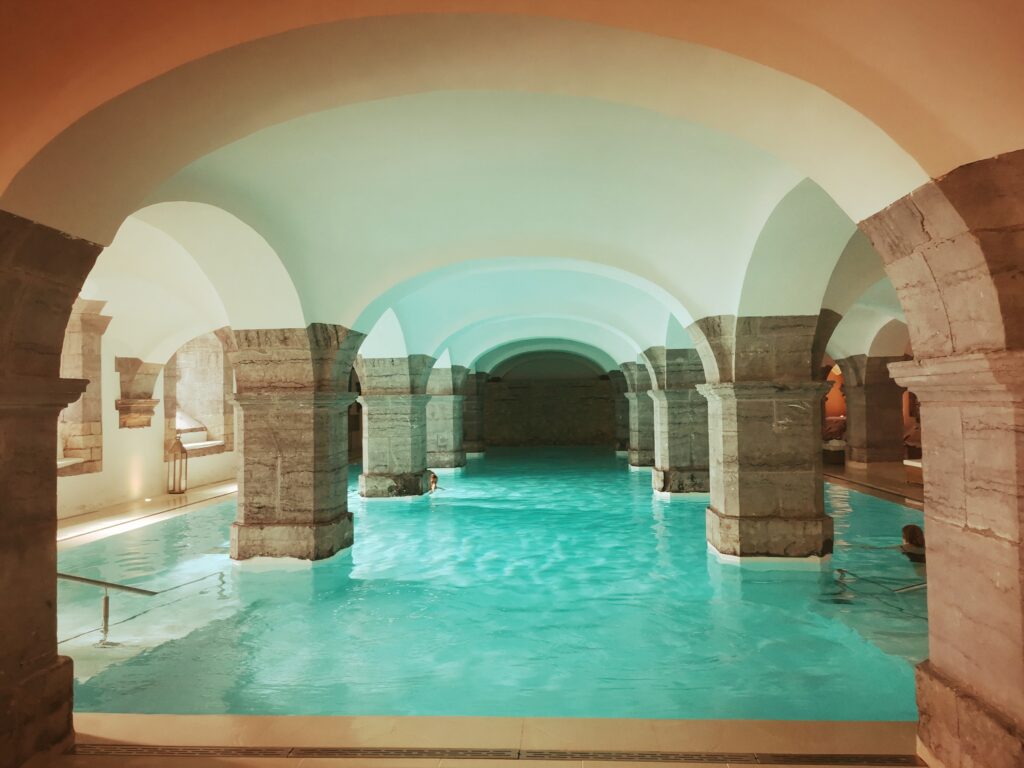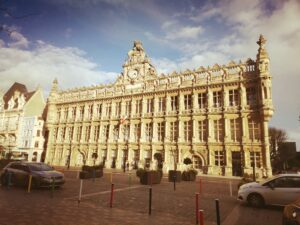 Let's get loud into the so-called Northern Athens, which is also known for its successful football club, its lucullus speciality and especially its wide Museum of Fine Arts (actually under renovation)… Thus, the city of Valenciennes is a must see from many points, in the Esprit Hauts de France territory. First of all, you have to know that Valenciennes is the first city in France to count the most sculptures per sqkm… Naturally, Art is everywhere in the streets, and the locality was logically chosen to be the first regional capital of culture in 2007 (before Béthune in 2011 and Dunkerque in 2013).
In this article, we are glad to guide you around the many surprises of this fascinating locality, at the border of the Belgium border, by notably introducing some cultural and historical facts (inside or close to Valenciennes) but also culinary spots to enjoy in the center or inside the flagship Royal Hainaut Hotel, as real pride of this Hauts de France territory. By AP
---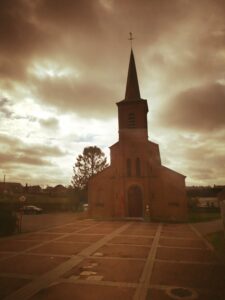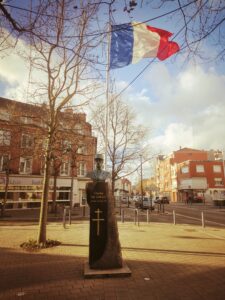 City of Art, capital of a former industrial basin, with many visible Flemish Neo-Renaissance districts and which continues on this path, since its illustrious Art School of Valenciennes had won the greatest number of Prix de Rome, namely around fifty laureates and no less than 21 Premier Grand Prix de Rome (photo credits: AP).
As a tribute to these local prides, several avenues have been named and you could as well admire duplicata of the artworks of those artists exhibited in the eponym Park. Indeed, commonly known as the Jardin Jacques Chirac – Parc des Prix de Rome, this urban garden offers a permanent outdoor exhibition.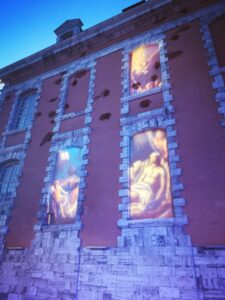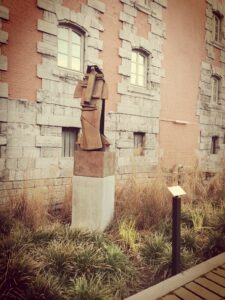 Situated at the replacement of the former municipal swimming-pool, bathed in an eco-friendly lighting, essentially adapted to the respect of the surrounding ecosystem, enjoy a walk through this surprising space, combining Art and green environment. In addition, you could pursue arty pilgrimage, by exploring the random houses where those artists used to live, and the Saint Roch Cemetery where more than 18 Prix de Rome were buried, whose graves are worth a visit.
On top of that, don't miss the two illuminated paths of the Promenade des Arts, which cross the city center from East to West and from North to South, with the majestic Place d'Armes as a hub. Along 1100 meters, they allow the discovery of the architectural and artistic heritage of Valenciennes, notably after dark.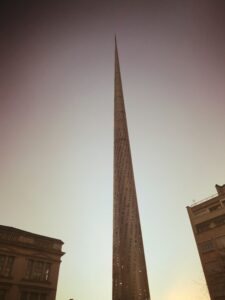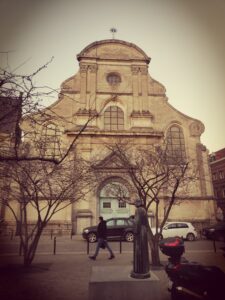 In the case, you look further tourism information or any type of guided tours, we invite you to visit the Valenciennes Tourism Office, located in an old mansion, called the Maison Espagnole. Inside stands a souvenirs shop, you will find souvenirs from Valenciennes, such as T-shirts, mugs, pencils, magnets, postcards, but also local gourmet specialities, including regional wines from the Côteaux de L'Escaut or Lucullus from Valenciennes, among many other surprises.
Adding to this, find a beautiful collection of items specially made for ALL (meaning of Around the Louvre Lens), illustrated by candles, bookmarks or even snow globes… Those products are created by regional designers, along many books about regional History and tourist paper guides.
Office de Tourisme et Congrès Valenciennes, Maison Espagnole, 1 Rue Askièvre, 59300 Valenciennes (France) / Phone : 00 33 (0)3 27 28 89 10. More information on the official website.
---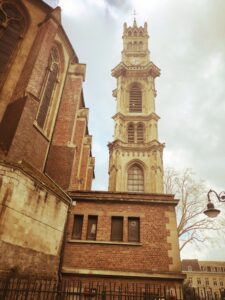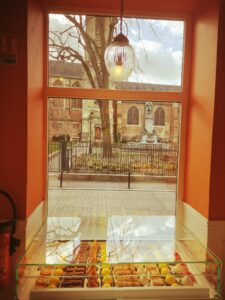 This Valenciennes entity also has a promotion role, since it tends to highlight hot spots of this city, and notably new culinary addresses. Among them, don't miss the amazing tea-salon and restaurant, named La Veranda. For instance, opened its doors recently on a ravishing vintage mansion, on rue de Paris, just opposite the Saint-Géry Church.
Don't miss its numerous fancy decorative details, visible from the noble green facade, passing by the luminous glass roof and of course its veranda, overlooking a vegetal terrace. Once inside, you would enjoy a cosy interior decoration mixing a certain modernity and still a certain ancient charm.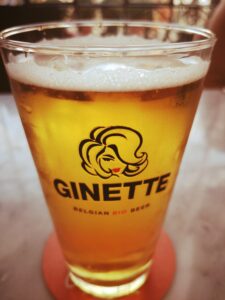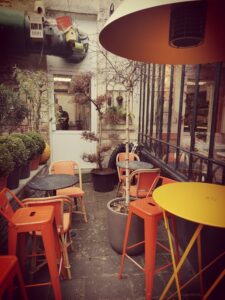 Founded by the Chaillet family, who already took part into the Bistrot d'En Face adventure, have turned this former decoration store, after two years of renovation, into a new gastronomic concept in the heart of Valenciennes.
Open from 8 am to 2 am, from Wednesday to Sunday, you would be either able to enjoy a brunch in the morning, while sitting (or not) in the terrace, or pursuing with a bistronomic moment, fulfilled with a menu of seasonal fusion specialities, such as delicious tuna tataki, slightly spiced grilled gambas or an honorable sized lobster roll. This ensemble eventually needs to be completed by a piece from the selection of the more life-like than nature pastries imagined by Clément Wartelle (possibly to take away), sometimes cradled with some DJ set.
La Veranda
, 50 Rue de Paris, 59300 Valenciennes (France) / Phone : 00 33 (0)3 61 25 78 77. More information on their official
website
.
---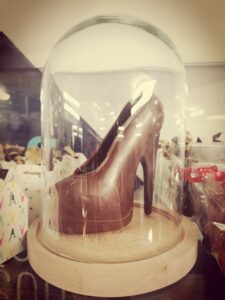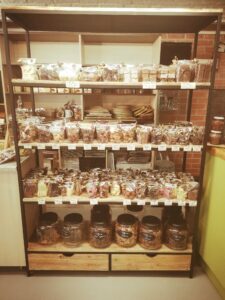 Another pride of Valenciennes needs to be discovered just opposite the Museum of Fine Arts, still under renovation. Already known for his itinerant chocolate bus, known under "Autour du Chocolat", the chocolate chef Christophe Tahier now offers to all gourmets a friendly stopover under his sedentary bandstand, named under "Au Tour du Kiosque".
In this lair of a thousand colors and flavors, you can taste its latest cocoa creations, sometimes in original shapes, and its tasty hot chocolate, prepared before your eyes. Among its specialties, do not miss the Toffines, which were imagined during the passage of Christophe Tahier with master chocolate makers in Belgium.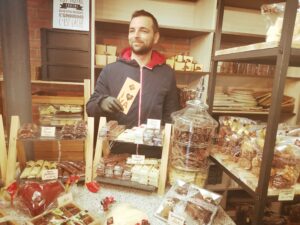 Inspired by the diminutive of his first name, these rochers are a delicious and surprising mixture of feuilletine biscuit, decorated with praline and chocolate. These authentic creations are even available in several flavors, including chocolate of course, speculoos or even coconut. However you are invited to discover the other surprises prepared by the Chef and always worked as much as possible with his artistic potential.
Adding to this, if you already have followed a tuition chocolate class in the Chocolate Bus, you could also bring your children in this kiosk behind the Fine Arts Museum… Plus, without forgetting that space seemed to lack on the bus, here the kiosk leaves more surface for larger chocolate pieces and fantasies.
Au tour du Kiosque, Place Verte, 59300 Valenciennes (France) / Phone : 00 33 (0)6 66 08 39 45
---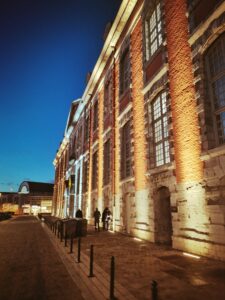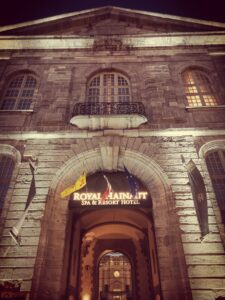 After more than 5 years of hard renovation work, discover the very ambitious project of rehabilitation and conversion of the former Hainaut Hospital, in the heart of La Caserne quarter of Valenciennes. As its name tells it, this animated area used to host military barracks, and now welcome a luxurious four star hotel in a new exceptional condition, accessible from a wide inner courtyard.
For your information, the total surface of this amazing Royal Hainaut Hotel, member of Les Collectionneurs hospitality chain, settled in this former medical and social edifice, represents no less than 32,000 m², built under Louis XV. This royal device played many roles, since it served as a military hospital, prison, retirement home, before being abandoned during many years.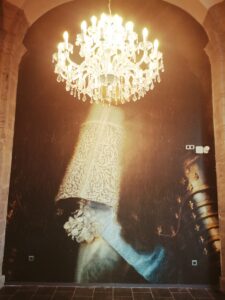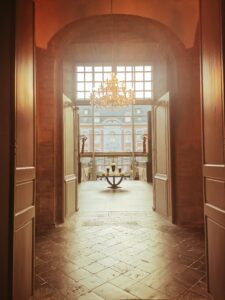 This unfortunate situation lasted until the entity of Valenciennes Métropole decided to settle some of its administrative offices in the right wing. In another hand, the Financière Vauban, which is notably specialized in the preservation and protection of historical edifices, was seduced by this colossal conversion project to transform those centenary walls into a contemporary space to adopt. Indeed, while respecting the architecture and spirit of this prestigious building, the different efforts were high to give back its original hospitality duties, by welcoming now customers willing to spend a real relaxing experience. Therefore, thanks to the mobilization of those different actors, supported by the Maes Architectes Urbanistes agency, this imposing Valenciennes edifice, classified as a Historic Monument in 1945, was saved.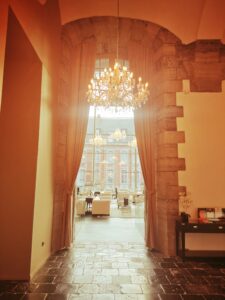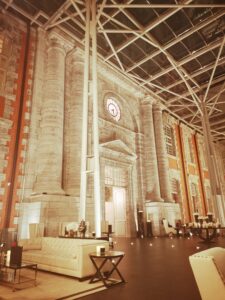 As you can see, those architects have essentially succeeded to conserve the original 18th century architecture, while turning it into a modern pace of heaven, carefully decorated by the Lucas couple.
Thus, the new vocation of this Northern jewel marries the ancestral high ceilings and ancient noble materials, either on floors and walls, with modern facilities, that can match each other. That's why, among them, you can notice the restoration of the 11,000 m² of roofing, and its extension with a glassed canopy that covers the elegant lobby and bar area. This is where, beneath the sculpture of Christophe Charbonnel, you could use the coworking facilities or just enjoy delicious cocktails, in one of the multiple tables in the Atrium Bar Lounge, open 24/7.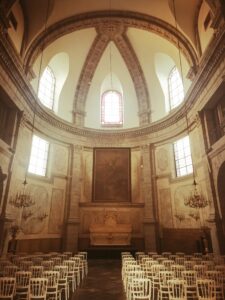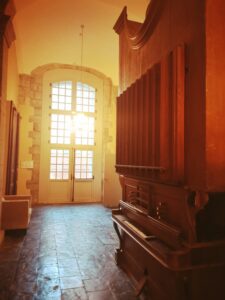 Therefore, just behind this ocean of light stands a bewitching chapel which has been unfortunately deconsecrated a couple of years ago, in order to welcome any kinds of events (with a capacity of 300 guests), such as weddings, seminaries but also concerts. Indeed, the direction has recently opted for the organization of private concerts, open to anyone, where the rock legend Johnny Hallyday's impersonator Jean-Baptiste Guégan and the French popstar Calogero played in front of a bunch of happy few, who also enjoyed a pleasant cocktail time.
On top of that, the first edition of the "Rencontres Clés", notably around the Schubert musical repertoire, a classical music festival has been also settled between the spiritual walls of this chapel, from last March 25th until 27th 2022.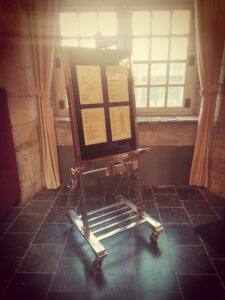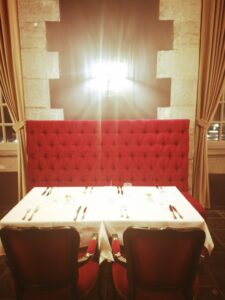 Apart from this, the Royal Hainaut Spa & Resort Hotel offers two thematic restaurants, from an Italian gourmet La Storia in a styled structure, completed with exclusive Italian products. Otherwise, you prefer a traditional but premium brasserie, nested among the tall stoned arcades of the former refectory. Baptized La Galerie, you can be sure to enjoy a quality homemade lunch or diner in a relaxed atmosphere, but still in a grandiose setting.
Indeed, a regional cuisine is naturally served as much as possible and simmered with local flavors, coming straight from a fine locavore selection of surrounding producers from Hauts de France, such as craft beer masters and farmers.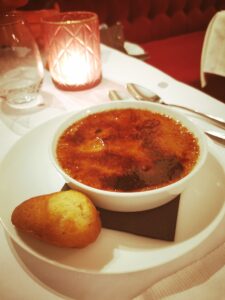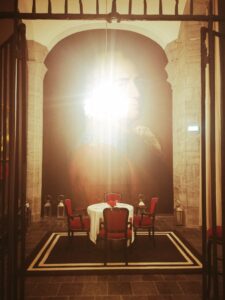 Thereafter, the culinary team tends to offer a personalized menu of typical dishes from this so gourmet Northern region of France. Always punctuated by the rhythm of the random seasons, either discover French classics, such as here revisited mimosa eggs, and a salmon steak with its ancestral endive pie… Proposed in parallel of Northern specialities, which are the lucullus from Valenciennes, or a new version of chicken cooked with vegetables and Maroilles.
By the way, this same cheese is also proposed over the eclectic cheese platter, composed of slides of Tomme de Cambrai, again Maroilles cheese, Camembert de Roncques and some fresh goat cheese from the Artoise farm, and naturally accompanied by a glass of red Bourgueil. At last, another update of the illustrious crème brulée but this time filled with chicory.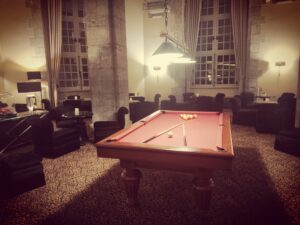 In this same beautiful hall takes place the fully furnished breakfast moment to share with other guests. The fresh selection is served as a buffet, with a choice of homemade pastries, pancakes, smoked salmon, broiled (or not) eggs, tasty cereals, along different types of breads and many other delights.
In another hand, don't also miss the Royal Bar, for the more nocturnal ones among you. In this cosy space, nestled under the century-old vaults, you can taste premium spirits or signature cocktails. All facing a billiard table or comfortably seated in deep and soft armchairs, facing the fireplace. Icing on the cake, a large screen is also provided for the broadcast of major sporting events. Open from Thursday to Saturday from 6:00 pm to 1:00 am.
La Galerie
, open from Monday until Thursday from 12:00 pm to 2:30 pm and 7:00 pm to 10:30 pm, and from Friday until Sunday from 12:00 pm to 2:00 pm and 7:00 pm to 10:30 pm / For breakfast, open from 7:00 am to 10:00 am on weekdays and from 7:00 am to 10:30 am on weekends (22 for adults and 9 for children). More information about
booking
and updated
menu here
.
---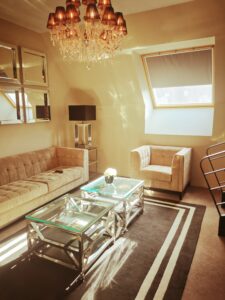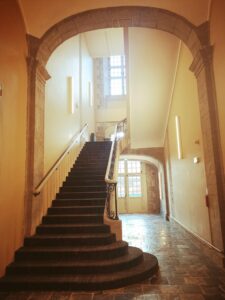 Now, it's time to focus on the choice you have between the 79 rooms, including 42 generously sized suites (up to 120 m² for the Royal Suite)… For your information, you can access to your private space, from corridors and stairs, which are preserved with a certain yesteryear appeal, and even sometimes random ancient pieces of Art.
Once inside those charming rooms, you would be pleased to benefit from modern facilities, such as espresso machines and of course a garnished minibar. Ideal, while wearing your hotel signed slippers and dressing gown, for relaxing on the elegant creamy Eichholtz furniture, lighting and accessories visible in and around. Without forgetting, the prestigious Baccarat candelabras, also visible on common portions.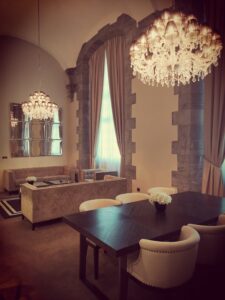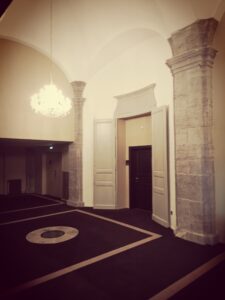 Depend on your room category, remind that you could always enjoy an honorable and generous surface, proposing the modern comfort drown in the poetry of a vintage framework. For instance, you could also opt for duplex suites, offering two distinct living rooms thanks to the presence of metal staircase, without missing the possibility to admire a starred sky with a Velux or simply a program on one of the two flat-screen TVs (with satellite channels) and of course a free WiFi connection.
Nonetheless, large beds are enriched with high-end bedding, leaving enough space to circulate and eventually work on the design desk, not far from the belongings safe. Perfect to get ready for your upcoming visits, passing by the wide bathroom, including complimentary toiletries.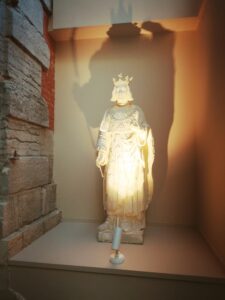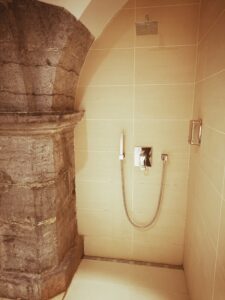 In order to pursue your experience at this Royal Hainaut Hotel, we deeply invite you to use the recreational amenities, embodied by a symposium center represented by 9 halls, an incredible and giant indoor pool, settled in a Spa, that includes a 24-hour fitness center.
In fact, the Spa by Royal Hainaut proposes 8 care rooms, where you could benefit different services such as massages (upon booking). This welcoming Spa is installed in the old cellars, in the basement of the edifice, and is able to offer to any hotel customer, an extraordinary experience in a unique setting of 1200 m². Open everyday, come as you are, with our without your children, although kids under the age of 16 are not permitted in the Spa grounds without any adult supervision.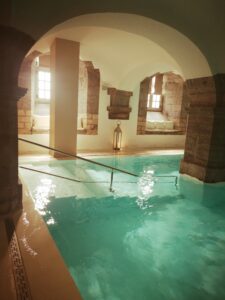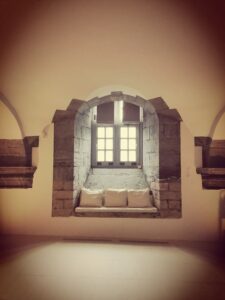 Once you reach this impressive and contemporary wellness area, you couldn't miss then the amazing indoor swimming pool of 22 meters by 10. This blue horizon is surrounded and contrasted by the support of blue stone pillars, where you leave your wet hands marks. Thus, it's an evidence that this honorable pool size allows many swimming and even relaxing possibilities beyond the various loungers around the basin.
Don't also miss the opportunity to complete your journey while alternating with a nice moment in the steam bath or the sauna, before your different sessions at the Spa, or eventually at the fully equipped gym room.
---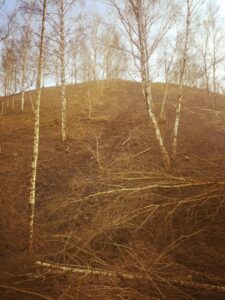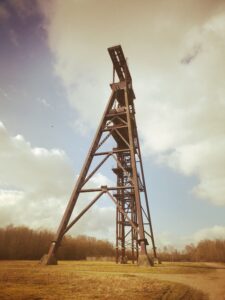 Last but not least, if you wish going further and around Valenciennes, we invite you to reach the local Northern mountains. Indeed, born from the coal mines' wastes, those dark peaks are baptized terrils. The Hauts-de-France region counts no less than 340 of those slag heaps and even 51 of which have been listed as UNESCO World Heritage since 2012.
Therefore, around Valenciennes, where the first coal source seems to have been discovered in 1720, a couple of slag heaps need to be explored, among other remains of mines, pits and mining headframes. For instance, we could enunciate you the Fosse Ledoux, pictured here.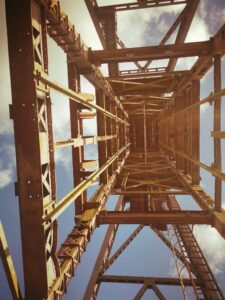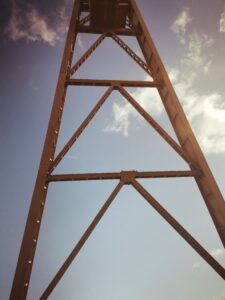 Settled at a few miles away from Valenciennes, and even accessible with a tramway, this mine was sunk in 1901, reaching approximately 700m in underground, for the Compagnie des Mines d'Anzin. Nowadays, you could admire (without any ticket) the surviving headframe, built by the Delattre et Frouard company, in 1951.
Witness of the post-war modernization era, this site is a must-see, surrounded by typical minor's bricked quarters, don't hesitate to climb one of those four terrils. Those lunary lands of mixed soil materials ten are covered now by a lush fauna and flora. A perfect spot to play with your children, walk around the various mine lakes or train for the upcoming trail, while keeping in memory the hard work paid by retired minors!
Fosse Ledoux
, Condé-sur-l'Escaut (France)
---