Our selection of exhibitions in Paris for this Spring & Summer 2022
21 min read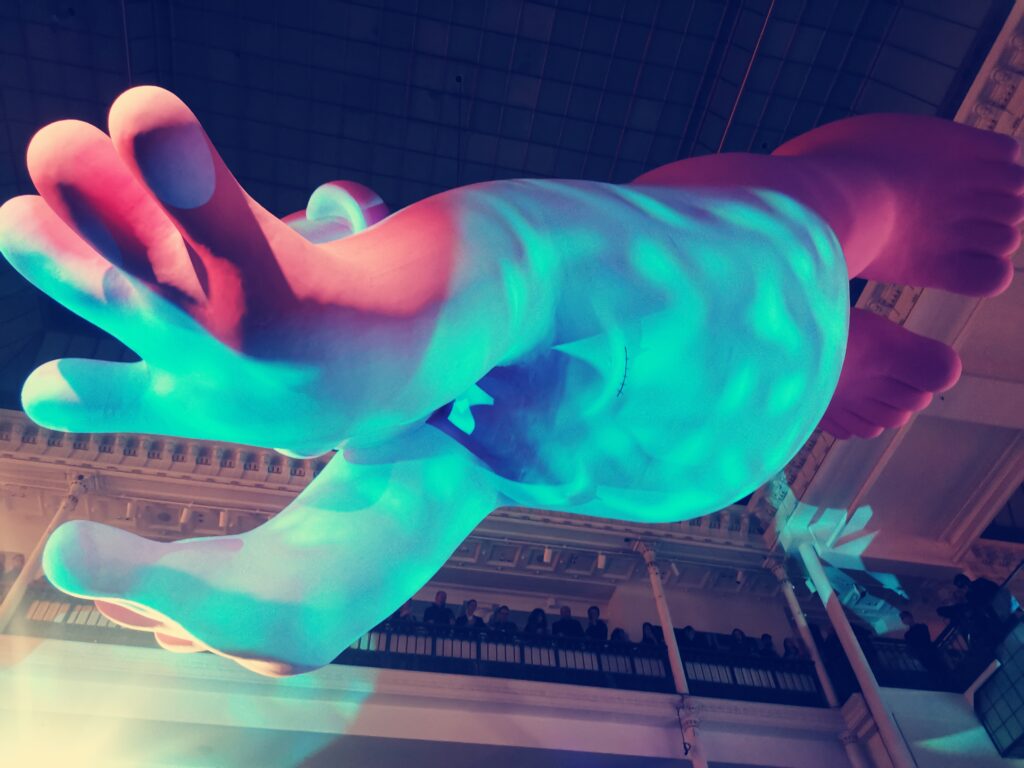 The reputation of the Parisian cultural offer is well established! That's why many exhibitions, sometimes from all over the world, take their place in the largest museums of the capital. Discover the selection of our suggestion for this Spring 2022, along other unmissable classics, enunciated just below. By Alexis Lery & Alex Plato
---
---
---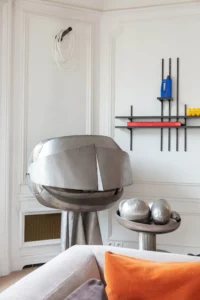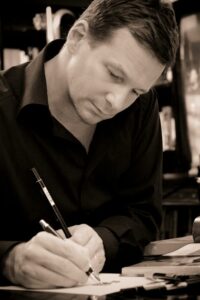 This spring 2022, the famous jewelry designer Lorenz Bäumer invites you to explore his eclectic art collection and eventually acquire some of its masterpieces, since he decided to spread the time of an auction in Sotheby's. The occasion to connect deeper into the own universe and inspirations of this star jeweler from Place Vendôme, who opens the doors into his lifetime discoveries, which were exhibited until now in his Parisian apartment.
Visible in the Parisian antenna of Sotheby's from 10th until 17th May 2022, the favorite objects of Lorenz Bäumer would have no more secret to you, through a series of rare design objects, goldsmiths, drawings, spirits and even photographs among many other surprises. Regarding those selected pieces, don't miss some emblematic artworks realized by a couple of illustrious designers from the 20th century.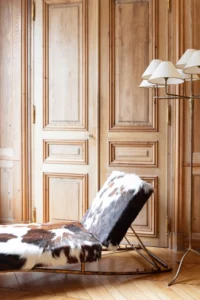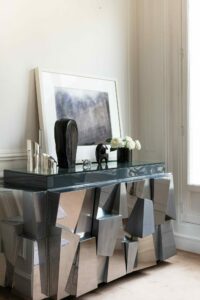 For example, let's talk about the Campana Brothers or eventually a TV stand from 1964, as one of the many functional objects in steel composed by Philolaos, between 1960 and 1970, or three iconic models revealed by Jean Royère, embodied by a long chair, made of fur and lacquered metal, a Flaque coffee table also in lacquered metal and glass, from 1948 and an Antibes lamp post (photo credits: Florian Perlot/Art Digital).
Without missing the artist Alexandre Noll who directly inspired the Black Magic named jewelry collection, playing on black textures and volumes and highlighting the beauty of colored stones. This was made possible with different ebony pieces, in the persona of a sculpture or even a candlestick (pictured upon). Apart from this, let's appreciate his collection of his photographs, muchly tainted of contemporary art.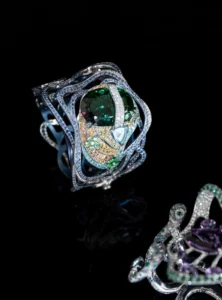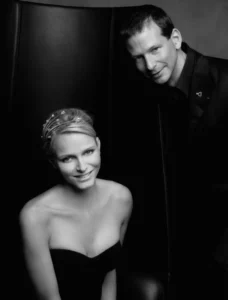 Sourced all over the World, why don't you adopt some pictural creations of Laurence Demaison, Vik Muniz, Jean-François Fortchantre or even Odilon Redon? At last, this exceptional sale would as well feature several unique homemade jewelry pieces, which have never been commercialized. About them, we could enunciate an Île au Trésor bracelet made in titanium and white gold, inspired by the famous novel by Robert Louis Stevenson, by the way including a secret mechanism containing a heart shaped pendant.
Moreover, you could also count on a Raie Manta bracelet, all set up with various precious gems, like diamonds, amethysts and emeralds… As you can see, a good way to get an intimate insight into the private passions and artworks of this inimitable artist, that accepted to answer to some of our questions.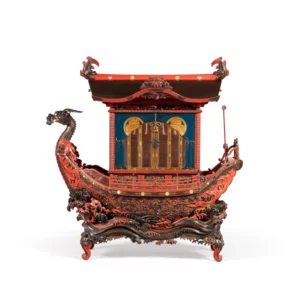 – Lorenz, we already know you for your incredible jewelry creations, but maybe some of us were not aware about your collection melting Art, furniture, photographs and even more.. Where does come this personal passion?
I've always been attracted to art… My mother is very gifted artistically: she painted, she sewed, she cooked… This showed me that everything was possible and exposed me very young to creation.

– Did you find some inspiration among all of those masterpieces, in order to create your personal jewels?
Totally. This is a slice of my life… things that inspire my work and represent the dialogue that you can have with other creators," Noll's abstract shapes has inspired my "Black Magic" collection or the geometric shapes of a cabinet by American sculptor Paul Evans has influenced my "Mikado" line.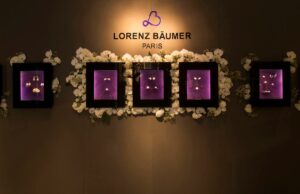 – At last, you decided to separate from this lifetime collection, during an auction soon in Sotheby's. Why did you make this choice?
This is my 3rd sale. I am very invasive at home as many collectors. My wife is really disappointed we are only selling 100 items because you can't really see any space being made.
Selling part of my collection is also a cathartic process, and one that I have been through before, culling my photography collection or letting go of a furniture style that no longer quite fits my taste. Objects have to continue their lives. Those I sell brought me much enjoyment, just like those I'm yet to acquire," I just visited the PAD Paris art fair earlier in the week and walked away with "a few things, but smaller in scale. Furthermore, I would like to buy a country house…
Sotheby's France, 76 Rue du Faubourg Saint-Honoré, 75008 Paris (France) / Phone : 00 33 (0)1 53 05 53 05. More information on their official website.
---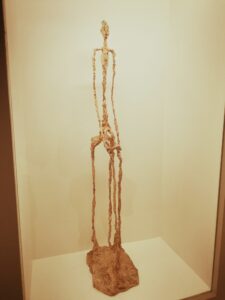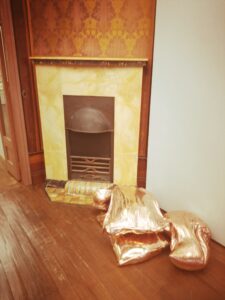 The charming Giacometti Foundation, located a few steps away from the Parisian lion of Denfert-Rochereau, a brand new exhibition, untitled "Alberto Giacometti / Douglas Gordon", with the wish to compare the artistic universe of this famous sculptor versus the one of the multidisciplinary Scottish artist (photo credits: AL).
Therefore, Douglas Gordon is honored until June 12th, 2022, to join within a residency, Giacometti's questions about human condition, through his own vision about time distortion and tension between opposing forces (life and death, good and bad). For example, he worked on "24 hour psycho", a screen projection of the "Psychosis" movie of Alfred Hitchcock, with a final projection speed of 24 hours.
Therefore, it's a good occasion to rediscover this fascinating Giacometti Foundation and explore the philosophy of Douglas Gordon, through different supports on which he works, so to say video, drawing and sculpture. With this temporary art installation, you would learn more about this artist, graduated from the Glasgow School of Arts and the Slade School of Art, who developed a certain taste for modern material, such as performances on VCR material. Instead of working in a factory, he decided to work regarding the question of time.
In 1996, Douglas Gordon was the first videographer to be awarded by the very prestigious Turner Prize. Thanks to this distinction, then being as well honored with the Hugo Boss-Guggenheim prize in New York in 1998, he climbed gradually the stairs of success, in contemporary art, letting exhibiting his artworks in various institutions and film festivals.
"The most important thing is that we opened the doors and the windows to let maybe wasps, maybe bees in. Bees make honey, while wasps kill. It's like that but it's necessary, I believe" admits Douglas Gordon.
Institut Giacometti, 5 Rue Victor Schoelcher, 75014 Paris (France) / Phone : 00 33 (0)1 44 54 52 44. More information on the official website.
---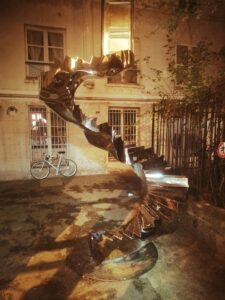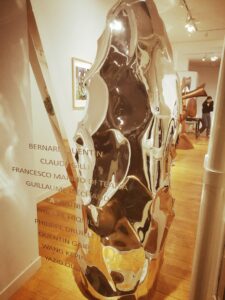 Following our immersion into the Galerie LOFT, initiated with our discovery of their Art For All revolutionary concept (read our article here), we are pleased to introduce here their brand new Monumental exhibition, occurring until May 28th, 2022. With this new art installation, you would have the occasion to admire some of the most sculptural artworks proposed by this Parisian gallery, either in size and shapes (photo credits: Alexis Lery).
For instance, feel free to spend some time in front of those architectural masterpieces, both proudly standing in-situ or in the yard, for space issues indeed… Most of those sculptures are composed of various metallic materials, with smooth or rough appearances, displaying different contrasts and reflections, often doubled with subtle patinas.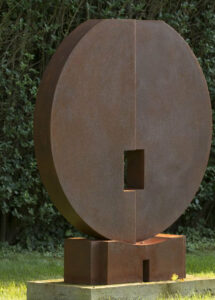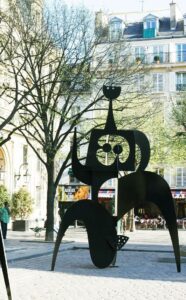 Therefore, those monumental pieces of contemporary art are exclusively presented as real demonstrations of dizzy experiences, especially if you're into touching or caressing sculptures, without having risking any comment from the gallery. Thus, with this outstanding event, you better get bewitched with the amazing offer of various universes and stories, coming straight from the inspired spirits of those prolix plastic artists.
By the way, you could notice that some of those genitors are active personalities since ages, notably in public spaces (ie. the Marathonienne et Épicurienne by Philippe Hiquily, presented place Saint-Germain-des-Prés in Paris-2012) or the time of exhibitions (such as Marino di Teana in the Citadel of Sisteron, while you would as well discover young artists, also specialized in the design and production of large "formart pieces", currently accompanied by Galerie LOFT (starring Quentin Garel, Yazid Oulab or La Fratrie…).
If a sculpture is considered as the representation of an object in space, how do we conceive this space when it comes to exceed human size?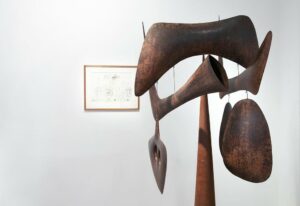 In fact, while our perception of those artworks may be altered due to their singular size, this installation tends to recall in a way that it is been more than fifteen years now that Galerie LOFT is involved in the presentation of monumental sculptures. Plus, it has even gradually become one of the French leaders in the highlighting of this kind of artworks, particularly through the participation into major projects, such as the Shanghai Universal Exhibition (represented by the Girouettes of 12m high, by Philippe Hiquily, in 2010), or in the Al Maaden Golf Sculpture Park in Morocco (featuring the artists Gilli, Hiquily, Segui, Yazid Oulab, Daniel Hourdé or Sunil Gawde, back in 2013), and even today, in the smallest replicas! Indeed, most of those artworks presented in this exhibition are available in small limited-edition formats (photo credits: Galerie LOFT).
Galerie LOFT, 3 bis & 4 rue des Beaux-Arts, 75006 Paris (France). More information on the official website.
---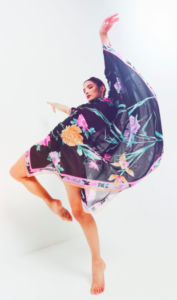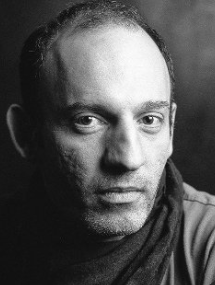 The Parisian notarial study 1768 Notaires has recently decided to launch their own endowment fund, in order to promote artists and support their artwork. By the way, the creation of an endowment fund in this sector by a notarial study is a first act in France and therefore an exhibition would be organized every semester in their headquarters (photo credits: Laurent Hini).
The first exhibition aimed to show 3 photographic series realized by the pictural artist Laurent Hini, spread over the entire notarial office and visible by anyone (by appointment) until May 4, 2022. For information, Laurent Hini used to be a photoreporter, an experience that allowed him to build his proper visual grammar and catch unique scenes. Although, with the advent of new communication tools, he opted to switch into photography creation in studio.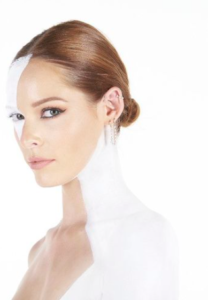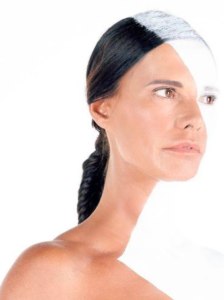 Among those 3 different series, don't miss his particular focus around human body and ephemeral notions, and notably people captured in certain situations, such as in the "Seul(e)s à Paris" exhibition. This series of contextual images, produced during the second pandemic confinement, when Laurent Hini decided to immortalize 8 emblematic Parisian, starring a real character or imaginary, highlighting the contrast with a surrounding empty surface.
Otherwise, "Disparition" is a series connecting portraits of celebrities and sketches, with the question: is it possible to erase a body while retaining its humanity? It pursues the continuity of the previous "Corps Vêtements", produced in his studio in 2019, around the transhumanist cultural movement, promoting the use of technology against aging.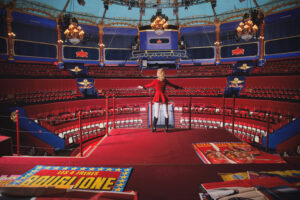 At last, on the occasion of the launching event of March 23, 2022, 3 unique prints of the "Seul(e)s à Paris" series were put in auction, under the supervision of Maître Fabien Mirabaud, curator at Drouot. Those funds were collected in order to finance a photobook of 80 portraits, which would be offered to caregivers and also finance an exhibition at Bichat Hospital. Plus, the production of these prints will be as well offered to the intensive care unit.
1768 Notaires, 29 Rue de la Bienfaisance, 75008 Paris (France) / Phone : 00 33 (0)1 42 66 24 06
---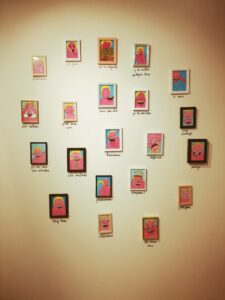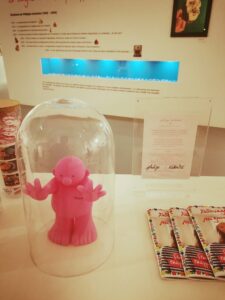 This Spring, we are glad to invite to discover the burlesque exhibition organized at Le Bon Marché, dedicated to the French multifaceted artist Philippe Katerine. In this historical department store, you could admire the presence of the pink character called Mr. Rose, all dressed in bubble gum color, visible in many parts of the alleys. After the fashion icon Iris Apfel or the Belgian rapper Stromae with his Mosaert label, discover an original and anticonformist experience (photo credits: Alexis Lery).
Partly, inspired by his muse and wife, the actress Julie Depardieu, this art installation is known under the Mignonisme spell. Thus, this humorous collaboration with this eclectic artist is illustrated by a series of clothes, unusual objects to collect, again with a pink mood and of course his multiple artworks, as funny as possible.
At the occasion of the inauguration day, a flamboyant concert of Philippe Katerine and his band, was set last February 28th, in perfect connection with his personal artistic realizations, exhibited on the second floor. Those realizations are all the fruit of the own philosophy of this inspired French singer, celebrating his own vision of life in Le Bon Marché. until April 24th, 2022.
This Katerine universe belongs to the wider X exhibition as uniting or meeting, inviting anyone to celebrate creative collaborations, in terms of fashion, beauty, jewelry and lifestyle… melting young designers and more ancient players to work together in order to offer you surprising products, without any type of limits. While crossing those corridors, you may notice through different pop-ups that streetwear can meet jewelry, while perfumery meets spirits (with Castel and By Killian) or beauty strolls with Arts…
Le Bon Marché Rive Gauche, 24, rue de Sèvres, 75007 Paris (France). More information on the official website.
---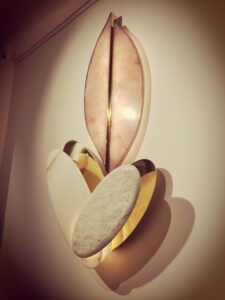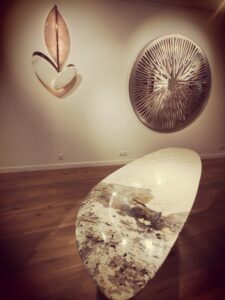 In the heart of the Old Paris, we found the Galerie Negropontes which is run by its founder Sophie Negropontes, along the designer and artistic director Hervé Langlais. The ambition of this unusual gallery is to highlight original and premium design creations, imagined by skillful craftsmen (either as cabinetmakers, mirror makers, or even marble workers).
This selection logically offers a bright panorama above French decorative arts, presented in a real contemporary point of view. The gallery tells you more about those artists who are really passionate about their profession, showing you the way of French luxury artworks to adopt at some point (photo credits: Alex Plato).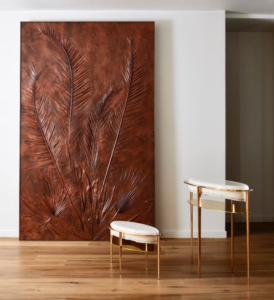 Therefore, until May 2022, discover the fantastic
Minimal / Baroque
exhibition focused on the fresh and supernatural
design
universe of the
Milanese
artist
Gianluca Pacchioni
. An
Italian
citizen with a
French
heart, since he used to live in
Paris
and create in the art residence of
Les Frigos
, keeping the pleasure to work and
forge
ancestral materials, such as
steel
,
bronze
,
brass
in which he is able to switch them into authentic
artworks
, starring
marble
or
onyx
, in a raw or elaborate form (photo credits: Galerie Negropontes).
In this case, those masterpieces, to eventually settle in your salon, propose here to work your perception about variations on the theme of Cremino pedestal tables, in the deep tradition of craftsmen who enjoy flirting with opposites while turning any interior design as field for virtuoso creations.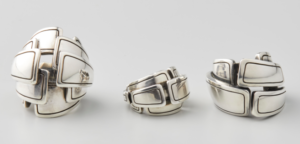 In the same space, feel free to discover the collection of jewelry and more precisely rings, developed by Jean-Christophe Malaval who invites you into an universe of countless references, ranging from symbolism to naturalism, and undoubtedly from architecture to sculpture. That's why, you could recognize in his creations, muchly inspired by science fiction and mythology, some subtle recalls about Roman armors, cosmonaut helmets, or any other civilization emblems facing shapes of insect shells or even underwater tentacles…
Therefore, it seems that the 25 years experience of Jean-Christophe Malaval in silver expertise would surely transport you to new dimensions, where sculptures can be worn with pride and comfort, since his products are conceived with organic and aquatic lines.
Galerie Negropontes, 14-16 Rue Jean-Jacques Rousseau, 75001 (France) / Phone : 00 33 (0)1 71 18 19 51.
---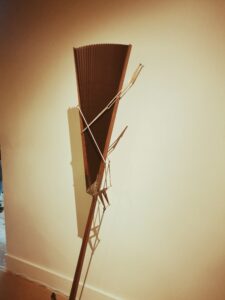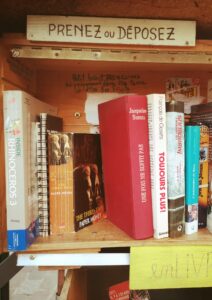 Following the Paris Design Week come back in Paris, notably with Maison et Objet, let's learn some historical facts with the Mobilier National. A national structure that aims to promote the French know-how about furniture and design, spread through many sites, such as the Manufacture Des Gobelins, Manufacture De La Savonnerie, Manufacture De Beauvais, and the lace Ateliers Nationaux in Le Puy and Alençon (photo credits: Alex Plato).
Here, until 5 May 2022, the famous couturier Jean-Charles de Castelbajac got given a carte blanche to tell his own vision of 6 centuries of French design history around 11 extraordinary seats, through an immersive exhibition. From the Middle Ages until nowadays, this art installation truly highlights these founding elements of elegance and style.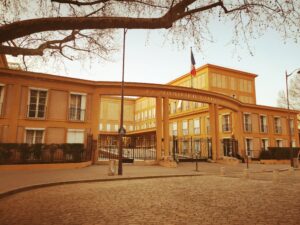 Therefore, on the occasion of the European Days of Crafts, the Mobilier National wished to plan an exceptional program in order to promote creation and know-how. That's why, the NO TASTE FOR BAD TASTE exhibition, which was originally created in 2017, comes back to unveil 40 favorite contemporary design masterpieces chosen from 40 international artistic personalities. In fact, these 40 pieces have already toured the World, and are here to exalt 10 founding values of French design which mark out a poetic scenography signed Jean-Charles de Castelbajac.
In this moving and playful musical scenography imagined by Chloé Thévenin where Castelbajac even adds his personal voice to guide us on this experimental La Tour d'Assises journey in the past, again under the curatory of Jean-Charles de Castelbajac.
Mobilier National / Galerie des Gobelins, 42 Avenue des Gobelins, 75013 Paris (France) / Phone : 00 33 (0)1 44 08 53 49.
---
---
---