The MusVerre displays some glass art museum and a Cabinet de Curiosités in Avesnois
5 min read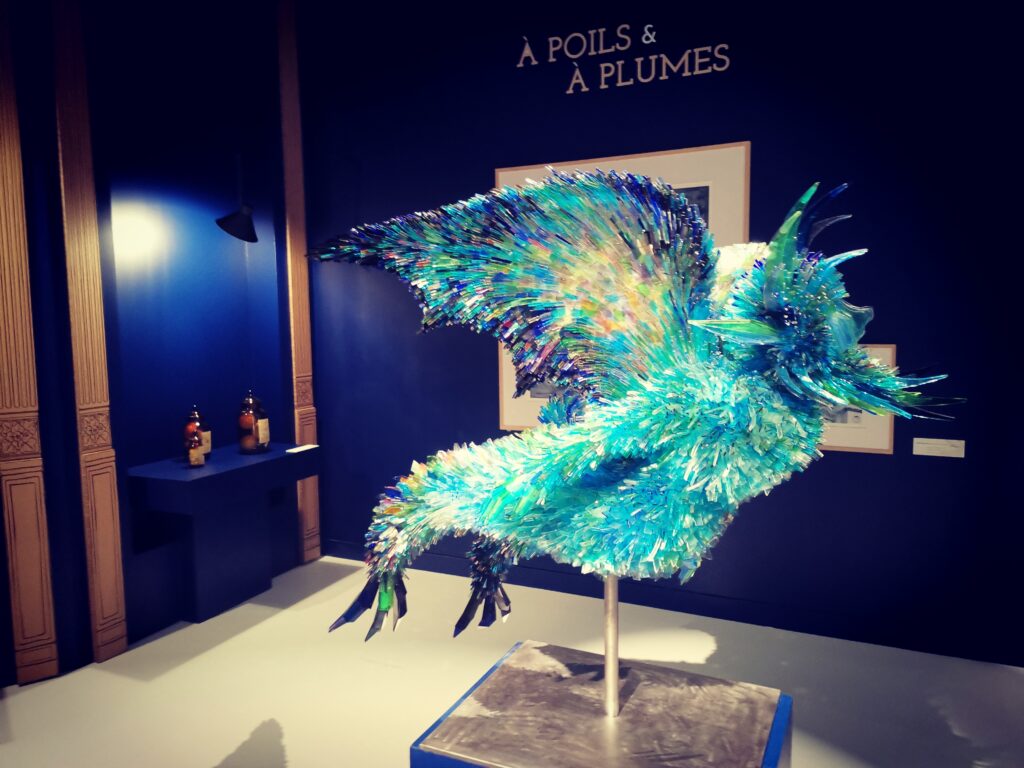 Shortly after visiting Valenciennes, we guide you through the nearby area of Avesnois, which is an exceptional destination classified as a Regional Natural Park, to discover… This natural haven of peace is stuck between hedgerows and forest massifs, along the Sambre river, and its many surrounding streams that could convey you to countless opportunities of cultural and even gastronomic promenades. Indeed, in this illustrious Maroilles cheese territory, History is never far from you, thanks to a rich rural heritage made up of kiosks, chapels and rural habitats, passing by the Vauban fortified localities in Avesnes, Maubeuge and Le Quesnoy!
Apart from this, take the chance to enjoy a cultural journey by going back in time into the Gallo-Roman city of Bavay and its unique Antique Forum site, planned to be inaugurated next May 19th, 2022. Moreover, let's get surprised by a zoo within the ramparts, in parallel of exploring surprising museums related to the local know-how, notably highlighting the textile industry in Fourmies or glass Art in Sars-Poteries, with the MusVerre. For instance, we tell you more about this entity here. By AP
---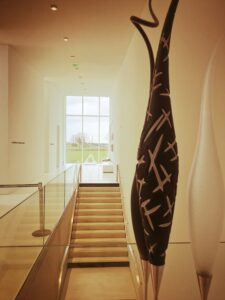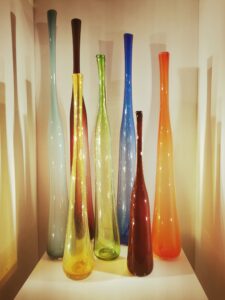 If you look for more cultural discoveries, we invite you to reach the nearby region of Avesnois, with the visit of a brilliant museum dedicated to glass art. Thus, the MusVerre museum was initially launched in 1969, before being redirected to the current building which dates from 2016.
Fruit of the imagination from the W-Architectures firm, this contemporary space, divided into several parts, is rich in colors and curves. This initiative pays homage to this local glass art know-how and culture, since there was a lively glass industry from 1802 to 1937 in Sars-Poteries. For your information, this activity mainly produced bottles and glassware, while employing up to 800 workers (photo credits: AP).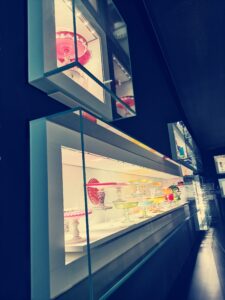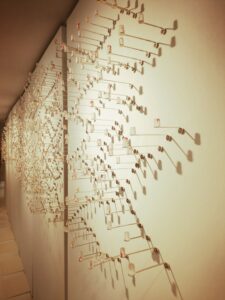 Once inside this museum, you would be undoubtedly impressed by the open spaces between the entrance, the lobby and the boutique. You would be welcomed by a masterpiece realized by the actual resident artist Claire Deleurme, who was selected to create for a period of 70 days, here around her passion for thimbles. For instance, the reflections of her creation, composed of no less than 1000 thimbles, is highlighted by finely carved glass paste and sublimated with a flamboyant red touch.
For your information, the MusVerre is able to host one (or more) resident artists, each year between 2 and 3 months.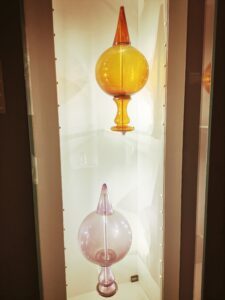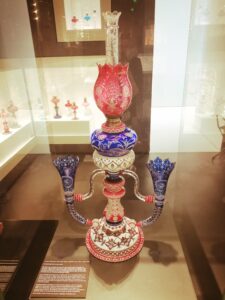 Thereafter, the next resident artist for 2022 will be the Vietnamese artist Kim Koto Tamalum, that would be housed in the workshop and would of course also benefit from regional funds, in order to carry out her artistic approach. Nonetheless, only a part of her artworks, realized in-situ, would be offered to MusVerre to complete its endemic collection. Moreover, this regional endowment fund is shared between different cultural centers of the Hauts de France region, also allowing the acquisition of pieces of Art.
The first sphere is devoted to the culture of bousillés (or "seconds"), which are glassed objects skillfully and painstakingly created by the glassworkers during their work pauses.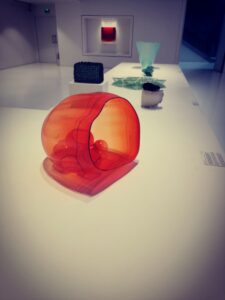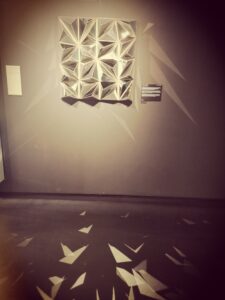 Indeed, they would compete with each other to produce time after time wonderful pieces, showing off as much as possible their glassworking know-how and especially creativity talent, and this out of everyday objects.
Adding to this, don't miss in the basement, but just as illuminated by the transparency of glass material, the permanent collection introduced through an eclectic presentation of contemporary artworks still around glass. Therefore, this selection is exhibited on large and regularly renewed islets. On top of that, it should be noted that the collection presented there just represents only 15% of the total reserve of the museum.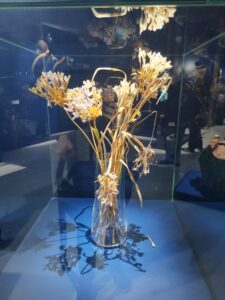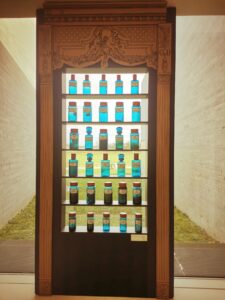 This museum also offers temporary exhibitions, including the one currently stamped Cabinet de Curiosité, offered to the public until August 12th, 2022. It is welcomed by a pharmacopoeia display made up of blue pharmacy jars from 1898, and their fine porcelain labels. blue whale ink
In itself, this exhibition presented as a call to wonder and discovery on three main themes, which are earth, wind and fire. Thus, from the microscopic to the disproportionate, under ocean or in the middle of flora teeming with insects and animal hybridizations, until the reminder of an inescapable finiteness, within glass transcending exploration and reveals fragments of various worlds, as sublime as unsuspected.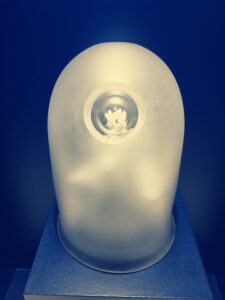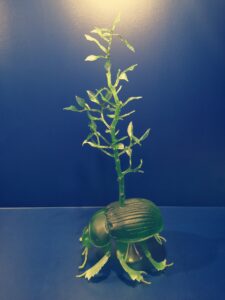 That's why we can still find here different artistic interpretations of natural glassed representations, by these artists from all over the World. Like a sublime glassed beetle, only made in glass paste, by Jan Fabre, precisely in Murano, and newly arrived in the collection. This originality collides with other torch-worked elements such as these little, more real than ever, butterflies imagined by Vittorio Costantini, along other species inspired by micro-organisms or designed in blown glass here by George William Bell. Without forgetting the universe of viruses revisited in and around, like this COVID, filled with neon gas, caged by Bernd Weinmeyer. The flying sphere is not set aside since a reproduction of a brilliant magpie needs to be admired.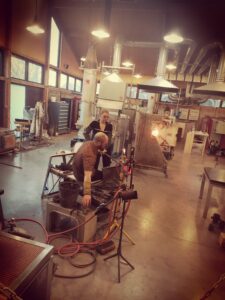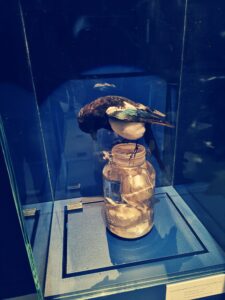 Then, if you are interested in a demonstration of some glasswork by a talented expert, do not hesitate to take a seat in the nearby workshop. A real infrastructure awaits you with an oven that is continuously on, due to logistics issues… Moreover, all of those performances are commented on the microphone by a moderator, highlighting the talent of those great master glassmakers in perfect live and creative surge. For your information, those artists are most of the time helped by one or two assistants, in order to facilitate this delicate task of glass art.
At last, note on your diary, on the occasion of this specific year of glass, a symposium around international glassmakers that would occur, next September 23rd and 24th 2022.
MusVerre
, 76 Rue du Général de Gaulle, 59216 Sars-Poteries (France) / Phone : 00 33 (0)3 59 73 16 16. More information on the official
website
.
---