Admire the cartoon walls of the comic book capital of Angoulême and its Cathedral Treasure by Othoniel!
8 min read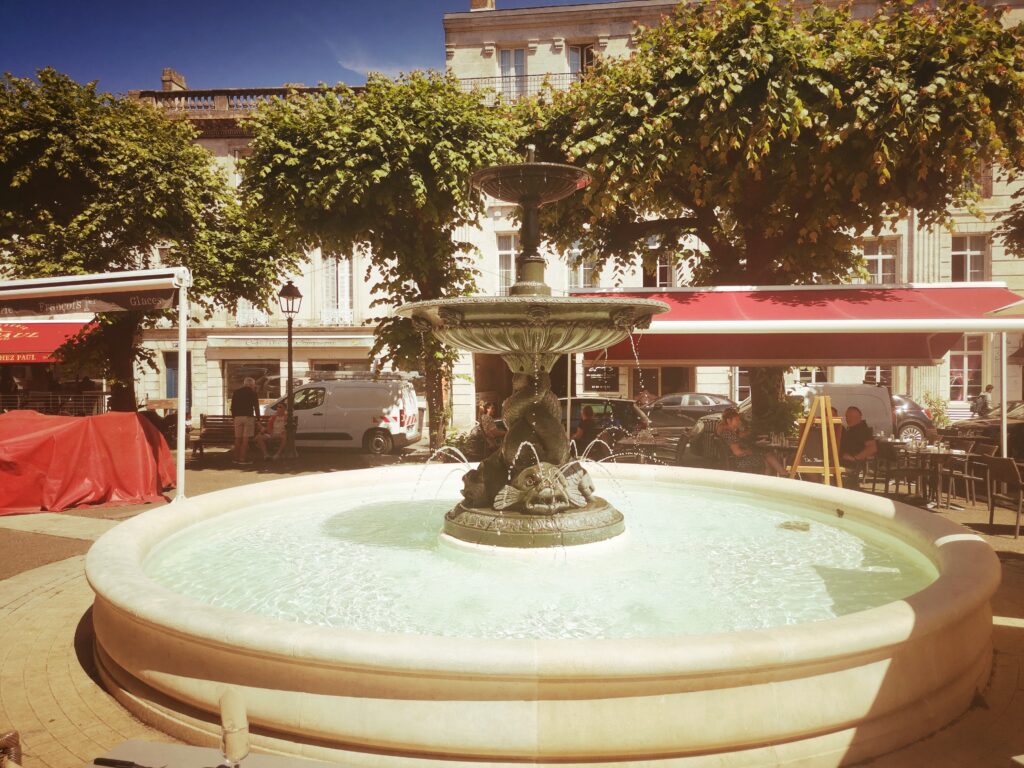 Since the 1980s, the capital city of the Charente department, represented by the touristic entity Infiniment Charentes, Angoulême has been living for comic strips and images. For instance, the flagship event is undoubtedly the International Comic Strip Festival, which magnify every year the capital of the ninth art, for four days at the end of January. In order to perpetuate these actions and provide them with a solid base, the local authorities have decided to create and finance a major public institution for cultural cooperation, also called the International City of Comics and Images. We are glad to introduce you some hot spots to visit in this locality, promoted by the local Infiniment Charentes tourism entity. By AP
---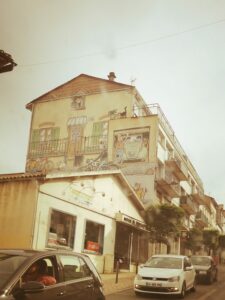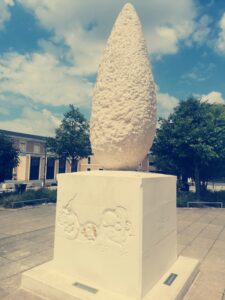 Perched on a dizzy promontory set with ramparts, the head city of the Charente department, Angoulême dominates a meander of the Charente river. The old center features countless white stone houses with tiled roofs, offering to this city of Art and History a sort of Mediterranean touch, at just 2h away from Paris by train!
Once inside, you would be undoubtedly tempted to follow the various old cobbled streets leading to the majestic city hall and its two medieval towers, inherited from the former castle of the counts of Angoulême. Adding to this, explore the rich history of this so-called Valois locality and the current dynamics of this connected city, dedicated to creation and innovation, bringing together cartoonists, along 3D animation studios and image schools.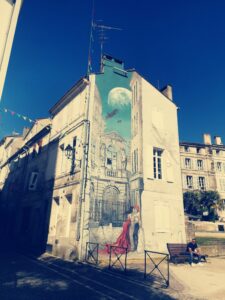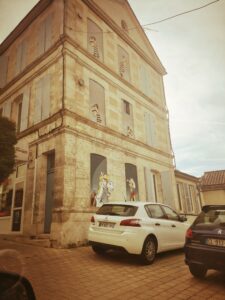 Renowned since the Middle Ages for the exceptional quality of its paper industry, Angoulême has quickly become, in a few decades, the French capital for comic books, illustrated by its International Cartoon Festival. Pursuing this colorful path, the municipality has decided over those last years to wear around twenty painted walls that imprint illustrious comic strips on various buildings (photo credits: AP).
Therefore, at the end of 2016, the first fully planned wall was inaugurated on Boulevard Pasteur, the debut of a long inspired series. Thus, feel free to go through the more or less narrow streets of this BD route, currently made up of around twenty painted walls, wished by the Cité de la Création, an association of muralists artists.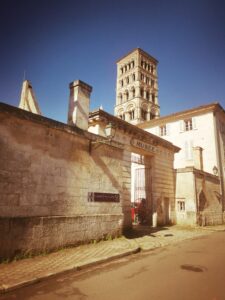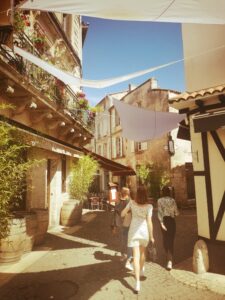 Moreover, this fun and unique comic path eventually leads you down to the banks of the Charente river, where you could greet the hero Corto Maltese, whose statue stands proudly as you approach the Comic Strip Museum.
Indeed, not far from this BD temple, you could as well board on cruises through this same Charente river, departing from Port l'Houmeau. From this departure point, the most common destinations would be the swimming and water activities at Lake Saint-Yrieix, the bike roads on the old towpath or even climbing in the Eaux Claires valley.
Office de Tourisme Pays d'Angoulême, 1 Place de l'Hôtel de ville, 16000 Angoulême (France) / Phone : 00 33 (0)5 45 95 16 84. More information about all types of guided visits on the official website or on the Infiniment Charentes platform.
---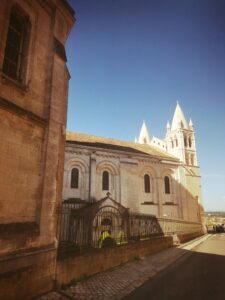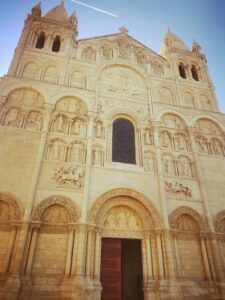 Still in the old city, let's discover a sublime Romanesque façade, sculpted for the 12th century Saint-Pierre d'Angoulême cathedral. This aspect is rare for this architectural style and often dictated by order of the bishop. Thus, on the site of this 4th cathedral, one can find a frieze on the right side, made in homage to the Song of Roland.
When you find liturgical objects, it does not necessarily speak to everyone… This is why an artist was chosen to link the beautiful and the sacred, to highlight these liturgical objects, conveyed by Jean-Michel Othoniel. Designated by the Sacred Art Commission, and collected worldwide, including in Versailles and opposite the Museum of Fine Arts imagined by Jean Nouvel in Doha.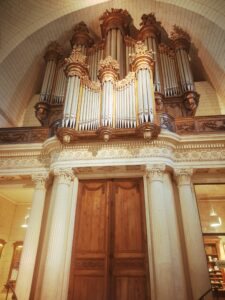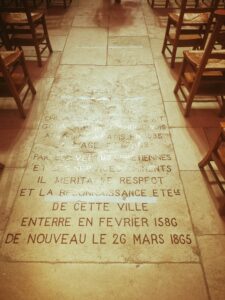 Indeed, Jean-Michel Othoniel was inspired by this succession of cupolas inside this cathedral, renovated by Paul Abadie, a former pupil of Viollet-Leduc, who refreshed by painting the walls in an immaculate way and respecting the original stereotomy (the art of arranging stones).
In addition, you will find different elements from the Middle Ages, such as interlacing, revisited on different facets of this edifice and which inspired Othoniel in this work carried out in the treasure room, on order from the bishopric and the DRAC. Among these pieces of this treasure, made between 2008 and 2016, we find this stained glass window adjoining the altar, installed in 2013, composed of Angoulême blue and scintillating pieces of cive (by Matteo Gonnet).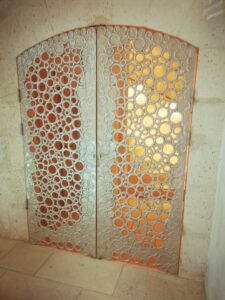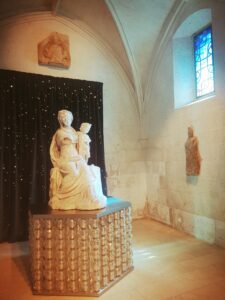 This replaces the old wall which covered an old stained glass window destroyed by the assault of Admiral de Coligny in 1558. The first room has a sacred chapel, decorated with gold leaf and a gallery of portraits of bishops.
Among them, you could note the presence of the bishop who ordered this famous series of liturgical objects, used in particular during processions, and this in the movement of the 20th century which aimed to re-evangelize a society which was beginning to decay into multiple castes. This re-evangelization was possible thanks to the construction of new churches and the mass production of religious objects.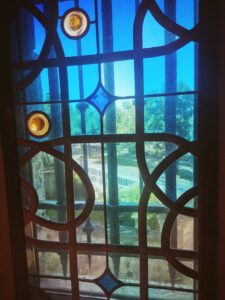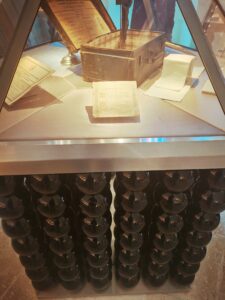 Thus, after composing key pieces in Paris with the Kiosque des Noctambules and the Royal Fountain of Versailles, the artist Othoniel was offered the decoration of 3 spaces of this Treasure of Angoulême. The first visible artworks are in an old Gothic style, strewn with stained glass windows with blue gradient reflections. Here, the Othoniel magic operates, as can be seen from the premontory made of white gold glass balls, designed in Murano, supporting this Virgin and Child made by Jean De Goullons from 1679.
Behind this Virgin, a velvet curtain in velvet with sequins based on gold leaf, made by the local workshop of Bégonia d'Or, can protect her.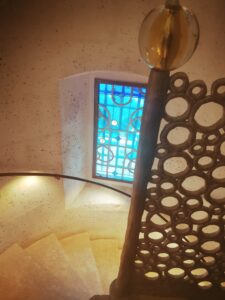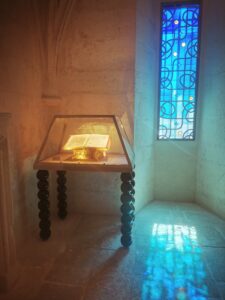 Indeed, this sculpture is miraculous since it was abandoned and damaged in the garden and covered by vegetation. Then, to access the rooms on the upper floor, pass through an impressive door, recalling Othoniel's passion between empty and full, made by the local company Technival Industrie.
After a rotating staircase, discover another room cradled by the reflections of the stained glass windows, always full of nuances, and presenting several shelves of these liturgical objects from all periods but mainly from the 19th century. In this lapidary room, don't miss a set of inestimable value, always supported and enhanced by numerous pedestals, still assembled by mouth-blown and saturated blue Murano glass balls.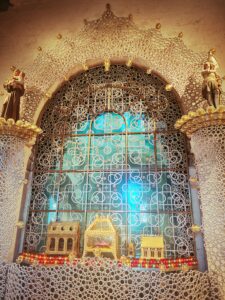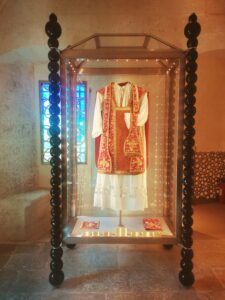 Apart from this, you could easily in particular observe the presence of this selection of masterpieces testifying the suffering of priests, including chapel suitcases, used during the WW2. Finally, in the last exhibition room, which may be regarded a real apotheosis, you could then appreciate the quintessence of Othoniel's know-how.
Another Virgin is surrounded by domino pieces, aka one of the ancestors of wallpaper, made in relief by the D'Offard workshop. The decor is improved at its maximum, with repeating modules and by showing as much opulence, Othoniel aims to recall this trend of theatricalization of religious ceremonies, so typical of the 19th century.
Cathédrale Saint-Pierre d'Angoulême
, 1 Place Saint-Pierre, 16000 Angoulême (France) / Phone : 00 33 (0)5 45 37 38 13.
Visits
to the
Treasury
of the
Angoulême Cathedral
, possible on Saturday and Sunday, at 2:30 p.m. and 4:15 p.m., by appointment in front of the
Angoulême Museum
on the official
website
.
---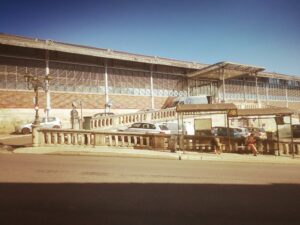 At last, if you wanna stay more than one night in Angoulême, we could suggest you to book a room inside the Mercure Hotel Angoulême Centre. Settled just in front of the giant Halls market, this charming hotel belonging to the Accor group, may host its guests in a splendid historic building, with an unusual decoration mixing vintage references and contemporary codes.
Therefore, in this former residence of the Guez de Balzac family, linked to Cognac industry, and more precisely the birth house of Jean-Louis Guez de Balzac, you couldn't miss for example the combination of portraits picturing François Ist, associated with a designer interior decoration.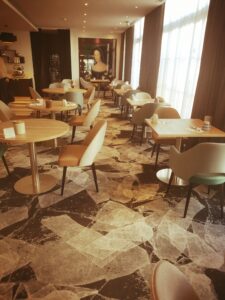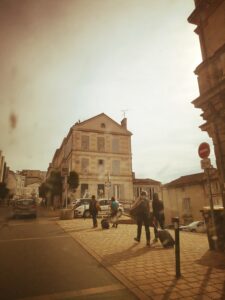 This spacious hotel seems to be ideal for organizing weddings or professional events, thanks to its 600 m² of functional and neutrally decorated rooms, doubled by a superb 1,500 m² private garden, enriched by a panoramic view over Angoulême. Otherwise, if you wish to relax in some ways, you could head to the vaulted fitness room, unless you prefer sipping a cocktail at the lounge bar.
For more culinary sensations in this historic building, let's enjoy a diner in Les Jardins des Arceaux restaurant. This gourmet address follows the cuisine of the chef Christophe Dalseme, proposing a menu prepared with fresh and seasonal products, in accordance with French traditions.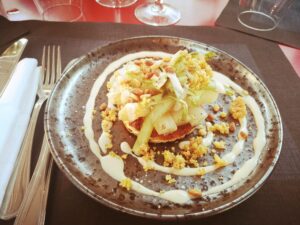 For more local culinary specialties, you could then take a seat in this creative à la carte restaurant, enriched with a leafy terrace, in fine weather. This restaurant cultivates an atmosphere of softness and refinement, thanks to the presence of great French classics, reinvented with products from short circuits.
Indeed, thanks to local Charente producers, you would be glad to enjoy vegetables from the garden, along Atlantique Ocean fishes and even creative desserts (such as this Calvados apple variation), renewed every day. Without forgetting some essential local specialties such as Bouteville balsam, with a glass of Pineau des Charentes or Cognac for sure. In addition, come and discover the formula of the day at 19.50 euros or the gourmet brunch, every Sunday in the summer!
Hôtel Mercure Angoulême, 1 Place Des Halles Centrales, 16000 Angoulême (France) / Phone : 00 33 (0)5 45 95 47 95. More information on the official website.
---