Doppio Malto brings its Italian craft beers at La Défense, not far from the Garden Parvis
5 min read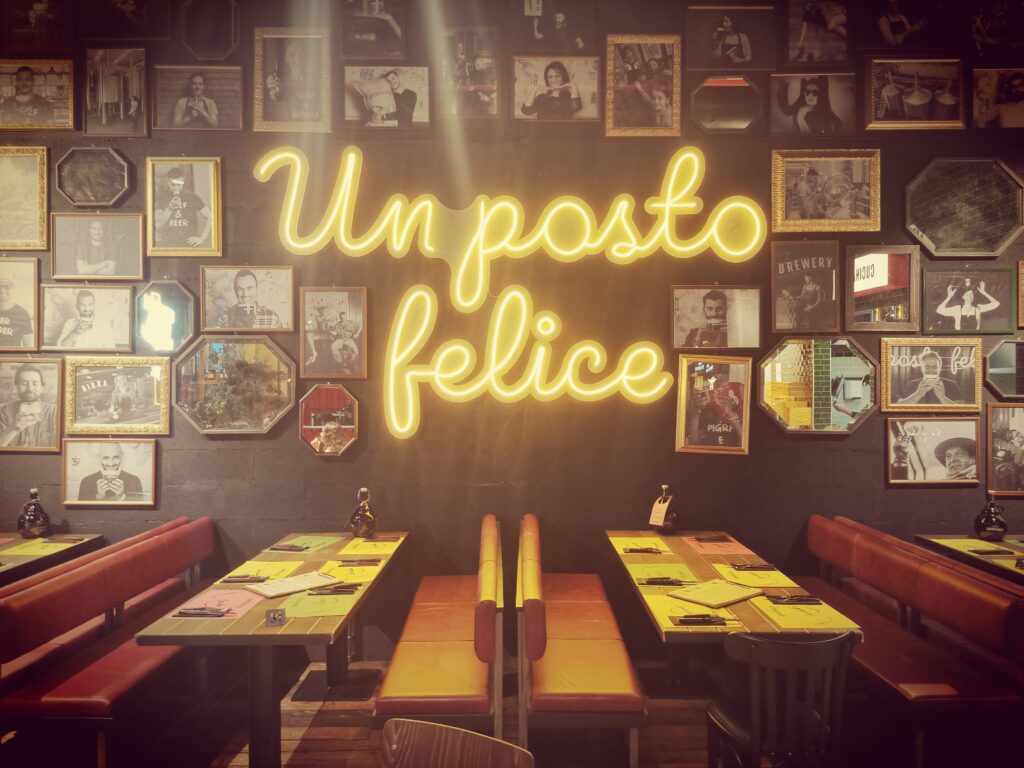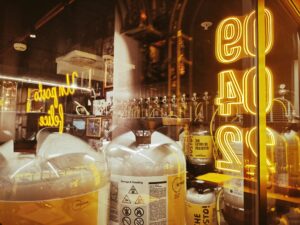 Have you ever tasted Italian beer? With Doppio Malto, your dream may come true… Thus, this Italian brewery was born in Erba in 2004, close to the Lake Como, with the goal to develop premium craft beers. This beer company pursues a certain Italian tradition regarding true excellence in brewing production, now rivaling on equal terms with the most important names from Northern Europe. Therefore, some Italian craft beers are authentic masterpieces that stand out for their qualities are, of course, artisanal productions. This means that those beers that do not undergo any pasteurization processes that distinguish industrial production, resulting in drinks that remain somehow alive. And this philosophy is reinforced by increasingly careful choices regarding fermentation procedures and the choice of hops and malts.
Another particularly is the opportunity to combine the most varied beers here from Doppio Malto, with the quintessence of Italian food and wine products. That's what we are pleased to introduce you here, along other neighboring activities in La Défense quarter. By AP
---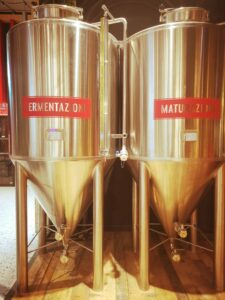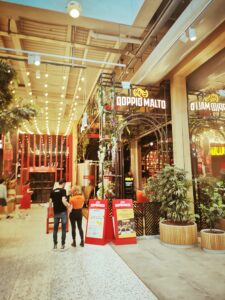 Thereafter, after a successful brewery history, the Doppio Malto entity developed in 2016 a concept of restoration chain, with the opening of dozens of structures across Italy. By keeping the goal to reach a certain culinary approach of Italian excellence, the team also reached to promote their award-winning craft beers, nowadays acclaimed all across Europe (photo credits: AP).
By the way, Doppio Malto naturally faced a certain need to increase its volume of production and decided to build a new production center in Sardinia, under the banner of sustainability and environmental protection. After years of painful R&D process, a total of 18 references are available now here, ranging from very light white beers to strong flavored brown beers.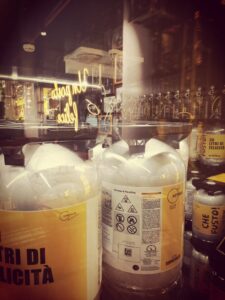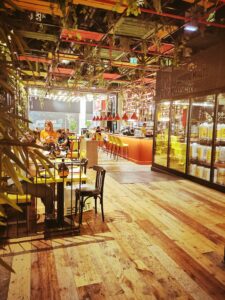 Regarding their restaurants, you can feel everywhere the Doppio Malto's inner philosophy, reflected in the interior architecture. Despite a personal and unique touch in the various restaurants, you can always observe numerous references related to industry and factories. For instance, the beer storage is visible from the hall, so is the kitchen…
Adding to this, the predominant materials are industrial cement, aged iron, copper, wood and apparent bricks. In fact, you could notice that any Doppio Malto you could visit is inimitable and rich in spaces that are always generous in terms of entertainment and privatization options, both for adults and children.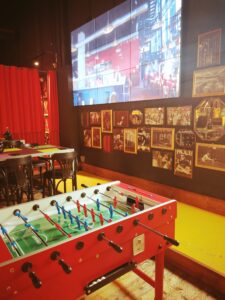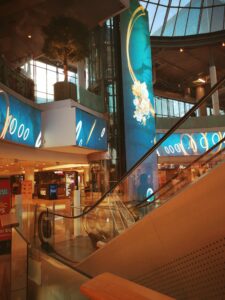 After the inauguration of their first international restaurant in Saint-Etienne, discover the new Parisian address, settled in the core of the Westfield Les 4 Temps shopping center, in the business quarter of La Défense. Officially opened on April 13rd, 2022, enter this beautiful establishment dedicated to all Italy lovers!
Spread over a surface of more than 500m2, this French site of Doppio Malto is a real ode to modernity and relaxation… In addition to your table, several play areas are available to you, such as a billiards and table football area, or still an indoor petanque court, to help you digest between each dish. For children, a dedicated area is devoted to them, with games and other activities, all at their size. Also note the presence of a photobooth, just to finish your experience with some souvenirs.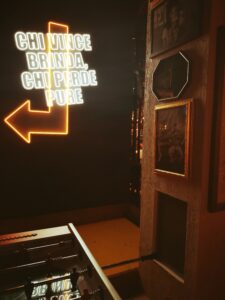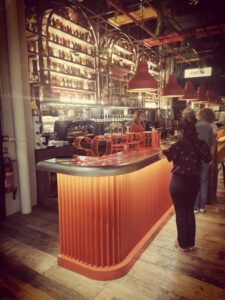 Let's talk about menus: in addition to the beers on offer, Doppio Malto invites you on a culinary journey around its major know-how, so to say grilled meat. As well proposed on burgers and tartares, the main attraction is undoubtedly planks, with whom you could enjoy all kinds of premium meat pieces (tender wagyu beef, duck magrets, amazing spare ribs, transalpine sausages, beer marinated chicken…), accompanied with crunchy vegetables and roasted potatoes.
Without forgetting that Doppio Malto also offers delicious authentic pizzas, plus traditional pasta dishes to answer to the demand of a French gourmet clientele and other famous Italian starters, like burrata or mozzarella, along crostone, pollo fritto, and other surprising parmigiana.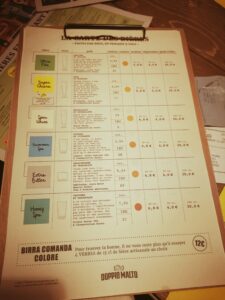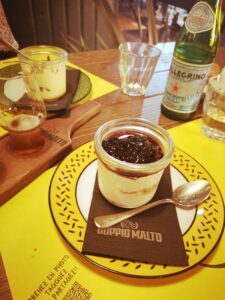 In terms of beers, for sure you're in the temple… since you have a wide choice of 12 unique references, according to your taste and your bitterness acceptance, since this information is stated on the menu. Don't hesitate to let you guided by the master of the house, Enea Lazzaretti, rich of a long catering path in Paris and who is able to inform you about those various craft beers. Among them, you could taste the blond beer with strong Italian chestnut, unless you prefer white beers with banana or citrus notes, or eventually the bitter stout beers.
Regarding desserts section, Doppio Malto's could offer you its own vision of tiramisu, rebaptised "birramisu". This time, the vanilla mascarpone cream lies on beer-soaked biscuits instead of coffee.
At last, we invite you as well to order the legendary canolli from Sicily, to top at your convenance… or the original version of cheese cake with biscuit inside and blueberries jam.
Doppio Malto La Défense
, 15 Parvis De La Défense – Centre Commercial Les 4 Temps – Level 3, 92092 Puteaux (France) / Phone : 00 33 (0)1 49 00 10 42. More information on the official
website
.
---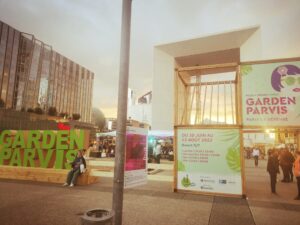 If you wanna pursue your journey at La Défense business quarter, why don't you have a stop at the Garden Parvis summer spot? Located at the foot of the monumental La Grande Arche, between Les Quatre Temps mall and the CNIT, the Garden Parvis is a wide open air space, open to everyone willing to entertain before or after work!
With its 6,000 m2 of green and shaded surfaces, this Garden Parvis concept may be considered as a real place of networking and partying, until 12th August 2022. Supported by a rich programing full of street food provided by food trucks or bar huts, along self-service games, and many experiences and activities to try in the 4 experiential areas. Depending on your mood, you could then chill, share, create or bring your kids, in those various fun spaces of this Garden Parvis.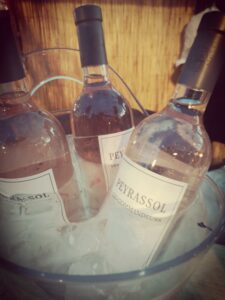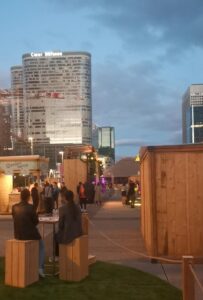 Among many types of DIY workshops, colorful selfie boxes and lots of other activities organized just for you, before attending in the evening, the various sounds of DJs selected from a selection of the major players on the electronic scene, to color your afterworks with sunny sound moments!
Don't miss to discover all the secrets from tap water at the Water Bar, or complete your new wardrobe at the Violette Sauvage clothing stand, not far from the green temptations of Plantes pour tous, or why don't you relax with Cerf Academy hand massages, trying some creative moments with your children with Cultura's workshops, plus discovering the manufacturing process and taste the several ranges of beers from the Abbey of Grimbergen.
Garden Parvis
, Parvis de La Défense, Puteaux (France) / Open from Monday to Tuesday from 11.30am until 9pm, from Wednesday to Friday from 11.30am until 10pm, on Saturdays from 11.30am until 8pm and on Sundays from 11.30am until 7pm.
---