Feel the spirit of Saintonge from Saintes and its Abbaye Aux Dames or Saint Jean d'Angely, with its Royal Abbey
13 min read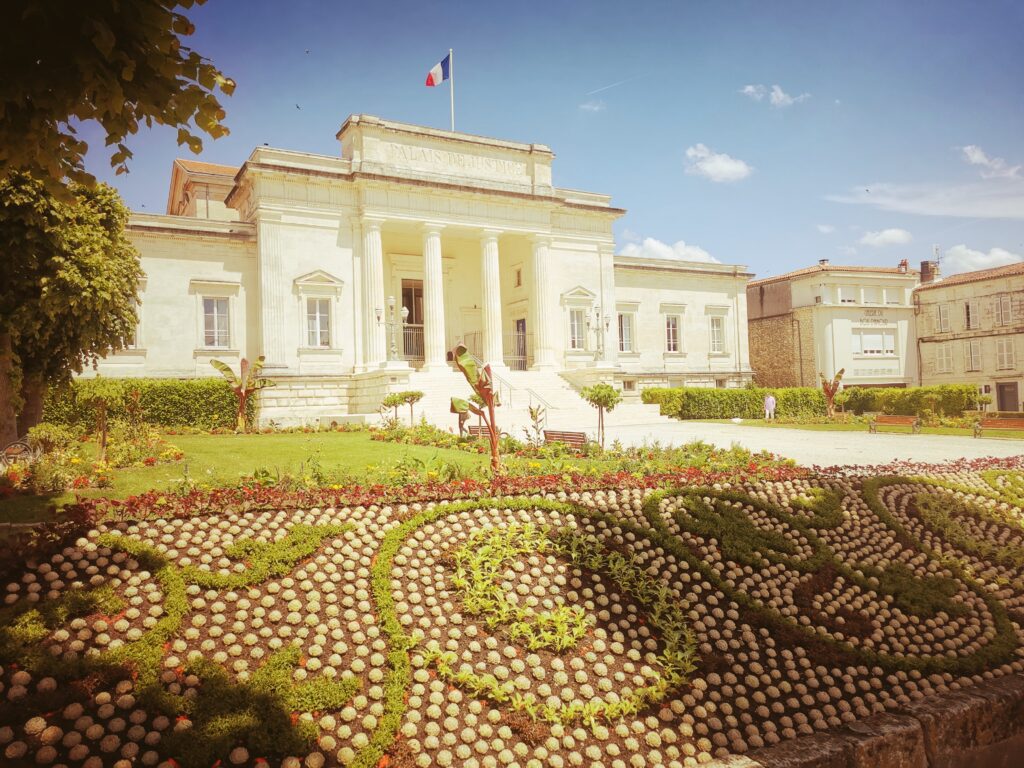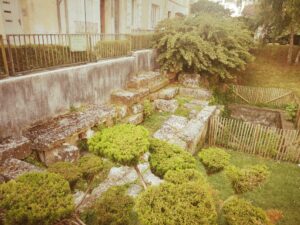 Shortly after having a glance of the beauty and diversity of the Infiniment Charentes, gathering the Charente and Charente-Maritime departments, with the city of Angoulême, we invite you here for further horizons. Still cradled between the endless red roofs with canal tiles, bordering cobbled streets between shade and sun, never far from the slow progression of a Charente river with calm waters, we bring you to alternative peaceful localities. Already appreciated in Roman times, the Saintonge territory is full of unsuspected treasures, notably in terms of landscapes, composed of historical sites and vineyards, rich of subtle colors.
Places where culture, gastronomy and leisure gather into one invitation to discover all the richness of their historical heritage, through the Gallo-Roman monuments, the Romanesque buildings, the Gothic influences and many other famous edifices to find in Saintes, such as the Abbaye aux Dames.
Unless you prefer the unachieved Royal Abbey of Saint Jean d'Angely, the former capital of Cognac spirit. A good occasion to remind you that those two Charentes feature more than 500 Romanesque churches to reach, within 5 major cycle routes to follow, so to say 6000 km. By AP
---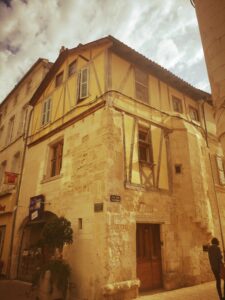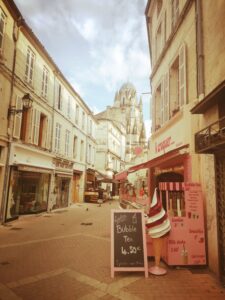 For your information, the city of Saintes was surrounded by ramparts, but only a few vestiges remains… and even burials were prohibited within its walls. This quintessential historic city has observed many changes, including the location of its entrance Germanicus Arch, which dates back from 18 AD. Witness to the history of the capital of the Roman province of Aquitaine. This monumental arch marked the start (or finish) of the Via Agrippa which linked Saintes to Lyon.
This ancient monument was therefore moved stone by stone, with the help of Victor Hugo who helped this reconstruction by numbering stones one by one. In the old center, several pedestrian streets allow beautiful bucolic walks, around several types of shops and also the only remaining half-timbered house (photo credits: AP).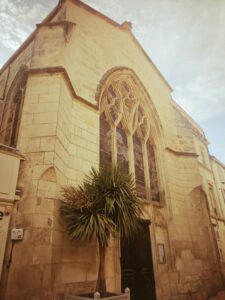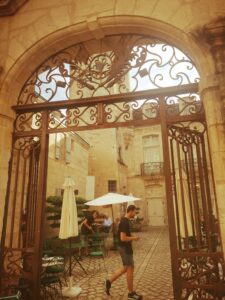 Adding to this, Saintes is also surrounded by a natural area… Located in the city center, La Palue aims to promote a certain biodiversity, like the New York resort of Central Park. Not far from beautiful 18th century hotels, some of them house museums that contain major art collections, such as paintings, sculptures and ceramics in the old City Hall of Saintes.
On top of that, you may have a stop at the Alderman Museum introducing rare or unusual objects related to Saintonge, along decorative arts and daily life at the Dupuy-Mestreau Museum. Then, between the two, you would admire the flamboyant portal of Saint-Pierre Cathedral, before eventually a cruise on the Charente, with an electric solar-boat called Bernard Palissy III, equipped with spaces to carry from 8 to 10 bikes.
Office de Tourisme de Saintes & la Saintonge
, Place Bassompierre, 17100 Saintes (France) / Phone : 00 33 (0)5 46 74 23 82. More information on the official
website
or on the
Infiniment Charentes
platform.
---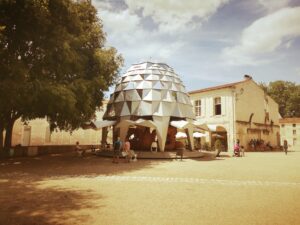 Moreover, the rue de l'Arc de Triomphe leads directly to the Abbaye aux Dames, which used to be the first women's monastery in Saintonge. Indeed, you could still visit in this multifaceted abbey, the former nuns' cells, passing through the chapter house and even the bell tower, while equipped with guiding headphones. Therefore, an interactive visit is proposed with a helmet, equipped with a spatial sound, allowing a visit of the contours of the abbey, of which we learn many historical facts.
In another hand, the digital Music Aventure device could take you on a sound and relaxing journey. Staring from the courtyard of the abbey, an avant-garde carousel is the scene of a collective contemporary musical creation. Baptized Bazilik, this impressive dome of steel and glass, is open to everyone.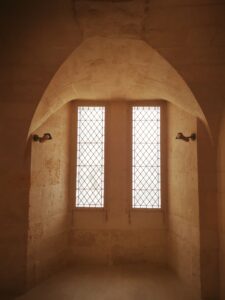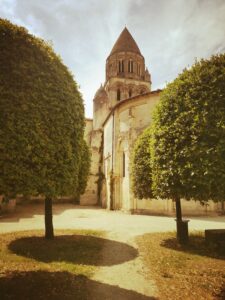 For your information, the French Revolution put an end to the religious life of this abbey, but it was reborn from its ashes when it was registered as a historical monument, and eventually becoming a cultural centre to visit.
From its typical Renaissance entrance, discover the Chapter Room where the religious community met regularly with the Abbess to listen to the reading of a chapter from the Rule of St Benedict, and eventually to pray everyday and to get some penitence. By the way, traces of Gothic arches, visible on the walls, show that the Chapter Room originally had ribbed vaulting (from the 13th century).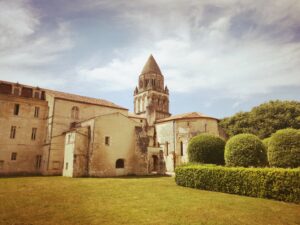 Nonetheless, you could as well immerse yourself inside the Abbess' apartments, including a mezzanine that leads to a room at the rear of the staircase.
Thus, this vaulted space and the nearby outbuildings merely provided a link to a large building, located behind the convent wing, that still existed in the 19th century. It may have been the Abbess' apartments, where stand actually the music conservatory and even an hotel. This abbey also holds an annual classical music festival, which celebrates its 50th anniversary this year.
Abbaye aux Dames, 11 Place de l'Abbaye, 17104 Saintes (France) / Phone : 00 33 (0)5 46 97 48 48. More information on the official website.
---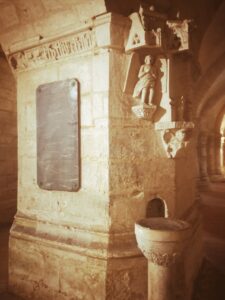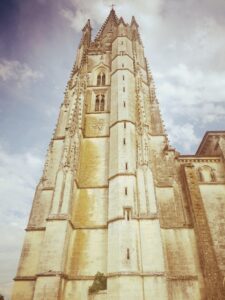 Not far from there, do not miss a jewel of Saintonge Romanesque art, so to say the Saint-Eutrope Basilica, listed by UNESCO as part of the Santiago de Compostela routes. This religious masterpiece is somehow a reminder that Saintes is an important stopover to reach this famous pilgrimage destination. Therefore, you may be bewitched by the atmosphere of its crypt, whose low church dating from 1081, in a true primitive Romanesque style, was intended to welcome pilgrims willing to get to Santiago de Compostela.
Indeed, the superposition of two choirs constitutes the originality of this edifice which requires constant efforts to dehumidify its, visibly water soaked, sculpted columns, representing keys and palmettes, certainly because of the surrounding luxurious vegetation.
Eutropius
, who came to
evangelize
the region in the last 3rd century. Then, in the
upper church
, you would find another important
relic
located in a
reliquary
, just under the
altar
, dedicated to the
Cluniac
monks. There are two
friezes
, one of which is dedicated to the
Last Judgment
opposite another entitled
Daniel in the Lions' Pit
. These aim to show a certain timeless
religious
heritage, always in a true
Romanesque
style.
Basilique Saint-Eutrope de Saintes, 56 Rue Saint-Eutrope, 17100 Saintes (France).
---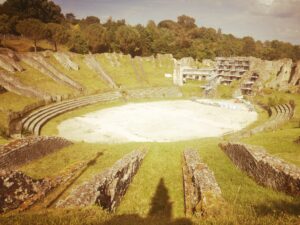 In a territory where there were Gallic tribes lived together in Mediolanum, capital of the Santonum civitas and of the Aquitaine Gaul province, around the first Roman road, the Via Agrippa, which went from the Atlantic Ocean to Lyon. As a result, the amphitheater of Saintes is one of the oldest remaining from the Gaul period and was an important place of spectacle where gladiators fought under the gaze and cheers of a crowd reaching up to 15,000 spectators. Those gladiators have signed a contract that they were not allowed to kill, and neither could the audience (unlike the painting of Jerome).
Therefore, this Gallo-Roman amphitheater, dating back from the 1st century AD, wear respectable dimensions of 126m by 102m, not far from an aqueduct, thermal baths and of course ramparts… This unmissable site is currently undergoing renovation work to solidify the existing stone platforms, and reveal any storm drains.
Amphithéâtre gallo-romain de Saintes, 20 Rue Lacurie, 17100 Saintes (France) / Phone : 00 33 (0)5 46 97 73 85.
---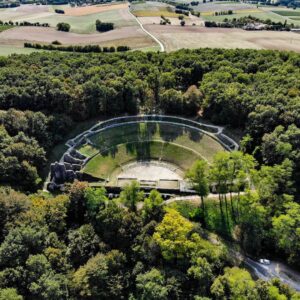 If you need to visit another antique monument, you should pass by the Butte des Bouchauds which overlooks the Rouillac countryside with a rich Gallo-Roman heritage. Standing at the top of a wooded hill, the archaeological Site des Bouchauds preserves a theater, as one of the largest and oldest ones to be visited in France, with its diameter equal to that of Orange (105 meters), able to accommodate up to 7,000 spectators. The entire site has been listed as a Historic Monument since 1881 (photo credits: @e_combelles).
The walls of the temples of this sanctuary were built between the 1st and 2nd centuries, on the edge of the Via Agrippa, which was a main trade road for Romans, even initiating the construction of many other current roads. Besides those glorious ruins, don't miss to visit the Espace d'Interprétation du Gallo-Romain, housed in the Ferme des Bouchauds. This site is typical of the Charente architecture from the 19th century, displaying a lot of interesting historical facts.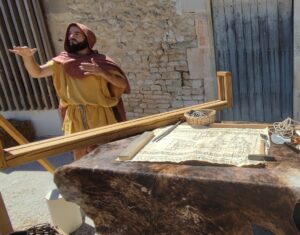 Therefore, we invite you to collect your free of charge audioguides at the reception, informing you more about drawings, models, facsimiles and videos testifying more about archaeological remains. The Interpretation Center is as well a good place to better understand this fascinating Roman civilization, at the origin of these constructions that have stood the test of time!
On another hand, you could take a look at "The Gauls: irreducible inventors!" temporary exhibition, occurring from April 20 to November 6, 2022, highlighting the importance of Gauls in terms of numerous innovations that have lasted for centuries in agriculture, crafts, military fields or even in cooking (photo credits: Vincent Couvreur).
Théâtre gallo-romain des Bouchauds, 16170 Saint-Cybardeaux (France) / Phone : 00 33 (0)5 45 65 26 19. More information on the official website.
---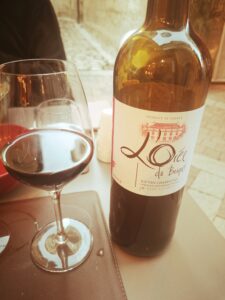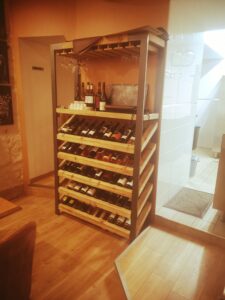 In case you look for a traditional restaurant, we invite you to dive into the heart of the pedestrian streets, and book a table in the Cave Passe À Table restaurant. Lately acquired by two passionate about their professions, the couple Agnès and Stéphane, straight from Anjou, welcome you in their cozy and warm vaulted culinary address.
While entering, you would be seduced by a bright light and a smiling welcome, let yourself be guided by the chef's specialties and eventually get tempted by a glass of wine recommended from the selection. Perfect to accompany some random lunchtimes, introducing formula around dishes of the day, regularly renewed with market products.
In the evening, in this den, you could taste some original grilled feta, random Crimea tomatoes, multiple shapes of salmon, the authentic Charente Mouclade with curry, to complete with pineapple carpaccio, all in the middle of bottles of wine.
La Cave Passe À Table, 27 Rue Saint-Michel, 17100 Saintes (France) / Phone : 00 33 (0)5 46 72 12 88. Open Tuesday from 12 p.m. to 2 p.m. Wednesday, Thursday, Friday and Saturday from 12 p.m. to 2 p.m. and from 7 p.m. to 11 p.m.
---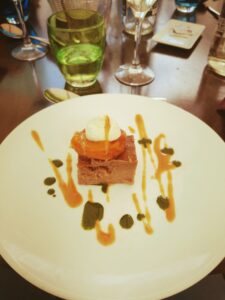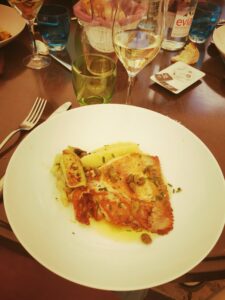 Another suggestion would be the Clos des Cours restaurant, sitting just behind the luminous indigo facade of the Gallia Theater… This address, benefiting from a prime location, thanks to its outdoor urban terrace, offers a cuisine with thousand of flavors. Mostly made from fresh products, the Chef Jean-Luc Bonedeau prepares its delicious creations, in a traditional way but enhanced with herbs and spices from many origins, including Asian territories.
Therefore, Le Clos des Cours offers to any epicureans, a sophisticated and refined gastronomic experience, like regional Atlantic fishes, garnished with local vegetables, topped with spicy condiments, passing by homemade desserts.
Clos des Cours
, 2 Place du Théâtre, 17100 Saintes (France) / Phone : 00 33 (0)5 46 74 62 62.
---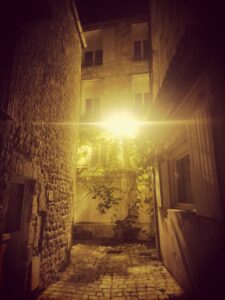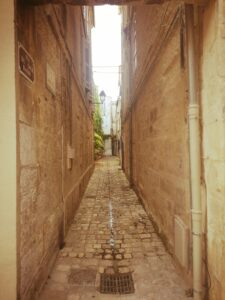 If you want to stay one night in a historical hotel in Saintes, discover the Cit'Hotel Les Messageries. Nested in a former post relay, dating from the 17th century, you would be pleased to rest in a true haven of peace, in the heart of this Gallo-Roman town.
Accessible from the turn of a cobbled street, you would naturally enjoy the warm welcome of this establishment, located in a calm quarter, full of roofs covered with canal tiles. Wearing some genuine white Charente stone, this comfortable stopover is practicable to lead your visits in and around the banks of the Charente river. Equipped with a narrow lounge, looking as curiosity cabinet, bordering an inner courtyard, transformed into a summer lounge, where you have a drink.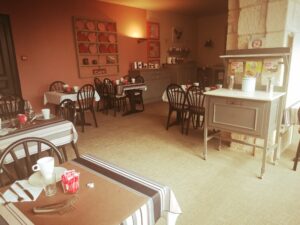 The amenities of the downtown of Saintes are just a stone's throw away, including various shops and restaurants, along entertainment centers, and of course countless walks following the Charente river. In order to make it possible, this hotel offers soundproofed rooms with customized furniture and decoration, to appreciate with satellite TV, a private bathroom, free Wi-Fi access and even air conditioning for an additional charge in some rooms.
Don't miss a homemade buffet breakfast every morning, unless you prefer the charm of a breakfast tray to be served in your room on request.
Hôtel Les Messageries, Rue des Messageries, 17100 Saintes (France) / Phone : 00 33 (0)5 46 93 64 99. More information on the official website.
---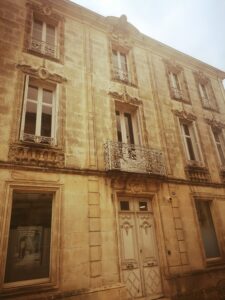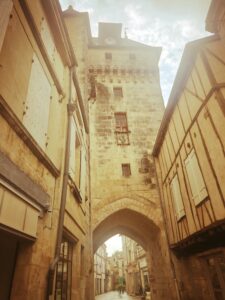 Another major stopover on the way to Saint Jacques de Compostela, located in a meander of the Boutonne river, discover the city of Saint-Jean-d'Angély. This beautiful locality holds a real heritage wealth to share for all its enthusiasts, starting from Gallo-Roman times, passing by its half-timbered houses from the Middle Ages, around the Clock Tower.
Without forgetting the various mansions from the 17th and 18th centuries, mainly settled around the Royal Abbey, accessible from a main courtyard via a masterful portal, dating from 1750. The Royal Abbey was founded in the 9th century by Pépin d'Aquitaine, grandson of Charlemagne, in order to preserve the relic of the skull of Saint John the Baptist from Alexandria.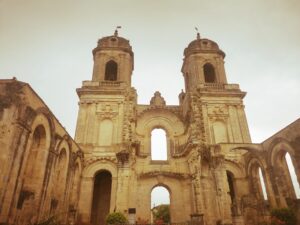 In a way to protect and show these remains, the King hired Benedictine monks from Cluny to build an abbey, before being destroyed several times, notably by Vikings and in 1568, during the Hundred Years War, where unfortunately the relic would have disappeared at that time. Its classic architecture was projected to be renovated by monks from Saint Maur, who arrived in 1741 in the region.
The idea was to build the 5th edition of this abbey, although its construction was interrupted in 1789, stopped by the French Revolution. Since then, its facade, listed on the UNESCO World Heritage Site Listing, in a neo-classical style, designed by the architect Franquedeux, has been frozen in time, and the bell towers remain open to visitors and offer a beautiful panorama over the city. Since then, as part of the Santiago de Compostela Routes, the abbey has greatly contributed to the development of Saint Jean d'Angely but can't no longer be visited for security reasons, except for the visible parts.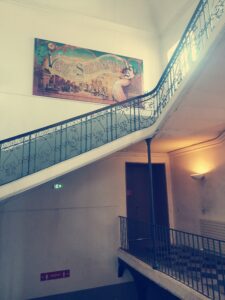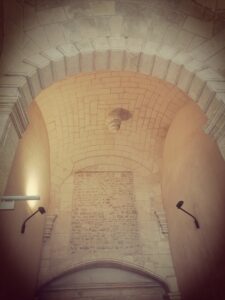 Among them, you could admire the incredible fresco, throning on the ceiling of the mediatheque (which counts 4,000 members), stuck inside the former college, under the Napoleonic era, and this episode was even lately honored by the filming in situ of an Amazon Prime series.
Without forgetting, the Micro-Folie art center which is part of a national cultural network, launched by the Ministry of Culture, with the aim of creating a cultural connection with the local population. In the Saint Jean d'Angely antenna, you could benefit from a modernized space, surrounded with walls covered in a subdued green, decorated by a Philippe Stark carpet and even shell-shaped poufs, in order to pay homage to the random pilgrims going to Santiago de Compostela. This art access center also includes a FabLab, able to 3D print any type of object.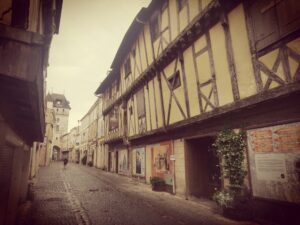 Not far from there, discover the Clock Tower, located in the old center, adjoining nearly twenty half-timbered houses. This edifice, that can be visited on certain occasions and truly acted as a central power and was used to signal all types of special events, including the arrival of various enemies or any intervention by the alderman.
On your way to Les Halles, dating from another period in 1850, and probably represents the quintessence of the 19th century part of the city. Indeed, this era was quite flourishing in terms of architecture and included a sublime neo-Renaissance styled town hall, leaning in front of a large square, with its graceful Municipal Hall, its impressive Palace of Justice and its Art-Deco cinema Eden.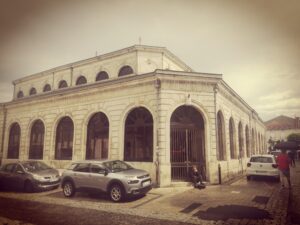 This sort of opulence testifies of the rich past of Saint Jean d'Angely which enriched with Cognac and even counted up to 25 Cognac houses, which emerged in the 17th century, before being stopped by the phyloxera crisis. This disease on vines put an end to this eldorado and Saint Jean d'Angely only has 2 Cognac houses left.
Pursuing on this gastronomic aspects, you could stroll through the nearby streets, formerly surrounded by ramparts, step into the old Boutinon candy confectionery. Dating from 1898, all covered in candy pink, this institution offers the local sweet specialty called Bois Cassé, designed in homage to the popular groves that surrounded the town. For more delights moments, reach the Place du Pilori and its fountain, where it is pleasant to stroll and laze on the terrace of a café or a restaurant.
Boutinon – A La Rosière Confiserie
, 16 Rue des Bancs, 17400 Saint-Jean-d'Angély (France) / Phone : 00 33 (0)6 49 45 10 33. More information on the official
website
.
---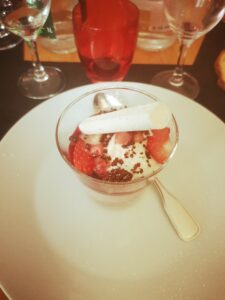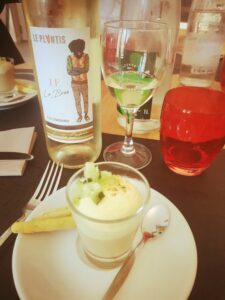 For a further culinary wink, the Restaurant De La Place has been spreading its own vision of local and regional gastronomy, since 20 years with Loïc Fallourd and its innovative cuisine that will awaken your tasting sensations. Supervised by the butler Pascal Bariteau, discover the variety of dishes, prepared with fresh ingredients, underlining the various influences that the Chef wishes to share, from his passages in the various establishments, all over the World.
Eventually served in the flowered and intimate terrace, at your disposal during warm weather, you may have the choice between a hint of Italian touch, with creamy risottos, or local fresh fishes, adorned with the Chef's key ingredients, those are coriander, ginger, fennel or pineapple, according to the seasons.
Hotel Restaurant de la Place
, Place de l'Hôtel de ville, 17400 Saint-Jean-d'Angély (France) / Phone : 00 33 (0)5 46 32 69 11. More information on the official
website
.
---