Welcome in the Grande Champagne with the long tradition shared by Cognac Frapin
7 min read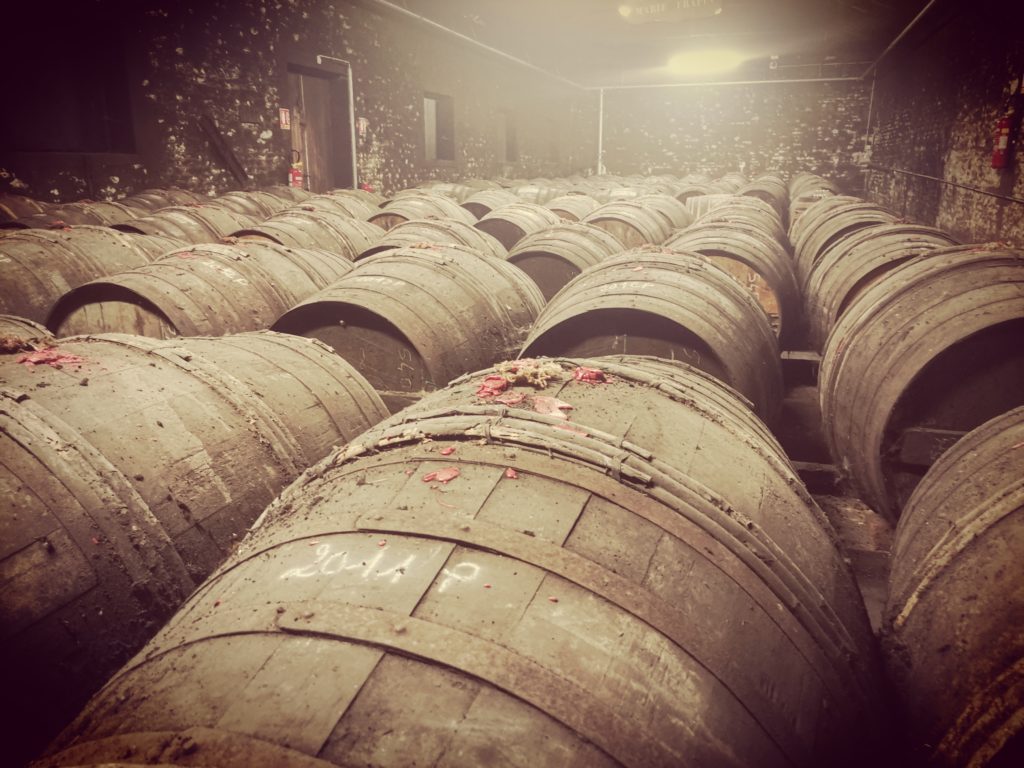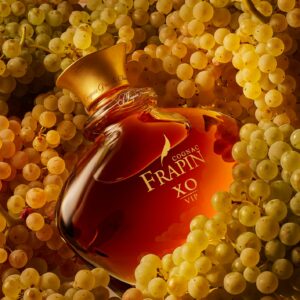 Are you ready to dive into more than eight centuries of Cognac history and know-how, in the heart of Grande Champagne? Therefore, this longtime experience and unique philosophy is proposed in Segonzac by the Frapin family, rich of an exceptional vineyard extending over more than 240 hectares in the heart of the Grande Champagne, renowned as Cognac 1er cru (photo credits: Cognac Frapin).
It's not a mystery that this Maison Frapin embodies with passion the great tradition of a passionate family, settled in Charente since 1270 and pursuing a real alloy between ancestral know-how and centuries-old methods, We would introduce you here how Frapin could introduce you to their own Cognac universe, where their grapes are exclusively harvested, distilled and aged on the estate. For more interaction, you're invited to watch our video below. By AL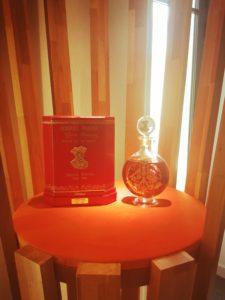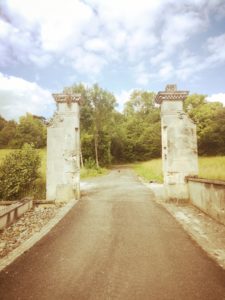 At first sight, we are pleased to land in Segonzac, a charming village dedicated to Cognac since ages. This is where stands the centenary house of the Maison Frapin, initially founded in 1270, before a real start in this Cognac adventure in 1850. Moreover, the famous author François Rabelais appears as an indirect ancestor, explaining the presence of a feather on the Frapin logo (photo credits: AL).
A rich history following with the adding of coat of arms, offered in 1697 by Louis XIV to his apothecary also named Frapin, which lasted until the end of the 2000s on the logo of the House. By the way, a cuvée in tribute to the famous writer's 500th anniversary, was established in 1994, in partnership with the Baccarat crystal factory.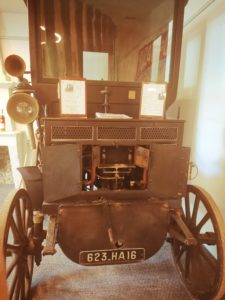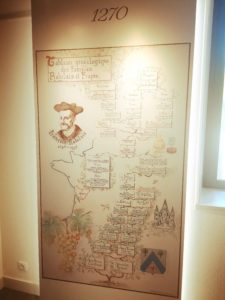 In order to better discover the Frapin universe, we invite you to start a guided visit, from the headquarters, where you would surely surprised by the objects visible on their small museum. Therefore, apart from the history of the house, vintage cuvées, don't miss one of the first Panhard Levassor cars ever, which was owned by Henri Frapin in 1895, to let him travel as quick as possible. Still in good condition, the legend tells that there are still only 2 copies of this model remaining in the World and this noble vehicle can still roll on!
Thereafter, this is the occasion to discover the distillery, which starts to be active from the end of October. Made up of 6 typical Charentais stills (25 hectoliters of copper and brick), conceived by the Maison Maresté, they can be operative with the help of a gas boiler for the launching of any distillation.
"Then, it takes 24 hours to obtain a liter of brandy graduating at 70°, extracted from 10 liters of wine at 10°, thanks to a double-distillation operated by 4 master distillers." admits Patrice Piveteau, the Cellar Master.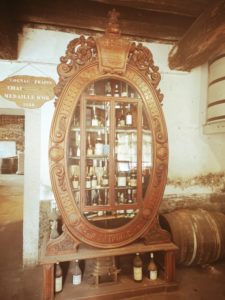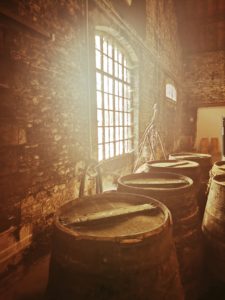 As far as we know and according to legal obligations, all producers must finish the distillation by March 31st. Indeed, the annual process lasts 4 months at Cognac Frapin, with a barrel setting every 24 hours, then stored in one of the twenty chaix of this house, again decorated by the darkness of the torula mushroom (still linked to the evaporation of barrels), which covers here the walls of the aging buildings.
Then, a passage in the original cellar is mandatory, where we find nowadays the spirit of Gustave Eiffel with this frame built in 1892. A gigantic artwork assembled following a meeting with Henry Frapin, during the Universal Exhibition of 1889 where his House even obtained a Gold Medal for its Cognac. This allows us to understand that the entire Cognac Frapin's process is completed as a whole, which is unique for a player in this high-end market.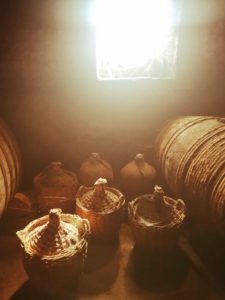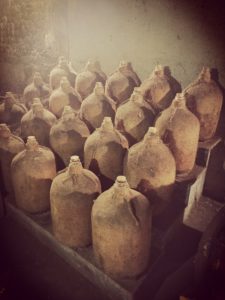 On top of that, you're invited to taste some of the Frapin highlights in the vintage Cognatheque, full of wooden spirit. There, you would get recalled that their entry-level is characterized by a VS, the mid-range by a VSOP aged at least 5 years and finally, a XO for the high-end category, which requires at least 10 years of aging. In this case, at Frapin's, the XO vintages have been aged at least 20 years, in order to reveal as much as possible the finest aromas of this surrounding premium Grande Champagne area.
In case you need a reminder, the Grande Champagne represents a territory of 13,000 hectares, out of a total of 75,000 hectares for the full Cognac zone. Frapin occupies 240 hectares of the precious appellation, which also known to be resistant, and preserving a natural acidity, which acts as a natural preservative until distillation.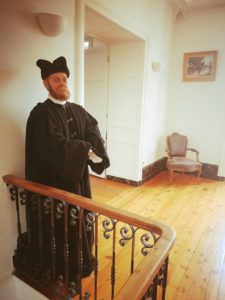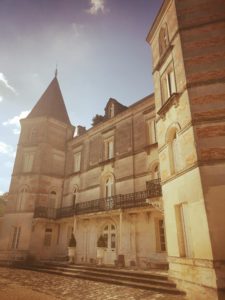 As another remind, the first harvest of Frapin often takes place in the first week of October, in order to obtain greater maturation and de facto more fruity aromas, that would naturally appear in the various upcoming wines of the estate, of which 10 out of 12 are luckily labeled XO.
Otherwise, Frapin couldn't be dissociated from the towers (added in 1872) of the Château de Fontpinot (located in the Fontaine aux Pins), which has been used for public relations, for several years. That's why, this 19th century castle is not open to the public but it's exceptionally unveiled to you here, thanks to a couple of photos. As you can see, these countless rooms express with class, the real spirit of Frapin, notably thanks to its well decorated and furnished meeting salon, or the tasting hall, starring the whole Cognac range developed by Frapin.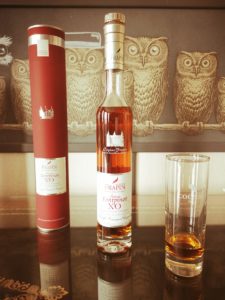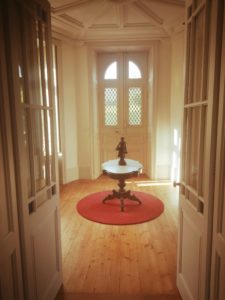 Adding to this, this Château de Fontpinot offers a secondary privilege to the Frapin family since it also embodies an alternative brand. Cherry on the cake, this is the only Château to be integrated and labeled within the Grande Champagne appellation, thus able to meet as well the required specifications regarding the integrating production on site.
Nonetheless, why don't you taste their emblematic XO cuvée from this Château de Fontpinot domain? This XO, which spent 6-month period in new barrels, followed by long aging in dry cellars, offers a balanced wedding between dried fruits and nutmeg tannins, adorned with a vanilla touch. A soft elixir to appreciate with a cigar or a fine pastry.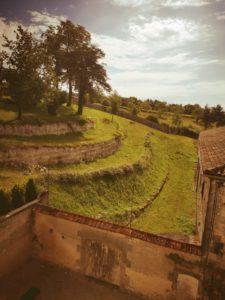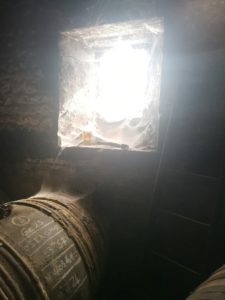 Among the other Frapin references, don't miss the large choice of vintage Cognacs proposed by the Maison. As a reminder, that is to say, those millesimes are sealed and listed with the support of a BNIC (Cognac Office) representative sworn in the year of production.
Among them, the 1988 item provides its lot of finesse, starring soft tannins and delicate aromas of sweet fruits and hazelnuts, while the 1989 holds a charming fragrance of vanilla and floral bucket. Then, its aromatic personality full of liquorice, brings the necessary liveliness and balance to your degustation. At last, the 1991 year unveils exquisite flavors of candied orange, lemon zest, gingerbread, and a touch of exotic fruits…
Regarding his Cognac selection, the cellar master Patrice Piveteau completes here: "We even break certain vintages to reintegrate them among other stocks. For a vintage to come out, it has to be really worth it."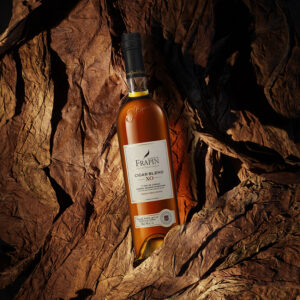 If you look for other types of sensations, the brand new Cigar Blend XO is dedicated to you. Therefore, this elixir, as its name suggests, may promise you beautiful olfactory and gustatory moments, especially if you pair it with cigars but you could also appreciate it without any tobacco. For your information, this Cognac is distilled on lees and aged in humid cellars in order to offer it more roundness and suppleness, so to say it honors the subtle Rancio notes, so recognizable from the old Cognacs of Frapin.
Therefore, you would surely admire its mahogany robe, full of copper reflections, displaying explicit notes of melted vanilla (coming from the wood tannins), honey and even dried fruit (walnuts and hazelnuts), appearing due to longer aging in new oak barrels, according to the long aging know-how of the Frapin family. That's why you would easily notice that this Cognac holds a very homogeneous and amazing bouquet of blended spices, eventually to marry with aromas of cigar boxes, so typical of a Grande Champagne juice distilled on lees.
Maison Frapin, 6 Rue Pierre Frapin, 16130 Segonzac (France) / Phone: 00 33 (0)5 45 83 40 03. For more details, follow the fully renovated visiting circuit of Frapin, on the official website.
---