After Under The Sea, the Ephemera Group takes us into space with their new Stellar concept restaurant!
4 min read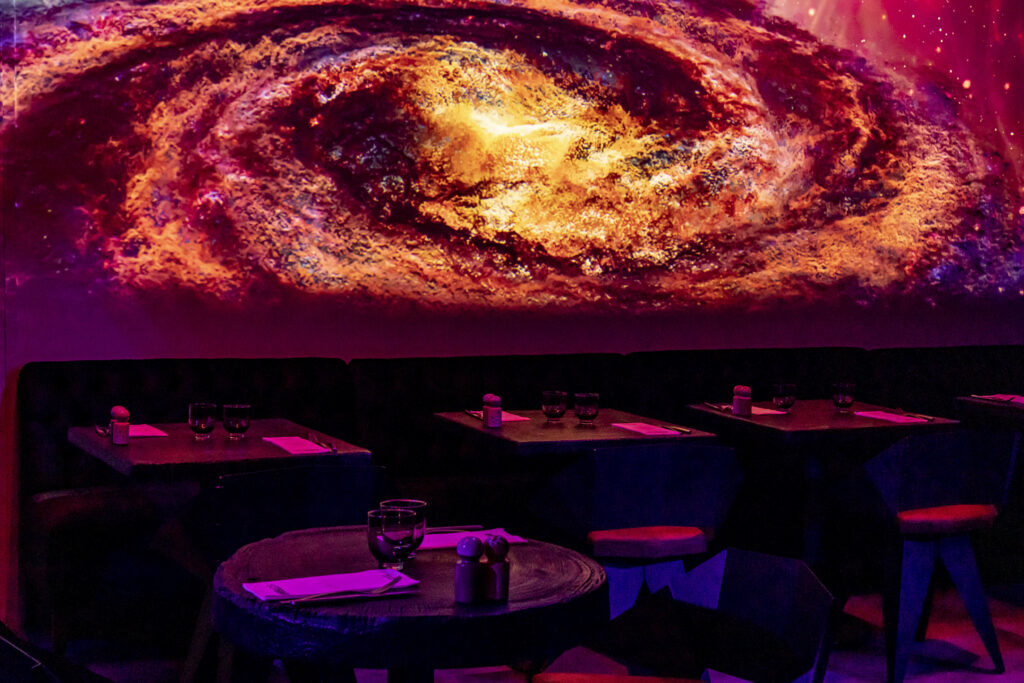 One year after the inauguration of Under The Sea, an avant-garde Parisian restaurant dedicated to submarine worlds, the still inspired Ephemera Group pursues its imagination with a new culinary concept but this time in outer space. For your information, this new born culinary group was founded by a trio of Bocuse School graduates who are Annaïg Ferrand, Loris De Vaucelles et Jade Frommer, and Stellar is their new promising baby. By AP
---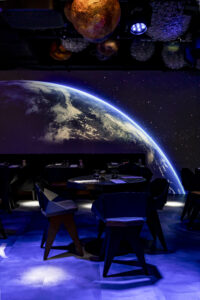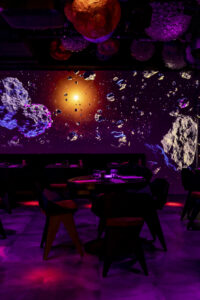 Logically baptized Stellar, as a tribute to this epitome of stars, you would feel as if you were boarded in a spatial capsule. That's why, thanks to a specific scenery (and of course no windows), surrounded by real spatial images projected on giant screens, you would undoubtedly be hassled into another gastronomic galaxy (photo credits: Simon Détraz).
Thus, one of the main goals of this project lies on immersing the visitors in a reconstitution of this spatial projection from cosmos, through those various and always in motion celestial landscapes. If you remain attentive to those digital walls, between two sips of cocktails, you would easily recognize the Milky Way, the Moon but also some random meteor fields.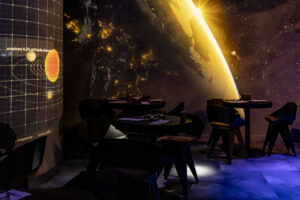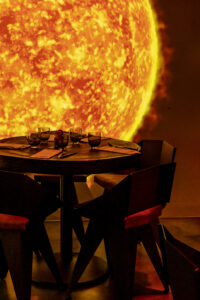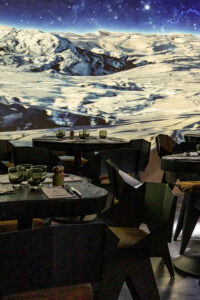 This unusual experience was made possible thanks to a genuine technology from the latest generation, enhanced by the Spectre Lab which is a multidisciplinary creative Parisian studio, specialized in the creation of immersive experiences. Those installations were realized in collaboration with the special effects from Jeff Van Dyck.
In another hand, the decoration of this singular place has been entrusted to Henriette et Companie, who have notably signed many film sets. They joined their ideas to recreate as much realistic as possible, on the two levels from this right bank address, this so distant solar system and the immensity of the sidereal world. Indeed, you can expect a real immersion into space, from floor to ceiling, reinforced by countless play of lights, all inspired by cinematographic universes.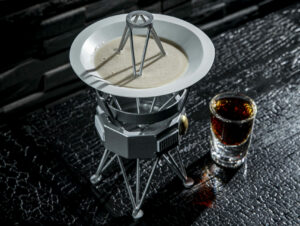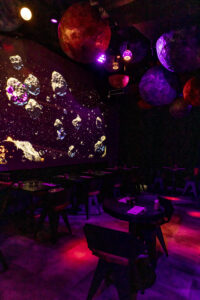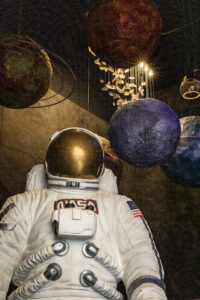 On top of that, look up all around you since a whole galaxy of planets, built from burnt wood, fine paper mache or heated glass, recovers the basement's ceiling. Those pieces were decorated by hand by a former cinema costume designer. Without missing the secret room which acts like a space capsule cabin, from which anyone may pursue to admire those lunar configurations, through dedicated portholes.
In terms of gourmet topics, a simple menu has been designed to satisfy your hunger, while colliding with this unfamiliar experience. That's why, a set of homemade dishes await for your venue, since most of them are spelled with cosmic names. For your information, you could find the inspired Bœuf en Apesanteur speciality, which is a heart of rump steak served in tagliata, along a balsamic reduction and balanced by some grated parmesan, on a bed of red onion pickles and served with homemade fries.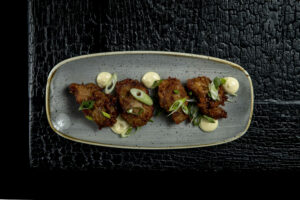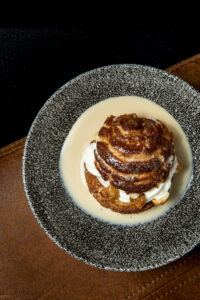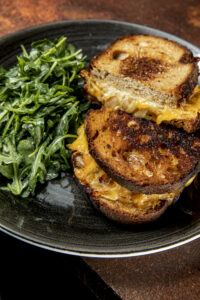 In another hand, don't miss the much inspired Trou Noir dish, which is a cheese burger composed of Comté cheese, its BBQ sauce and homemade fries or savor the Cheesy Planet, as a sort of croque monsieur revisited inside some country bread, completed by onion confit with white wine, along fior di latte, cheddar and again Comté, served with salad and a sherry vinaigrette.
As a sweet part, we invite you to discover the Paris-Venus, (as a reference to the legendary Paris-Brest pastry), adorned with delicious profiteroles with a crunchy praline and creamy chiboust cream, unless you prefer the French toast embodied by the Perdue dans l'Espace? This brioche is covered by delicious a hint of salted butter caramel and nearby Custard sauce. Without forgetting the very creative cocktails proposed by the fancy team of bartenders, wearing glamour silver cosmonaut suits!