Have you ever dreamed about sailing in Paris? The Polpo Plage is made for you with the Marin d'Eau Douce boats!
3 min read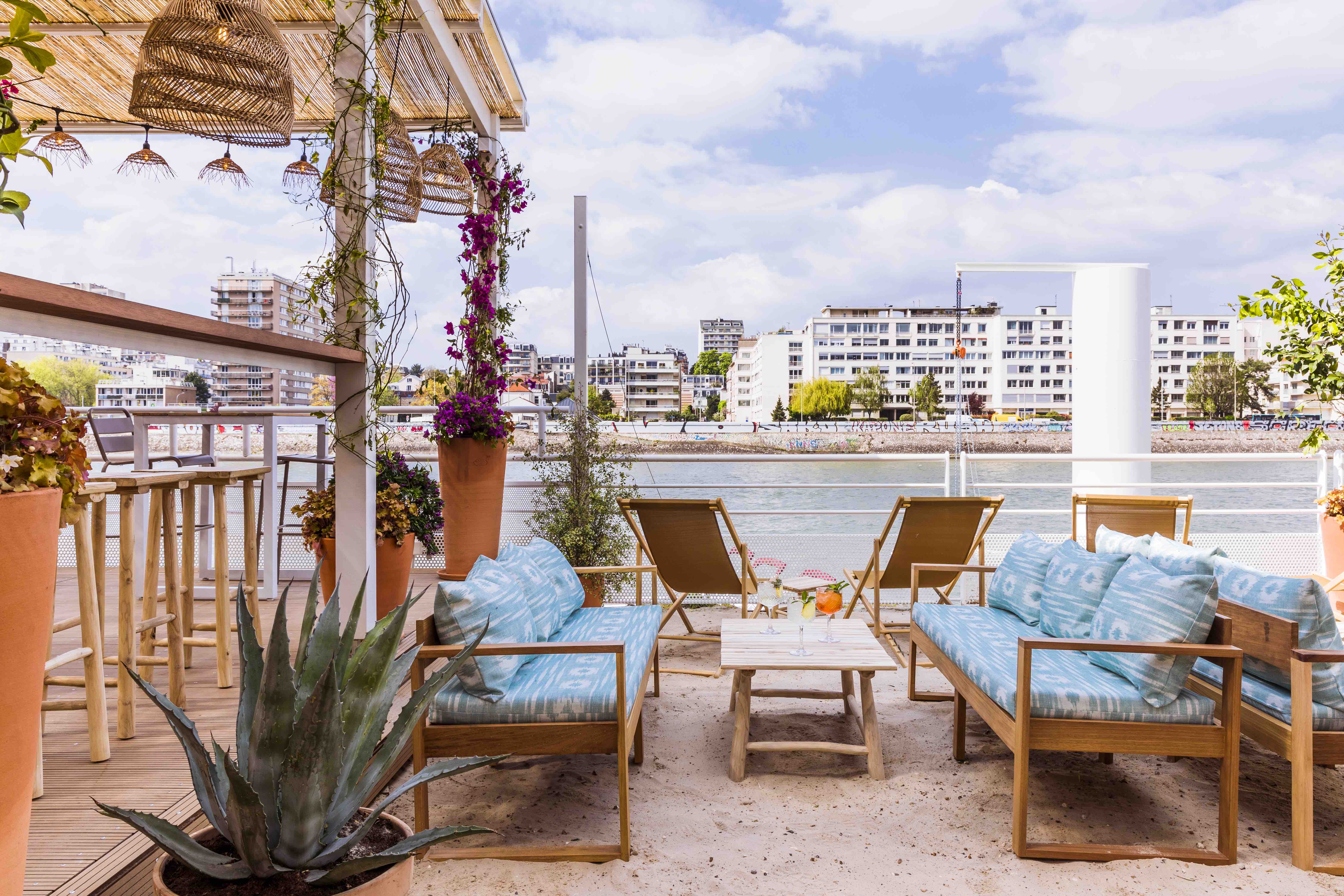 If you are into seafood and urban farniente in a pleasant framework, don't miss the new edition of Polpo! This summer spot, initiated by Groupe Bertrand, is ideally located on an immobile barge, even though floating on the Seine river and nearby the westside Levallois subway station. By AP
---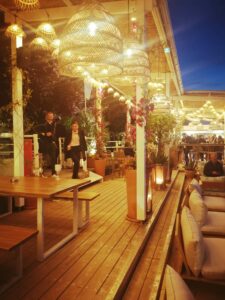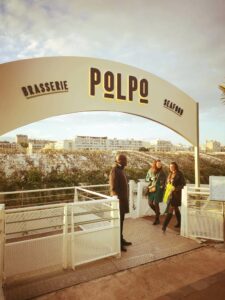 For this 2023 season of Polpo, many surprises wait for your venue, such as a small beach overlooking a free-floating marina! Therefore, a dozen of electric boats can be rented in partnership with the Marin d'Eau Douce company. Directly accessible from a wooden pontoon, those license-free boats can host up to 9 guests and be sailed without a skipper. A good occasion to spend a family or friendly moment, towards a bucolic fluvial escapade (photo credits: AP).
By the way, no risk of facing any freight cargo, since you would follow a dead arm of the river, and you could even reach the bridge of Suresnes, the time of a renting period of 2 hours, or even joining the other side of the Seine, towards L'Île-Saint-Denis in 4 hours.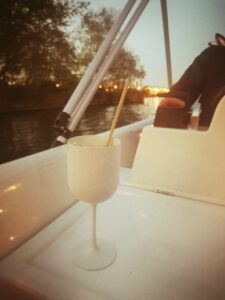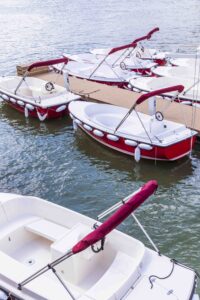 Thus, you could become a navigator for a day, on one of those made in France boats, able to safely cruise at an average speed of 6 km/h. Without forgetting that gourmet baskets are proposed to accompany your trip, preferably under generous sunlights. Thus, from this Polpo Plage, don't miss to discover the plural river banks along the Seine, full of atypical landscapes to contemplate from this heterogeneous Parisian region (photo credits: Romain Ricard).
Those rental rates would vary according to the size of the boat and the duration of your trip, ranging from 40 euros for a 4-5 seater boat for an 1 hour set, but it could also meet 90 euros for a 10-11 seater boat. Unless you prefer enjoying the sometimes apparition of the Parisian sunshine, inside the spacious and opened window houseboat or directly at the beach terrace, with your feet in the sand.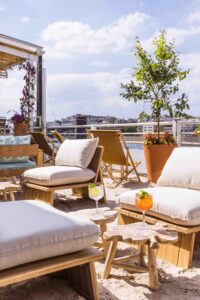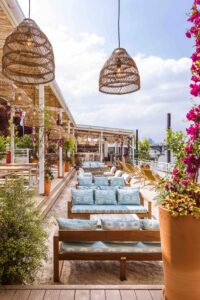 For your information, you would undoubtedly find your place between those random picnic-style tables, comfortable deckchairs but also sofa benches, sheltered by parasols. As you may surely have understood, you could benefit from a true holiday-inspired resort, reachable by only 20mn from Opéra station. Cherry on the cake, this large summer terrace is the ideal spot to satisfy your favorite seafood and bistronomic appetite.
On the menu, a large choice of refreshing drinks, such as beers, homemade cocktails (starring delicious Mamma Mia limoncello and Adriatico amaretto), plus a selection of organic and biodynamic wines selected by the committee of Oé oenologists. Those various white-labelled wines are produced by winegrowers who respect their soils and environment.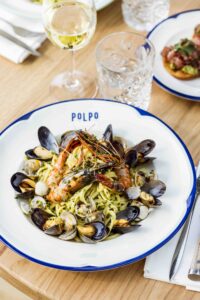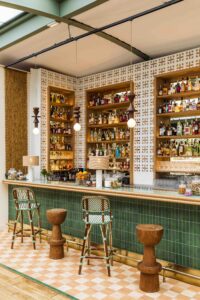 On the other side, if you need shelter, let's get back to the barge, to appreciate the gastronomic offer. If you like seafood, this a real temple for you! You have a huge choice between fresh Saint-Vaast oysters, cooked mussels, grilled octopus, exotic tuna pokes, basic fish & chips, along lobster linguines and lobster rolls.
Without forgetting a selection of tapas, featuring croquettes from matured cheddar and crab, sardine tempuras, and coral lentils humus. You could conclude your dinner with some delicate sweets, such as the French classic profiteroles, crème brûlée, île flottante and even authentic Italian ice creams, among many other delights to share (or not) with your relatives, with a glass of a Kombucha Datxa, from Basque Country, or a Tigre Bock beer!
Polpo
, 47 Quai Charles Pasqua, 92300 Levallois-Perret (France) / Phone : 00 33 (0)1 41 34 32 86. More information on their official
website
.