Our selection of exhibitions in Paris for Summer and Autumn 2023
11 min read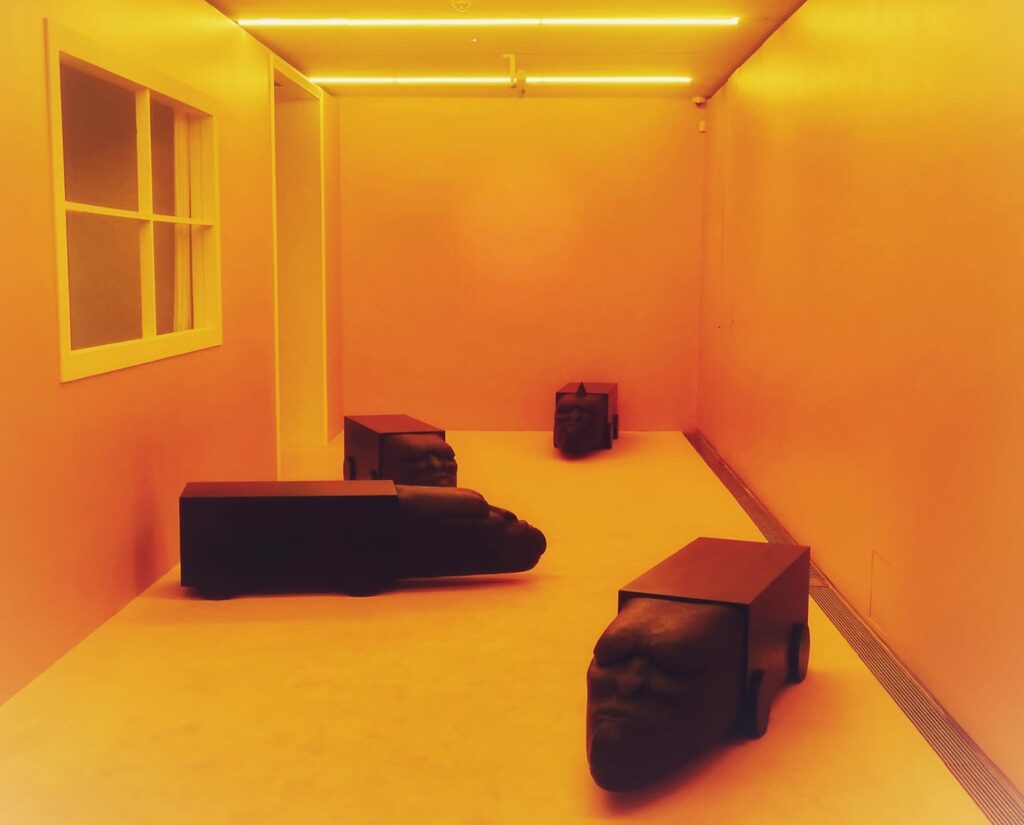 The reputation of the Parisian cultural offer is well established! That's why many exhibitions, sometimes from all over the world, take their place in the largest museums of the capital. Discover the selection of our suggestions for this Summer & Autumn 2023, along other unmissable classics, enunciated just below. By AL, ST & AP
---
Ramsès et l'or des pharaons : l'incroyable expo in Grande Halle de la Villette, until September 6th, 2023

Notre-Dame de Paris. Des bâtisseurs aux restaurateurs at Cité de l'Architecture et du Patrimoine until June 2nd, 2024
Celebrating the Nuits parisiennes, de 1977 à nos jours, at the Musée Carnavalet, until May 12th, 2024
Pol Tabouret exhibition (pictured on the cover) at Lafayette Anticipations until September 3rd, 2023
Chagall, Paris – New York and Paul Klee at the Atelier des Lumières until January 7th, 2024
The Manet & Degas exhibition at the Musée d'Orsay until July 23th, 2023
Sarah Bernhardt retrospective at the Petit Palais until August 27th, 2023
Harry Potter l'exposition : l'événement immersif XXL à prolongé at the Paris Expo Porte de Versailles until October 15th, 2023
Let's pay a tribute to La Mode en Mouvement at the Galliera Museum until September 7th, 2025
The combined Basquiat x Warhol exhibition at the Louis Vuitton Foundation until August 28th, 2023
Let's learn more about Elliott Erwitt at the Musée Maillol until September 24th, 2023
Naples à Paris, musée de Capodimonte at the Louvre Museum until January 8th, 2024
Des Cheveux et des Poils, at MAD – Musée des Arts Décoratifs until September 17th, 2023
The Léon Monet exhibition at the Musée du Luxembourg until July 16th, 2023
Philippe Cognée, embodied in the Musée de l'Orangerie until September 4th, 2023.
---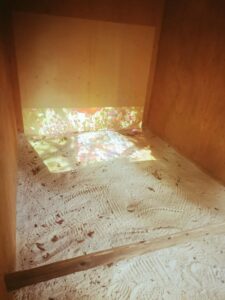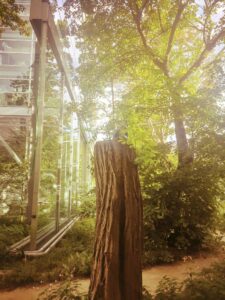 The Fondation Cartier for Contemporary Art invites the Australian sculptor Ron Mueck to exhibit a set of artworks, never shown in France, alongside his honorable career. The visitors would discover his monumental Mass art installation, presented for the very first time outside Australia, as well as a large-scale sculpture designed for the occasion.
Discover until 5th November 2023, this exclusive exhibition, bearing witness to the recent evolution of Ron Mueck's practice. Thus, the Cartier Foundation is pursuing a long-term dialogue with this unique artist, with whom he was revealed to France, in 2005 and whose presentations are as rare as expected.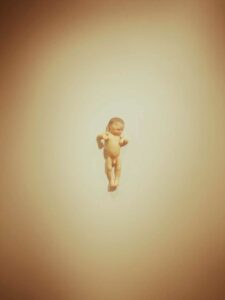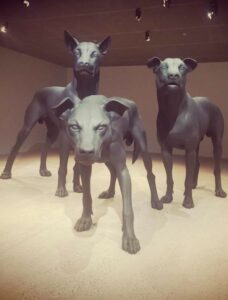 Commissioned by the National Gallery of Victoria, based in Melbourne, back in 2017, this Mass installation (probably referring as a crowd notion) is supposed to be the largest that Ron Mueck has ever produced. Therefore, this ensemble of giant sculptures, composed of one hundred gigantic human skulls (weighing 45 kg each), along a trio of giant black dogs, without forgetting the massive new born Girl laying on the floor.
For your information, the Mass scenery is reconfigured by the artist, according to the space for each presentation. This surreal experience immerses us into a moment of human existence contemplation, but not only…
Fondation Cartier pour l'art contemporain
, 261 Boulevard Raspail, 75014 Paris (France) / Phone : 00 33 (0)1 42 18 56 50. More information on their official
website
.
---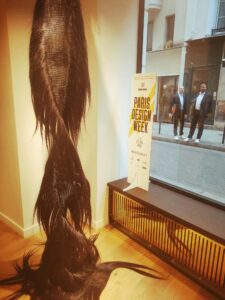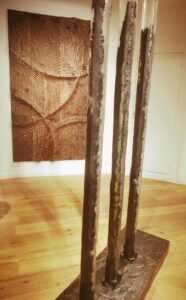 From September 15th to December 22th, 2023, the Galerie Negropontes, situated nearby the Louvre Museum, invites a team of alchemists, through its brand new eponym Alchemists exhibition.
Indeed, with this art installation, we can revisit the notorious abilities developed by ​​alchemists, aiming to somehow "elevate what is imperfect to the rank of perfection". Settled over two main parts, this exhibition would undoubtedly bewitch your esthetic senses with a fine selection of fascinating artworks. Among them, we can count on sculptures, achieved by Eric de Dormael or the duet Perrin & Perrin, but also paintings, along other fancy furniture pieces, notably with the metallic elements of Gianluca Pacchioni and Erwan Boulloud, or the wooden structures of Hervé Langlais.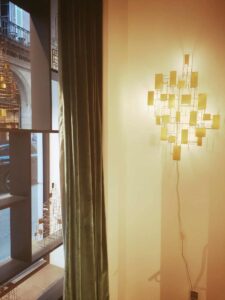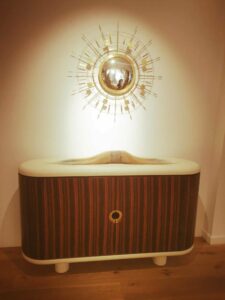 This colorful ensemble has been realized by a total of eleven artists and designers, subsequently enriched by a second part including a presentation of original jewelry creations, notably by Jean-Christophe Malaval.
Therefore, from October 5th, you're invited to come back to pursue this unprecedented alchemy between those previously enunciated artworks and a completed presentation of jewelry, for another search for perfection between shapes and materials.
Galerie Negropontes
, 14-16 Rue Jean-Jacques Rousseau, 75001 (France) / Phone : 00 33 (0)1 71 18 19 51. More information on their official
website
.
---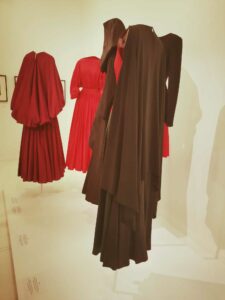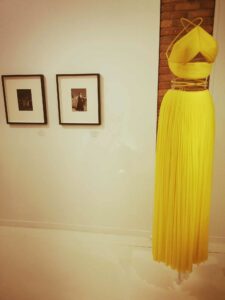 Curated by Olivier Sailliard, let's discover a new fashion exhibition at the Fondation Alaïa. This time, dedicated to the legendary fashion designer Madame Grès, who dedicated her life to operate her own career to promote a certain French elegance (photo credits: AL).
This stylist originally wished to either become a dancer and a sculptor but she although concentrated her endless inspiration to conceive incomparable fashion pieces. Moreover, Madame Grès shared a passion for sculpture with the creator Azzedine Alaïa, whose Foundation hosts this fashion installation.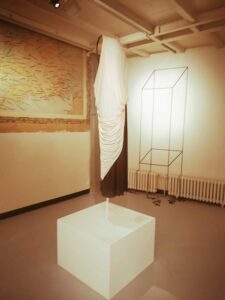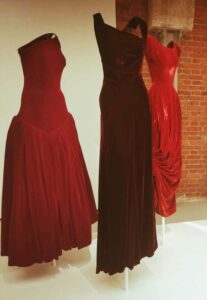 A shared ambition that was then converted into a true and unique sewing and knitting devotion, apparently visible in their distinct creations. Indeed, the textile pieces of those two visionary designers tend to reach some simplicity, by eventually concealing an extreme complexity of design philosophy.
Thus, you're invited to admire in this exhibition, their fabric perspectives, fully governing their choices of designs. You may attend a series of monochrome colors, mainly featuring intense black and white tones, among other directions. Indeed, discover for the first time, a unique exhibition that combines the galaxies of Madame Grès and those of Azzedine Alaïa, that we don't know if they met.
"As soon as you have found something of a personal and unique character, you must exploit it to the fullest and continue to realize it without stopping it and until the end", admitted Madame Grès. To this, Azzedine Alaïa responded years later: "When an idea imposes itself on you, you have to lasso it, turn around it and not deviate from it."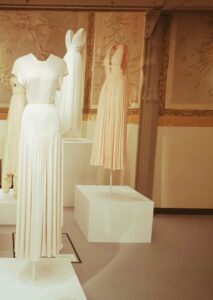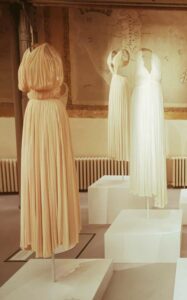 In fact, those fashion icons are federated according to their formal principles, along their constant research in terms of fabrics or colors improvement. From timeless casual or prestige elegant dresses, no less than 60 creations of those two gifted designers are exhibited here, by inviting the visitors to attend an exclusive dialogue between those two geniuses, who may be considered as two stubborn loners who became dress sculptors.
As far as we know, the jersey fabrics used to be dubbed by the first one, translating into knit and soft materials for the second person. Therefore, their quest for proportions, the rigor of the shapes, whether anyone wearing their creations for an evening or for a day, unites them.
---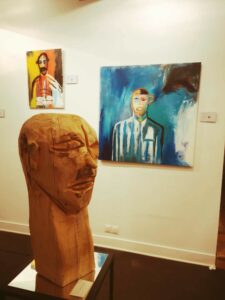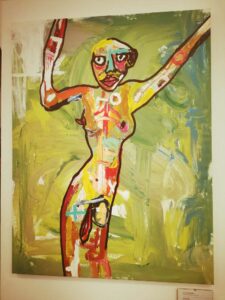 In the intimate Espace Sylvie Rielle, sitting in the historical Place Des Vosges, we invite you to discover the flamboyant artworks of the French artist Julien Bernard. Born from a personal reflection about an unwavering and explicit passion dedicated to shapes and emotions.
For instance, through a plural combination of somehow fauve colors, you would be able to explore his own vision of humanity, through many visages. A deep dive into a raw and authentic universe, for a vibrant dialogue between the artist and his subject.
For your information, Julien Bernard processed to operate this ensemble of creations in Sologne, in order to disconnect with a quite active Parisian activity and eventually reconnect with nature, probably for more introspection. Adding to this, this artist completed this time, his universe with some wooden sculptures, tainted of African statues' style.
Espace Sylvia Rielle
, 10 Place des Vosges, 75004 Paris (France) / Phone : 00 33 (0)6 08 68 31 31. More information on their official
website
.
---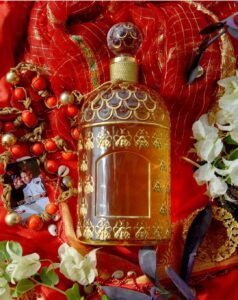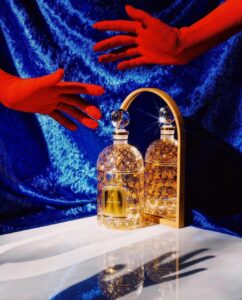 Until September 4th 2023, the Guerlain flagship store, settled in the heart of the Champs-Elysées Avenue, a lightful exhibition is dedicated in homage to the legendary bee flask, as the oldest perfume flask from Guerlain, which celebrates in 2023 its 170th anniversary (photo credits: Guerlain).
Baptized under the name of Chère Eugénie, this art installation and selection pays a tribute to this timeless recipient, created on January 30, 1853, by the founder of the house Pierre François-Pascal Guerlain, for Eugénie de Montijo when she became empress of France.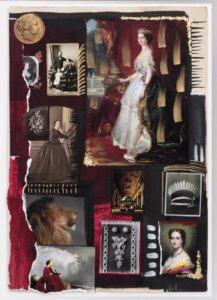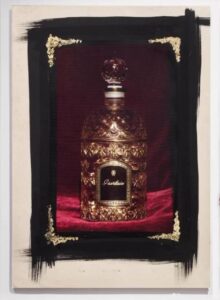 More than hundred years later, the emblematic house of Guerlain decided to invite no less than eleven female artists to interpret their own imaginary around this best-selling masterpiece. With this experience proposed in the underground art space, you may surely be captivated by the various realizations from those famous artists, whatever they are photographers such as Audrey Tautou, or even polyvalent painters as Orlan, depicting this flask of bees into a majestic canvas.
Cherry on the cake, the authentic Empress' flask of bees would be as well exhibited, after being extracted from the Guerlain's archives for the occasion.
---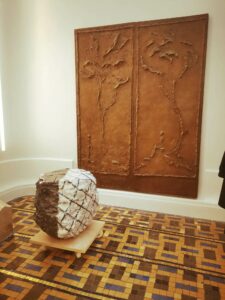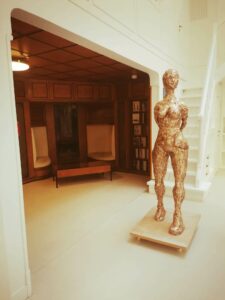 Curated by Françoise Cohen, the Giacometti Foundation invites the talented American artist Rebecca Warren, also known as one of the major figures of contemporary art, for an exhibition entitled ASensitiv (photo credits: AL).
On this occasion, anchored in the twentieth anniversary of the Foundation, a number of artworks by Alberto Giacometti have been selected to be presented alongside the realizations of Rebecca Warren, some of which have been created especially for this exhibition.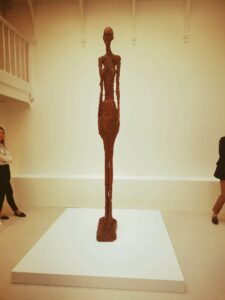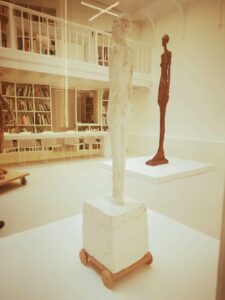 Thus, in this art installation, to discover until July 2nd, 2023, admire Rebecca Warren's analysis of the revealing, even hallucinatory connections between her work versus the art and personality of Alberto Giacometti. Combining sculptures, paintings and drawings, this exhibition is an opportunity to consider her work in relation to one of the masters of modern art.
For your information, Rebecca Warren was born in 1965 in Pinhoe, in United Kingdom but lives and works in London. Moreover, she was elected a Royal Academician at the Royal Academy of Arts in London in 2013. In 2020 she was appointed an Officer of the Order of the British Empire for her services to art.
Institut Giacometti
, 5 Rue Victor Schoelcher, 75014 Paris (France) / Phone : 00 33 (0)1 44 54 52 44. More information on the official
website
.
---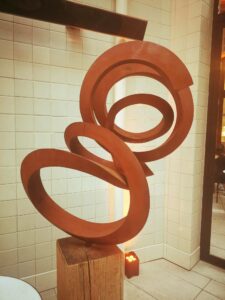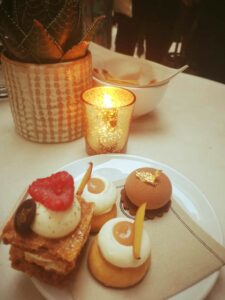 Let's contemplate again the Art Deco decoration and historic mosaics, from the Lutetia Hotel, visible in the heart of the Saint-Germain patio, probably regarded as one the best kept secrets on the Left Bank (photo credits: AL).
A good occasion to taste in this real haven of peace, a selection of dishes imagined by chef Patrick Charvet and the pastry chef Nicolas Guercio, eventually accompanied from the Maison Taittinger champagnes, including the amazing Taittinger Cuvée Lutetia Extra Brut.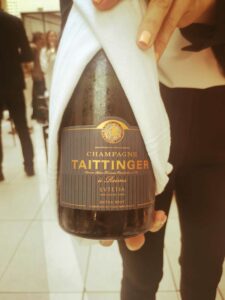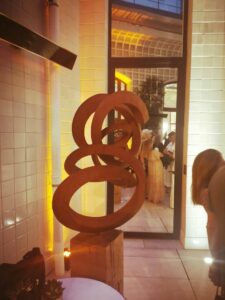 In parallel, beyond the opulent collection of 20th century art all around the Lutetia Hotel (starring masterpieces of Hiquily, Arman and César, among other legends), all the esthetes would be luckily satisfied with a summer art installation, displayed throughout some artworks of contemporary sculptor Pieter Obels.
Organized in partnership with Opera Gallery, the Lutetia Hotel offers in this hidden patio an invitation to an artistic journey, full of harmonious shapes and poetry. Indeed, Pieter Obels is nowadays a renowned artist, able to make the steel material great again, as can testify the sculptures baptized Splutteringly Loud and In between days.
Hotel Lutetia, 45 Boulevard Raspail, 75006 Paris (France) / Phone : 00 33 (0)1 49 54 46 00. More information on their official website.
---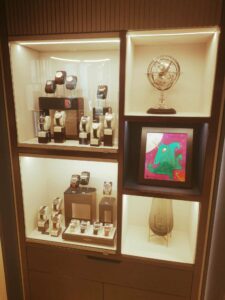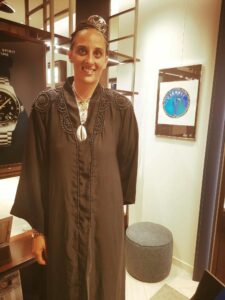 If you're into luxury watches and horses, the art installation of the artist Roxane Depardieu, inside the flagship store of Longines, in the Saint-Germain-des-Prés quarter, is made for you (photo credits : AL).
Baptized Horses In Motion, this exhibition, to discover until 25th June 2023, offers a new panorama of the talent of this painter, also known as the daughter of the actors Karine Silla and Gérard Depardieu, who became graduated from the California Institute of the Arts in Los Angeles (USA), before coming back to France, in order to pursue her artistic career between Senegal and Loire Valley.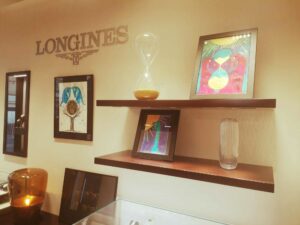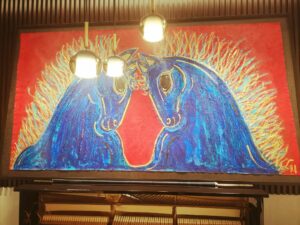 After some roles played in a couple of movies (such as: Un Baiser Papillon, Ride or Die, among others), Roxane Depardieu took up again the challenge to live her first passion, conveyed by contemporary art. Her style finds inspiration in her countless travels but also in the huge weddings between colors, as can testify her numerous drawings, paintings and serigraphs depicting here scenes with horses.
A real tribute offered to the Longines house, which is a high sponsor of horse races, following previous presentations at the Catherine Houard Gallery in 2016 and the Musée du Cheval at La Sarraz, back in 2021.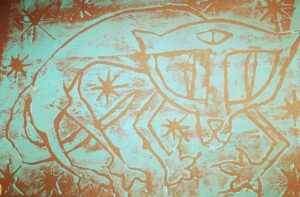 Longines, 3 Rue de Sèvres, 75006 Paris (Franc) / Phone : 00 33 (0)1 40 49 03 95. More information on her official website.
---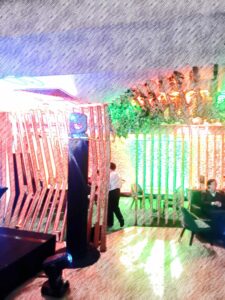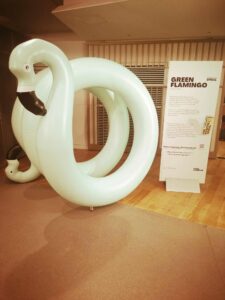 The French plastician Cyril Lancelin associated with the Pullman Bercy Hotel for his new exhibition named "The Positive Signal". The fruit of a collaboration with the Accor hotels, where you could discover 5 massive artworks, designed and produced by this inspired artist, native from Lyon (photo credits: AP).
At this occasion, those sculptures were specially created for this Pullman Bercy Hotel, with the wish to invite us to become more aware than ever about the climate emergency in a playful and colorful atmosphere.
realizations
represent the
artist
's
manifesto
in favor of
eco-responsibility
, conveyed by their
appellations
which are
Green Flamingo
,
Blue Cloud
,
Sun Energy
,
Pink Cactus
and
Purple Whales
… As many
endangered animals
' references that would undoubtedly invite all of us to
question
ourselves and even debate regarding the
messages
they carry.
Pullman Paris Centre Bercy, 1 Rue de Libourne, 75012 Paris Phone : 00 33 (0)1 44 67 34 00 / More information on their official website.
---