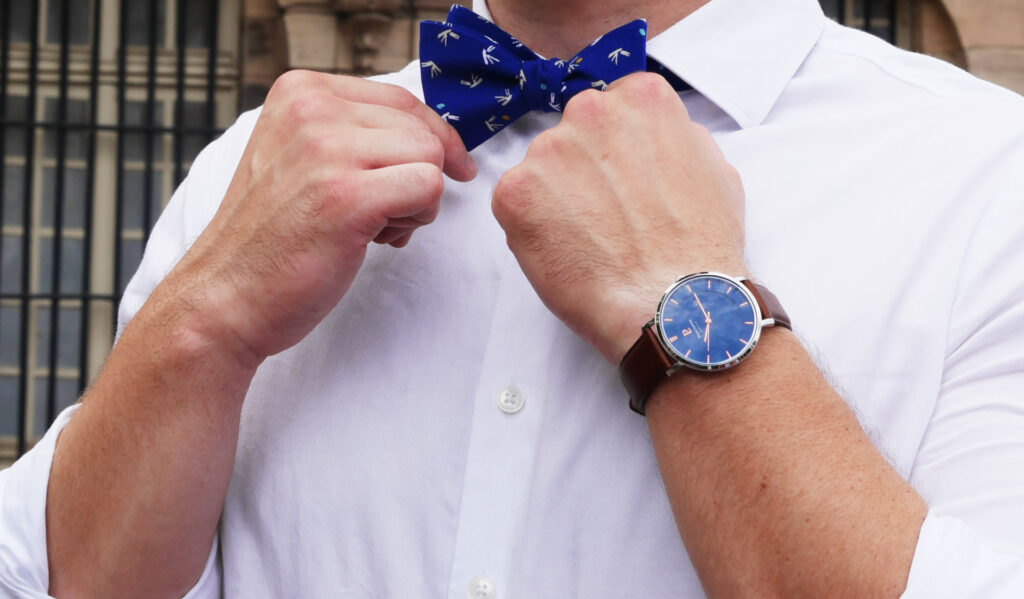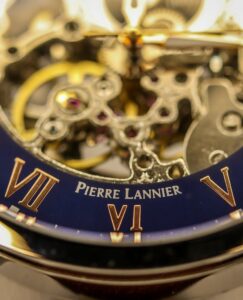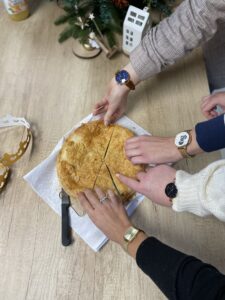 Born from a couple Béatrice and Jean-Paul Burgun to start their own distribution channel of watches, following a trip all around Europe in 1977, the Pierre Lannier adventure was officially launched in the bucolic village of Ernolsheim-lès-Saverne, and more precisely in the family dining room. However, this starting point was ephemeral since Pierre Lannier quickly decided to internationally expand, and this from 1979. From France, to Germany, passing by Japan, until the United States until the ultimate recognition in the watchmaking world, in the 1990s. Indeed, during those decades, the firm was honored by several awards, such as the 1993 golden dial for the Miluna and its half-moon dial and the 1998 watch of the year for the Cédric Pioline chronograph.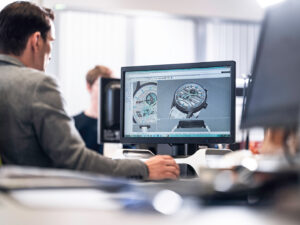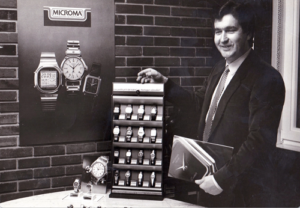 Therefore, Pierre Lannier has never hidden its attraction for sports, towards multiple partnerships with federations or even athletes, such as the French champion Cédric Pioline or the footballer David Ginola in 1996, without forgetting the French basketball team in 2012, the unforgettable 2015 European Basketball Championship, or the Racing Club de Strasbourg team in 2016. Apart from this collaborative aspect, the production process was enriched with the opening of a second production workshop in Tananarive, Madagascar, just before holding their first international TV campaign in 2011. Ten years after and at the celebration of the 45th birthday of Pierre Lannier, we're glad to introduce the new Autumn/Winter 2023 collection. By AL
---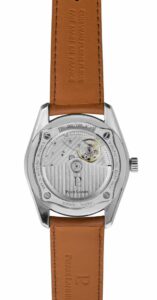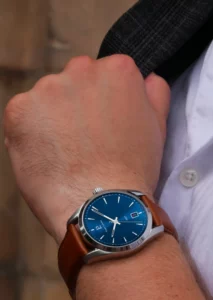 In order to celebrate their new ranking as one of the top 10 best-selling watch brands in France, the Alsatian company decided to reach some luxury heights, with the launch of an automatic watch, named PL 1977, manufactured in France and limited to 500 numbered copies (photo credits: Pierre Lannier/AL).
A good occasion to celebrate the 45th anniversary of this French brand, which became famous for its affordable watches adorned with neat finishes. Therefore, produced in only 500 copies, this model holds generous lines around a 42.5mm case, manufactured by the French house Berthet Horlogerie, adorned with a pretty sun-ray blue dial, a leather strap. This element is made in the Haas tannery, again in Alsace but manufactured in the Sibra manufacture in Besançon.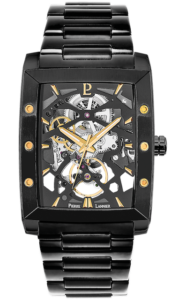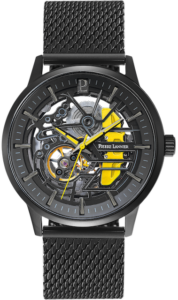 Furthermore and directly inspired by motorsport field, why not opting for a Paddock model? This reference offers an elegant timepiece, incorporating visible design elements inspired by racing car engines. The sportive aspects of this watch are particularly accentuated by its yellow and red colors, you would surely become bewitched by this sophisticated and trendy look.
In another style, the rectangular shape of the Hector line leads to a fully unique shape, enhanced by the specific structure of its dial. Thus, this facets reveals the automatic mechanism, somehow recalling the architecture of the Eiffel Tower, highlighted by a genuine contrast between the black reflects from the dial and the golden hands.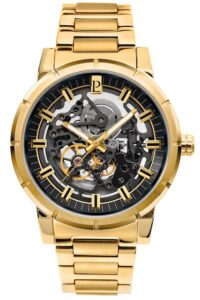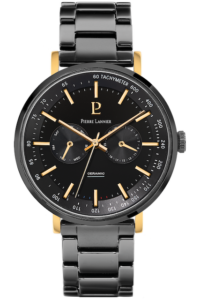 Then, let's discover the Ceramic collection, enhancing this eponym material, which recently become essential in modern watchmaking. For your information, many of us are aware about the countless assets of ceramic, such as hardness, lightness, resistance to friction and to temperature variations. Don't miss the modern appearance of this fancy watch, full of many shades of black.
In parallel, the Automatic line dives us into an explicit automatic movement, unveiled by its skeleton dial. Therefore, you could further admire the details of its mechanism, conveyed by black and golden tones.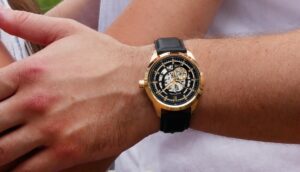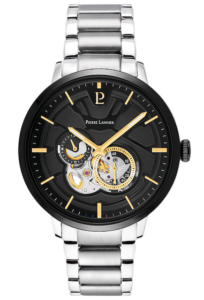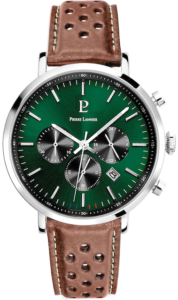 Moreover, if you look for a chronograph with character, the classic lines from the Baron models would propose you a certain vintage spirit, but with some urban touch, thanks to the interplay of materials and textures. Indeed, you are invited to play between the various color possibilities, either for strap materials and dials, able to provide you real originality to your wrists.
For steel lovers, the Trio collection is a proper alternative, combining towards its three models, its lot of originality, through its uncommon structure, but also technique with its multifunction movements. By the way, those latter are unveiled beyond its inner circled counters.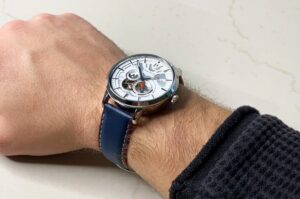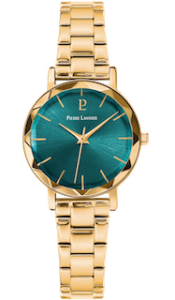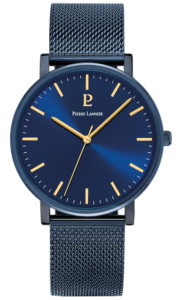 Adding to this, let's go back to basics with the urban design fitted in the Essential collection, vibing between several contrasts featuring a dark colored in the dial but with golden watch hands. In fact, this true immersion into a minimalist structure, melt into a contemporary style. That's why, this Essential collection, that would probable become essential for some of you, is available in several colors, in order to bring elegance and modernity to your wrist.
Then, let's get into female watches, with this golden Multiples watches. Considered as the best-selling women's watch from Pierre Lannier, with its 24-faceted glass. Adorned with a golden steel bracelet and framed by a green dial that pursue this emerald green tradition, exploring a surprisingly sparkling relief.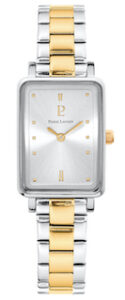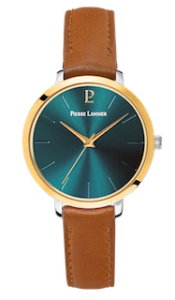 For more feminity, the ancestral Chouquette range just got enriched some new interesting models, bringing its lot of feminine looks. All dressed in shiny colors with current trends, you could be sure to adopt this daily luminous effect, including unforgettable sunburst and semi-matt lacquered finishes on the dials, for a delicate feminine touch. Icing on the cake, this watch holds a case able to adapt to an interchangeable 12 mm bracelet.
On top of that and relaunched for upcoming Fall 2023, the Ariane collection reveals pieces that seem to perfectly match with the future autumnal colors. It's pretty clear that Pierre Lannier wishes to relaunch here a hint of conservatism in its creations, through this easily recognizable rectangular dial and its relooked steel bracelets. Without forgetting that you would read your hours with the support of small square indexes, settled around the circumference of the central dial.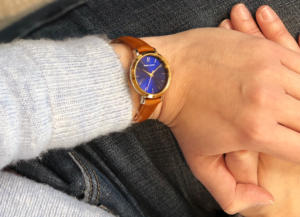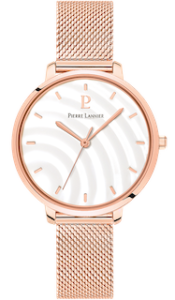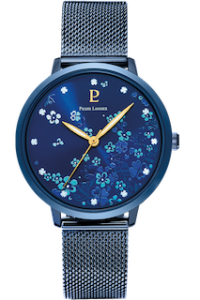 We may conclude this eclectic selection with another's female note available in the Tallia line, either considered as feminine but also somehow rural. This brand new collection is highlighted by the bucolic originality of its dials, highlighted by a beautiful floral pattern. More than a watch, this products can be worn like an authentic jewel, that wouldn't undoubtedly leave no one indifferent!
At last, the timeless Betty line naturally combines visible fine and marine vibes, essentially due to its movement of waves on water on the framework. This delicate structure display constant and slightly draped movements that would feel them like silk or oceanic mood.
More information the Pierre Lannier official website.