The Teoxane Laboratories get deeper into cosmetics, with their RHA Hyaluronic Acid based and Teosyal lines
6 min read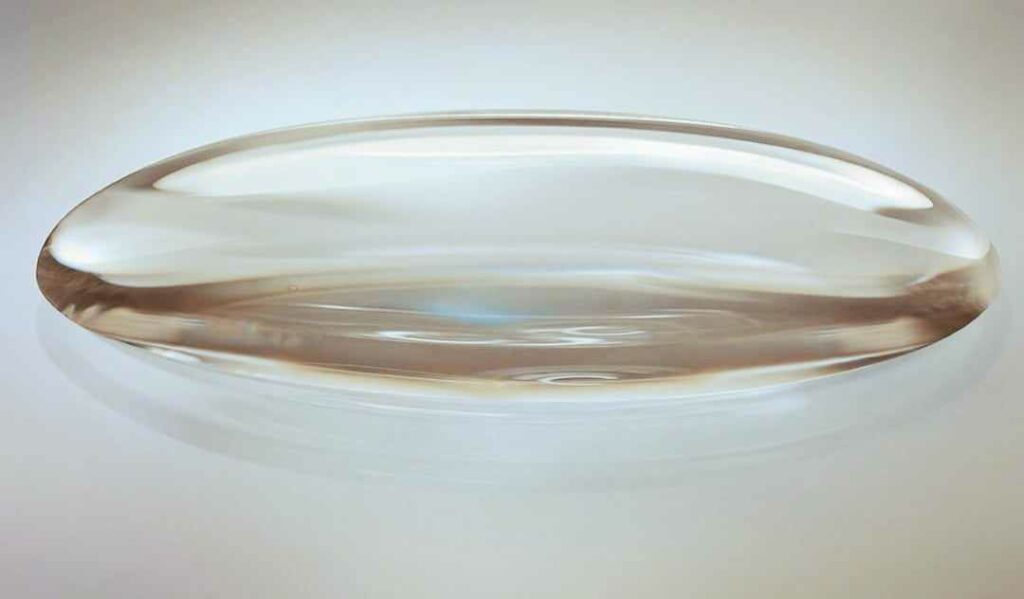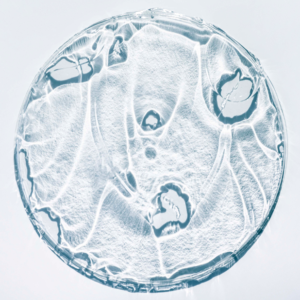 Following our previous topics about hyaluronic acid, we are glad to introduce you the innovations, that the Swiss Teoxane laboratory paid many efforts to develop. Among them, their RHA Resilient Hyaluronic Acid® is formulated as close as possible to the natural hyaluronic acid, which is already present in your skin. For your information, hyaluronic acid holds a sustainable hydrating power, thanks to its ability to fix up to 1000 times its weight in water. In fact, it would therefore contribute to maintain the hydration and tone of your skin.
Thanks to this unique and revolutionary formula, we invite you to discover here their wide selection of products, able to deeply and efficiently hydrate and plump different parts of your visage. By AL
---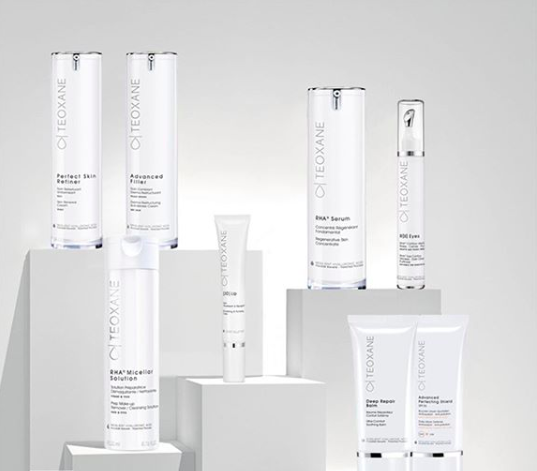 For instance, Teoxane, a Swiss laboratory distributes its two cosmeceuticals ranges, formulated around its RHA (for Resilient Hyaluronic Acid) and throughout 60 countries. This team has been already developing a certain expertise in wrinkle filling, through injection, for more than 15 years. During that period, these Teoxane Laboratories have also developed their own so-called RHA technology, to expand their injection products into more universal cosmetics (photo credits: Teoxane).
Lately, a worth technical and innovative line of skincare has been launched to fight against many recurrent skin issues, such as: dehydration, imperfections and pores, pigmentation, prevention of signs of aging. This time, still including the benefits of their patented hyaluronic acid expertise. Thereafter, you would notice that the heart of this formula, present in each of their skin treatments, give the chance to your epidermis to maintain an optimal hydration, to be visibly smoother and clearly fuller.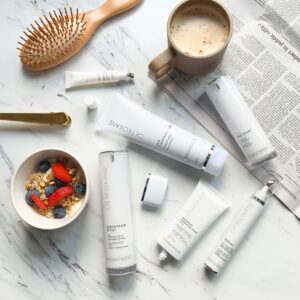 In order to meet the needs of consumers, those treatment protocols are as well adapted to beauty institutes and spas, which may be combined with alternative technologies, like the Resilient Skin Expert Treatments and Expert Treatments.
Moreover, their products can be associated with the combination of three key techniques: pro-age gestures, circular pressures on energy points, or completed with regenerative LEDs. These treatments are naturally suitable for all skin types, preferably after a personalized diagnosis, in order to clarifiy the purpose of its action for yourself (hydrating, lifting and restructuring effect).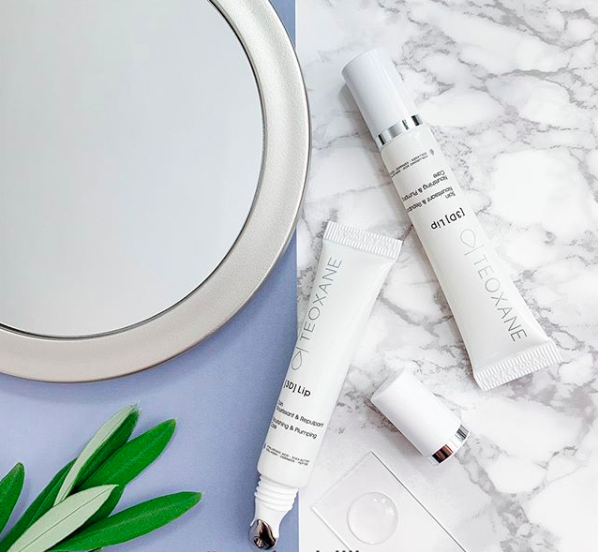 At first glance, if you consider yourself as pretty cautious of your lips, the Teoxane homemade 3D Lip proposes to nourish and plump them. This product contains a complex composition of different rich ingredients. Among them, we could find for sure some hyaluronic acid, completed by collagen microspheres, for their hydrating and plumping actions. Adding to this, we can count ceramide aimed to smoothing and repair this fragile skin, helped by the moisturizing function of the unsaponifiable shea butter.
Effectively, this daily lip treatment contains a rich texture providing comfort, hydration and of durable effect on your lips. Furthermore, this lotion includes a bunch of densifying and nutritious ingredients to smooth, nourish and plump any lips, thanks to its melting and non-sticky texture, plus some refreshing applicator tip, to maximize the resulting comfort to your sensitized lips.
Teoxane 3D Lip – 10ml – Recommended price: 39€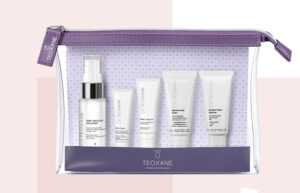 We follow our review with the same ergonomic format, represented by the R[II] Eyes cream. This delicate solution, dedicated for the eye care, would able to visibly lighten the eye area from the first application, thanks to a deep hydration of this sensible zone, to any dust or soft blow. The final result is slightly tinted, thanks to the Soft Focus illuminating pigments. Thus, it is obviously a fragrance-free formulation, suitable for all skin types, even the most sensitive. In addition, this cream is specially designed to conceal everyone's fatigue, aging and puffiness wrinkles under your eyes.
Teoxane R[II] Eyes – 15ml – Recommended price: 69€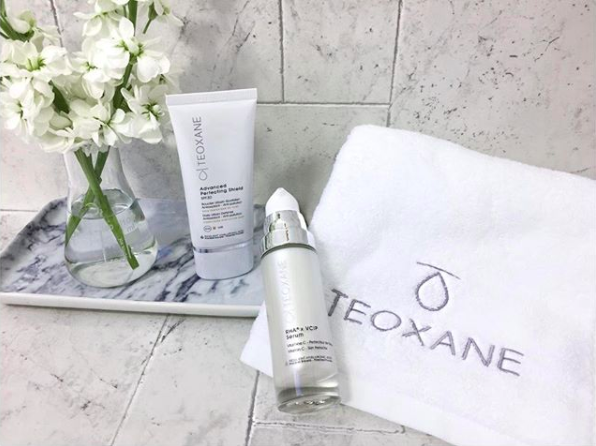 Once again, enriched with the RHA technology, the Micellar Solution is composed of a special blend of powerful moisturizing and soothing agents, all perfectly suitable to clean (without rinsing) your epidermis impurities and prepare the makeup stage, without disturbing the natural balance of your skin. Designed, even for the most sensitive skin, this is both a cleanser, tonic and make-up remover leaving your skin clean, hydrated and of course smoothed.
Teoxane RHA® Micellar Solution – 200ml – 35€
After this cleansing step, why not soothing your skin with the Deep Repair Balm? Indeed, this immaculate Extreme Comfort Repair Balm contains a generous texture, which aims to provide an instant film-forming and hydration. This treatment is conducive to the recovery and restoration of irritated and sensitized skin, thanks to a rich formula that helps to restore optimal and express hydration and soothing to your facial skin.
Teoxane Deep Repair Balm – 30ml – 49€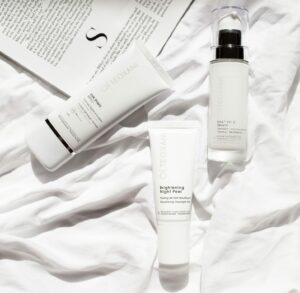 Furthermore, if you look to somehow treat your skin and its upcoming pigmentation, the RHA Vit C Serum would undoubtedly be the solution… This acclaimed fundamental regenerating solution includes the highest concentration of the Teoxane's original and patented RHA moisturizing technology. This aerial and comfortable serum offers a powerful combination of anti-pigmentation antioxidants, vitamin c and complexion corrector, along anti-aging ingredients, in order to visibly tone any aged skin, from 14 days of use. After 28 days, you would certainly notice your wrinkles becoming even more reduced and a more radiant skin.
Teoxane RHA® Vit C Serum – 30ml – 115€
Now, regarding your daily care, the Advanced Filler is an alternative to deeply hydrate your face, suitable to any normal to mixed skin. This dermo-restructuring day care is specially designed for an optimal hydration coupled with powerful anti-wrinkle active ingredients. Consequently, this essential plumping cream contributes for an immediate hydration and help to tackle any loss of firmness and fill any wrinkle, that could happen for anyone.
Teoxane Advanced Filler – 50ml – 100€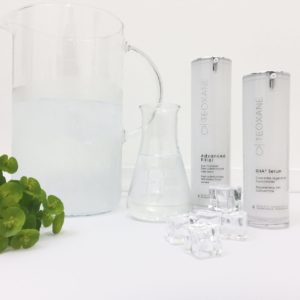 The next issue would be complementary to the previous one, since the Advanced Perfecting Shield is a pro-structure and complexion perfecting care. This skin shield is adapted to protect your epidermis within a single step, in particular through a cocktail combining RHA, along anti-aging active ingredients and powerful antioxidants, capable of preventing, correct and hydrate from the UVA/UVB (starring a SPF30 protection) and any other visible warning signs of skin aging, illustrated by any dull and tired aspects. Thereafter, it would aim to strengthen the natural conservation of your skin.
Teoxane Advanced Perfecting Shield SPF30 – 50ml – 75€
The Perfect Skin Refiner is a night treatment, whose mission is to retexture and renew your skin, thanks to a consistent balance between the combination of glycolic acid and the hydrating RHA technology, still developed by Teoxane. As far as we tried it during 15 days, this soft and proactive exfoliating treatment aims to actively regenerate your skin cells during your sleep, in order to obtain a more hydrated and homogeneous complexion. Its polyvalent action is focused on reducing the appearance of fine lines and wrinkles, as well as the size of your skin pores, then smoothing any tarnished surface and pigment spots.
Teoxane Perfect Skin Refiner – 50ml – 85€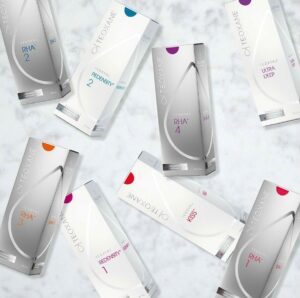 If you wish to get deeper with RHA, and try in injection shape, Teoxane also proposes a Teosyal RHA line. Available in 4 different versions, this premium hyaluronic acid would naturally contribute to fill in more or less marked linear facial wrinkles.
For your information, this selection of hyaluronic acids, which are used in the manufacture of this product, is only composed of non-animal origin. Moreover, those Teosyal RHA products are based on a patented process, making it possible to meet the specific needs of mobile areas of your visage. This technology makes it possible to preserve the original characteristics of your inner hyaluronic acid chains, with the aim of producing gels that approximate the skin's natural hyaluronic acid molecule. Indeed, this hyaluronic acid range of injection gels is composed of long molecular chains, all organized in 3D functions, and you are invited to select one of the 4 most dedicated products to your condition.

More global informations on the official website and explore the entire range on the online store.
---