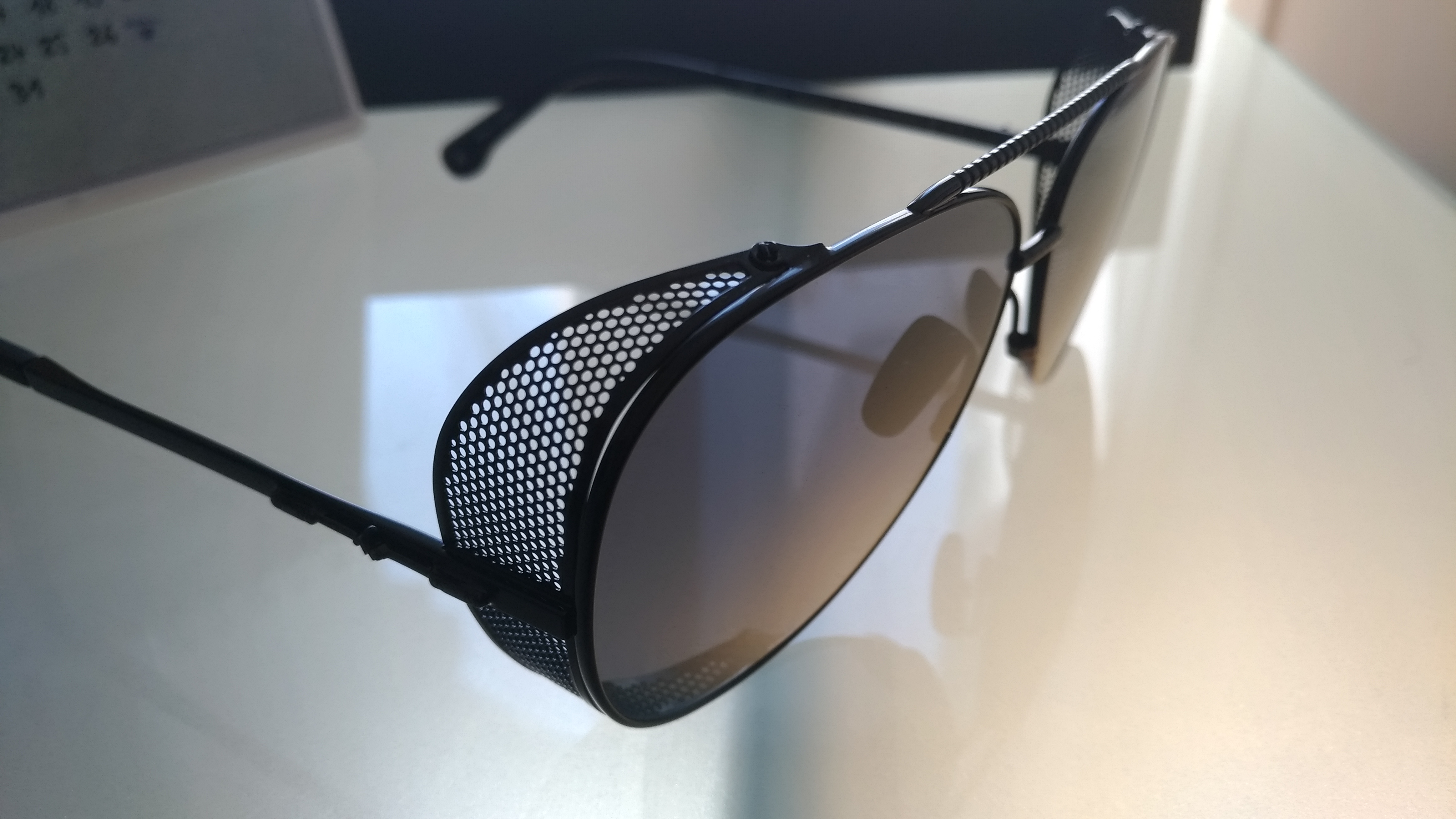 Another French brand rising under another register, the Philippe V glasses…
Philippe V , a French brand by heart but internationally established (symbolizing the universal aspect of the sector), uses mainly the best materials available on the eyewear market, namely stainless steel and Italian and Japanese acetates, German hinges and French Essilor glasses. All Philippe V frames are hand-assembled in Japan, along with the strictest QA and QC processes.
---
There is also a wide range of jewelery including a spirit revisiting a universe composed of a prominent but rebellious personality. A supposed "rock" facet through the use of Gothic symbols, including the skull head, enhanced by twisted patterns and tribal patterns, such as the royal lily flower, reminiscent of the French origins of the two partners-creators. The detail is expressed up to the size of the branches of most models, ostensibly, but also a point of honor to this characteristic rock spirit by a generalized opulence. In addition, the case flanked by the emblematic metallic logo of the brand, sealed the pocket closable with a cord in the probable reference to the satchel cords, the characteristics of the time so Gothic period of the Middle Age (Photo credits: Philippe V).
Philippe Vergez has orchestrated several times the rapid growth, the development of the Philippe V brand and the sale of brands such as Oakley, Arnette and Ray Ban, Baush and Luxxotica, as well as his product design skills with some major global designers. After the successful launch of Jee Vice, a first solo adventure, Philippe had the privilege of being ranked among the top 10 designers by Sunglasses Magazine and dubbed "the Manolo Blahnik of glasses" (photo credits: Philippe V).
His business partner, surfer and DJ in his spare time, Thierry Halbroth is above all a creative who built his success in his advertising career at Saatchi, McCann and Publicis.
"Homeless" hang for most of his life, Thierry grew up in the surfing industry as an ambassador and worked for Van, Rip Curl, Instinct, Mambo, Oakley, etc. He has spent the last 24 years living and working in Asia Pacific.
Atypical creative, Thierry Halbroth has combined his musical culture with his worldly experience and his intimate Asian knowledge in everything he does to establish links between brands and people.
It is Thierry who answers our questions below to know more about our approach of optical creation.
– Which life elements made the partners meet to create this brand?
Philippe and I come from the same region in the South-West of France, Capbreton/Hossegor to be precise. That's where we met for the first time as we were both involved in the surfing community…meaning we've know each other quite a while. I left France and Europe altogether back in 1993 and it's only around 2010 that we started reconnecting again. Philippe was in need of marketing help with Jee Vice, the brand he had created in Los Angeles and he started to come more frequently to Hong Kong. in 2013 he eventually relocated to Hong Kong after the sale of his company. During that time, we had a lot of time to reconnect.
As far as the idea to create the Philippe V brand, we are both creative minds and entrepreneurial so talking more and more about life we eventually decided that it would be a great idea to create something for us (for once) as in he and I. Philippe's previous eyewear ventures were very much dedicated to women and his previous life to the action sport and mainstream. We identified and acknowledged there was a gap in the market for men who didn't want to conform to the diktat of society and were looking for something to stand out but in a subtle way – a quality product at a price point that wasn't outrageously stupid – because everything we always liked was so over-priced. We were just fed up with this and the more we dug into it, the more like-minded people we started to find… The eyewear is a starting point really. Jewellery is next and fashion and other creative projects eventually not far off, when we'll have time. We want Philippe V to be known as a concept brand. Given Philippe's experience in eyewear it was a no-brainer to start there.
– Does the term anarchism apply to your glasses and jewelry? And how? What elements or materials define this state of mind?
It is important to highlight that the anarchy we refer to as a lot more to do with the roots of the word than and not what most people associate it with. We refer to its relation to pure individualism. "The true Anarchist decries all influences save those of love and reason. Ideas are his only arms." That's why the aim of Philippe V, is to create a brotherhood that unites the people from all over the world sharing the same mindset, the same ideals about fashion, travel and lifestyle. But what we don't want to be is loud. We don't need to shout to make ourselves heard. We embrace these authentic Anarchist values and recognize that these are a direct reflection of what is buried deep inside many people: a refusal to be tamed, a desire to live an unconformed life – or if living a conformed life is necessary, to do it with a twist, with a chameleon-like grace that keeps your spirit alive. This ethos dictates the way we create and design. Our products from afar look 'normal' but as you get closer, you realize they are not. The subtleties like the skulls at the back of the temple tips, visible, yet invisible, the fleur de Lys on the side of the temples or graphic devices and obviously, our colour palette which remains dominantly black and fairly basic as opposed to brands that rely on numerous colours to stand-out. The Black Shadow lens (notably present on the photo with the N7 best-seller model) is a great example of something that we created from scratch with the help of Essilor SunSolutions, something unique to us we could own (photo credits: Alexandre Plateaux).
– At which stage stands the Philippe V brand project?
I wouldn't go as far as being a mature brand. We are starting to establish ourselves and being present in 25 over countries is a testament of that. But let's say that from scratch, it has taken all in all around four to six years to give birth to it.

– Why did you choose to buy and produce material in Japan? Is it nowadays the ideal place in the manufacture of luxury glasses?
At the very beginning, we actually wanted to manufacture in China. We live in Hong Kong, and China our backyard. Some of the best products and most reputable brands manufacture in China (think iPhone and everything else that Apple makes, etc.). We were also fed up of the international fashion brands labelling everything 'Made in Italy' while everything was made in China. Like we say here, Made in Italy…by Chinese. While the end consumer really doesn't care that much as they tend to recognize what a good product is and won't really care (at that price point) where it is actually made, we though OK, let's do that and be like Garrett Leight, proud of manufacturing in China, not hide it like most people do. Well, while it wasn't an issue for the end-consumer, it was a big one for our direct clients, the opticians and optical trade in general. So we ate our first production, scrapped it altogether and decided to relocate the manufacturing to Japan. Japan is known for its art in craftmanship, use of the best materials, etc. China has them but I think it will take a few more years for people to accept that China doesn't just produce toys and disposable objects, that its quality and craft can be superb too. Japan is a symbol of quality (remember that it wasn't in the not too distant past…) and many see that as a reputable country to manufacture, especially in the luxury industry. Japan, Italy, France and to a certain extent, Germany. A lot easier to sell than China…even though Chinese luxury brands are ramping up big time (photo credits: Alexandre Plateaux / N7 Model by Philippe V).

– Finally, in what way do you think there is a link between Optics and Art (PopCulture, Gothic, Baroque, RockNRoll …)? Do you think this has always been the case or is it a recent trend?
For us, it's not a trend per say as we bask into it and something we celebrate and want to keep on celebrating. Eyewear is something that is highly visible and highlights someone's personality, a bit like music… It can make someone look fierce, ugly, beautiful, stupid, etc. Fashion has a way to constantly look for inspiration in the past and we keep on coming full circle so it's not surprising that art keeps influencing it. But it's not for everyone. The key is stop copying and instead transform and evolve these references while paying tribute to them. At the end of the day, the most important thing to Philippe as a designer and to Philippe V as a brand is what happens when we apply what we call the fourth dimension (the way the frame enhances beauty and the inner sense of being). When Philippe translates those values into all our design and the wearer says, 'oh, wow', he and us all feel immensely satisfied and proud (photo credits: Alexandre Plateaux / N7 Model by Philippe V).