On the roads of the painter Vincent Van Gogh, from Nuenen to his new Intimi exhibition in Bois-le-Duc!
12 min read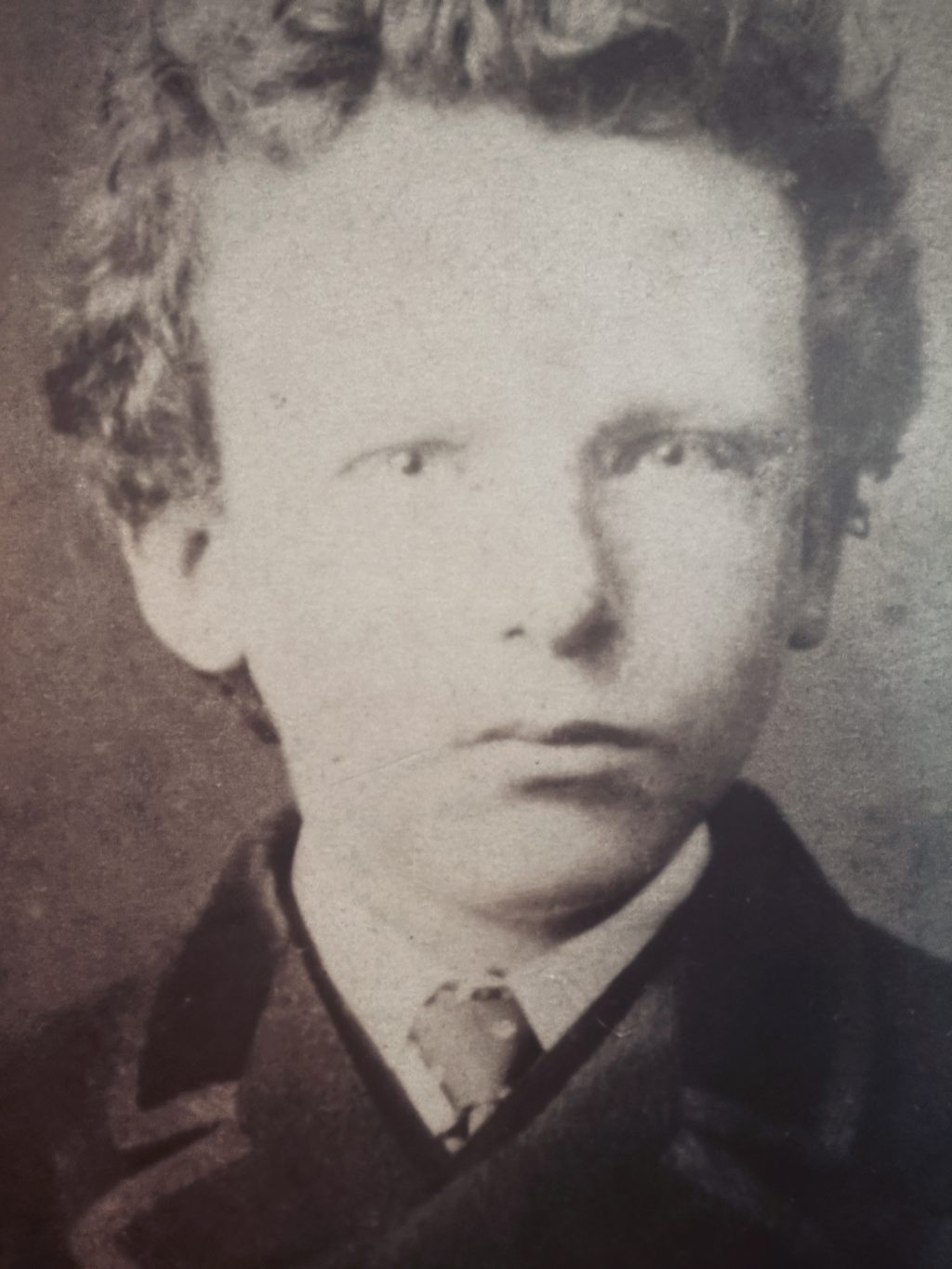 Vincent Van Gogh Inner Circle's (Intimi) event exhibition in Den Bosch (Bois-le-Duc) takes us through its different holiday resorts in Holland. A journey of these different halts is thus detailed in this file, in the region of Brabant that the painter left at the end of 1885. After this departure, he would not see his family anymore except his brother Theo… In partnership with Holland Tourism, and Van Gogh Brabant, take the chance to follow the colorful path of the legendary painter Vincent Van Gogh in this culturally rich region of North Brabant, in the Netherlands.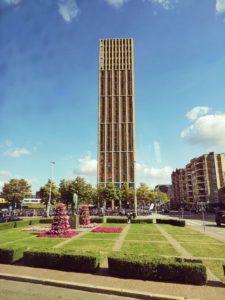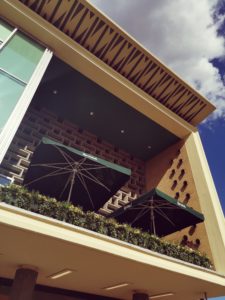 Since his decision to become an artist in 1880 and until his death in 1890, the painter has lived in no less than 11 different places. This is a good occasion for us to follow his steps through the dutch lands and even in France, like in Auvers-Sur-Oise! (photo credits: Alex Plato)
Through this visit below, we would attend many places from Eindhoven (and its tall Student Hostel), in the Noord Brabant region, in the South of the Netherlands, on the previous path of this prolific artist, who loved to travel to find inspiration. Furthermore, in this region, 39 sites have been Van Gogh Monuments labelled.
From Nuenen to Bois-le-Duc, where the HET Noordbrabants Museum proposes this Intimi event exhibition, dedicated to Vincent Van Gogh, that highlights unique pieces attributed to the artist and his entourage. This effort testifies thanks to his family documents, his first steps as an artist through his sketchbooks.
A chronological exhibition punctuated by works, photographs and correspondence from various collections, such as the Van Gogh Museum in Amsterdam. His career in France is also mentioned, where he realized almost half of his work, done in just 4 years… Passing through Paris and the Provence area, in Arles, and until his accidental death at Auvers-sur-Oise in 1890.
---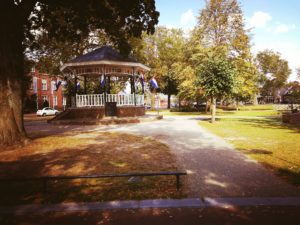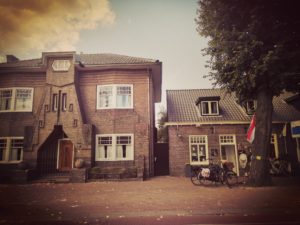 After this stay in The Hague, Van Gogh moved to Nuenen.
From an alternative life in The Hague where he lived with his model, a prostitute and his children (indeed, he paid for models to paint them, including farmers) until a family monastic life in Nuenen… You would learn everything from the conversion of Vincent Van Gogh!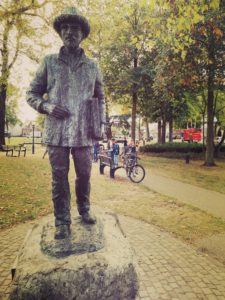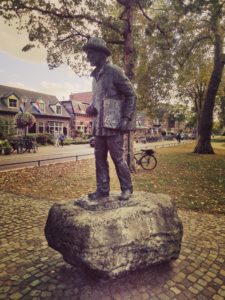 Thus, under an important family pressure, this relationship ended and lack of resources, he joined his parents on December 5, 1883, in Nuenen.
However, this homecoming at age 30, was frowned upon at the time.
Especially since the Nuenen inhabitants nicknamed him the "Little Painter", who did not understand his obstinacy for painting, Van Gogh thus lived somehow on the society borders, ruled by the omnipresent protestant rigorism. A straight spirit deep in the mind of the population.
Many arguments with his father would enamel the stay of the artist, since he was not approving the life choices of the bohemian path.
Therefore, due to those multiple tensions, he would have only worked 4 months in the workshop next to the presbytery, dating from 1764. This space is open to visitors and worthy of interest since everything has remained intact.
The first monument in memory of Van Gogh was erected in the center of Nuenen in 1932, despite the opposition of a part of the Catholic population who saw a negative eye this tribute to a Protestant citizen.
This monument is a millstone supporting a block of basalt from the south of France. A nod to the light that the painter was going to look for in his paintings.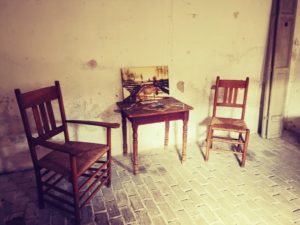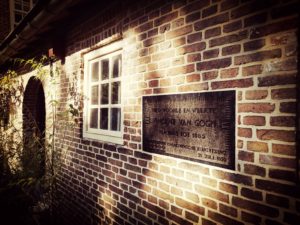 Bypassing this building, you will find many references to landscapes, present on his paintings, like the old medieval tower.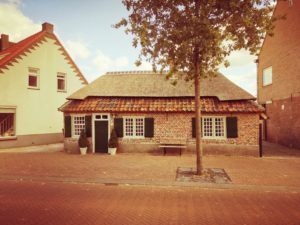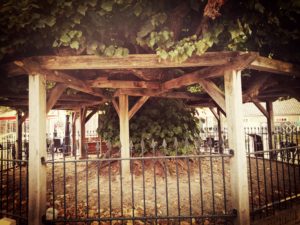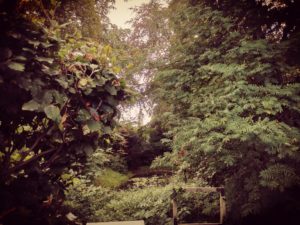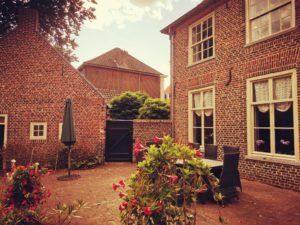 Despite everything the city has repeatedly paid tribute to him especially from these different statues scattered throughout the city.
A weaver's house, deep in the old town, is typical of the buildings of that time with the housing part on the left, and workshop located on the right side.
This house faces the emblematic linden of Justice, dating from the Middle Ages. It would have been succeeded by a young lime tree, planted in 2000.
---
Not far away from here, is located the Van Gogh's older girlfriend (she was 10 years older than him) Margot Begemann's house. Later on, this place was bought by the Van Gogh family and restored with period furniture. It's nowadays possible to visit this typical brick mansion.
This building would also serve as shelter, especially in the attic, for hiding a Jewish child, during the Second World War.
Following the death of his father, the painter rented there two rooms, in order to pursue his artistic path.
From there that he begins his first masterpieces, including the Potato Eaters painting, directly inspired from a casual life scene played by the De Groot family.
Salon Nune Ville / Berg 24, 5671 CC, Nuenen, Netherlands /
Tours (maximum of 10 people per tour) on Saturday may be booked for the following times:
1 p.m., 2 p.m., 3 p.m. or 4 p.m by email at: info@salonnuneville.nl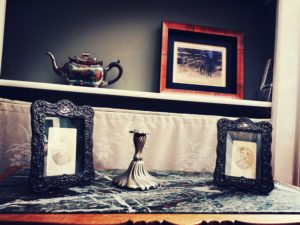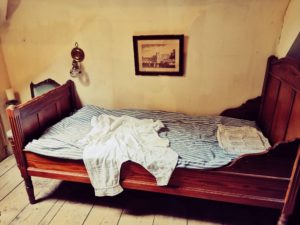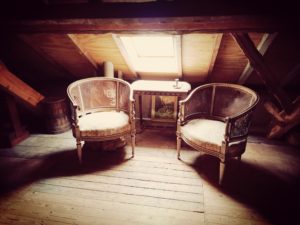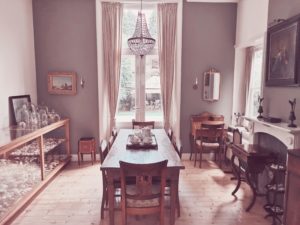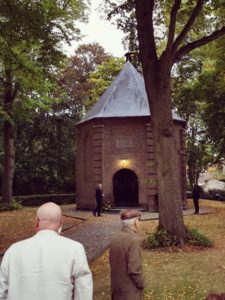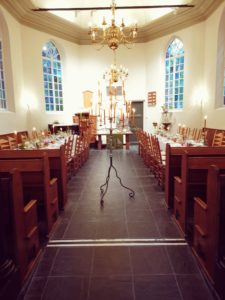 Still in Nuenen, the possibility to visit the tiny temple of Vincent's father, where there's still a great spiritual atmosphere all around and even inside.
This Reformed Church is notably represented in one of his paintings that were stolen, simply untitled The Reformed Church in Nuenen, this painting is now visible in the city.
You would then be able to visit the exact place from which the work was painted and you will discover its meaning.
Thus, Van Gogh's father was the pastor of this church and the artist painted this artwork as a gift for his mother.
When his father died in 1885, the painter revisited his artwork and added some mourners gathering outside the church, beyond the funerals.
This Reformer's Church is also a proper welcoming place for events, like this event organized by the Michelin Starred restaurant De Lindehof and its Chef Soenil Bahadoer, who bought the restaurant in 1995 and now member of Les Patrons Cuisiniers organization.
This dutch Chef has Indian ancestries and those origins are essential in the conception of his specialities. Indeed, you would find a mix of local Brabant spirit with Indian influences, like curry and masala. Those delights may be served on Van Gogh themed meal trays.
Furthermore, you have to know that in 2012, De Lindehof restaurant (and also hotel lodge) joined the "No Waste" trend, in order to prevent having to throw away food due to their summer closure, then was organized a specific event, baptized "Kliekjes Avond" (Scrap Night). All the guests may only order a surprise menu, that would give the chance to the cooks to adapt their dishes depending if the supplies were running out.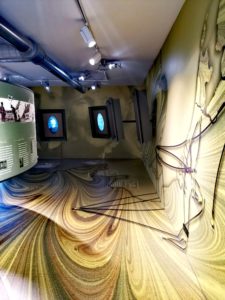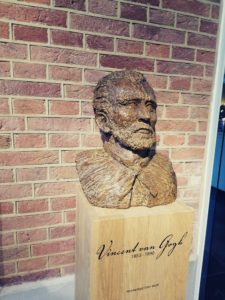 During his stay in Nuenen, between 1883 and 1885, Van Gogh worked tirelessly and painted about 189 paintings, including several of his best-known works, including The Potato Eaters, realized in 1885.
Nowadays, the center of Nuenen is dedicated to Van Gogh's artistic projects. A specialized guide is available and would give you some tips to walk through this open-air museum city, where you may explore 23 iconic scenes, including statues, buildings and rural scenes of some importance to the artist at the time.
Among them, take the chance to enter the Vincentre, this visit is included in the tour. There, a digital experience is proposed, allowing you to discover the city as it was in 1883 through an inspiring audiovisual experience. Moreover, many objects, letters and clothes dating back from this blossoming end of the XIXth Century are highlighted in a contemporary scenery, so that you would be totally drowned in that period.
Vincentre / Adress : Berg 29, 5671 CA Nuenen, Netherlands / Open from Tuesday to Sunday, from 10am to 5pm / Phone : +31 40 283 9615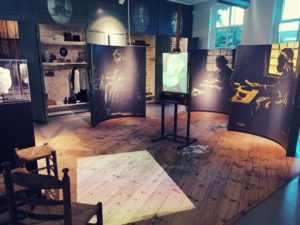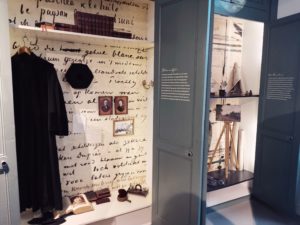 ---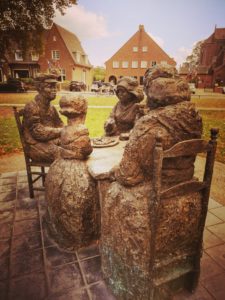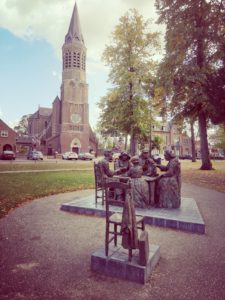 The result of many portraits on the peasant population, and thus above all describe the harshness of their existence. A series of sociological and artistic portraits, mainly made in the winter of 1884.
This artwork, untitled the Potato Eaters, besides, stands in the form of a bronze statue in front of the Church but their back in front of the Church.
This posture was especially realized in retaliation against the priest who ordered his followers not to pose for Van Gogh.
Therefore, this is partly why the artist left Nuenen, due to a lack of models. Then he decided to study at the Antwerp Art Academy. But once there, he got disappointed by the poor teaching level and the lack of opportunities for the dissemination of his artworks. That's why, he joined, by surprise, his brother Theo in Paris to work in the Goupil art dealer office.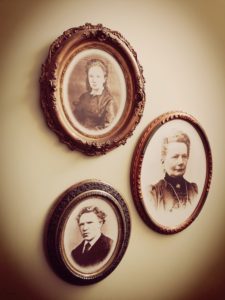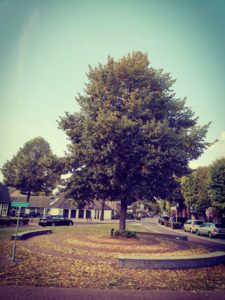 Once settled in the City of Lights, Van Gogh met precious new artistic friends, including Émile Bernard, whom he met at the Art lessons given by Fernand Cormon and whom he considered as his little brother. Then he became friend with Toulouse Lautrec, who initiated him to a frenzied consumption of absinthe that probably contributed to his overflowing creativity, despite successive overflows that have altered his mental health.
Moreover, his imbalances were revealed during his next stay in Arles, weary of the Parisian life.
---
Prior to Nuenen, Vincent Van Gogh also joined his parents at Etten Leur where his father officed as a reverend from 1875 to 1882.The journey of his initiates eventually continues to visit this Church where the painter established temporarily in 1881. Even though, the Van Gogh family lived in the presbytery of Etten Leur. During this period, Vincent van Gogh regularly came to spend a few days with his family, often because he needed money.
"I've now just painted a reminiscence of the garden at Etten, to put in my bedroom, and here's a croquis of it."
Vincent van Gogh
That's why, in 1881, he reintegrated for several months his parents' house, and thus the presbytery behind the church. This "Van Gogh Church", a Protestant church by the time, houses a lively chronology of the artist, as well as models of the former presbytery and the first Vincent van Gogh's painting studio. Nowadays, you would find many contemporary art interpretations of his universe and personage.
---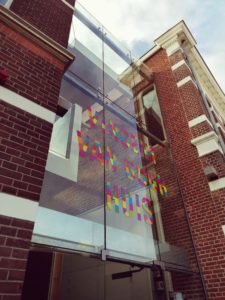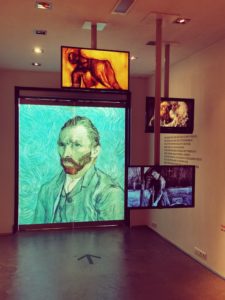 A little further, the town of Zundert is home to the remains of the House where Van Gogh was born on March 30, 1853, as the son of a pastor.
In fact, he was called as the second Vincent van Gogh, since his brother of the same name had died a year earlier. By the way, you could admire his grave by the cemetery located in the temple's garden where his father officiated. A town with a predominantly Catholic community, where he grew up as a Protestant child and did not go to school but was educated at home.
Then, it's possible to visit the place where Vincent van Gogh was born and raised. In the Vincent van Gogh House in Zundert, you may discover the opulence of his early life and admire there regularly special exhibitions. Only two pieces are open to the public, but complemented by material that informs the visitor through audioguides and multimedia projections of good quality.
The Vincent van Gogh's unique life in his hometown of Zundert, especially where he grew up, is still visible. At the location of his former birthplace, stands now the Vincent van Gogh House, where you may take a look at the early years of this famous artist's life with digital presentations.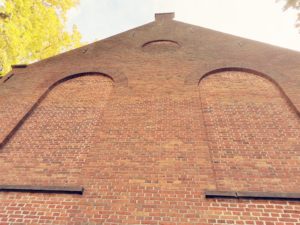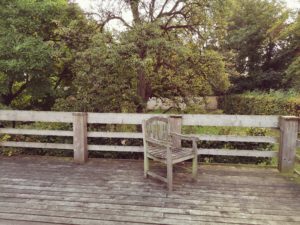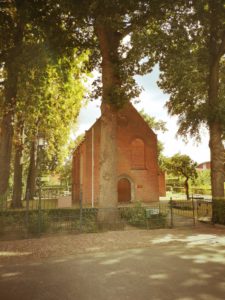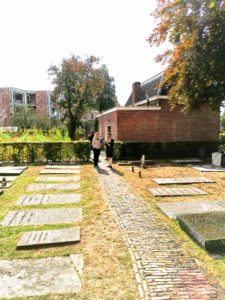 Just around the corner of the house sits the protestant temple where Vincent's father preached and where you would notice the grave of his older brother, born one year earlier with the same name.
In addition, you may undertake, from this house, various circuits by foot or by bike, through the surroundings where Vincent spent his youth.
Vincent van Gogh is still nowadays considered as a great source of inspiration for many artists after him, among them surely for many Expressionists and Fauvists.
Zundert and its surroundings are also still a gathering place for all kinds of artists, and this is reflected in the various exhibitions that are held in the Vincent van Gogh Huis.
This brick temple hosted then the sermons of his father, the pastoe Theodorus "Dorus" van Gogh during many years, between 1849 and 1871.
Weekly sermons were given in this typical Brabant local protestant temple, which had been built in 1806 and was home to a small Protestant community of 114 members, but just half of them were active within.
Many significant events, including the Van Gogh family children's baptisms, took place in and around the church. By the way, the font used to baptize Vincent on 24 April 1853 is still inside.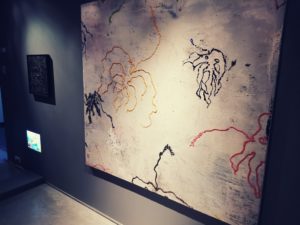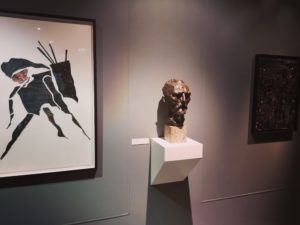 As a deep source of inspiration for many other artists after him, this House of Vincent van Gogh also hosts various exhibitions that are held in a dedicated hall.
An interactive journey retracing the opulence in which Van Gogh's family lived.
Inside this small museum are presented many personal objects among graphic illustrations with a digital display, so that you visit would be full of surprises.
Van Goghhuis
/ Adress : Markt 26-27, 4881CN Zundert, Netherlands / Open from wednesday to sunday, from 10am to 5pm / Phone : +31 76 597 8590
---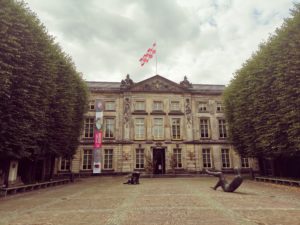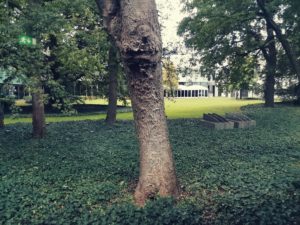 The Noordbrabants Museum is a must see in the famous "Museum district" of the city of Den Bosch, along with the Museum. This former government palace of Bois-le-Duc (another appellation of that city) presents a selection of art, history and culture of the North Brabant region, through the centuries, in a unique way.
On an exhibition space of 4 000 m², you would be able to discover a part of the local History from the arrival of the Romans in Brabant until contemporary Art.
After a major renovation, many temporary exhibitions were organized since 2013. Then, there's a permanent collection including works from the late Middle Age, from 1500 and until 1800, such as the Judgment of God, by Pieter Brueghel, and many others. like Van Thulden and Bosschaert. A selection of more modern and contemporary artworks is also available by Jan Sluijters, JCJ Vanderheyden, Mark Manders, Jan Fabre…
In the Van Gogh Pavilion of this Noordbrabants Museum, there are presented many original works of the artist, especially from his Brabant period, like the A peasant girl digging masterpiece.
Following this local specialty, this incredible Museum organizes until the 10th January 2020, a wonderful exhibition dedicated to the network of
Vincent Van Gogh
, within letters, objects and many paintings many lent from
the Stedelijk Museum
and the
Van Gogh Museum
of Amsterdam.
This unique event gathers different elements regarding the precious connections built during his career.
Then you would discover letters exchanged with his best friends, portraits and other exclusive drawings made only for private issues. Some major canvases lent by other museums would complete this trip into Van Gogh's galaxy. A main effort was also lead to the constitution of a digital material that would help you to understand more the many travels of this bohemian Dutch artist. Indeed, during his last 10 years of life and prolific creation, he went by not less than 30 different places!
The strong bond with his brother Theo Van Gogh is strongly highlighted. Indeed, he was his first patron, to support him both financially and artistically like Anthon Van Rappard. Since their meeting in Brussels, this noble also encouraged him in his artistic approach.
Another strong support in the person of Anton Mauve, a cousin of Vincent Van Gogh's mother, will teach him the first drawing classes in The Hague.
It is in this city that the emerging painter made the acquaintance of his favorite model Sien Hoornik, a prostitute of his state and his daughter Maria. Although he experimented with it, his first family life. He had to put an end to this relationship that his family viewed with a very bad eye. His ends tragically, drowned in 1900 in the frozen canals of Amsterdam.
Book your tickets online at the Het Noordbrabants Museum / Adress : Verwersstraat 41, 5211 HT 's-Hertogenbosch, Netherlands / Open from tuesday to sunday, from 11am to 5pm / Phone : +31 73 687 7877