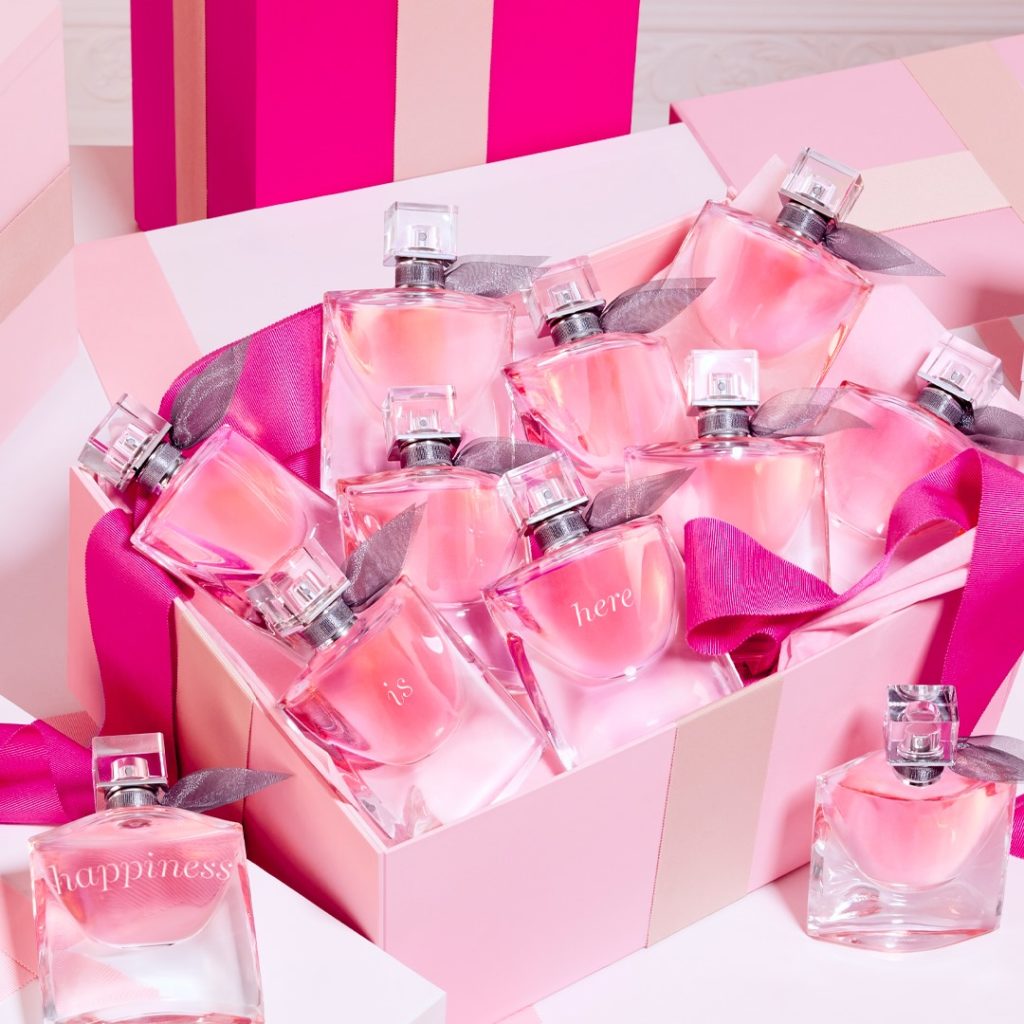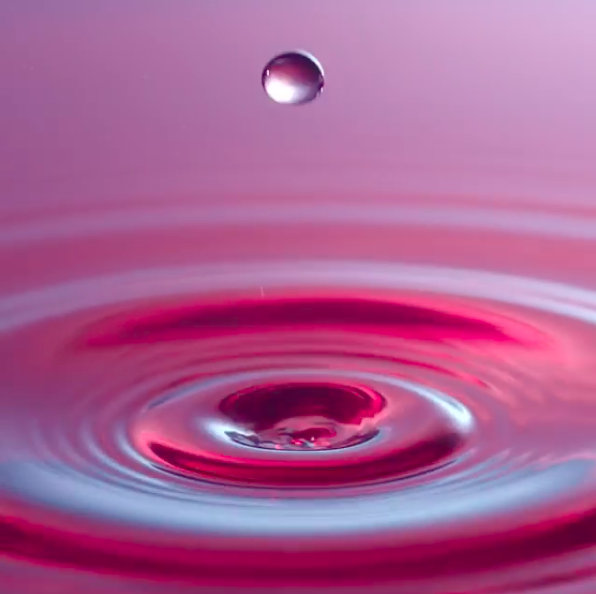 Following the opening of the Lancôme flagship in the Champs-Élysées Avenue, at the end of 2019, a series of new surprises are planned to you this year. Firstly, this ancestral French group celebrates the 30th birthday of their mythic Trésor perfume, with the launch of a limited edition dedicated to one of the most iconic of all its perfumes. Furthermore, as well broadcasting an exceptional media campaign, bringing together again, two of its most famous ambassadors. Forging a strong bond between yesterday and today, in order to continue this Trésor saga.
Good news are following to each other, with the new Intensément edition of La Vie Est Belle by Lancôme, following a long series of this really feminine fragrance. Perfectly embodied by an other cinema star, Julia Roberts. A scented renovation offering a new vision of happiness, once more magnifying the iris flower, as an exclusive element. Because we never change a winning team, for a perfume certified number 1 in Europe and number 3 worldwide. By Alexis Lery
---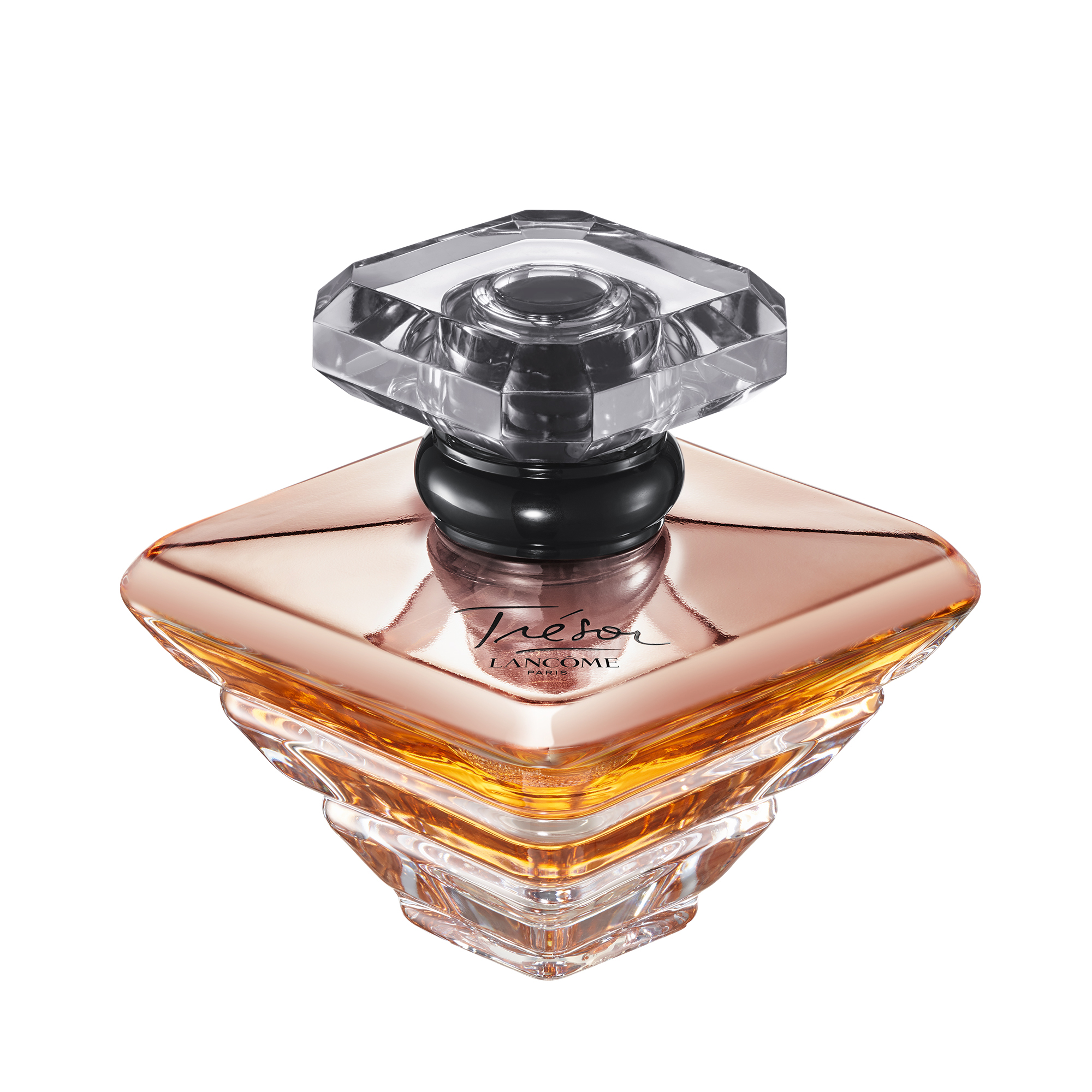 An emblematic creation and a real jewel arising from the Lancôme's heritage, the Trésor perfume has been now embodying for three decades, the spirit of a timeless fragrance, through a couple of strong mottos, in terms of emotion, love and cinema!
Combining this universal inspiration, thanks to an inimitable scented and imaged wake, this item became a tender accomplice for many women, who adopted one of the most famous legends in the history of perfumery, along all those years. As far as we know, this juice met a phenomenal success, already from its release, and upgrading gradually from the two years after its launch (photo credits: Lancôme).
Effectively, in this 2020 year, Lancôme celebrates 30 springs of love and dedicates a limited edition in tribute to this really iconic fragrance, symbolized by a crafted glass packaging. Faceted like a diamond, this talisman shape was much inspired by High Jewelry, deeply exemplifying a certain modern perfumery vision, since this flask combines a complex virtuoso execution. Moreover, its pyramidal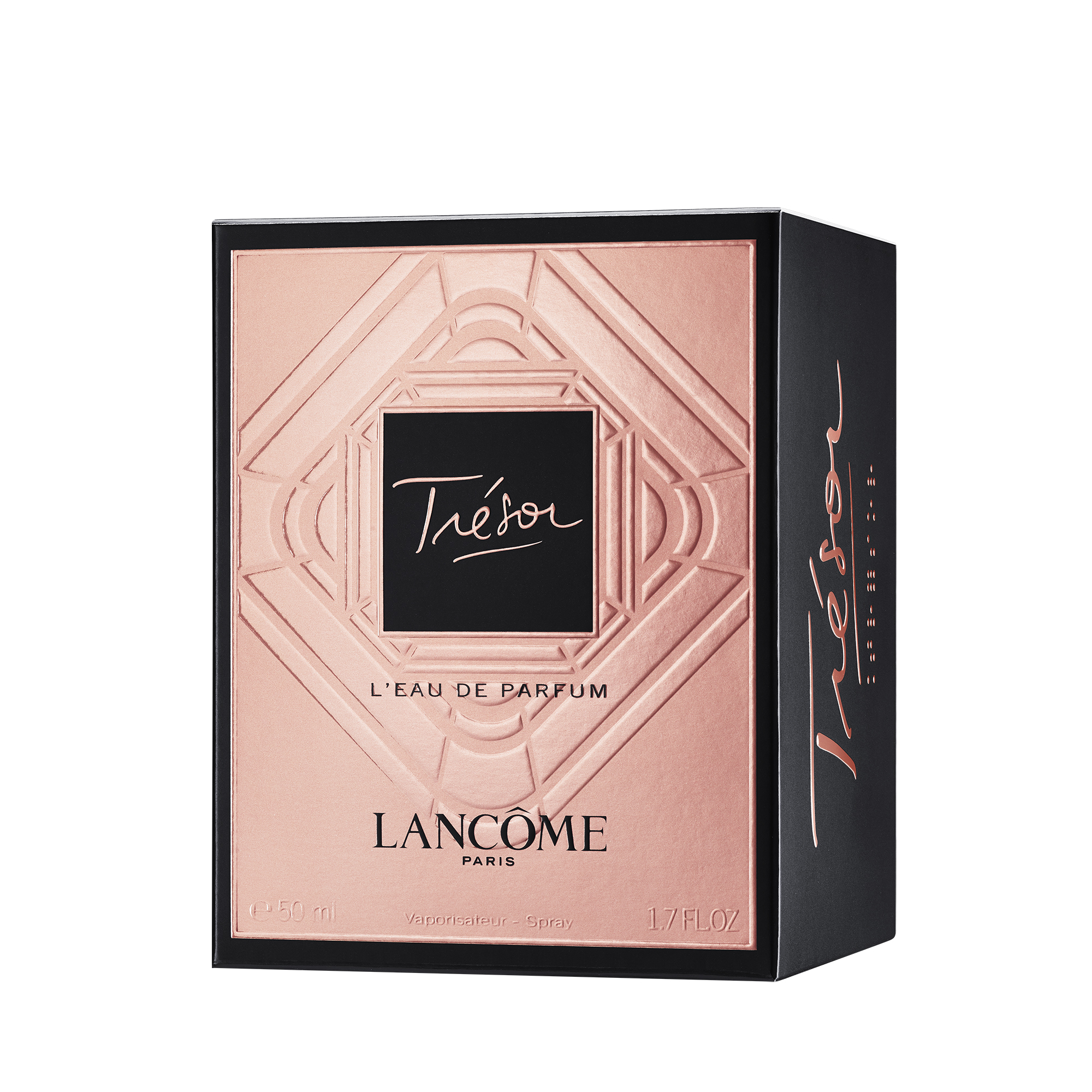 silhouette, sculpted in a translucent glass, whose flexible angles honestly capture and correctly reflect bright lights, suggests a heart shape. On top of that, the bottle is crowned by a sparkling hood, sealing some joyful and scented promises.
Furthermore, on the occasion of this unforgettable 30th anniversary, Lancôme offers an updated limited edition flacon. Lacquered with a warm metallic pink on the corners, this unique creation reaffirms again the influence of High Jewelry of this lookalike treasure, reinforced by the amber nuances of its inner juice. An exclusive bottle, protected this time, by a smoky shaded hood, certainly evoking the mysterious nature of love.
Since its early days, Trésor has been a real rose revolution… Immediately identifiable, its precursor wake reinterprets some codes emanating from the traditional perfumery and eventually inaugurate a new trend, thanks to avant-garde floral notes, like the inimitable Otto rose. The perfumer, Sophia Grojsman, also nicknamed "the alchemist of roses" decided to focus on this flower, mostly for its ability to radiate anyone in a wink, thanks to its honeyed and spicy accents, leaving a delicate fruity note, recalling the sweetness of a luminous composition.
In a fact, you would be lucky to hold a permanent bouquet full of powdery notes, combining freshness and seduction, in the mean time. Adding to this, also appreciate the heart notes of peach and apricot cream, intertwining in the musky and slightly leathery core of this singular perfume, evoking a full caress and for sure, a voluptuous imprint on the women's hearts, from the very first spray.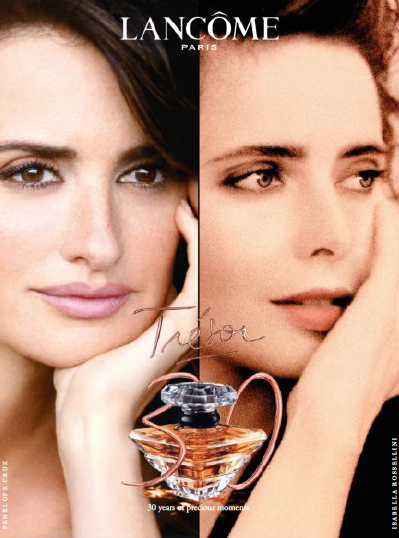 For this thirtieth anniversary, Lancôme brings together for the first time, two faces of an eternally modern femininity, in honor of the perfumer's two muses, distant from 30 years. Thus, and naturally, an anniversary campaign has been imagined to merge those two famous brunette actresses, who succeeded to make the heart beating of many cinephiles, since decades.
For your information, both of those portraits of Isabella Rossellini and Penélope Cruz, were captured by the legendary fashion photographer Peter Lindbergh. On the first hand, Isabella Rossellini for the original Trésor campaign, and then Penélope Cruz as this brand new fragrance muse, undoubtedly renewing the trust with its scented audience.
A real comparing and nostalgic advertisement effort, confirming the continuity of this 30 years successful history, and eventually announcing an upcoming chapter, embodied by two symbols of femininity. The first in 1990, adorned with black short hair, wearing a low-cut suit jacket revealing her half naked skin, an almost androgynous woman, breaking the codes of her time, in an emblematic set of the city of love, the Trocadéro. Whereas the Spanish actress at heart, conveys in 2020, other latin sides of femininity, sometimes sensual and passionate, sometimes tender or fragile, the muse of Pedro Almodovar, proudly promotes her fiery temperament, from her jet black mane.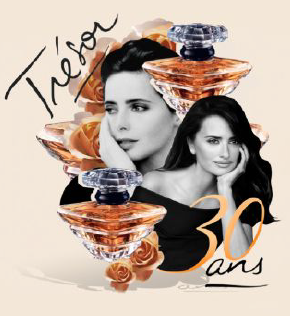 Another gift offered on the occasion of this 30th anniversary… Indeed, Lancôme offered a white card to Martin Vallin, a French fashion and beauty photographer, who has the opportunity to create between Stockholm and Paris.
A real enthusiast about art history and science, both inspired by the esthetics of the Dada movement and by the decline of literary movements in Paris, notably in the Roaring Twenties, this artist found some fame, thanks to his eclectic works, exploring games of tension between static and dynamic elements.
In the case of Trésor, he created an exclusive collage, by bringing together several emblems of this perfume. At first sight, you would notice the legendary portraits of the muses Isabella Rossellini and Penélope Cruz rubbing shoulders next to the iconic bottle, surrounded by a rose wake in the background, while the 30 years words are of course highlighted in an unchanged timeless calligraphy. In a sense, a modern tribute, with the finest ingredients, to celebrate the fantastic path accomplished by this Lancôme's best-seller perfume.
More information on the official website and explore the full range on the online store.
---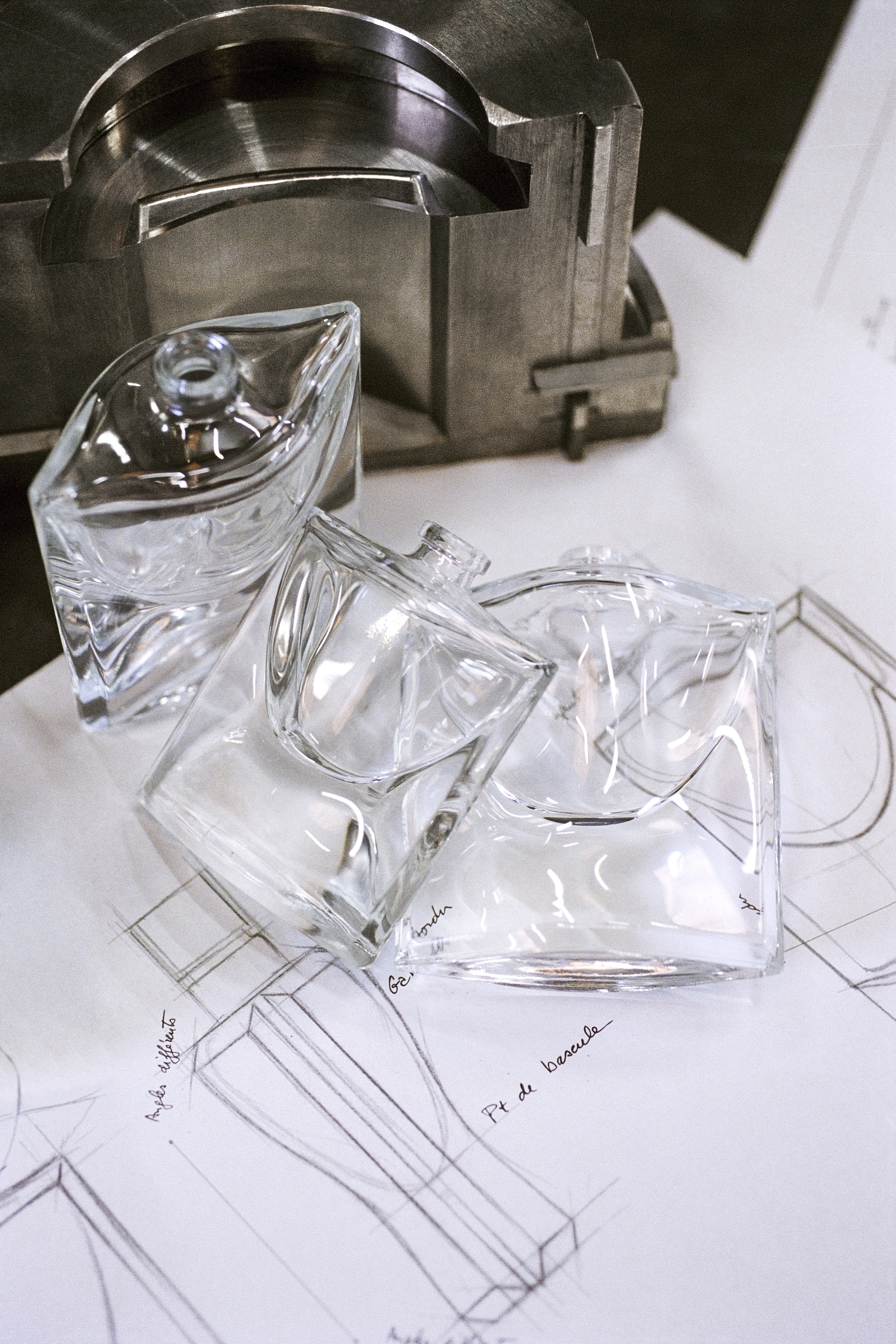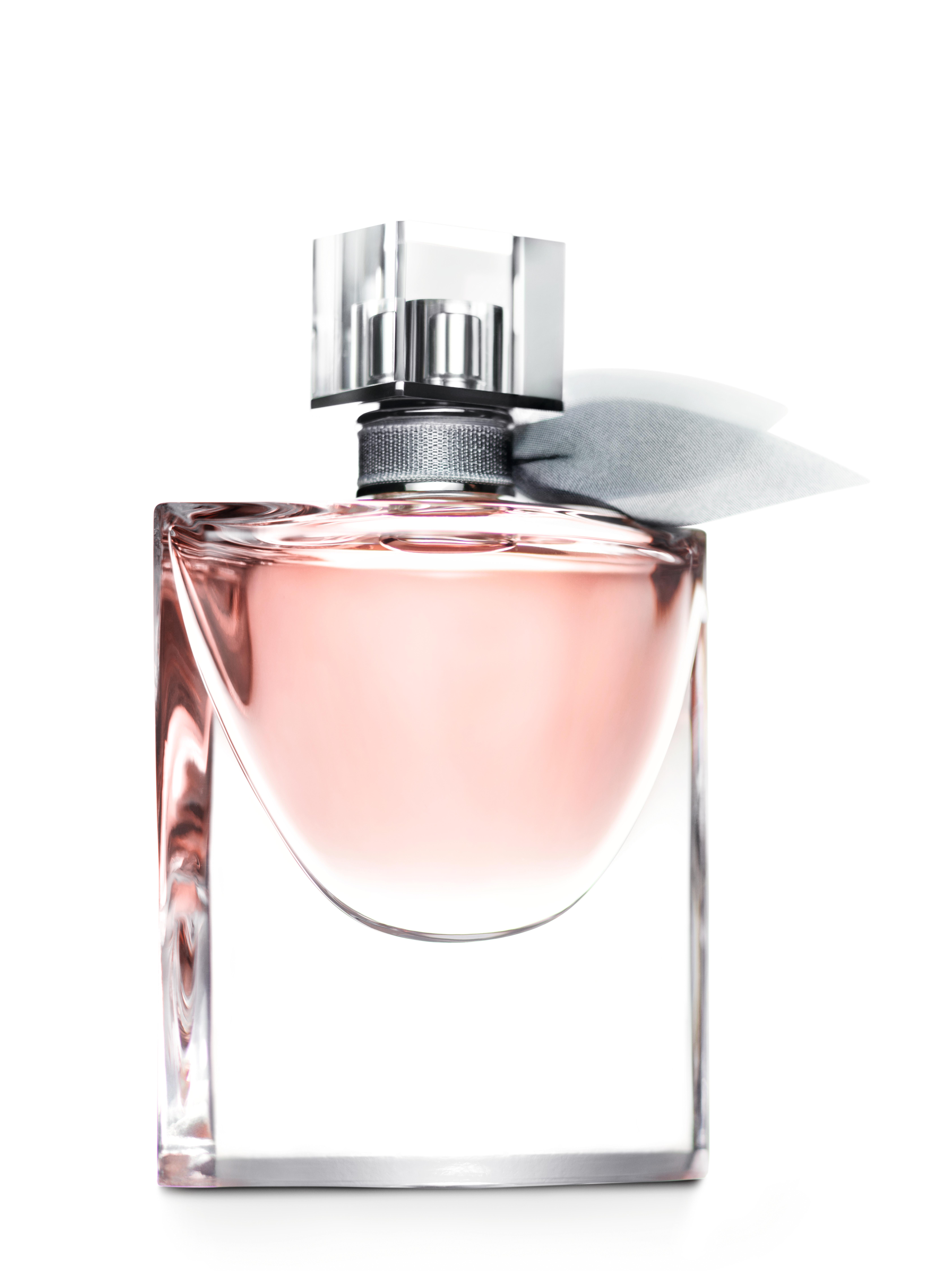 Following the launch in 2012 of another Lancôme's best-seller fragrance, deeply into a positive mood philosophy, since it was baptized La Vie Est Belle! After many versions, 2020 invites you to explore this perfume, in a more intense way, with this new Intensément edition of this Eau De Parfum.
At the origin, by the time if its creation, Lancôme reunited three famous French perfumers to join their talents, in order to compose an exceptional fragrance, in persons of Olivier Polge, Dominique Ropion and Anne Flipo.
Regarding this original La Vie Est Belle version, their olfactory manifesto was to create the first female iris gourmet perfume, while tending to break many of the branch codes, thanks to the use of some avant-garde methods, starting by the mixed imprints of its masters perfumers.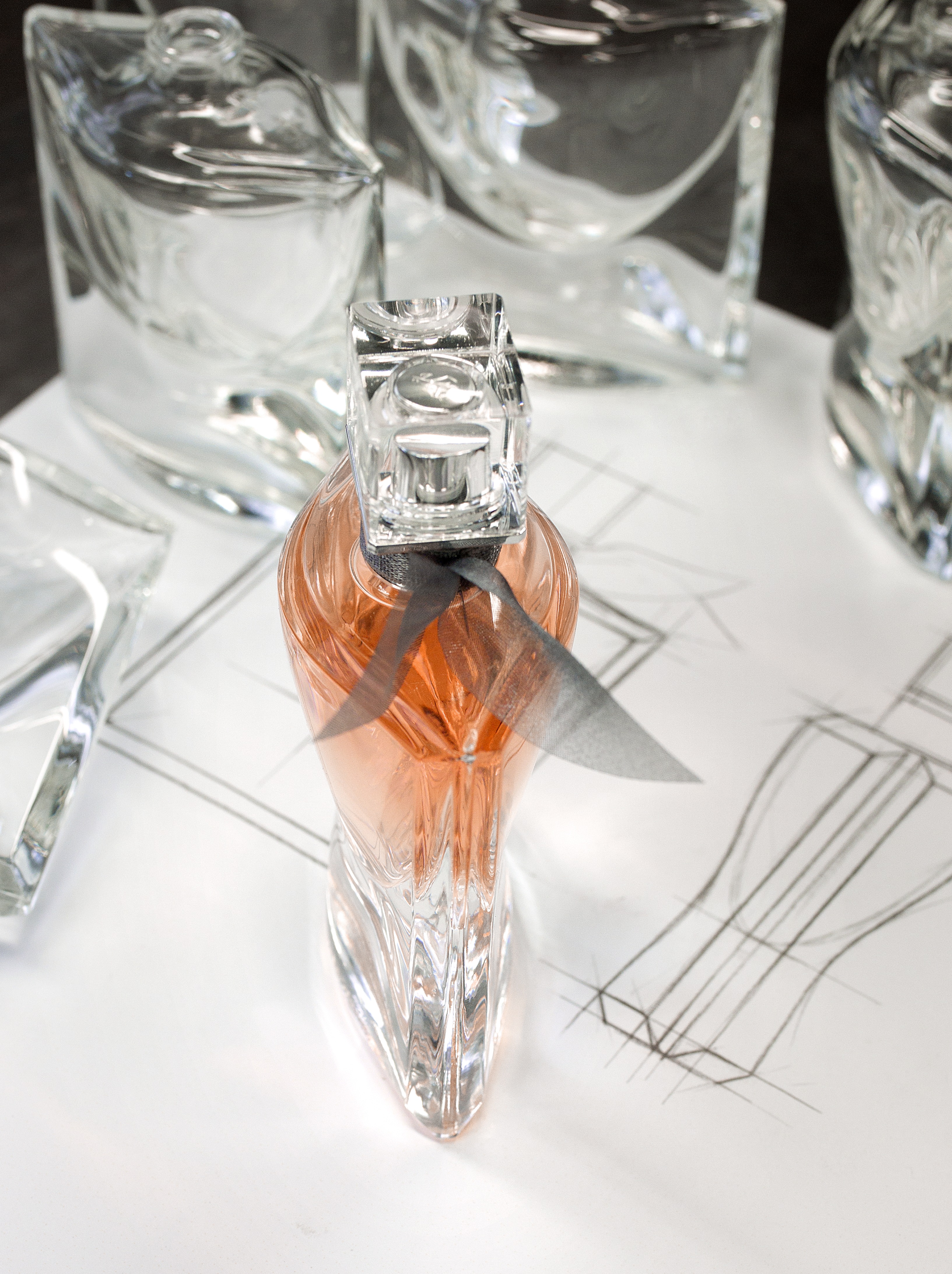 Although, they opted for a certain minimalist direction within only 63 pure ingredients, of course avoiding any prefabricated base. A proof that this research for simplicity was not easy, since it required not less than 5521 trial versions and three years of efforts, to reach the perfect balance combining the rare nobility of iris and the chilling depth of patchouli, producing altogether a palpable delicious gourmet accord. Thus, in order to provide to this perfume a notable aura, the irresistible wake of the Iris Pallida from Florence, has been selected as a subtle spine, to symbolize one of the most noble assets of perfumery. Since it's one of the ever rarer ingredients, due to the low yield of their rhizomes and the fact that they must remain at least for 9 months, in an incubator for resting issues, before being able to charm anyone's soul and senses.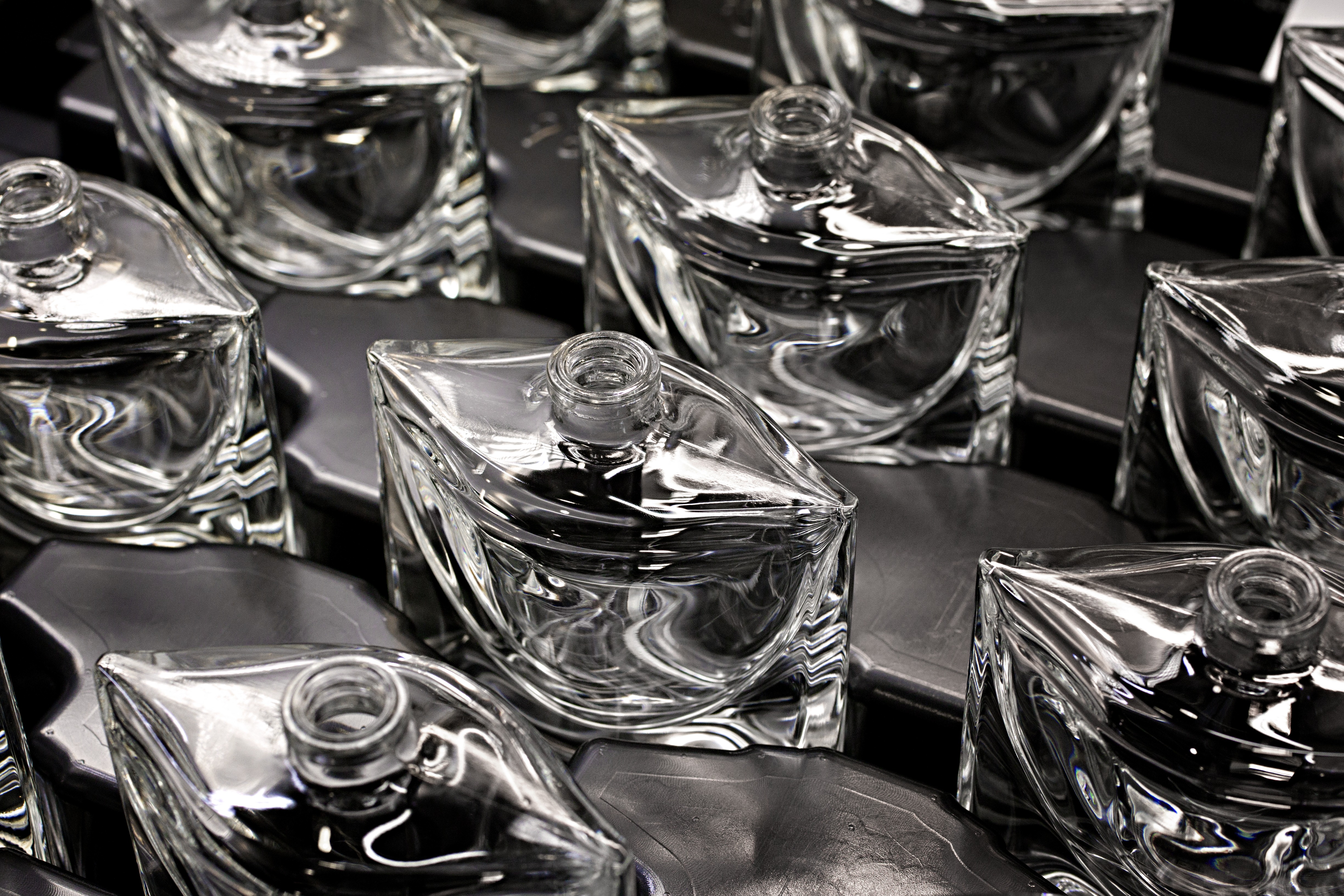 Furthermore, in a quest to illuminate and enhance this floral heart, additional notes of sambac jasmine and orange blossom from Tunisia have been added as precious absolutes, as an explicit sign of the magic of science and talents of its perfumers.
On the other hand, the warm essence of patchouli from Indonesia, to keep the purest part of the "heart of patchouli" as perfumers call it, in order to exalt as much as possible, all its strength at the end. Those ingredients have been selected, through an accurate dosage, and for their very precise qualities and eventually to better marry, with a sweet compound made of vanilla, tonka bean, praline, blackcurrant and pear.
At last, you may understood that this fragrance is a true luxury concentrate, thanks to its composition of almost 50% (in value) of natural ingredients. This dosage (equivalent to 8,9% in volume) is nowadays hardly get for a random perfumery, in terms of costs and sourcing regularity.
More information on the official website and explore the full range on the online store.
---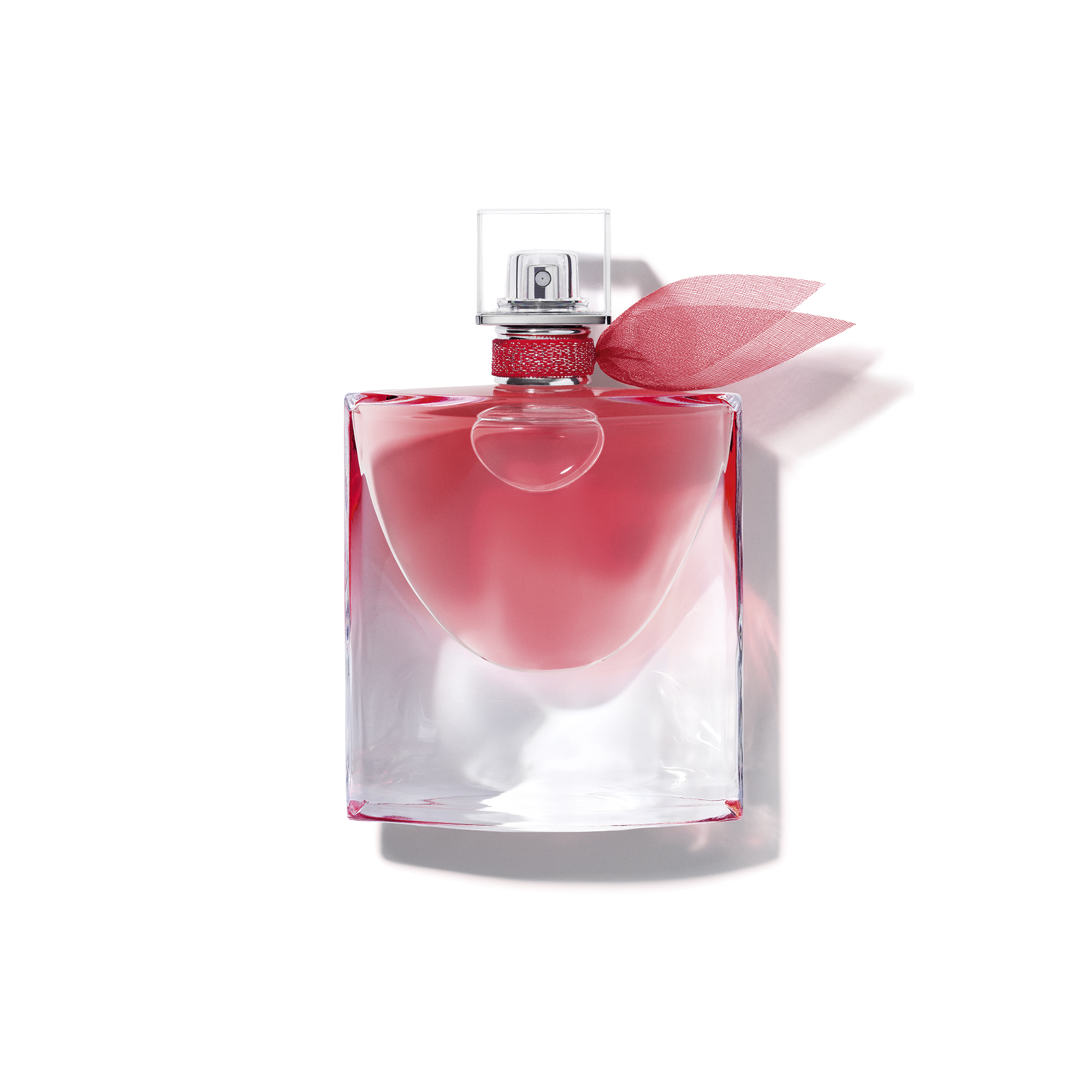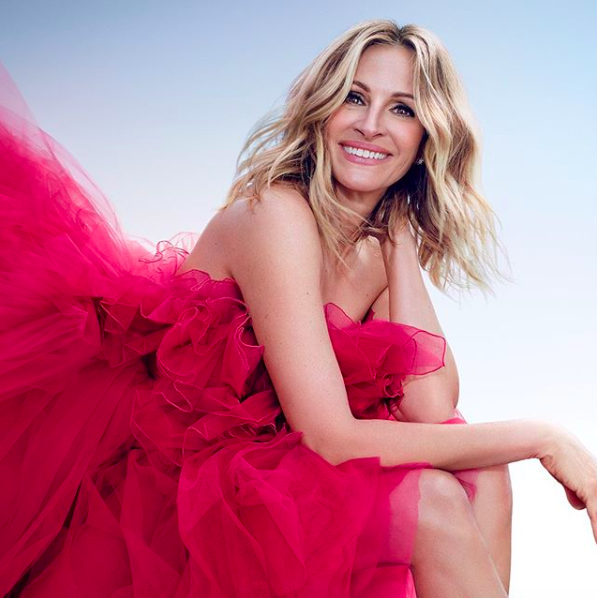 Until today, Lancôme still pays many efforts so that anyone spends a beautiful life, preferably wearing La Vie Est Belle… this time, with the new Intensément version, so that becoming happy would be more like an emergency statement!
Once again, a selection of fine and ardent ingredients have been selected to fulfill here and now the energy to this new Eau de Parfum, thanks to brand's touch, iris still in the heart of this new opus. This emblematic flower of this series continues here the adventure with La Vie Est Belle Intensément edition, through a distinguished duet, with the sensual notes of the vanilla pods.
This exotic couple reveals a certain zest for life through the first euphoric head notes of bergamot, pink pepper and a raspberry accord, then deploying all facets of its sensual and velvety floral bouquet!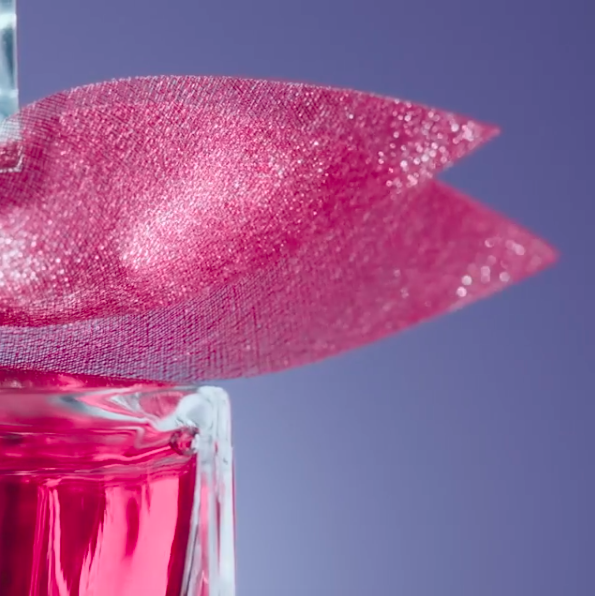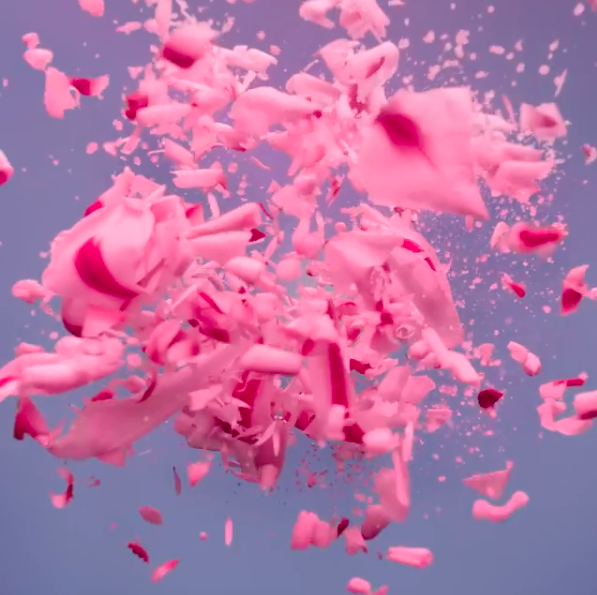 For the first time, the authentic bottle has been redesigned, and La Vie Est Belle Intensément reveals this time, an intensely colored juice, for an uncompromising joyful and radical rose spirit, evoking a beating heart obeying to the rhythm of strong emotions. The packaging also wears a tulle dress, whose intense fuchsia evokes the emerging wings of this bottle, displaying a decidedly glamorous look. After Zendaya's apparition for the Idôle creation, a last titbit about La Vie Est Belle Intensément's irresistible smile borne by the American actress Julia Roberts, one more time hired to embody this new brand image challenge, keeping up the scented history of this perfume, initiated by Lancôme.
More information on the official website and explore the full range on the online store.