Have you ever tasted a Champagne Grand Cru?
21 min read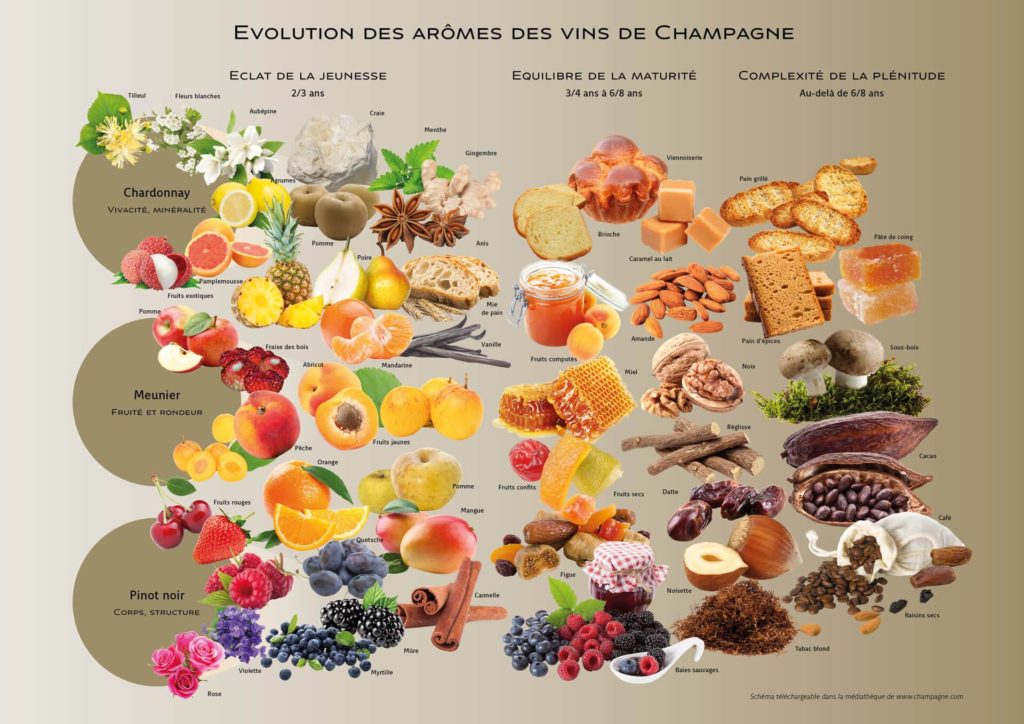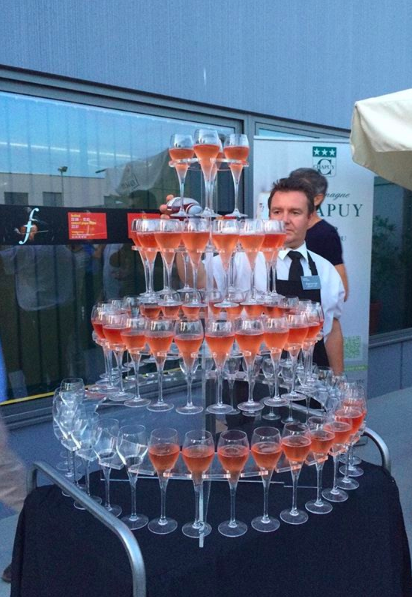 Created on August 31st, 2015, the Grands Crus d'Exception Association promotes a common commitment, between men and women, all passionate about their action in a bunch of elite vineyards and holders of a certain rich and complex heritage, etched of those prestigious champagnes Grands Crus spirit (cover photo: Champagne Chapuy).
Their desire is to promote the existence to any champagne enthusiast, about the diversity and energy of the Grands Crus from Champagne, through rare and sometimes unique cuvées. As committed emissaries from the terroirs, they conceived their exclusive wines as the quintessence of a true French excellence and consequently, there's no surprise that got together, under this authentic banner of the champagnes of Grands Crus d'Exception Champagne, to spread this sparkling word to the World. By Alex Plato
---
In the Champagne protected region, not far from our recent articles in Reims and its surroundings, the concept of vintage applies to many entire municipalities. Each commune produces wines of different denominations, depending on the exposure and the exact classifications of the lands, occupied by its related vineyards. As far as we know, the best soils are the chalky ones, since they give the best grapes and then, each commune is assimilated to a specific vintage.
Those classified champagne communes are classified according to a scale of vintages, which refers to a ratio spreading from 80% to 100%, depending on the quality of the grapes produced in and around. This scaleis really important, since it mostly reflects the quality of the grapes and for sure, independent to the quality of champagne. Furthermore, it permits to establish the trading selling price per kilo of grapes.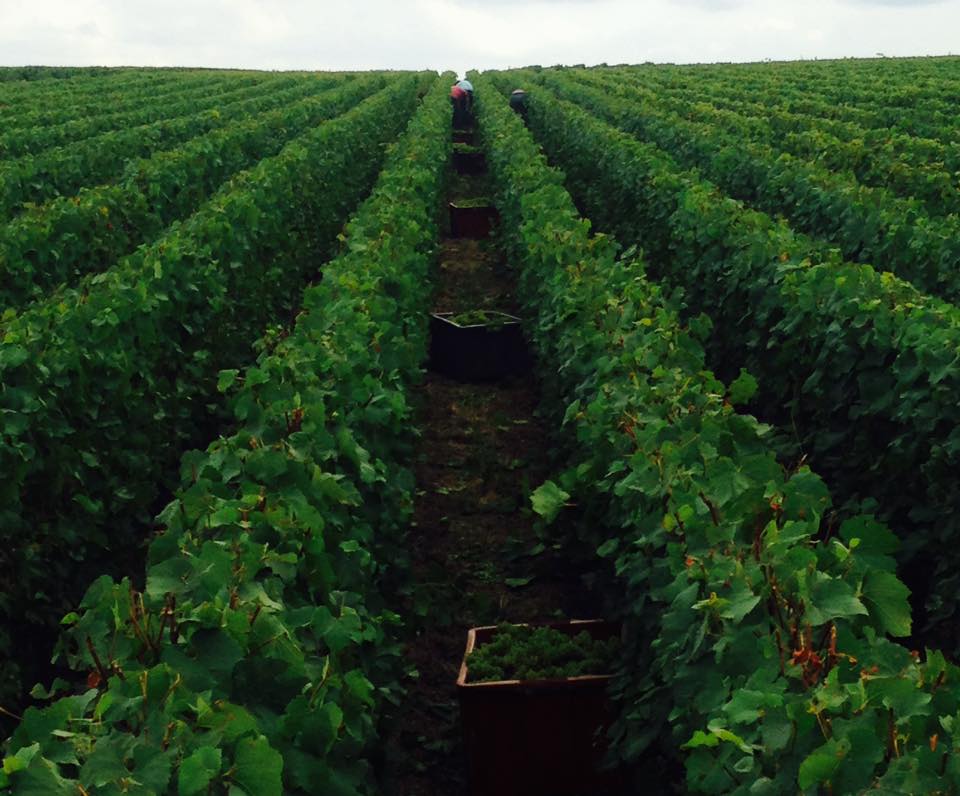 For your information, the Champagne Grand Cru is made with grapes, exclusively harvested from 17 fully classified municipalities (among them, 11 are located in the Montagne de Reims and 6 others in the Côte des Blancs). Although, the Champagne Premier Cru is made with grapes, mostly harvested from 90 to 99% classified municipalities, 44 of them are located in the Montagne de Reims, the Côte des Blancs and around Épernay). In both of those cases, the linked mention should be included on each of the bottle labels.
Concerning the Grands Crus d'Exception Association, its members pay a lot of efforts to animate the development of this branch, notably through different kinds of actions, promotional campaigns and solid partnerships. Among them, we may count some striking events, contributing to build the reputation of this interest group, for the advocacy of a series of splendid independent champagnes, with different proper personalities to unveil.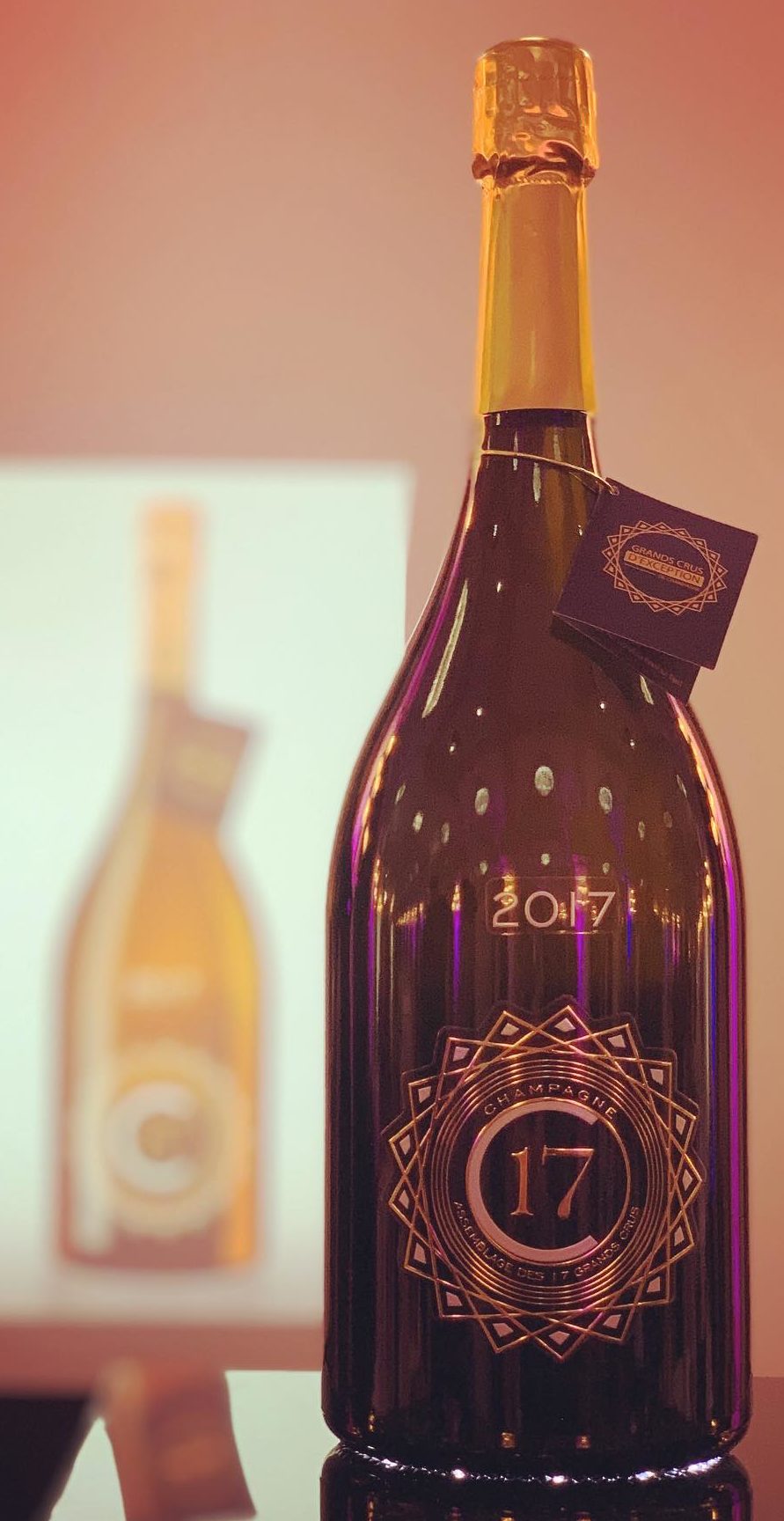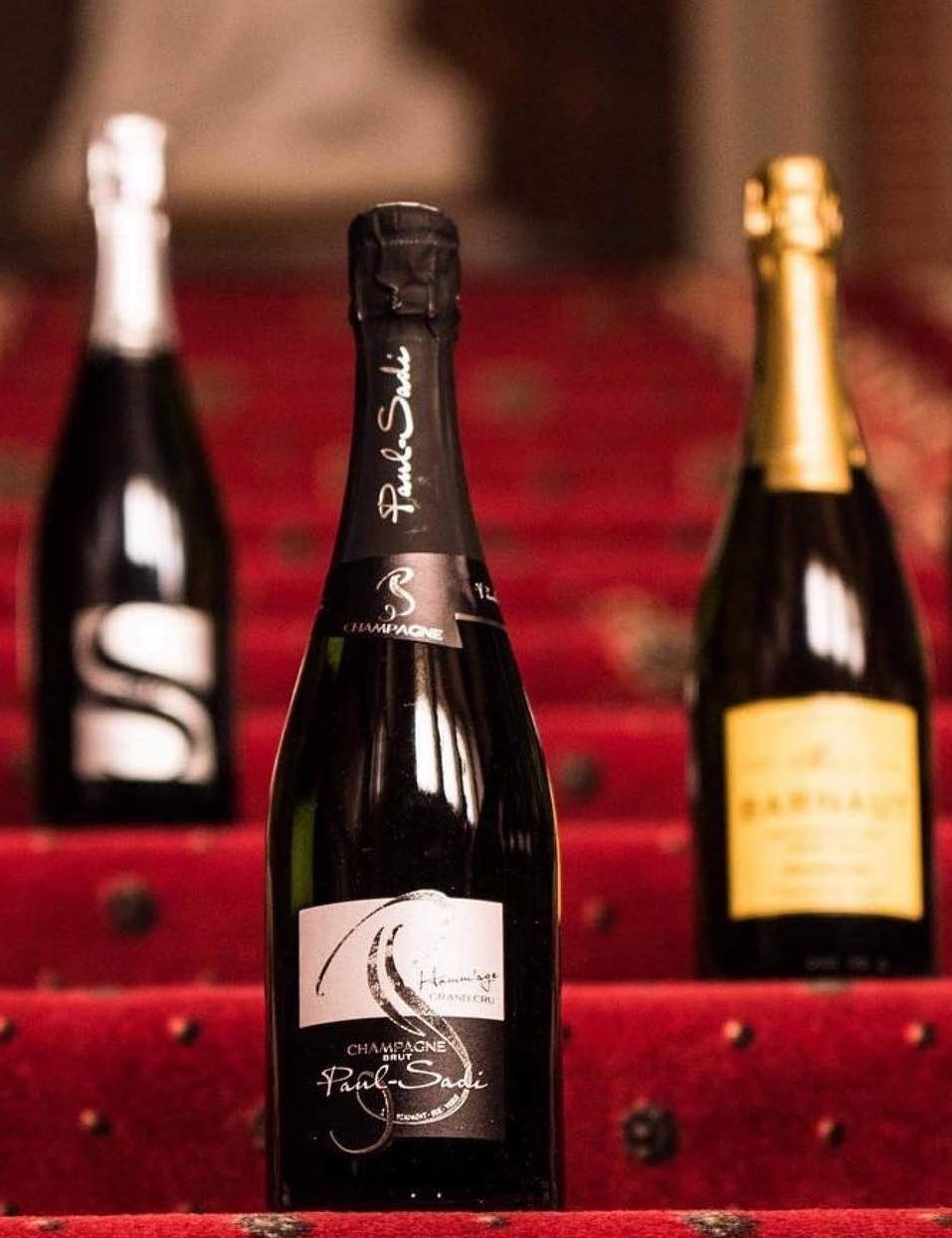 – Since 2016, the association participates at the tasting organized for wine professionals happening in Reims, during the big annual meeting of Printemps des Champagnes, occurring every spring.
– Since the 2017 harvest, the crew developed the first vintage cuvée of champagne, blending a total of 4000kg of its 17 Grands Crus members (235 kg for each contribution). A real teamwork pressed and vinified altogether, in a traditional vertical installation, settled in the Champagne Guy de Chassey, located in Louvois. A singular cuvée to discover, baptized C17, only produced in magnum formats, the first bottles would be available from 2023. This exclusive realization is composed of a studied blend of 65% pinot noir and 35% chardonnay grape varieties, a selection from the most beautiful plots of each Grand Cru, where the most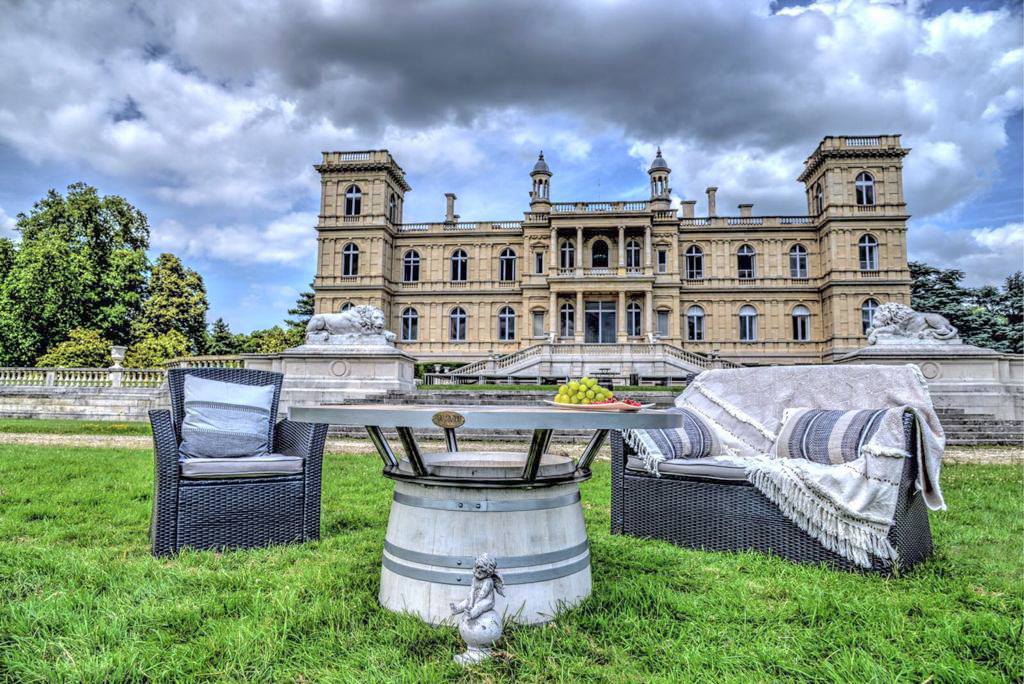 beautiful grapes were carefully sorted. Then, the entonnage plus the fermentation in stainless steel vats, were operated in September 2017 at another member's exploitation, at the Champagne Franck Bonville, situated in Avize, in 11 drums of 225 l. At the end, 1600 magnums and 300 bottles would be ready for you, book yours here.
– Since 2018, a partnership was initiated with the Oenology Association, of the Grande École de l'Hôtellerie, de la Gastronomie et du Luxe (pictured nearby), located in the bucolic Château de Ferrières. This tasting event, dedicated to sommeliers, wine merchants or catering professionals, was thought to highlight the compatibilities, between the French culinary excellence and the know-how of cuvées, inherent to those Exception Grands Crus of Champagne.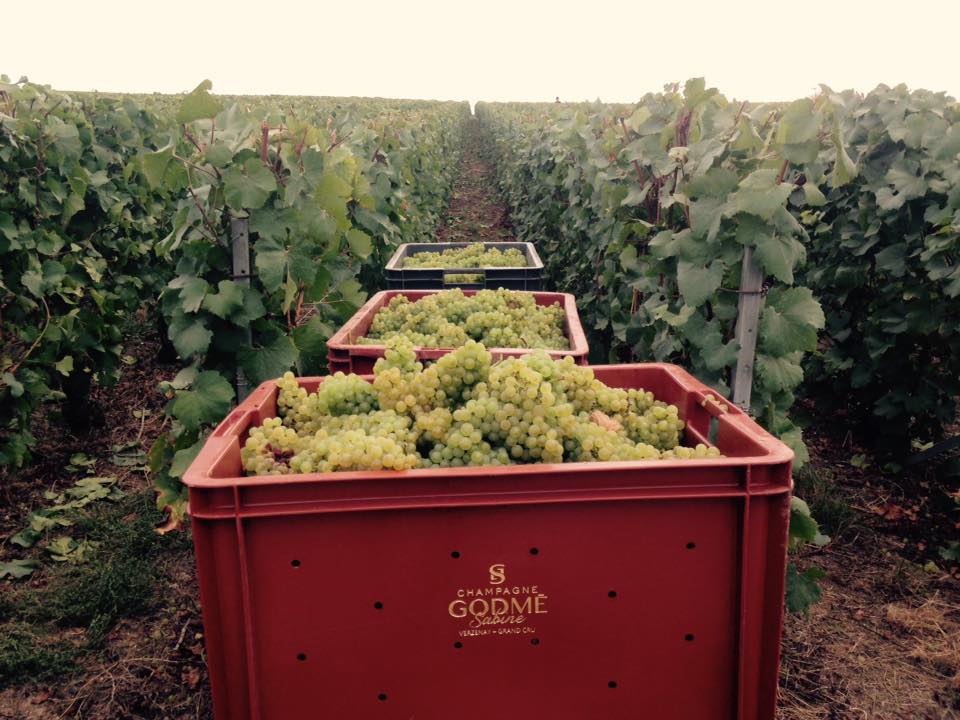 Through the next part, we would bring our attention on some of the Champagne House members of this Grands Crus d'Exception Association and furthermore, trying to highlight their own specialities and common points. Among them, you would notice that many of them are granted of a HVE label. It is the only certification dedicated to the sustainable viticulture, settled since the French green Summit, named the Grenelle de l'Environnement, leading to an official decision of the Ministry of Ecology and Sustainable Development, in 2007. This voluntary process is also a real recognition, which aims to identify the efforts done, particularly in the promotion and the protection of environmentally friendly practices, applied by winegrowers. On top of that, as this is an official process, governed by a specific law, a very strict audit must be carried out on the entirety of any laureate domain to obtain this certification, under a regular control.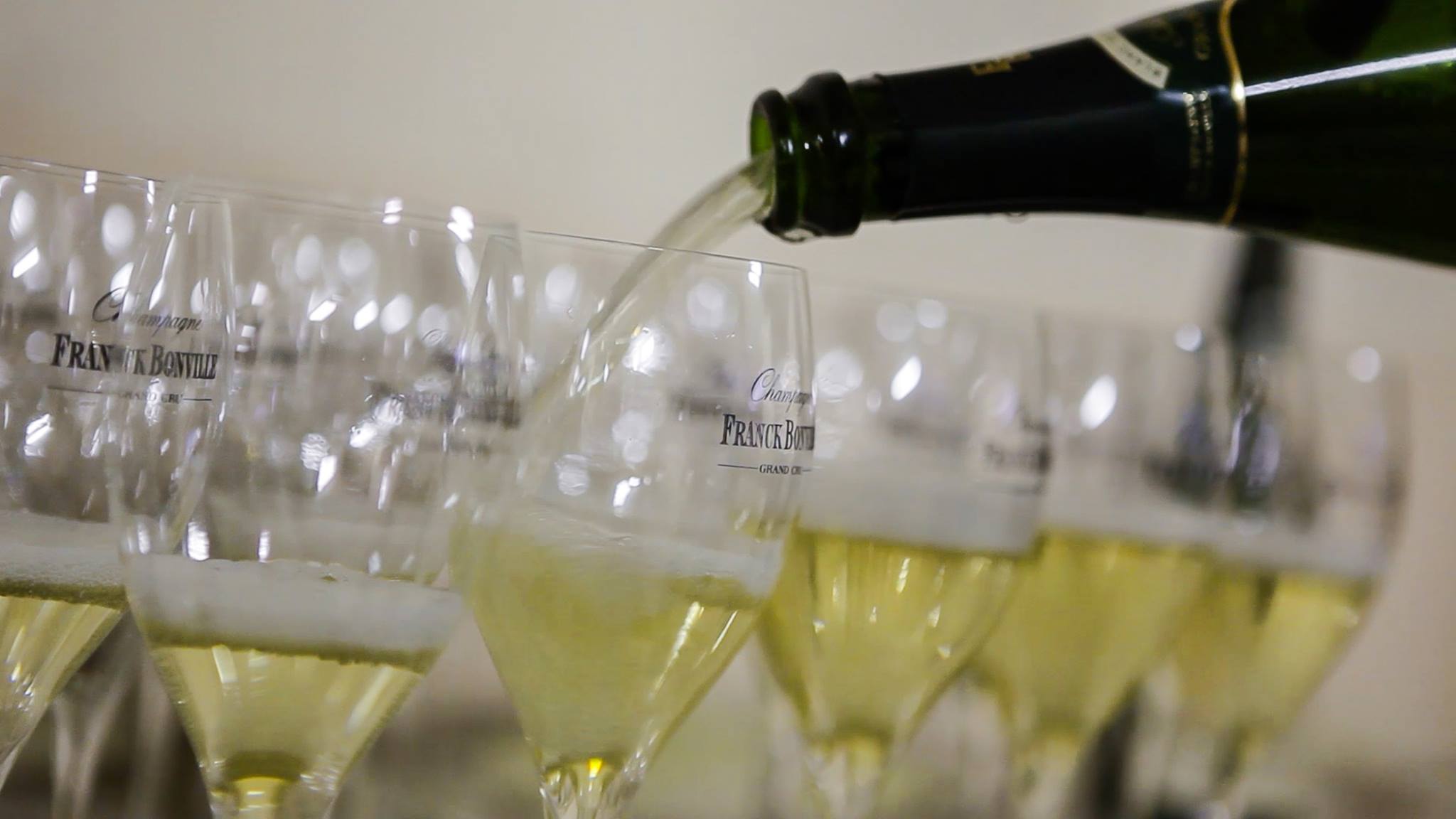 Another complement regarding the Côte des Blancs, where located the most part of the Grands Crus domains… This Champagne area, characterized by the extreme purity of its chalk or topsoil (on only a few centimeters of the parent rock), covers today 2500 hectares. This is also where are located the most premium Chardonnay grape varieties, also called Grands Blancs. spread over the most sought-after flagship terroirs of Cramant, Avize, Oger, and Mesnil sur Oger. Moreover, the ability of the grapes of this zone, has been proved to well ferment over time in bottles…
More information on the official website of the GCEC association and of the Ferrières association.
---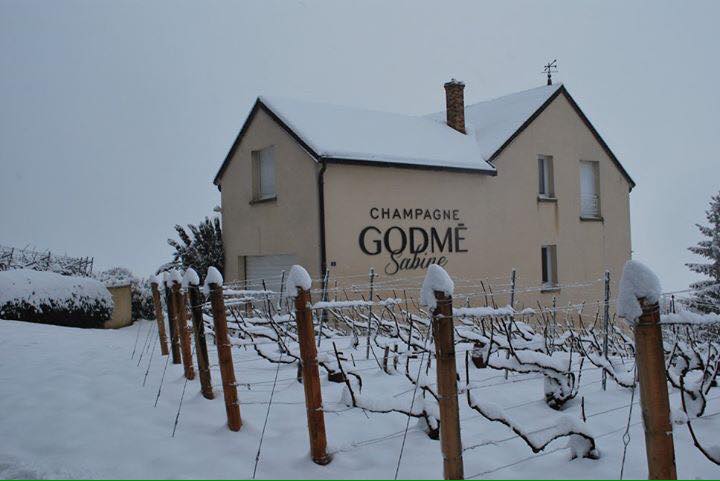 We start this sparkling series with the Champagne Godmé Sabine is located in a charming house in Verzenay, enriched with a panoramic terrace on their vineyards, suitable to welcome their guests. At the origin, this Champagne House is resulting from the union of two families of winemakers, the Godmé family, native from Bouzy and Verzenay, and the Thomas family, from Villers Marmery (photo credits: Godmé Sabine).
The first traces of their champagne in the market dates back to the 1920s, coincidentally the year of the marriage of Joseph and Antoinette Godmé. Since that date, generation after generation, this family tradition has been continuing and the brand continues to evolve time after time, with lately a focus on a vineyard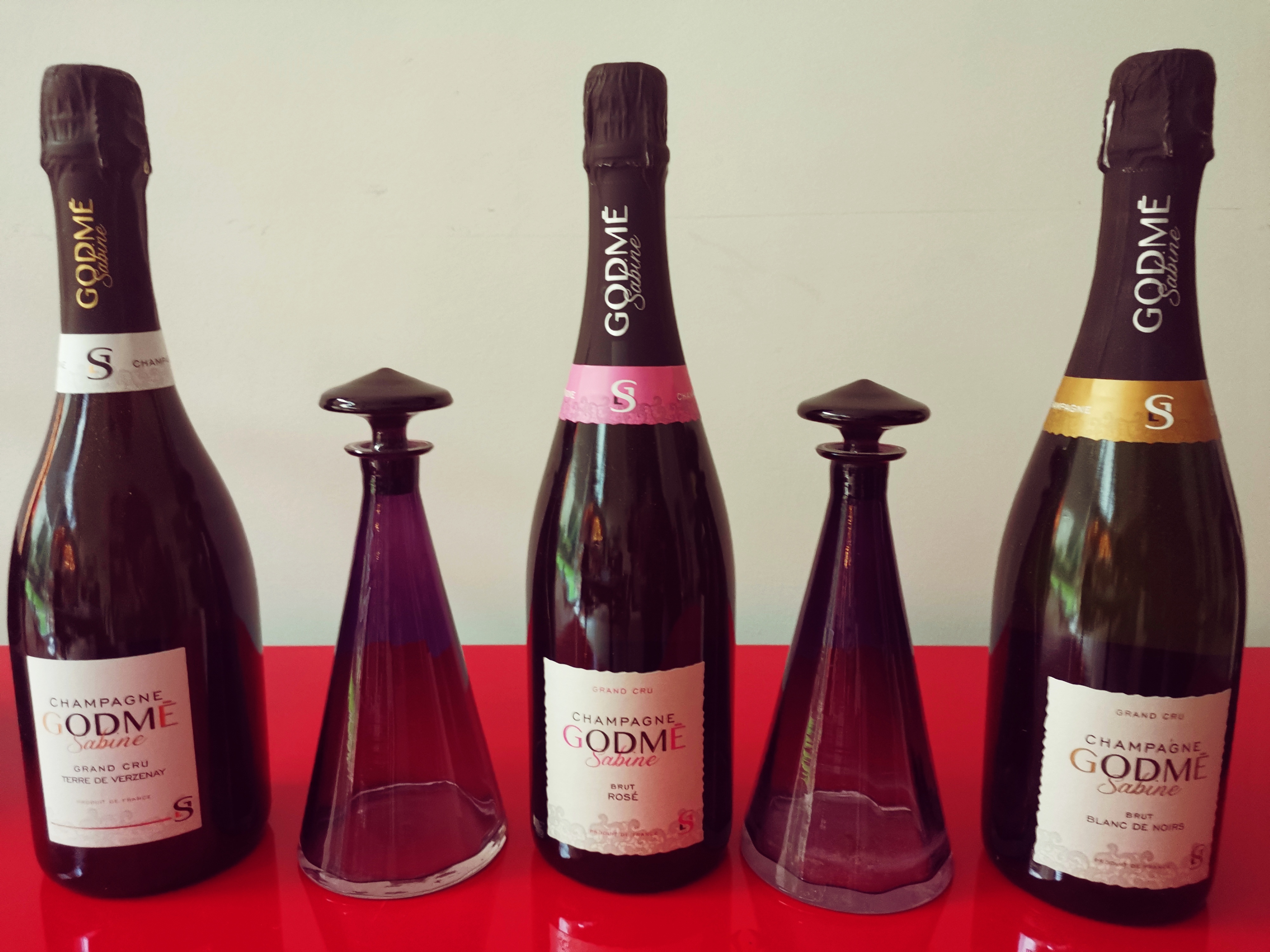 more respectful of nature. Since 2006, this was made possible thanks to the avoiding of insecticides (phytosanitary strategy), through a smart management of water resources and fertilizers. All of those consented efforts allow this entity to become HVE labelled, a certification attesting that the elements of biodiversity (hedges, grass strips, trees, flowers, insects, etc.) are very widely present and respected and the pressure of agricultural practices on the environment (air, climate, water, soil, biodiversity, landscapes) is as far as possible minimized.
Starting from this green statement and a large plot diversity, spread over 5.5 hectares, including three Grand Cru villages (Verzenay, Verzy, Beaumont-sur-Vesle) and two Premier Cru villages (Villers-Marmery and Montbré), all planted with Pinot Noir and Chardonnay, 8 cuvées are proudly produced. Thus, we would have a further look on 3 of them, whether they are composed of a single varietal or a blend, made or not of millesime juices, more or less sugar dosed, either vinified in barrels or in vats, so that each terroir gets the opportunity to express the best of itself and be sublimated in each bottle.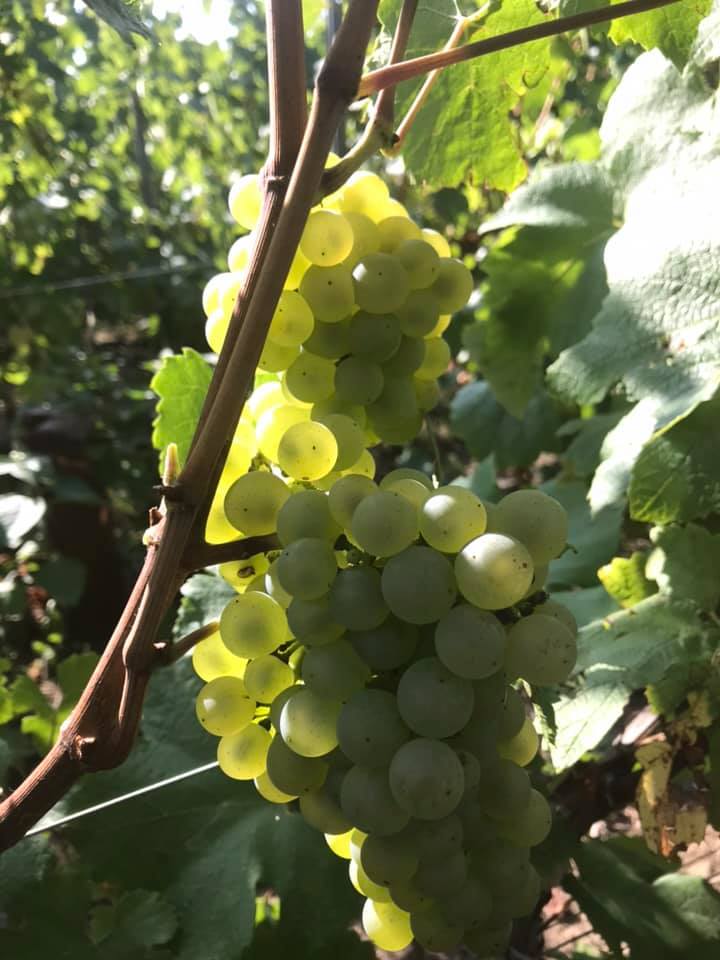 The Brut Blanc de Noirs Grand Cru, made of a blend fully composed of Pinot Noir, extracted from their Grand Cru villages of Verzenay and Verzy, and employing 40% of reserve wines at the bottling stage. Indeed, the draw was realized in 2016, for a cautious assemblage.
Due to a cellar maturation of 5 years and a melted sugar dosage (7g/l), coherent with the structure of this dynamic wine, the result is a suitable terroir champagne for aperitifs and fish dishes, especially with tangy sauces and even classical white meats with cream.
If you wish to get the best expressive and slightly spicy expression of this Godmé Sabine Champagne, serve it properly at 8-10° C, in a well-shaped flute. The first head notes of swirling scents of biscuit and red fruits would easier reach your inner senses, before exploding in your palate, thanks to a pure whirlpool, full of honey and apricot aromas. The final instant is considered as long and chalky, naturally depending on your cellar-keeping, whose potential here is estimated between 3 and 4 years.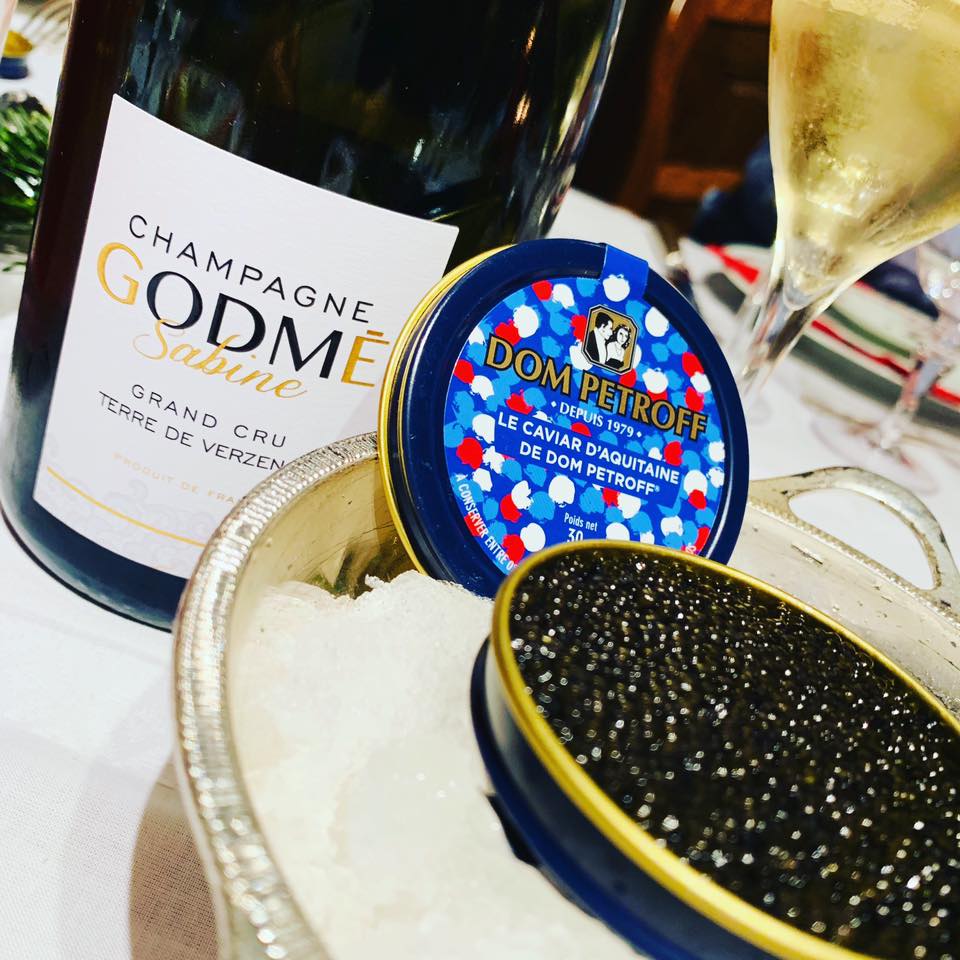 Then, if you're on diet or just prefer dryer juices, opt for the Terre de Verzenay. This Extra Brut blend is this time, made of 60% Pinot Noir and 40% Chardonnay, extracted from their most renowned localities. This champagne has been developed from 3 millesime years, only composed only of the so-called "Têtes de cuvée" (heads of cuvee), dating of 2014, 2012 and 2010.
Due to a first fermentation at 80%, in barrels and a cellar maturation of 5 years and a very discreet sugar dosage (3g/l), in order to preserve the aromatic richness of this wine, the result is a suitable passionate and prestige champagne, dedicated for your very exceptional occasions, to share a special signature know-how.
A Godmé Sabine Champagne recommended to serve in a well-rounded flute, in order to reveal the subtlety of this voluminous and distinguished wine, spoiled of a great gourmet identity. From the first smell, you wouldn't surely miss its nice intensity of white and dried fruits, completed by subtle notes of honeysuckle and quince. Once in mouth, you live a precious tasting moment, revealing a wide range of tender aromas, where the fruity flavors are connected in symbiosis, before a surprising final happening. This last aspect would again depends on the period you laid it down in your cave, for an approximate resting potential of 5 years.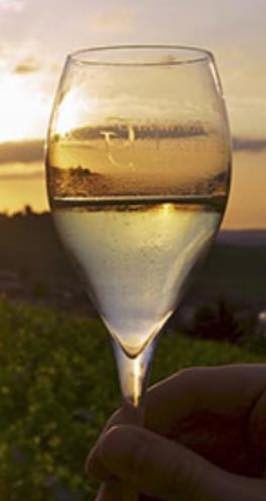 If you prefer appreciating life in pink, you should acquire the Brut Rosé Grand Cru. An aerial mixed blend, made 65% Pinot Noir, 35% Chardonnay and 12% Red Côteaux Champenois species. Once again, the harvest origin is coming from their Grand Cru villages: Verzenay, Verzy and Beaumont-sur-Vesle. This champagne enjoys an association of nearly 40% reserve wines, thanks to a draw made in 2016, gathering a blend of those years, between 2012 and 2015.
Due to a first fermentation at 80%, in barrels and a cellar maturation of 4 years, for a discreet and melted dosage (7g/l), in order to preserve the aromatic richness of this wine, You would be glad to savor this cheerful champagne rosé, offering you a visible fresh and fruity touch, to enhance your most gastronomic experiences.
We advise to serve this Godmé Sabine Champagne at a reasonable temperature of 10° C, in a precious champagne glass. It's the more accurate way to feel its harmonious and comforting expression, for deep and bewitching aroma, deftly evaporating those red notes of crushed raspberries and blackcurrant in your nostrils. In contact with your tongue, a well balanced texture, endowed with a fresh and sparkling acidity would eventually deserve you a durable and vinous finish, still in link with the cellar-keeping potential, announced between about 3 and 4 years.
More information on the official website and explore the rest of their selection.
---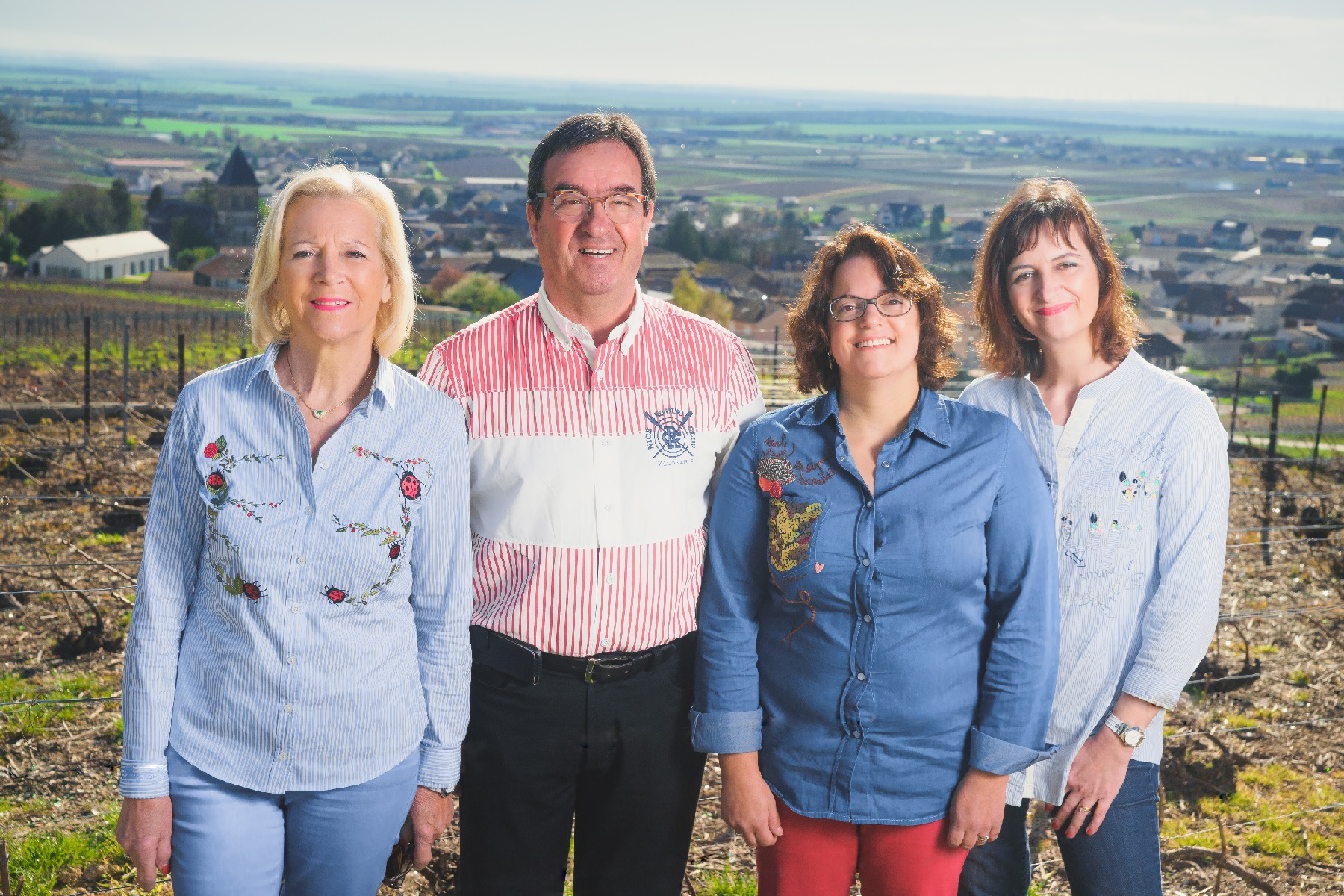 The Champagne Chapuy is a family estate of 8 hectares. For your information, the majority of their vines, located on the illustrious Côte des Blancs, are planted with Chardonnay grapes, allowing a notable production of Champagne Blanc de Blancs (photo credits: Champagne Chapuy).
In an other hand, the grapes from this same variety, grown in the village of Oger, also permit the generation of high-quality Grands Crus Champagnes. Along, other plots of Côteaux Sud d'Epernay, planted with Pinot Noir and Meunier (3 ha), allow blending cuvées, with a more supple and fruity touch.
Besides this statement, the Chapuy family is closely linked to the history of Oger, since an ancestor was mayor of this village, at the ancient time of the French Revolution.
Meanwhile, the cultivation of vines has ever been anchored in the family tradition for more than a century, but the Champagne House was grounded in 1952, mostly run today by a female generation.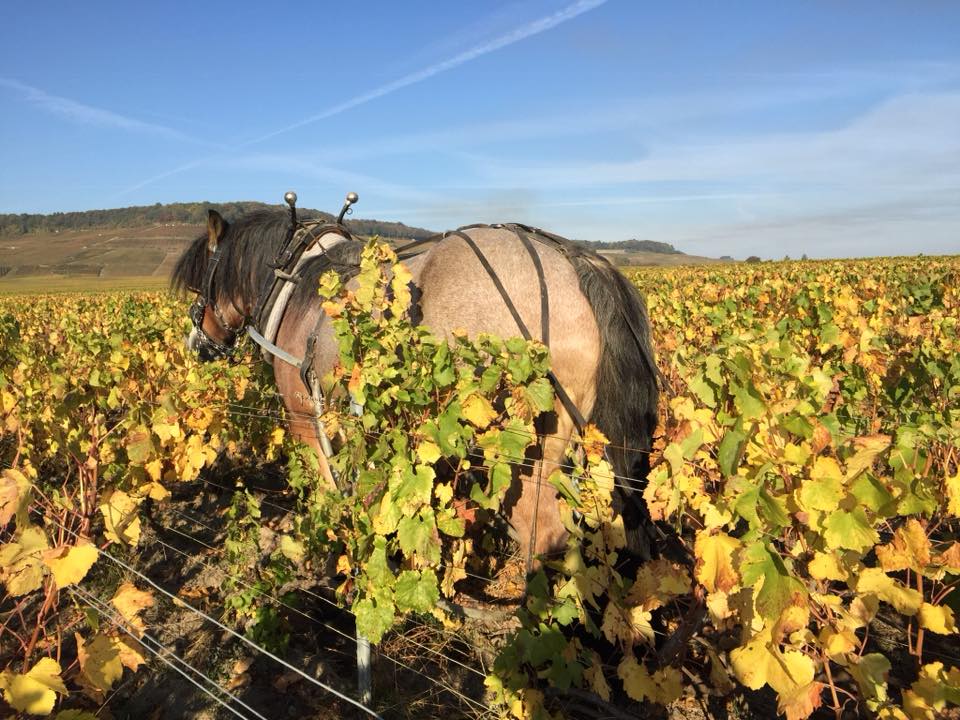 Lately, the team developed a real commitment to classify its Grands Crus, with a third level of High Environmental Value (HVE3) certification. This is the highest approval level, regarding an official environmental certification system, in order to respect as much as possible the environment around vineyards. That's why, some of the House's plots are worked with a draft horse, in particular for working the soil.
Moreover, an other aspect resides in the sexual confusion for insects, a biotechnological technique which helps winegrowers to suppress insecticides. For example, this involves confusing insects with a bunch of pheromones, thereby preventing their reproduction. Therefore, biodiversity could be favored, and moreover the fauna and flora are thus preserved, as much as possible, setting up a healthy and sustainable viticulture. Another facet of the ecosystem is respected within the preservation the surrounding vine landscapes, for example by letting a natural grassing, thanks to inner grass and any endemic vegetation, like flowers forming an harmonious panorama, within sight or hearing range.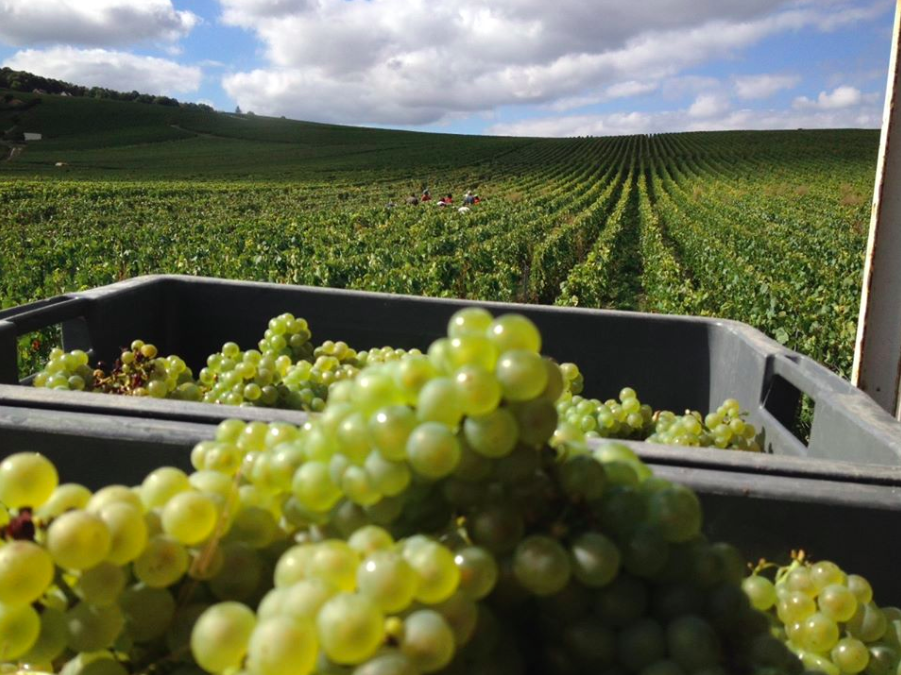 In addition to this green lights, you have to know that most of their young champagnes is the fruit, from the blend of wines, having undergone some malolactic fermentation, while other items didn't. Among them, just the millesime champagnes have been fully vinified without any malolactic fermentation, in order to maintain their freshness over time.
We offer you here some complementary informations about their global manufacturing process, starting with the first alcoholic fermentation only taking place in stainless steel tanks. From there, a quick racking has been operated to keep only the fine lees. Thus, this was only made after a filtration and a cold passage.
Then, it's the turn of the "taking of foam", an inevitable action after the bottling stage, completed after 6 to 8 months of passage inside tanks. This compulsory to prepare the following storage on slats, with a duration from 2 to 3 years for non-vintage champagnes, but counting on a minimum of 5 years for vintage ones.
The last steps to remind to assimilate the recipes of success, pass through a storage after disgorgement (removal of the deposit, that the riddling has concentrated in the neck of the bottles), from 3 to 6 months, depending on the sales season. The famous expedition liqueur can only be made only from Chardonnay variety, so as not to aromatically obstruct the original vintages.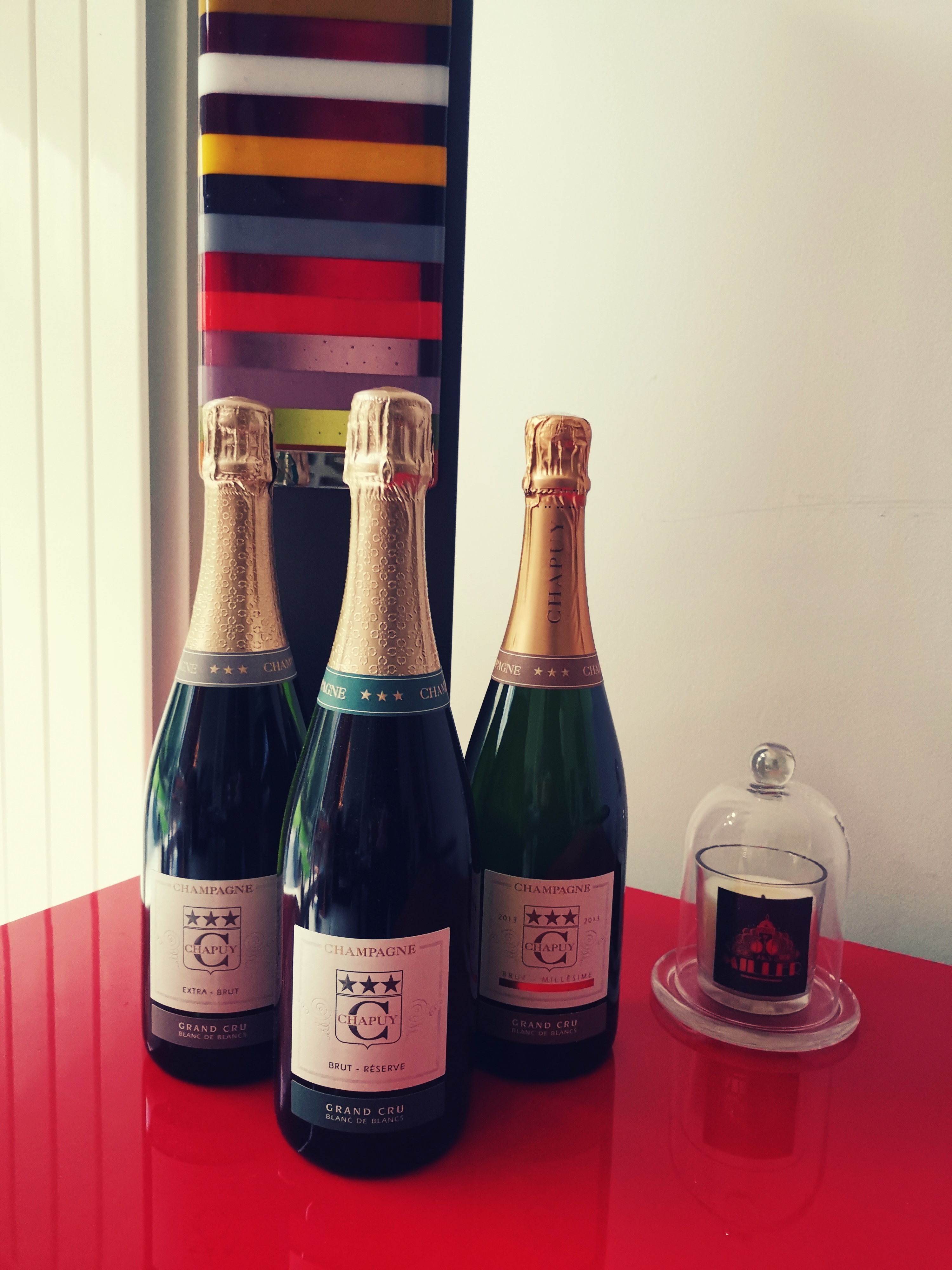 We launch the ball, mentioning the Grand Cru Blanc de Blancs is a Brut Réserve, made of a blend fully composed of Chardonnay Grand Cru, employing a 2017 base, fermented in stainless tanks, and completed by 57% of reserve wines, cautiously assembled at the bottling stage.
Due to a cellar maturation of 5 years and a melted sugar dosage (6g/l), coherent with the structure of this dynamic wine, adorned with a pale gold color, reflecting some silver flashlights, according to experts. The result is a terroir champagne, full of fine and lively bubbles, suitable for aperitifs and fish dishes, especially with tangy sauces and even classical white meats with cream.
Hereby, you would have the chance to discover an archetypal Chardonnay wine, deeply influenced by the freshness, inherent of the main assets of this grape variety, suitable to any spontaneous aperitif, or even to associate any appetizer, composed of white fish, scallops or langoustines. We advise to serve this Champagne Chapuy at a reasonable temperature of 10° C, in a precious champagne glass. It's the more accurate way to feel its gourmet aromas of some French pastry (brioche, butter), before the birth of vine peach and grapefruit notes, inside your nostrils. Once in mouth, you would surely experiment an intense first impression, due to an explosion, mostly emanating from the fruity notes. Then, it's not a confession to tell that you would be bewitched by the creamy bubbles of this gourmet nectar, preparing a long and precious final moment. A last important, you would drink a 2018 World's Finest Glass of Bubbly Award. Recommended price: 25€.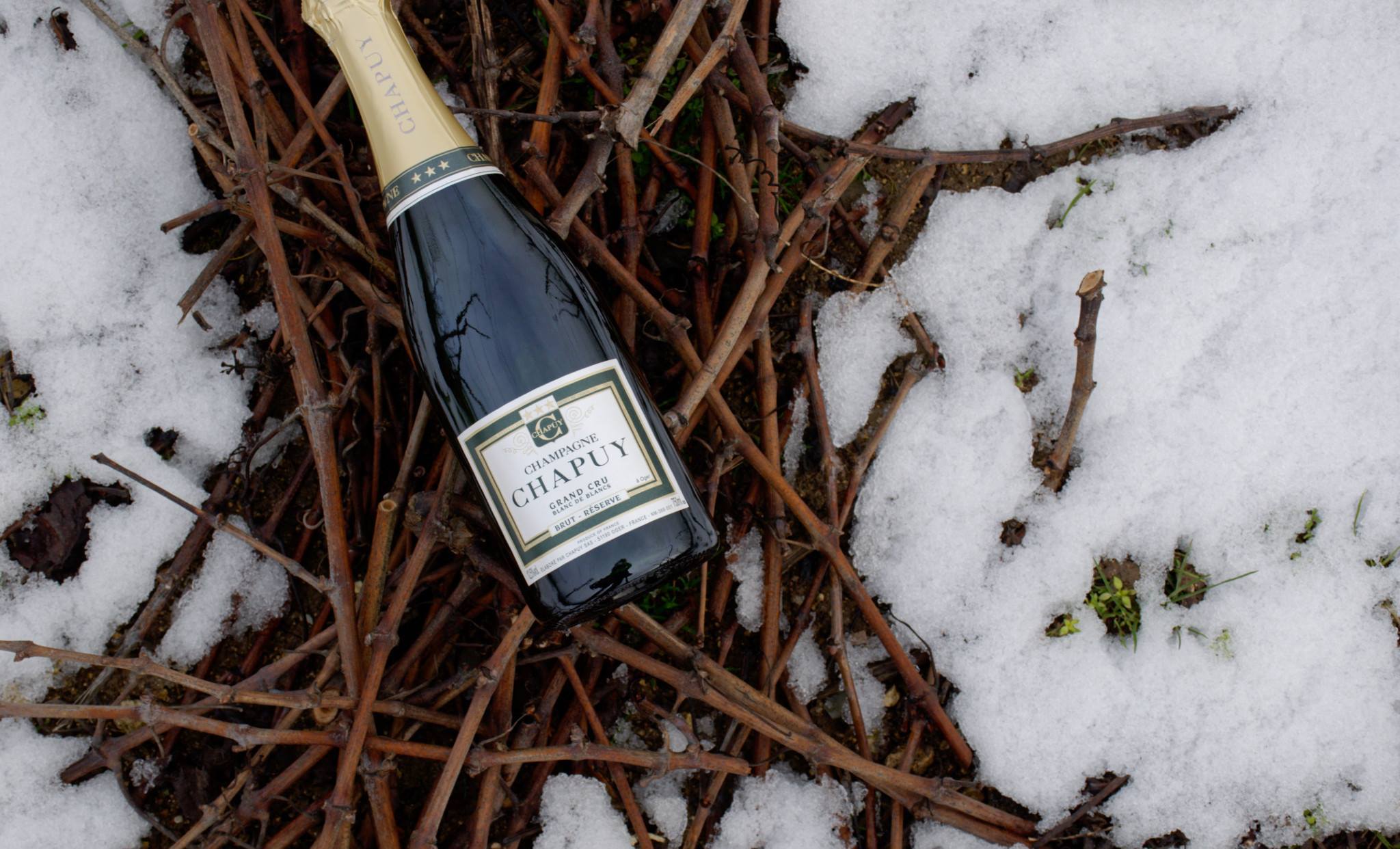 We follow our exploitation visit with the Grand Cru Blanc de Blancs, an affordable Extra Brut (not too dry, with 4g/l), fully composed of Chardonnay Grand Cru. This time, this juice employs a 2015 base, completed by 50% of reserve wines, at the bottling stage and through a partially blocked malolactic, fermented in stainless tanks, for an optimal preservation of those natural flavors.
It seems that this cautious assemblage meets a certain success, since it has been awarded by a Silver Medal at the IXth Contest of the Best French Wines and Spirits in Asia, which took place on 06 and 07 April 2019 in Hong Kong., plus also won a Bronze Medal at the World Wine Awards 2019.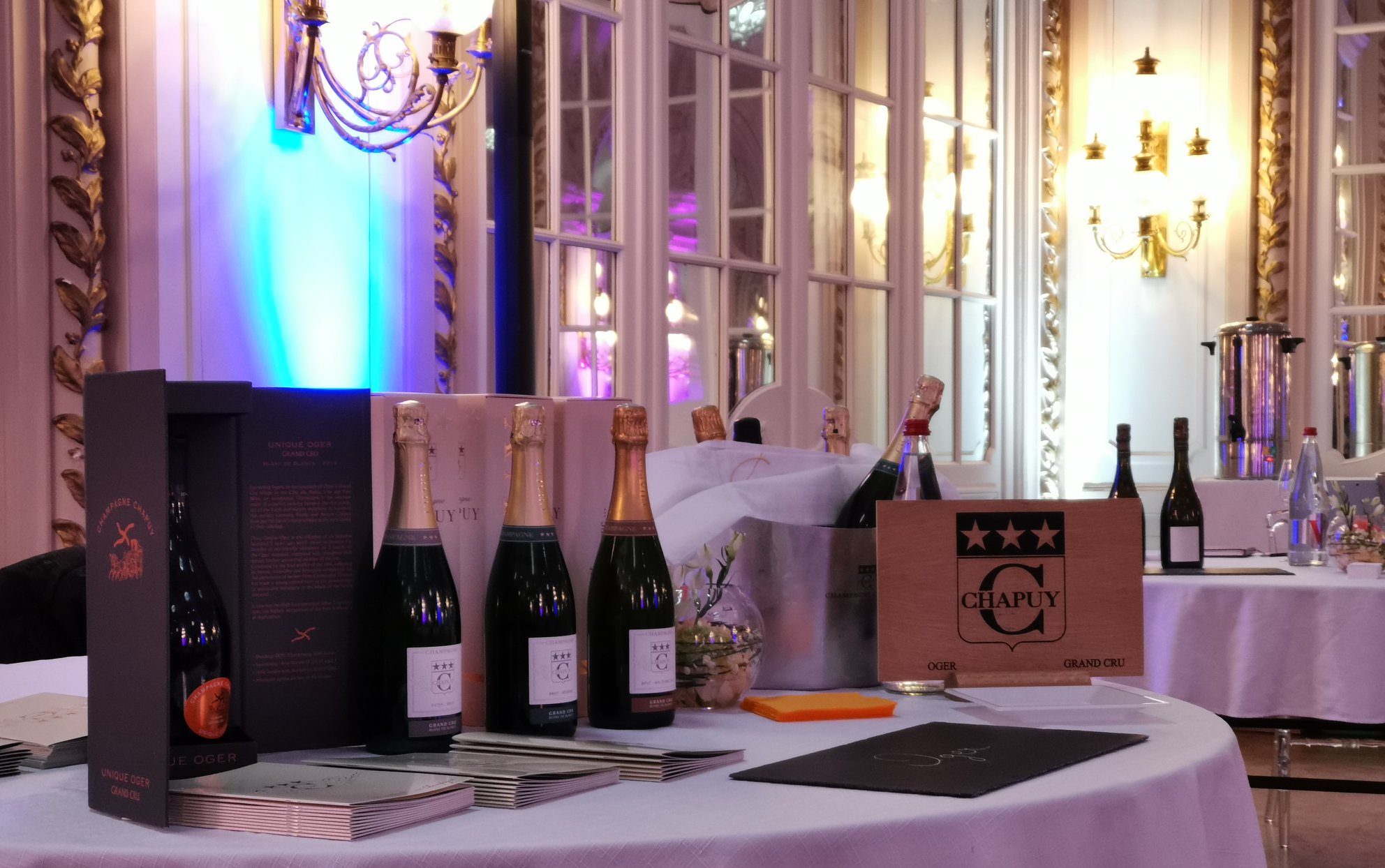 The achievement is a perfect Champagne Chapuy for spending a pleasant cocktail time, also recommended to serve it associated with some white fish based plus a light lemony sauce dishes, or even with citrus scallops. From the first smell, you wouldn't surely miss its nice bitter senses of citrus and especially lemon fruits, completed by subtle notes of some floral fragrances, and a bit of brioche later.
Therefore, in contact with your tongue, a fresh and tasty attack, still endowed with complex pastry aromas, mostly due to the extended maturation time in cellars. Finally, you would see the last bubbles, as pretty mineral, a representative aspect of the Oger's parcels. Recommended price: 25€.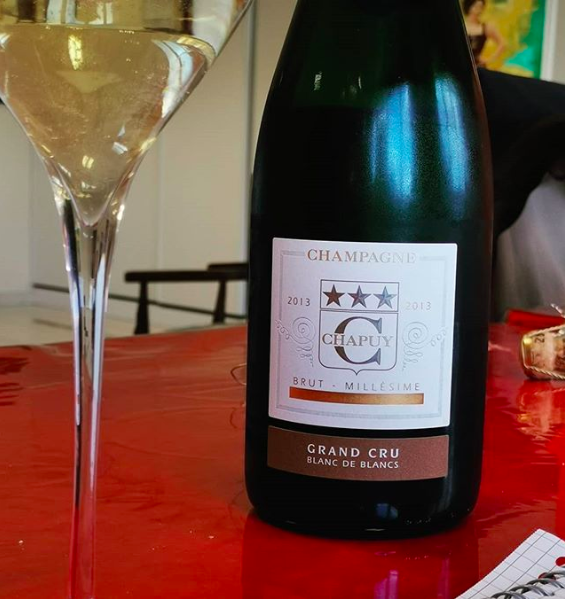 The third and last suggestion here is another Grand Cru Blanc de Blancs, sublimed into a Millésime 2013, still entirely full of Chardonnay Grand Cru. This time, this edition only focuses on the brilliant 2013 harvest, to turn it into a precious juice, helped by a fully blocked malolactic process, fermented in stainless vats.
Thanks to a soft sugar dosage (5g/l) and an aging on lees during 5 years, the result is a memorable and gourmet Champagne Chapuy able to satisfy any occasion diner, filled with some noble fish (turbot, sea bass, halibut, monkfish) and eventually a white butter sauce… Its elegant golden robe, glittering from fine and yellow bubbles, would also become the focal point of your table.
Once uncorked, a first salvo of spicy and toasted notes (gingerbread, cardamom) may arise, followed by aromas of counted fruit (orchard fruits). Those spicy aspects get confirmed during the tasting, balanced by a delicate texture, where the tiny bubbles would undoubtedly caress all of your senses. Recommended price: 35€.
More information on the official website and explore the rest of their selection.
---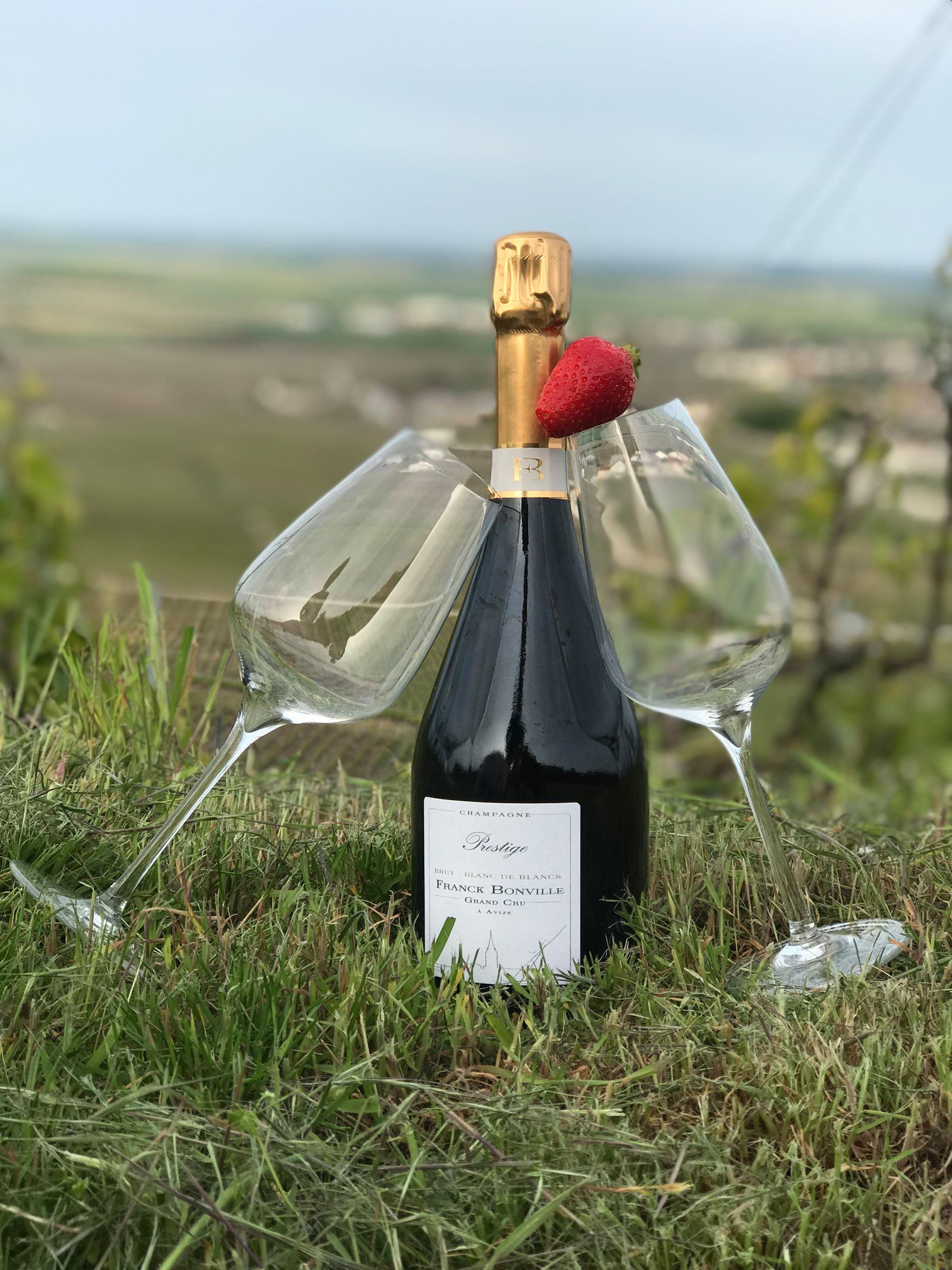 Still in the village of Oger, the Champagne Franck Bonville is located the unique soils of the Côte des Blancs, proving that a hard work in champagne expertise is durable through ages. This true fact convinced the winegrower Alfred Bonville, a former collaborator of the Veuve Cliquot house, to take the ambitious challenge to acquire plots of vineyards, at the dawn of the 20th century, a few years after phylloxera disease destroyed many exploitations. In 1936, he acquired a pretty mansion, in the heart of Avize, a famous Grand Cru village, annually gathering more than 400 harvesters through the 270 hectares of a terroir, whose international notoriety is fortunately still continuing to grow (photos: Champagne Franck Bonville).
This elegant edifice, still the headquarters of the house today, hosts a press and cask, necessary for a quality homemade winemaking. Above the cellars, their first bottles are accommodated there, since four generations, in a prestigious land of 77 plots, in the heart of the Côte des Blancs, transmitting an exceptional heritage. Then, the maturing would be gradually elaborated in small enamel steel tanks, along steel 1990 stainless steel tanks, bringing great comfort and precision in their winemaking.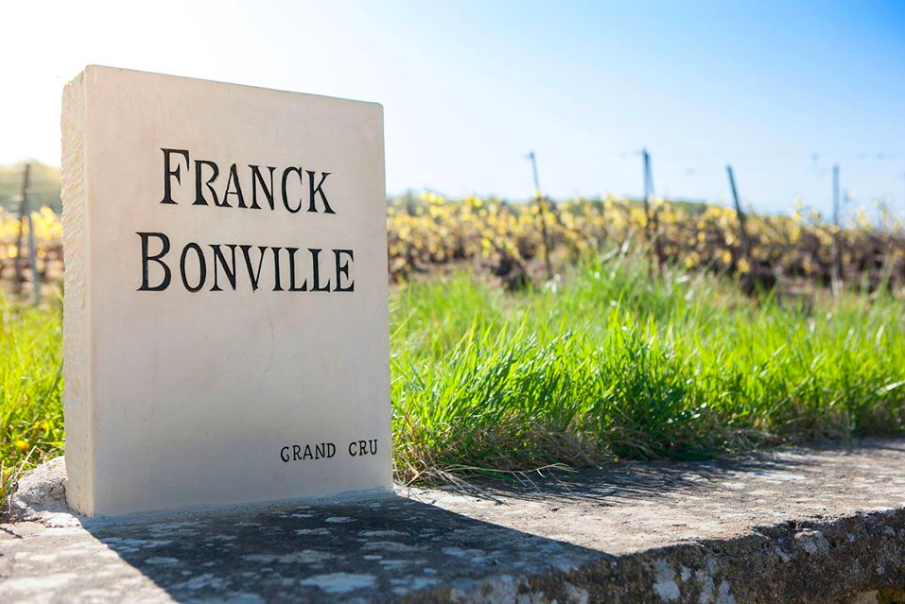 Nowadays, the Chardonnay grape is highlighted used in their cuvées. Did you know that this is the only white grape variety, containing white juice in the Champagne appellation? It was brought back from Cyprus in 1239, at the return of the 6th crusade by Thibaut IV, count of Champagne.
Obviously unfolded at the end of the 18th century, the Côte des Blancs winemakers were the first, by necessity, to master a champagne, entirely made of Chardonnay, really suitable to the surrounding chalky subsoils and expresses the finest characteristics of this famous gastronomy zone, from all over the World. With this in mind, you have enough knowledge to explore the Champagne Franck Bonville's wide range, composed of 9 Grand Crus, magnifying these Chardonnay's most relevant and secret savors.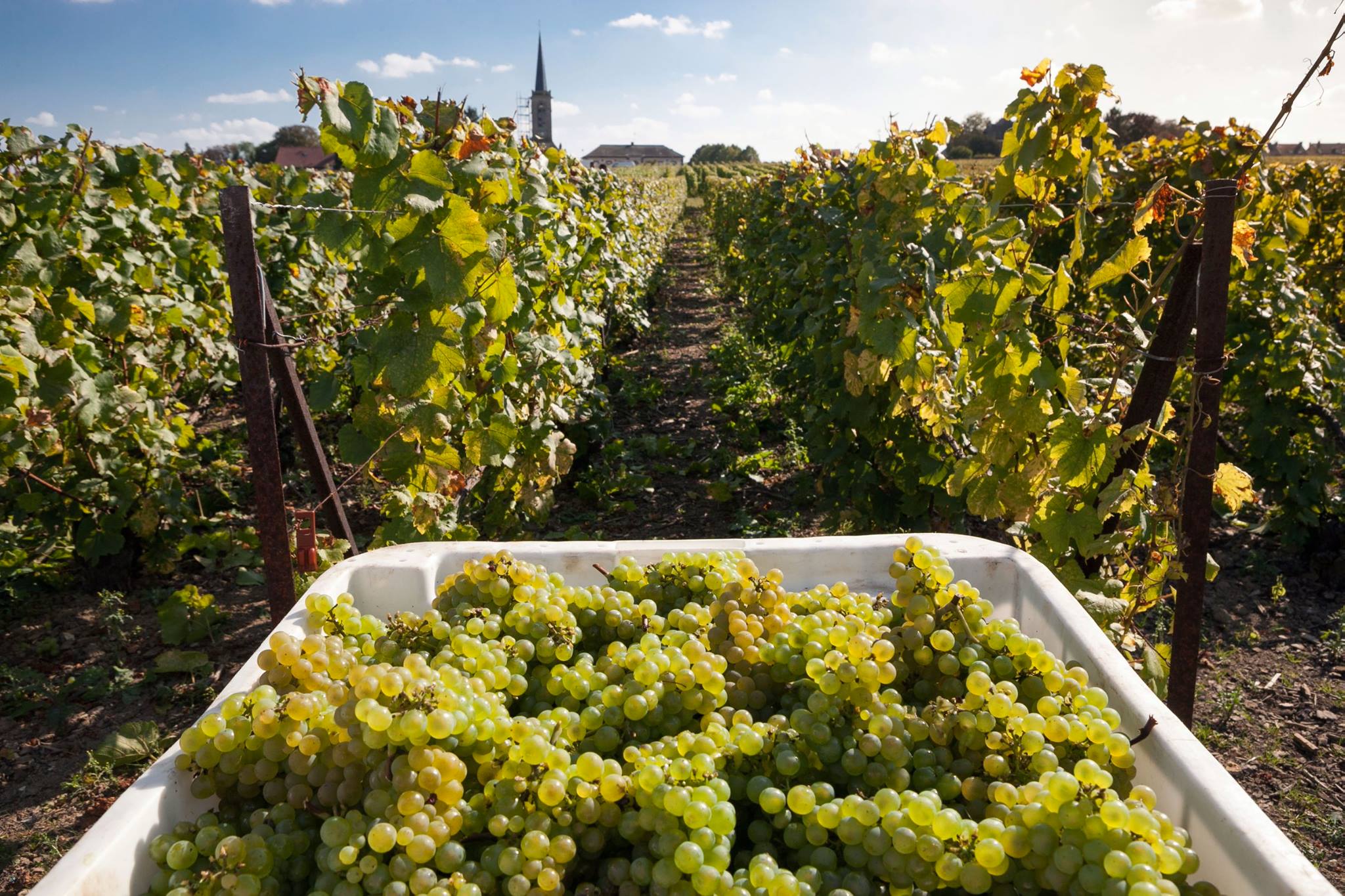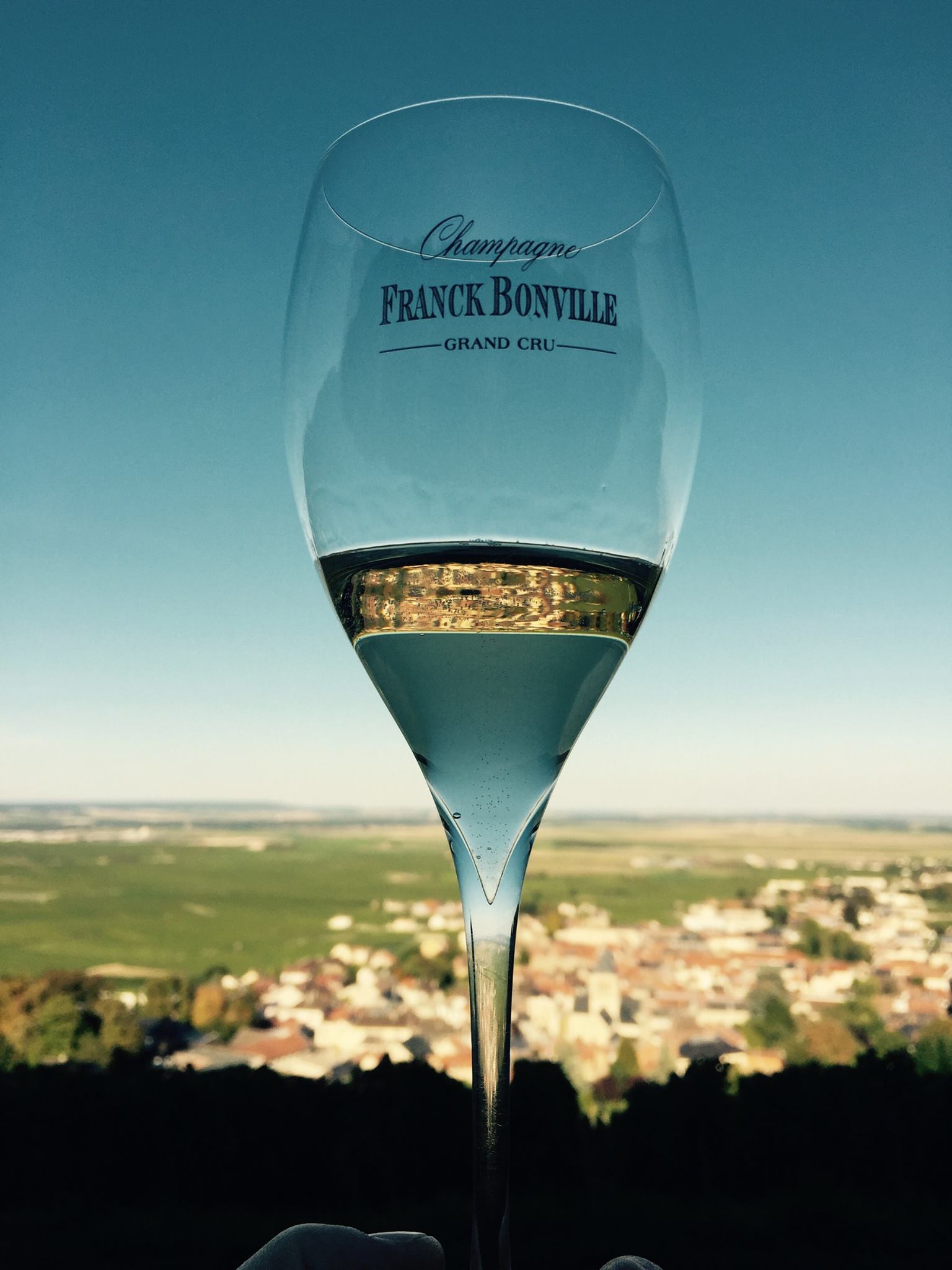 We get to know more about this champagne house, with the Cuvée Millésime 2013, fully developed with Chardonnay, harvested in 2013, grown in Avize. A naturally elegant sparkling white juice, put in bottle in February 2014, enhances an elegant yellow robe, reflecting the persistent tempo lead by its fine discrete bubbles.
Due to a minimum cellar maturing of 6 years and a melted sugar dosage (5.83g/l), this Millesime Grand Cru reveals a rather discreet nose, before welcoming sweet spring fragrances, introducing fruity scents, gently mingling with notes of young almonds and fresh butter.
Once uncorked, you would enjoy a fresh and softly acid first tasting, undoubtedly here to support the creamy structure, due to aging of this 2013 cuvée, back on some lees. That's why this promising young edition, dedicated for diners, would offer you a profusion of generous exotic aromas, bringing roundness and endurance until the fresh final fireworks. Thanks to its most frequent gustative assets, such as citrus (orange, lemon) and white fruit (peach, apple, quince or pear), evolving towards aromas of butter, brioche or even developing hazelnut with time, this champagne would eventually sublimate a crispy quail with raisins or a finely cooked lamb. Recommended price: 31,80€.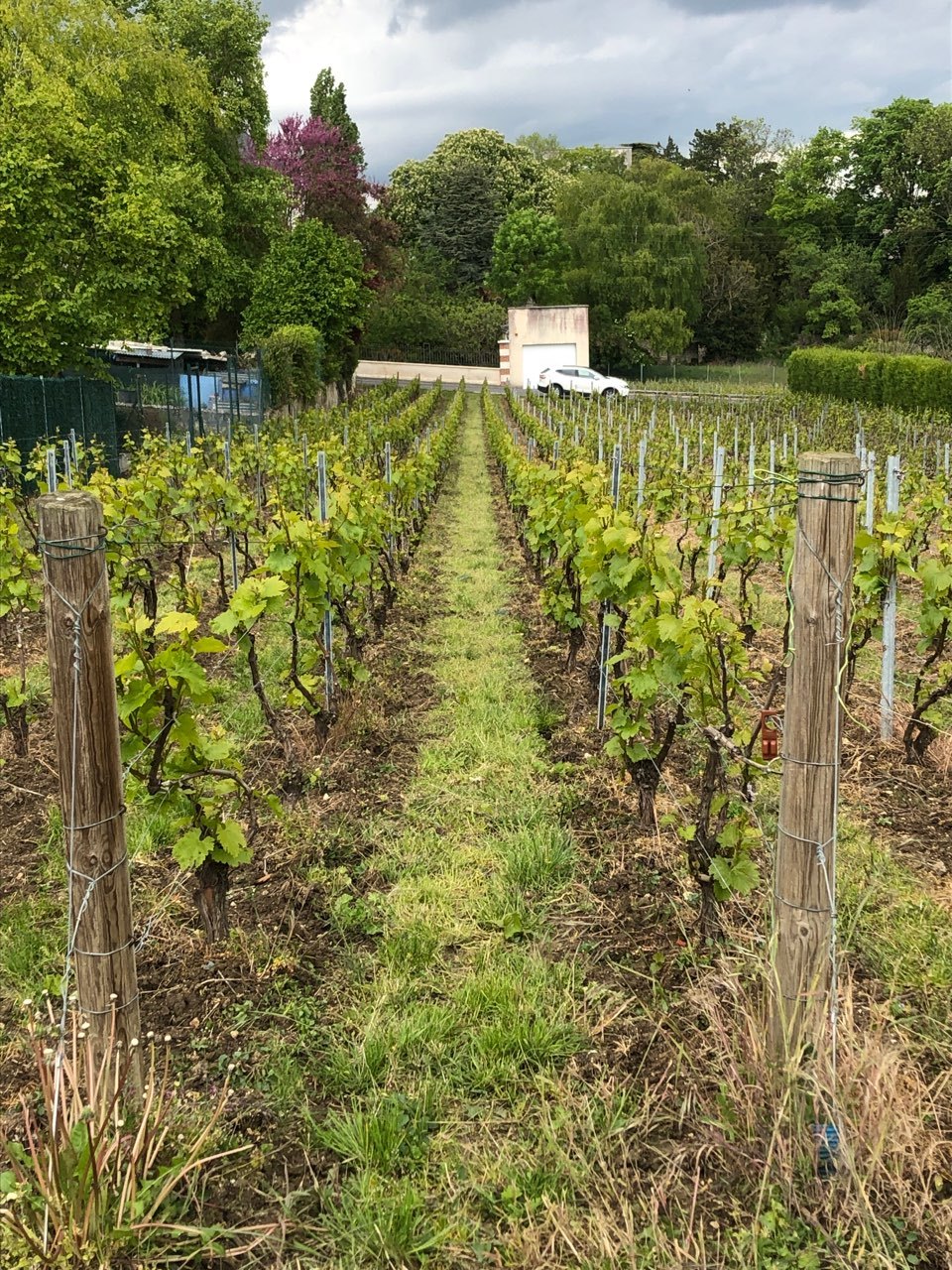 Thereafter, meet the next coup de coeur, the Cuvée Prestige is considered as the most representative of the Champagne Franck Bonville's vineyard. This elixir is again only made up of Chardonnay. This blend is constituted from this previously announced Avize terroir, counting on both harvest years of 2014 and 2015, completed by the complexity of their reserve wines, in order to obtain a constant final depiction. Adding to this, bottled in March 2016, before a casual maturing of 5 years and sugar dosage (6.67g/l) provide fine bubbles to this Prestige cuvée.
Those are melt in an ocean of creamy foam, within a golden robe, fulfilling the panorama of its elegant and balanced scented bouquet of vanilla evolving into brioche aromas. Then, you shall appreciate the plumping mouth, enriched by a menthol facet, recalling the typical Chardonnay freshness, still bringing you some classical brioche notes, relevant from the Côte des Blancs' sunny hills. As a matter of fact, this prestigious champagne is either really ideal as an aperitif, or as an accompaniment to a savory diner. Recommended price: 29,80€.
More information on the official website and explore the rest of their selection in the online store.
---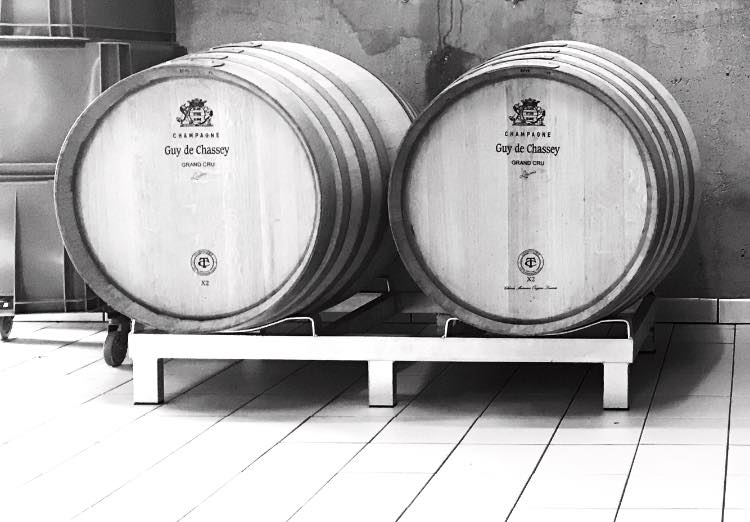 The Champagne Guy de Chassey, located in the village of Louvois, where the Queen Marie-Antoinette stayed in the former feudal castle (from the 12th century) facing this family champagne house. By the time, this edifice and its gardens were considered as a Champagne version of Versailles (photo credits: Chassey).
Nowadays, Louvois is globally famous for its fully Grand Cru classified vineyard, among the 17 Champagne villages to have obtained this precious label. Otherwise, if you visit this place, think about the hordes of hungry wolves, fortunately formerly, coming down from the forests. This historical fact gave the name of this locality, Loupvoie ("loup" is the French version for wolf).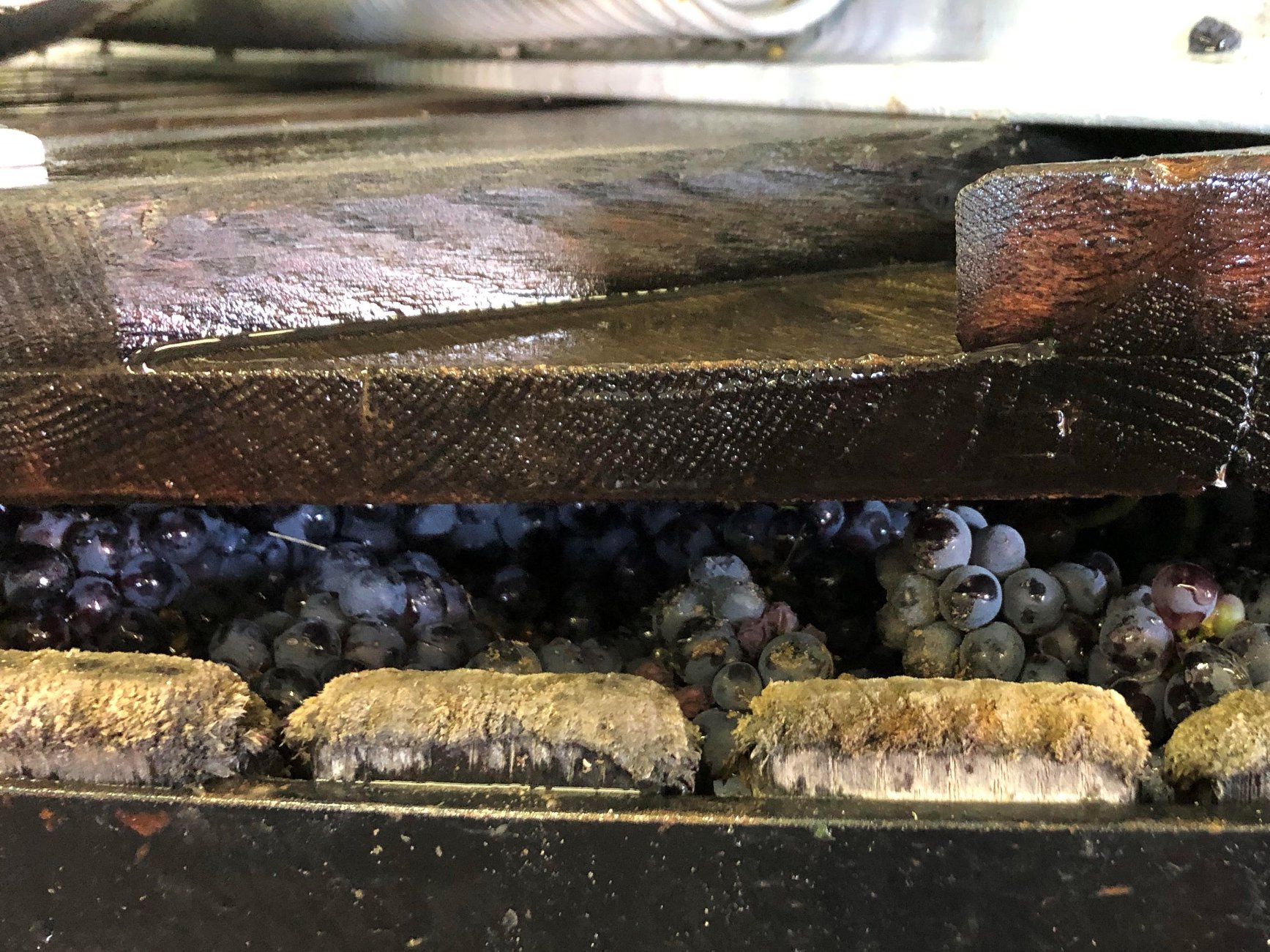 In the heart of the Montagne de Reims, the Guy de Chassey team farms 9.5 hectares of grapes there, maintained in the same family for more than 7 generations. A few steps away from the small Livre watercourse, full of legends, the ancestral wine-growing know-how has been passed on from generation to generation, until today, with the feminine tandem between Marie Odile de Chassey and her daughter Ingrid. Feel free to come as you are, in their exploitation, and explore their champagnes scope!
The family philosophy remains focused on tradition through an entire handling stirring of their bottles and in the other hand, harvest of their vines. Those are mostly exposed on South, South East, nourished with a fertile clay-limestone soil, between Louvois, Bouzy Grand Cru and also Tauxières Mutry, which is singularly a 99% Premier Cru appellation zone. The homegrown grape varieties in the domain, following the local trend, starring 75% Pinot Noir and 25% Chardonnay.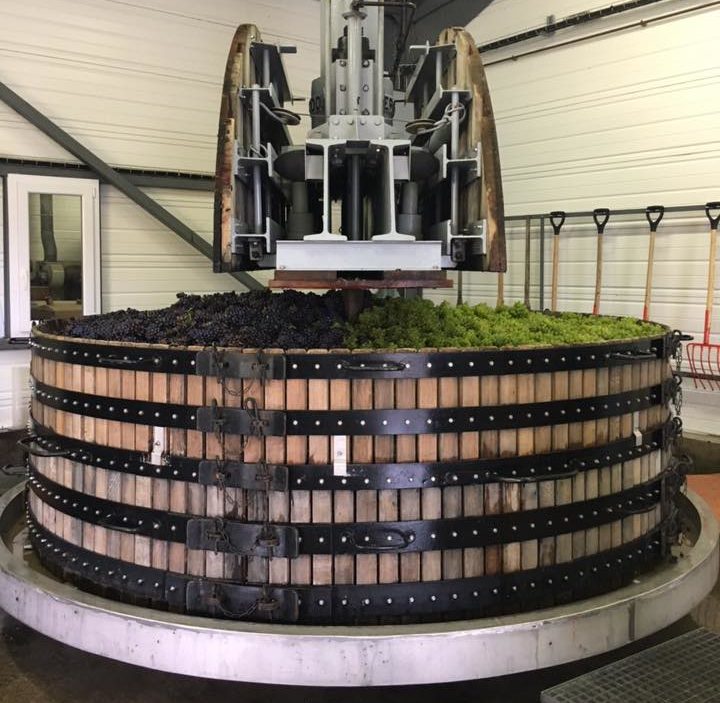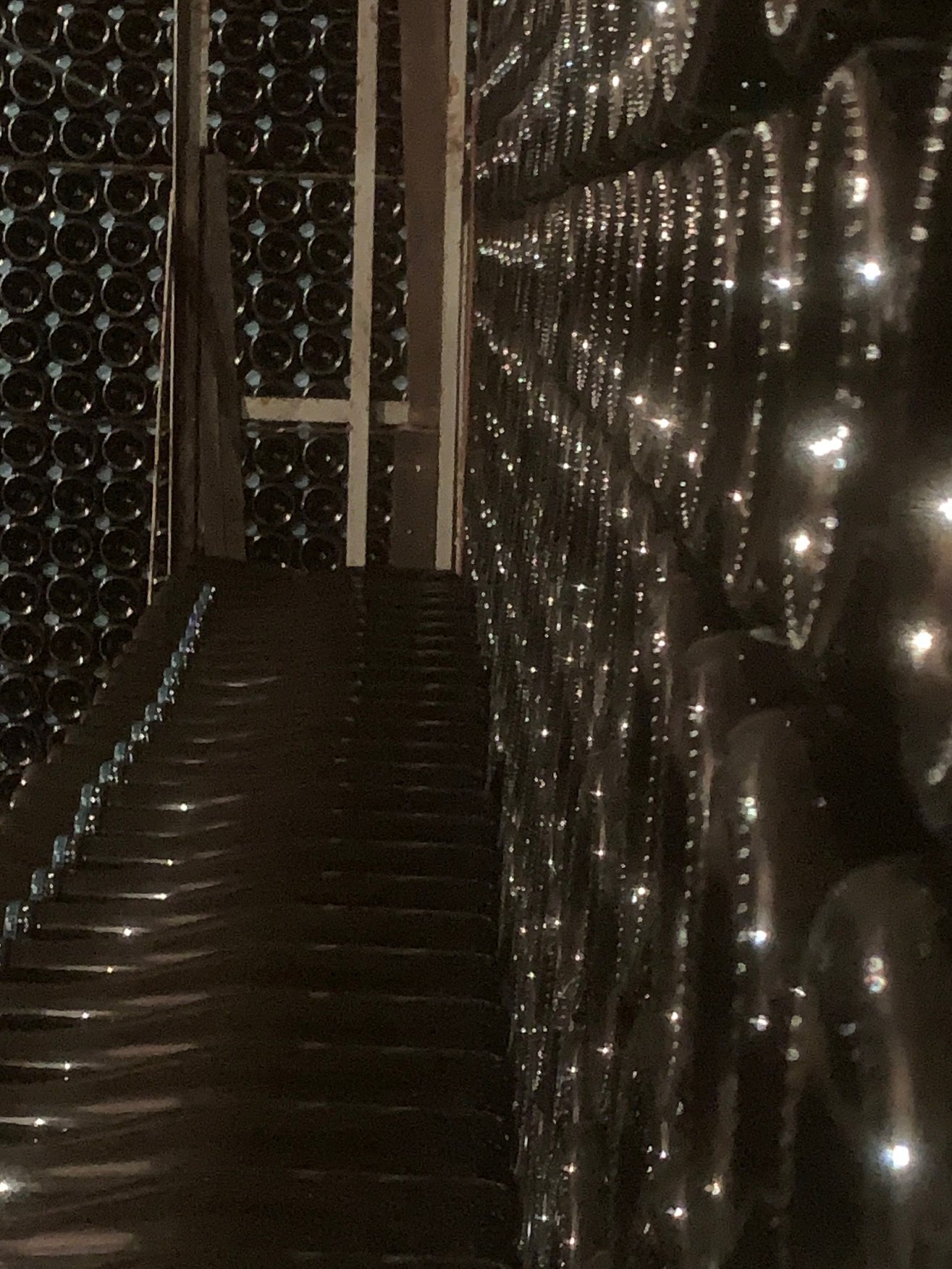 This vineyard is also HVE (High Environmental Value) certified. This was made possible thanks to a reasoned viticulture, in order to preserve the quality of their soil, water, air and fauna, through several eco-friendly initiatives. Among them, the Champagne Guy de Chassey tends to use as much as possible the sustainable method of grass covering.
Regarding their production process, their alcoholic fermentation takes place in proper stainless steel tanks, all equipped with a thermoregulation function, in order to better control the temperature of their inner juices. Knowing that this should generally oscillate around 18° C, understandably preserving the balance of their wines and also a greater aromatic finesse. A last significant detail, contrary to the previous champagne houses, this one does not fall back on malolactic fermentation, for "fresher, fruiter and a longer aging potential", according to them. Another speciality is their vertical wooden press (pictured above), allowing a smoother and more qualitative extraction of the grape must.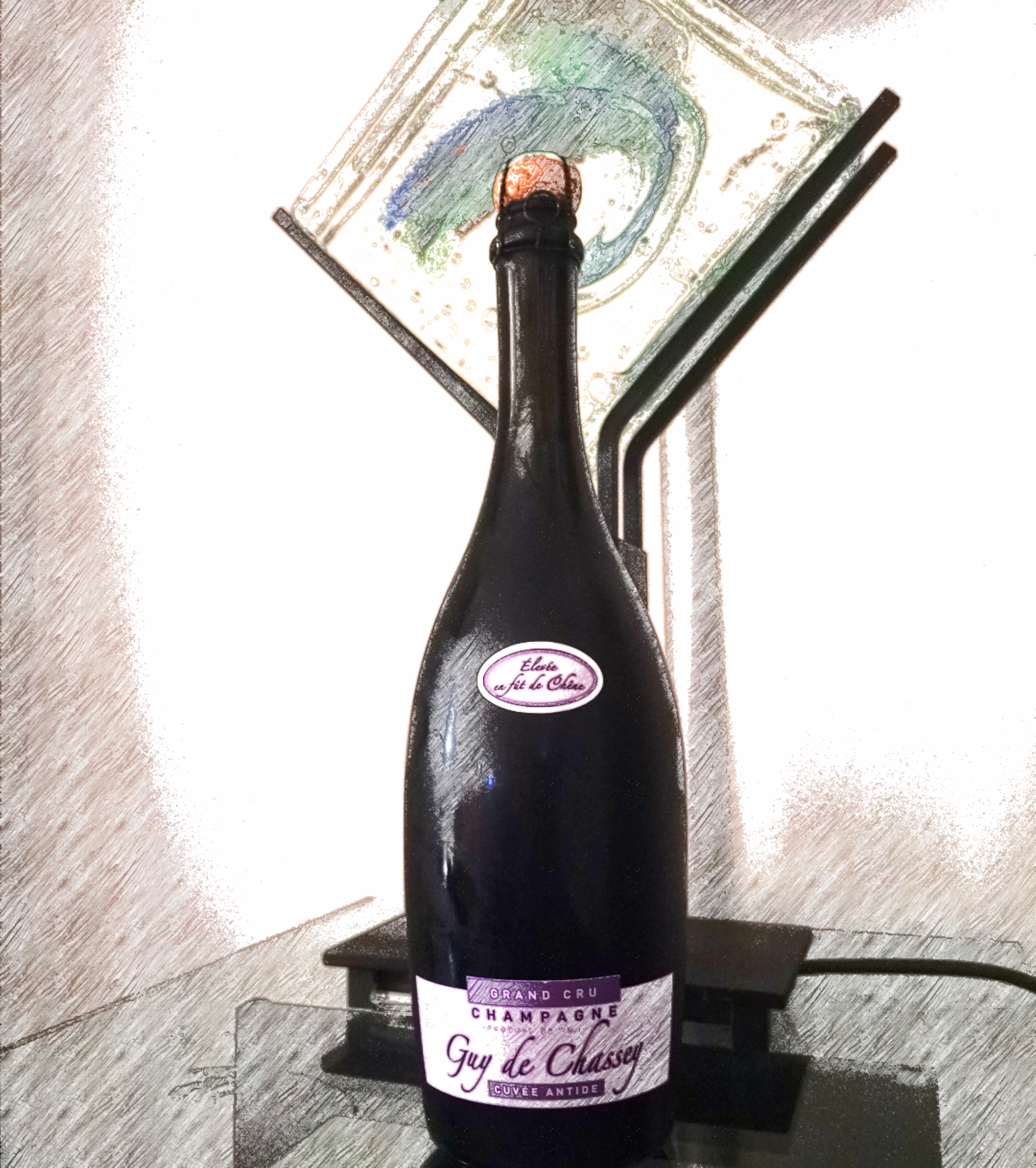 Among the 5 references of their Grand Cru range, we highlight here the Antide cuvée, a champagne exclusively made from old vines. Concerning this bottle name, it's in fact a tribute to an ancestor's first name, who lived during the French Revolution., although this name is no longer given. For your information, the original Chassey patronym, doesn't come from Champagne, but from the Haute-Saône region, this pretty old family was miller at the beginning. That's why, when we were ennobled in 1530, 3 flour bags suddenly appeared in the middle of their coat of arms, visible on their bottles.
The result is a blend of 50% Pinot Noir, harvested in 2011, and 50% Chardonnay, harvested in 2012, both vinified and matured in oak barrels. Seven years of maturation for this juice, in their underground cellar, were necessary to reveal the great complexity of this prestigious cuvée. The absence of malolactic fermentation offers a notable a distinct aromatic balance, with a singular ample structure (photo credit: Alex Plato).
Due to a classic sugar dosage of 8g/l, this champagne brut wears a light golden robe. At first sight, you would surely feel the woody notes, supported by red fruits in the background, plus a surprising touch of fruit spreads. In mouth, the fine bubbles release fruity aromas, still very present, melt in an analog melted woody atmosphere, for a clear and long hold inside your palate! Recommended price: 38,40€.
More information on the official website and explore the rest of their selection.
---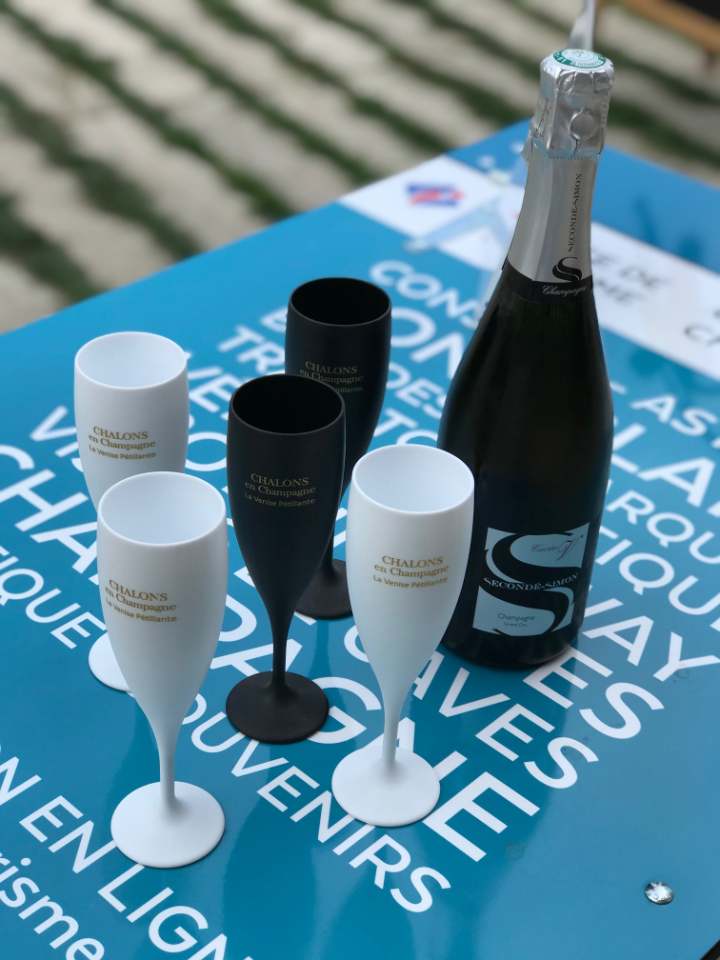 Our next guest is also a family farm, the Champagne Secondé-Simon is led by the same tribe since 5 generations. Located in the village of Ambonnay, spoiled with a Southern-Eastern exposure sunning the Champagne hillsides, this exploitation elaborates its wines, in the respect of a certain tradition and environment. One other important detail, this house even benefits from this Grand Cru label, since the creation of this specific champagne appellation (photo credits: Champagne Secondé-Simon).
Indeed, cautious to preserve this natural treasure, since some years, the team has been engaged in a sustainable viticulture, since this house was a pioneer, 20 years ago. Their commitment in this environmental preservation, let thus them rewarded by obtaining again HVE certification in 2018, honoring for instance, their participation in sexual confusion to remove pesticides. This action proves their huge investments in the banishing of all types of weed killers, since 2018. Consequently, concerned about respecting the grapes and their surrounding terroir, the Champagne Secondé-Simon imagined a precise pressing method, in order to carefully split the juice as well as a vinification directly at the plot. The reputation of this house may then be built around wines, made of a certain elegance.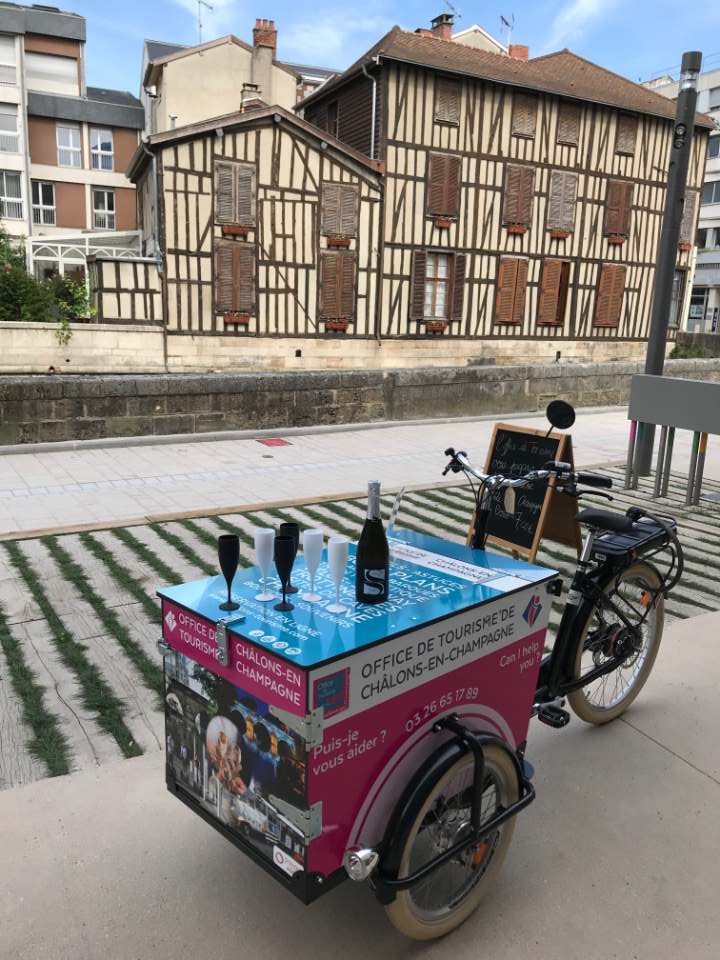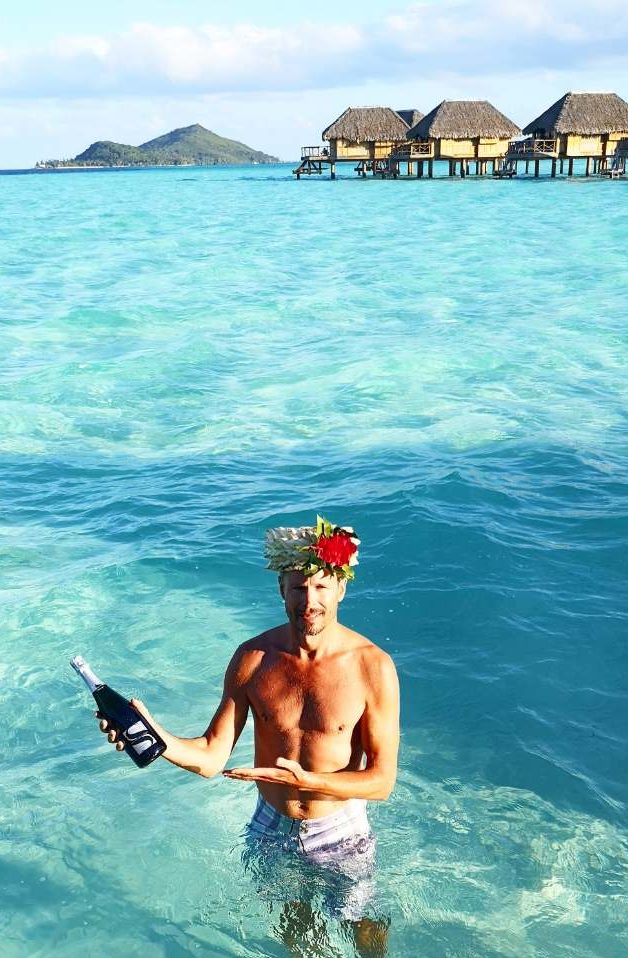 Nowadays, the Champagne Secondé-Simon holds a domain of 6 hectares and 44 plots, all located on the Grand Cru vines of Ambonnay. Therefore, real territorial grid in a Grand Cru zone, offering a champagne patchwork through distinct 6 cuvées, for a total annual production of 21,000 bottles, 30% of them are at least exported, mainly in Italy, Japan and even for at the occasion of a honey moon in Polynesia (pictured in front by Johan).
It's not a secret that most of their customers have been seduced by the ability of their juices to showcase the multiple facets of Pinot Noir, Chardonnay and alternative assemblages of this Reims Mountain's jewelry!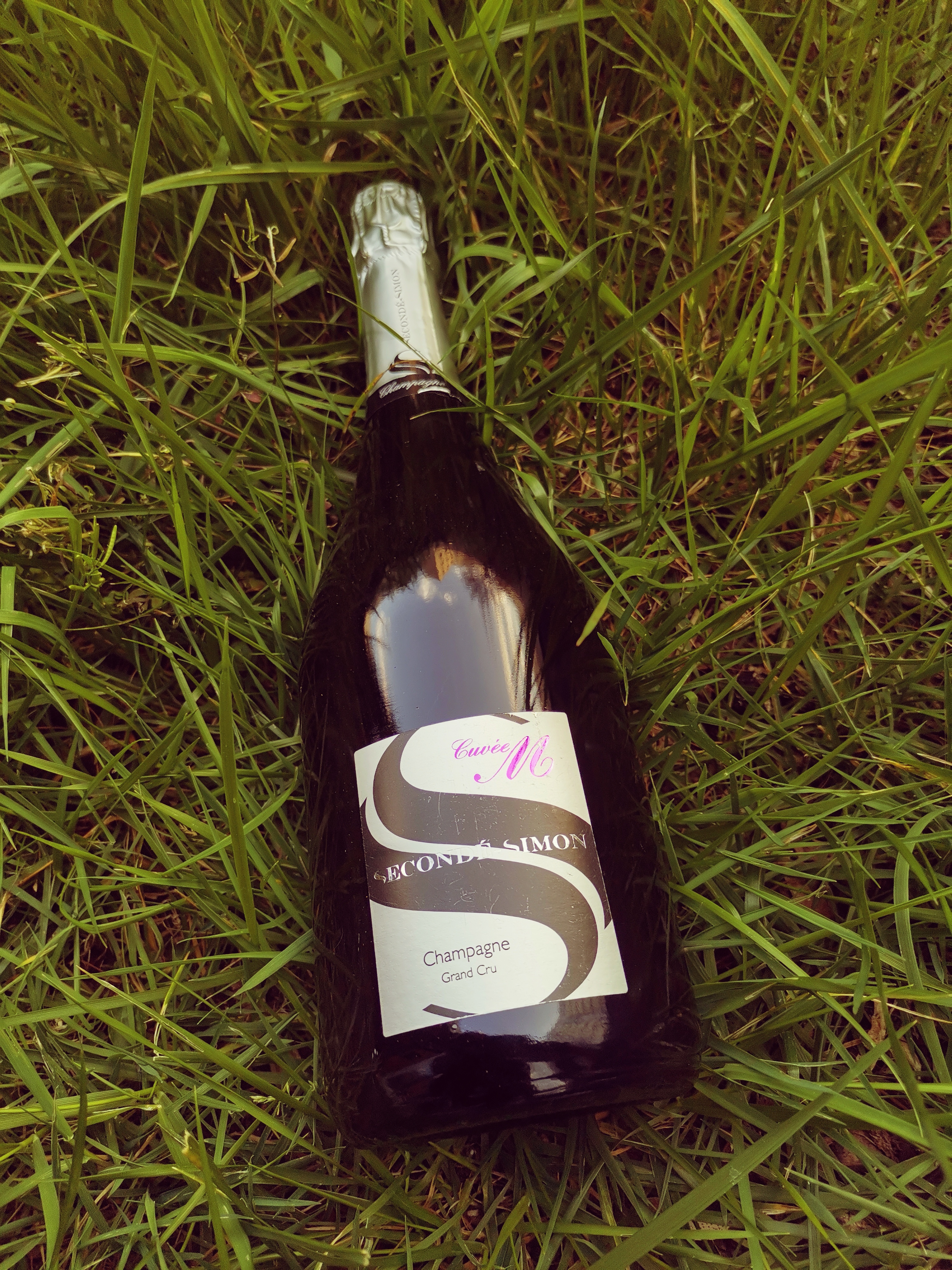 Deeply influenced by music and the rhythm of seasons dancing with their vines, the Champagne Secondé-Simon team imagined the Mélodie cuvée, in tribute to transfer all the talents this melomane family in a bottle.
This premium champagne is the portrait of a fine blend, but above all an ode to Pinot Noir, since it's composed of 90% Pinot Noir and a minor contribution of Chardonnay (10%), balancing its complexity, also completed by 40% of reserves wines. Those valuable grapes are issued from 3 plots, situated in the middle of a bunch of fruitful and sunny hills, only composed of "coeurs de cuvée" (vintage hearts).
Due to a cellar maturation of 4 years minimum and a classical sugar dosage (8g/l), this champagne brut is enriched with a clear golden robe, suggesting real glittering reflections, some visible signs of maturity. Moreover, its effervescence nourishes a durable foam, for more visual effects. Then, in an olfactory way, you would appreciate the first moments, thanks to the distinctive and distinguished perfumes of Pinot Noir, enhanced with notes of peach, vanilla and even a spicy touch of red pepper. This scented personality is very coherent with the structure of this frank and dynamic wine, due to a primary sustained acidity but then quickly turned into a powerful yellow fruited character, plus peppery notes and raspberry.
On top of that, the maturing on slats brought to this juice, a real voluptuousness on the palate. That's why, this balanced Mélodie combines the power of acidity and finesse of the same acidity in the mean time, finely suitable with an aperitif and a tasty fish, such as salmon or turbot, or even white and cheeses, like Comté or Brie. Moreover, the cellar master advises you to enjoy this vintage bottle, while listening to classical music, and especially Ravel's Bolero! Indeed, "both have a lot in common, especially that of starting slowly and ending in fanfare."
More information on the official website and explore the rest of their selection.
---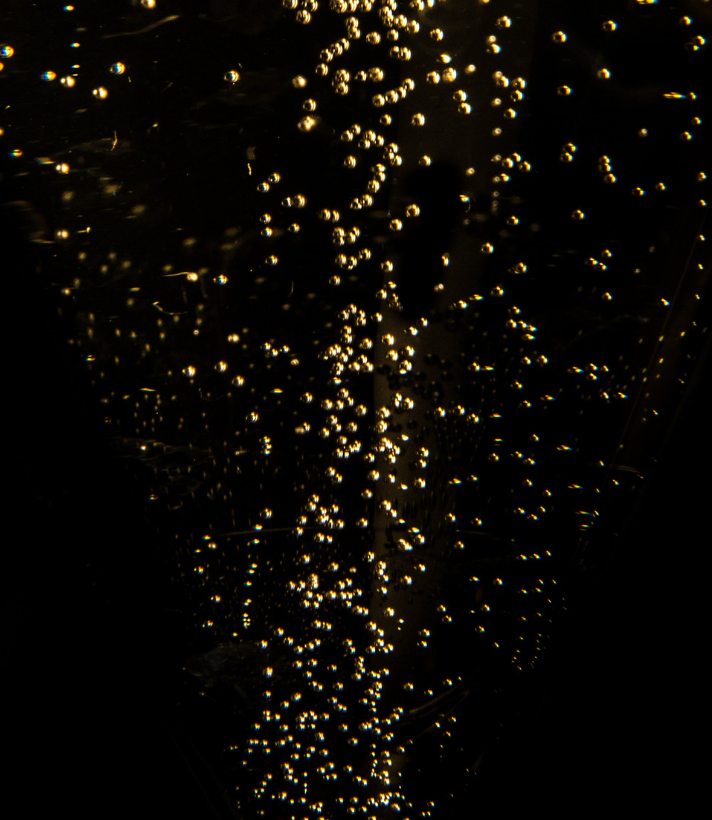 You're invited to contact the Grands Crus d'Exception Association, whether you would like to invite them for a tasting events or any convenient information requests. Those are below the other members, if you're curious to visit their websites (photo credits: Appellation Champagne).