On our way to taste French Vodka!
15 min read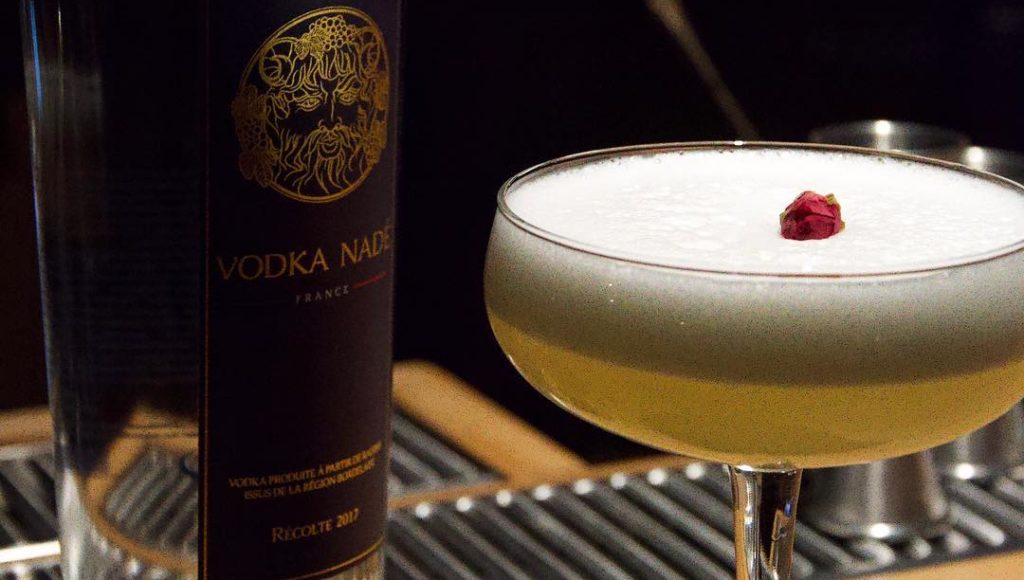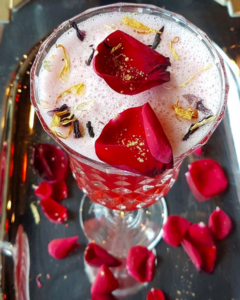 Vodka is the most consumed spirit to date. 144 liters of Vodka are drunk every second around the world, which represents an annual volume of 4.54 billion liters. Today, there are globally more than 5,000 brands of vodka, with the common goal to be distilled under the same method (photo credits: Dream of Spirit).
Although most of them are made from traditional cereals (rye, corn and wheat), Vodka may also be composed by many other natural basis, such potato and more recently grape and quinoa. Initiated from the end of the 19th century in Russia, Vodka made a long way since its first available distillation columns until the actual processes, combining industrial chains or artisanal alambics.
Thus, in this topic, we would have a deeper observation about how Vodka converted French distilleries, since the beginning of the 2000s. Indeed, the opportunity voted by the European Parliament in 2006, allowing to use any kind of raw material to produce its own Vodka, changed the mentalities.
That's why, we find nowadays, figuring on the bottles' labels, the mention of the contents employed for the product composition, notably to specify those which are not traditional. For your information, among them, you would often rye as major grain used to constitute and (above all) spice up the Polish and Russian Vodkas, along wheat which is the most popular and premium cereal for Russian Vodkas.
In fact, wheat based Vodkas stand out with an aniseed, aromatic and oily touch. Moreover, we may also often find corn, mainly for its high alcohol potential plus its aromas of butter. Regarding the more recent innovative components, potatoes have unfortunately lost some of their haughtiness, unless they are still sought after in Poland, thanks to the wide aromatic possibilities offered by those rather creamy Vodkas. However, that's nothing compared to the confidentiality of barley, the least used cereal for the production of Vodka, but particularly visible in British and Finnish markets. On top of that, the increasing grape and quinoa based Vodka prospering building a certain notoriety, supported by the premium quality of their ingredients. Be ready for the surprises we reserved your next private cocktails! By AP
---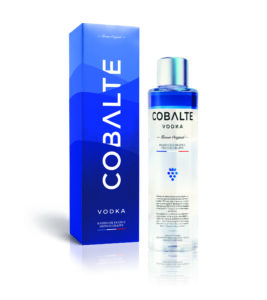 We start our Vodka tour with a certain originality… Indeed, the Cobalte Vodka comes straight from Reims, and is now developed by the same Cointreau group, as well known for the illustrious Gosset Champagne and Cognac Frapin. For information, this premium Vodka was born in 2016 and is naturally composed of the typical grape varieties used for the conception of Champagne wine, which are Chardonnay, Pinot Meunier and Pinot Noir (photo credits: Cobalte Vodka).
Therefore, while reconnecting with the origins of Vodka which was already elaborated from grapes, from the beginning of the 18th century, those precious ingredients provide to this noble Vodka an exclusive identity and instantly distinguishable with its unique personality. While anchoring its concept deeply into its regional roots, the three entrepreneurs, who imagined this elixir, wished to transmit another original facet from their Champagne heritage.
As far as we know, the idea of ​​making Vodka using grapes is not new, since the Cîroc Vodka, which is very popular in the USA, also uses this essence. Nonetheless, the core of the production process remains the same here, since grapes are distilled fives times in a column still, before being filtered and the final addition of water, in order to obtain a 40° typed Vodka.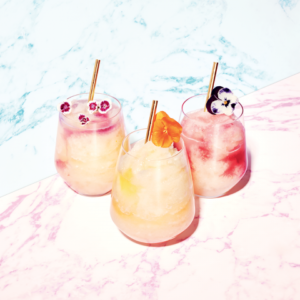 Presented in an innovative circular packaging made of transparent glass plus of course, a hint of cobalt blue taint (such as La Prairie line, read here), this contemporary flask would easily delight your guests. For instance, those would be welcomed as princes, since this elegant royal color has been adopted for a long time by the French kings, who were by the way crowned in the Reims cathedral (more information here).
We invite you to appreciate its fresh fragrance, composed of ripe citrus and candied aromas of kumquat and bark orange, along a floral hint of honeysuckle and gourmet almond touch.

On top of that, once in mouth, stay surprised by the multiple
aromas
displayed by the different shades of
grapes
, exclusively extracted in the
Regional Natural Park of the Montagne de Reims
. Thus, it's not a mystery that the presence of those
grains
offer a sweet
fruity
but
natural
touch, reinforced by the
mineral
and
pure
aspects of the
Champagne
water. The result is a
supple
and
silky
texture, immediately able to surprise anyone of you, by expressing a flow of
woody
notes of
licorice
,
tobacco
and dry
oak
, but also sweet accents of
rancio
,
honey
and
quince
paste.Without missing the warm
vegetal
evocations of
straw
, preceding a
crispy
finish, doubled with a sustainable
aromatic
length through your
palate
.
We advise you to enjoy this
Cobalte Vodka
, on
ice
or inside a fine
cocktail
. More information and
cocktail
recipes on the official
website
.
---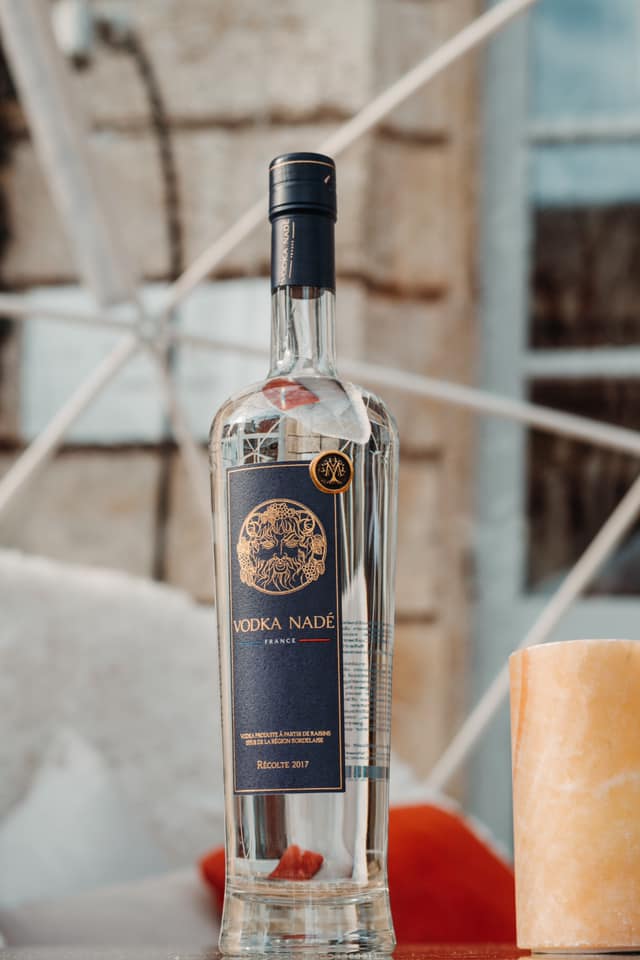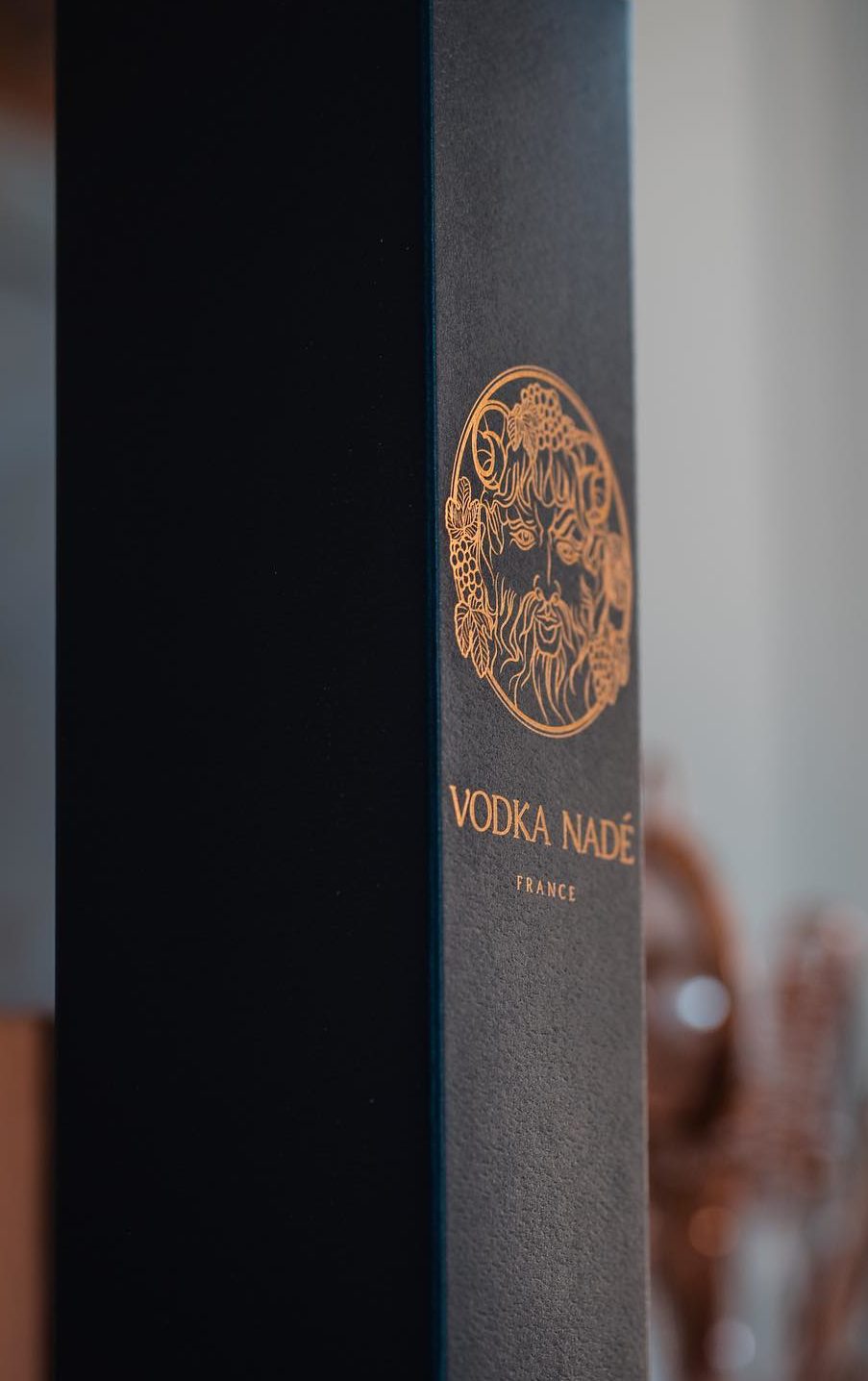 Then, we are glad to introduce you this time another brand new Vodka, again made from grapes. Thus, Vodka Nadé has been imagined by Cedrik Nadé, in the heart of Bordeaux and thus this gastronomic Vodka is only made with grapes, coming from this illustrious wine-growing region. Therefore, this area is famous since the 18th century, for the excellence of its wines, notably due to the richness of its soil, the mildness of its oceanic climate and above all the quality of its grapes resulting to lead among the best wines of the world (photo credits: Nadé & Jeru_V).
This item belongs to the Maison Mounicq, a family affair founded in 2017, after the founder's grandmother, and grounded with the mission to offer a selection of prestigious and exclusive French spirits, and for sure including great quality contents.
Based on this statement, it seemed logical that those same vineyards would eventually generate glorious spirits. That's why, it's not a secret that the symbol adopted by Vodka Nadé is a Bacchus representation, the famous related latin God of vine, who logically perfectly embodying the identity of these spirits. Otherwise, this figure is also a reference to the local mascarons, these sculpted heads, that can be often found above edifice's door frames. During your future strolling walk in Bordeaux, you would surely get the opportunity to discover these motifs spread in and around on this wine capital's walls.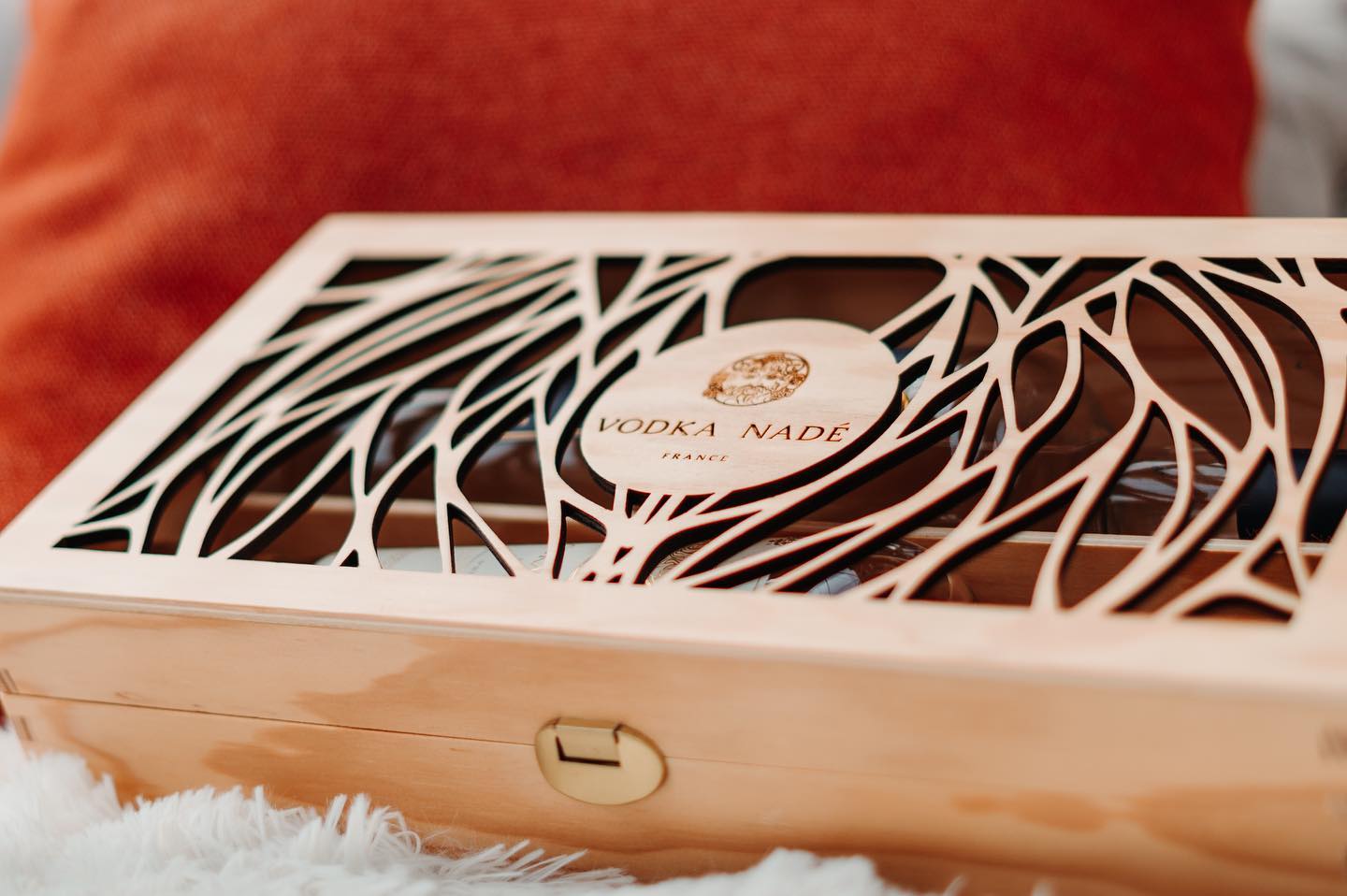 In order to make the difference, and the quest for a premium product, the team has carefully selected several prestigious grape varieties to conceive this elixir, such as Cabernet Sauvignon for its vigorous assets, Merlot according to its suppleness, moreover the finesse of Cabernet Franc coupled with the Semillon asserts its nobility. As far as we know, it's been such prowess to assemble these different varieties, native from this Bordeaux terroir. Once carefully harvested, the juice would be then refined and sublimated in Cognac, a famous location renowned for its ancestral know-how in terms of esteemed spirits' distillation.
Thus, this delicate operation is proceeded in the Vinet Delpech artisanal and experienced distillery, since it was founded in 1777. In an other way, it's as if it nearly required 240 years of expertise, for the benefit of Vodka Nadé, in order to deliver this singular product.
Regarding the Millesime 2017, the grapes have all been harvested in 2017, blended before being distilled six times! Then, the juice would be refined using filtration through charcoal, before ending within a micro oxygenation, so that the grapes' aromas subtly express as explicitly as possible in your palate. The result is a very significant Vodka starring a real softness in mouth; while offering you a silky and finely fruity long finish, somehow to be contrasted with a frank fragrance.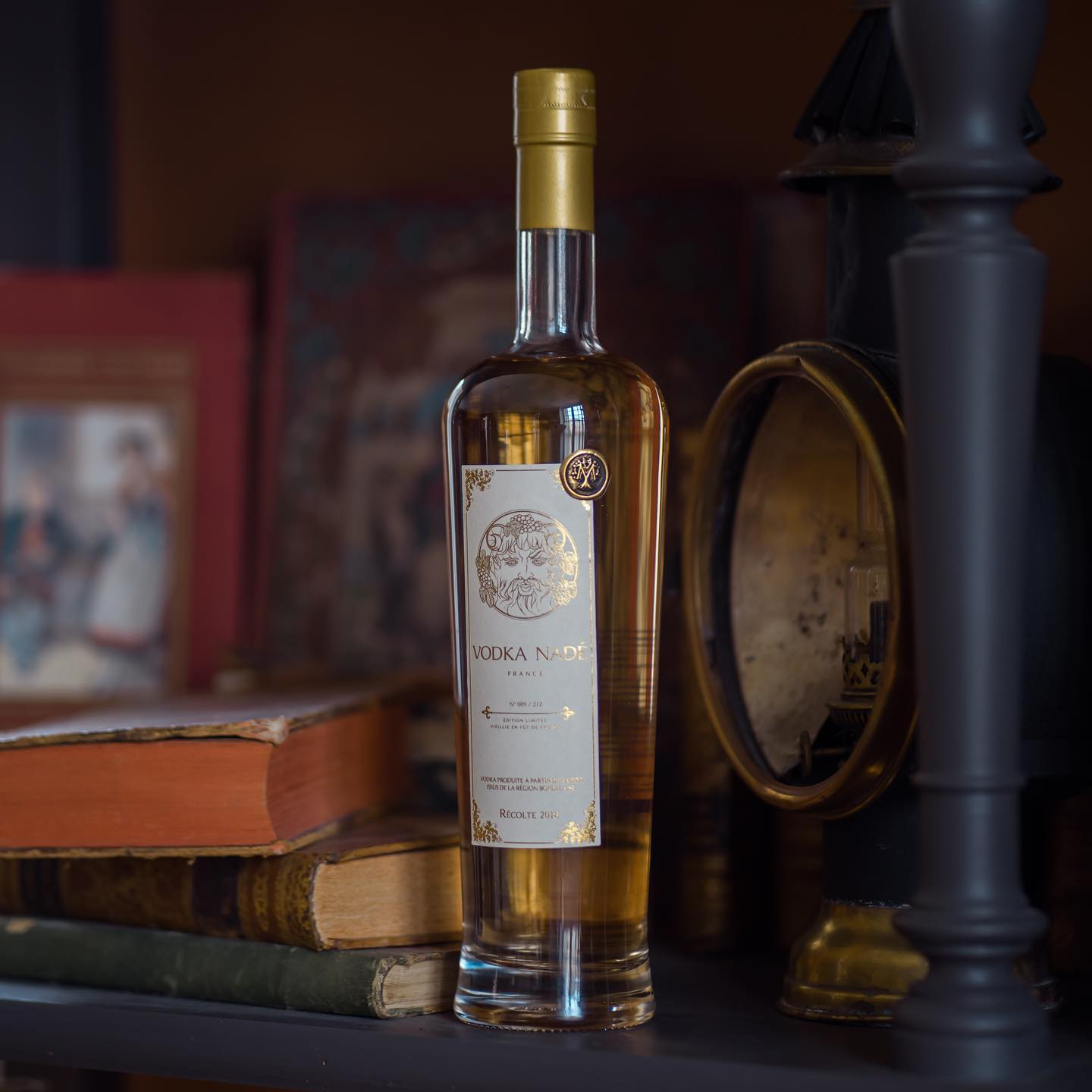 In order to explore its smooth sensations, Vodka Nadé advises you to air your bottle a few minutes before tasting, like your usual Bordeaux wine. Thereafter, this universal nectar would eventually be ready for many weddings, since it may be slightly cooled enjoyed or even at ambient temperature. In another hand, it's also possible to accompany it on finely iodized dishes like caviar, salmon, or oysters as well as savory specialities, such as Bellota ham, premium delicatessen or even in agreement with a pastry, notably with dark chocolate. Recommended price: 69€.
On top of that, you should have a look on their other item, the Millesime 2018, a very limited and confidential production of only 212 bottles! They have been aged during several months in oak barrels, normally used for the red wine breeding. Thus, this is considered as the first Vodka in the world, to be aged in those conditions, supposed to provide a surprising complexity and softness. The latter was produced in Fronsac barrels This differentiation is also expressed by the new research and development processes to obtain a surprising vodka and different from the others, while keeping its character unique and its elegance. Recommended price: 89€.
For more information, we invite you to visit their official website and explore their wider range on the online store.
---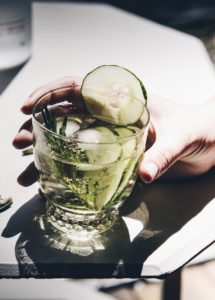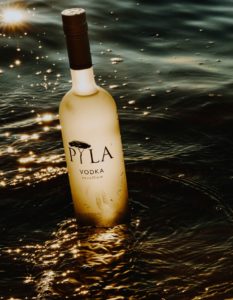 Still from Bordeaux, starring an oceanic mood, another spirit represents the local know-how, so to say here the Vodka Pyla.
Only produced from French wheat, by the Lucien Bernard group, a nearly century-old family venture, you would be here surely glad to discover this gluten-free Vodka, with less bitterness than most of its competitors (photo credits: Vodka Pyla).
Directly inspired by the giant Pyla dune, situated at the gates of Arcachon, where the family owns a house, this original spirit has been developed under the framework of a master blender who has adapted an original filtration process using this oceanic sand, extracted from this very sandy area.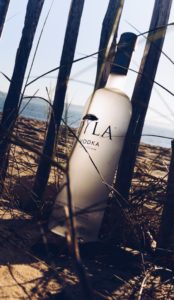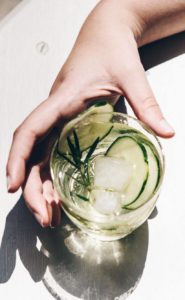 Therefore, the
sand
used in this
Vodka Pyla
is made from
silica
, able to filtrate the fermented wheat with some great
purity
. This operation comes just after the
distillation
of the solution in five continuous stages, supported with spring water. For your information, this
low mineral
and
neutral
water is extracted from an old and deep source located in the
Massif Central
and dating from the
Eocene
era, circa between 55 and 33 million years ago.
The result is of course a translucent colored Vodka, whose round taste displays delicate and perfumed notes of pepper, in a heart of liquorice. Adding to this, don't miss in the background some notes of pine cone, probably coming from the filtration sand. In fact, a perfect wedding to appreciate raw and fresh as an aperitif or in a cocktail base, or to accompany some smoked fish or caviar.
More information on their official
website
.
---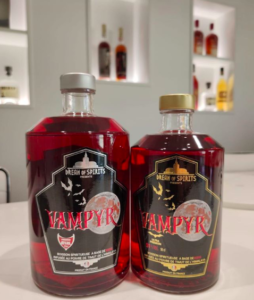 Beneath a random crime scene, we sometimes find surprises… Pursuing their successful Hold Up Gin collaboration with the Vinet Delpech Distillery, (like the previous Vodka Nadé) located in Charente, which also honored another Dream Of Spirits' epicurean challenge to take up. This time, this prestigious supplier built a simply red Vampyr Vodka, in tribute to this famous bloody Earl (photo credits: Dream Of Spirits).
Whether in terms of container or content, this independent distillery is often inclined to collaborate with upcoming brands, while offering its spirits expertise and its distillation infrastructure (3 bottling lines) along naturally its distribution network. Indeed, Vinet Delpech Distillery remains at the disposal for any project, in order to support any kind of innovative projects, matching potential customers' expectations. That's why Dream Of Spirits took this opportunity to grab this facility, to develop this second project, among the available capacity composed of different bottle formats and decanters of all sizes, stoppers, avant-garde labels, printable serigraphs and many other options, available for all the components of any one's future distillate.
In this case, the Dream Of Spirits has been seduced by this all-in-one structure, to help them to make their spirit dream come true and to give birth to the Vampyr Vodka. Thus, two versions of this elixir were conceived…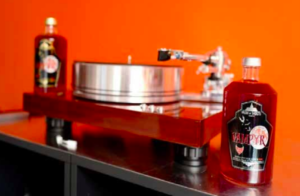 Both are fully dressed of a bloody red color and sublimate the spicy accents of the incomparable Timut pepper, coming straight from the Himalayan foothills. Then, you would have the choice between the Vampyr Ultra Premium Vodka, and the Vampyr Premium Vodka. Both reflect an achieved and balanced marriage of peppery flavors, combining a bewitching and singular perfume, hopefully fulfilling you many quirky sensations.
For instance, the Ultra Premium edition, offer you to feel the raw and vigorous intensity of these infused contents, with whom you are advised to enjoy the subtle and refined flavors during a tasting, within a casual temperature, thanks to a 51° magnitude contained in a 50cl flask.
Otherwise, for softer palates and cocktails enthusiasts, the other option would certainly be to appreciate the round and suave aromas, emanating from this Vampyr Premium Vodka. This French Vodka, still artisanal, is luckily adorned with notable citrus, bark and spicy chocolate notes, this attractive nectar would break the traditional codes, especially in a mixology use. For example, why not highlighting the red shades of a Bloody Mary?
More information on the official website, where you're invited to explore the entire selection in the online store.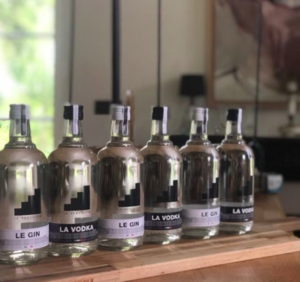 Then, we pursue with a
Vodka
elaborated by a trendy chain of
Parisian
summer rooftops,
Le Perchoir
. Following their alternative delicious
Gin
option, we just learned more about this innovative
party
concept, highlighting a certain passion for
cocktails
and good food, always settled in a
natural
framework, in order to revive some lonely surfaces of
Paris
and to revitalize them, in order that
Parisians
appreciate again a part of these atypical spaces (photo credits: Jérôme Galland/Le Perchoir).
Nowadays, proud of the success of their concept, the
Perchoir
adventure invested new amazing places, which initially started with the terrace of the
Perchoir Marais
, and its breathtaking view of
Paris
and its most beautiful monuments; followed by the
Pavillon Puebla
, nestled in the heart of the historic
Buttes Chaumont
park; the exotic
Footbridge
, rocked by the waves from the
Seine
and situated on the edge of the
Ile Saint-Germain
park, the roofs of the elegant
Gare de l'Est
and lately above one of the contemporary pavilions of the
Paris Expo
fair center, nearby the busy
Porte de Versailles
.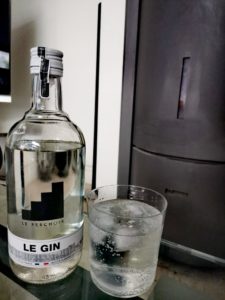 Thereafter, through their own conception about
cocktail bar
and more globally
nightlife
philosophy,
Le Perchoir
decided to launch their own
spirits
, in order to get further into the sharing of their inner
identity
, among their guests. Along their
Gin
, this
Vodka
is an original creation, specially imagined by
Nicolas Raymond
, the master of development of this venture, in partnership with a flagship
Fontagard Distillery
, located in the
"Spirit Valley"
of
Cognac
. Eager to build a premium
Vodka
, at the image of the
Perchoir
's brand
universe
, plus suitable to the various desires of theirs guests, notably in terms of
mixology
, this
elixir
was also only ready after no less than one year of an important amount of preparation work (photo credits: Alex Plato).
That's why for an establishment, whose mission is to promote urban heritage and revegetate a couple of hidden and exclusive places spread in Paris, notably adorned with an inspired vegetation, it was obvious to develop a unique recipe, only composed with natural ingredients and thus which experimented no transformation.
If you wish to appreciate it pure, you would instantly smell the explicit notes of
angelica
, as well like the
Gin
, for what it seems to be the emblematic plant of
Le Perchoir
. Thereafter, this main ingredient remains identifiable and appreciable inside your mouth, completed with only
fresh
and
organic
essences of
lemon
,
absinth
,
juniper
and even
gentian
! A surprising
herbal
wedding that won't undoubtedly leave you indifferent!
---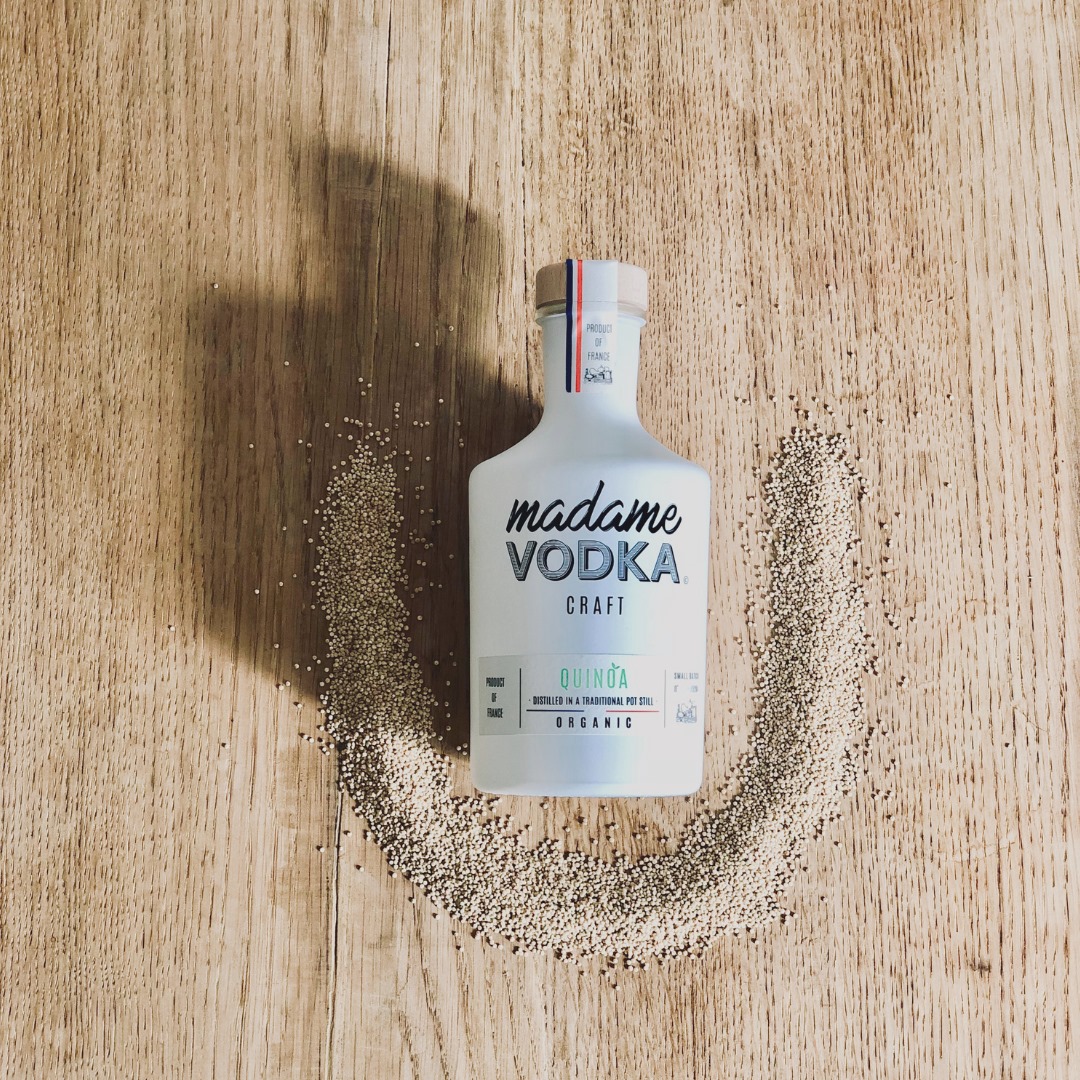 A new eco-friendly Vodka imagined for you, the organic Madame Vodka, launched by ARSpirits, situated in the Spirits Valley, in Cognac. Here, the new deal is a nectar developed mainly on quinoa and wheat, coming from a couple of surrounding organic farms.
Indeed, this recipe gets along with the home philosophy, aimed to produce while respecting a green and sustainable method. That's why, the distillery is certified ECOCERT and USDA organic, those two entities bringing a recognition for its involvement paid for the promotion of a certain organic and responsible agriculture, since the manufacture mostly collaborates with local farmers who are concerned with the quality of their crops and their environment, since quinoa has been sourced in the Loire Valley region, is raised in small quantities, with the precise goal to obtain quality seeds. This responsible engagement ensures an authentic balanced growth, resulting to controlled smooth texture of this fine and premium raw material.
Adding to this, the ARSpirits parent company offers 1% of its revenues to support the ReforestAction, the trees plantation in France and thus to avoid deforestation, plus engages its forces, along with the SURFRIDER association through their MAX&O range, which intervenes in particular regarding the waste reduction, and coastal planning and raising awareness answer to the endless actual issues emanating from the climate change (photo credits: Madame Vodka).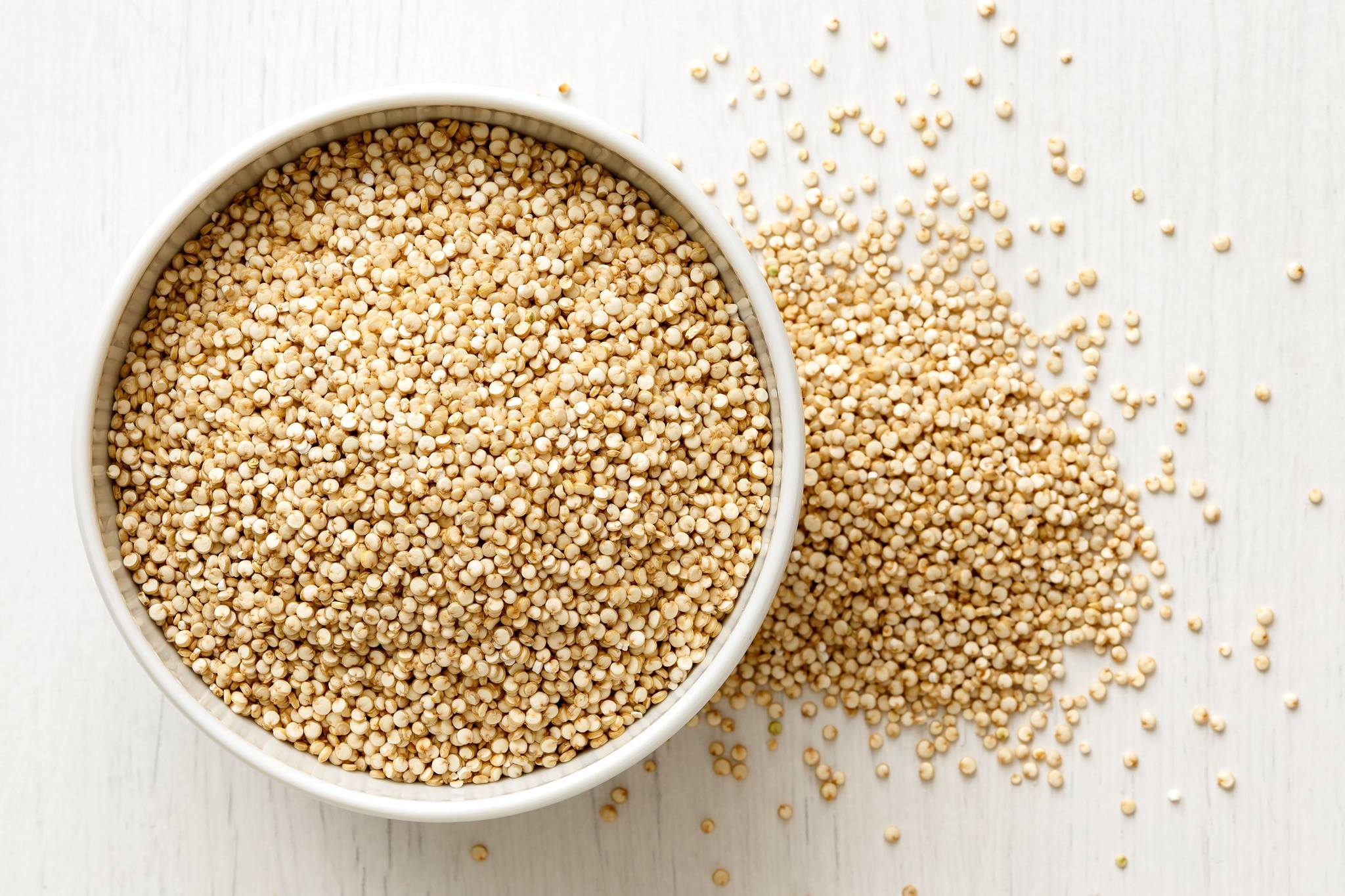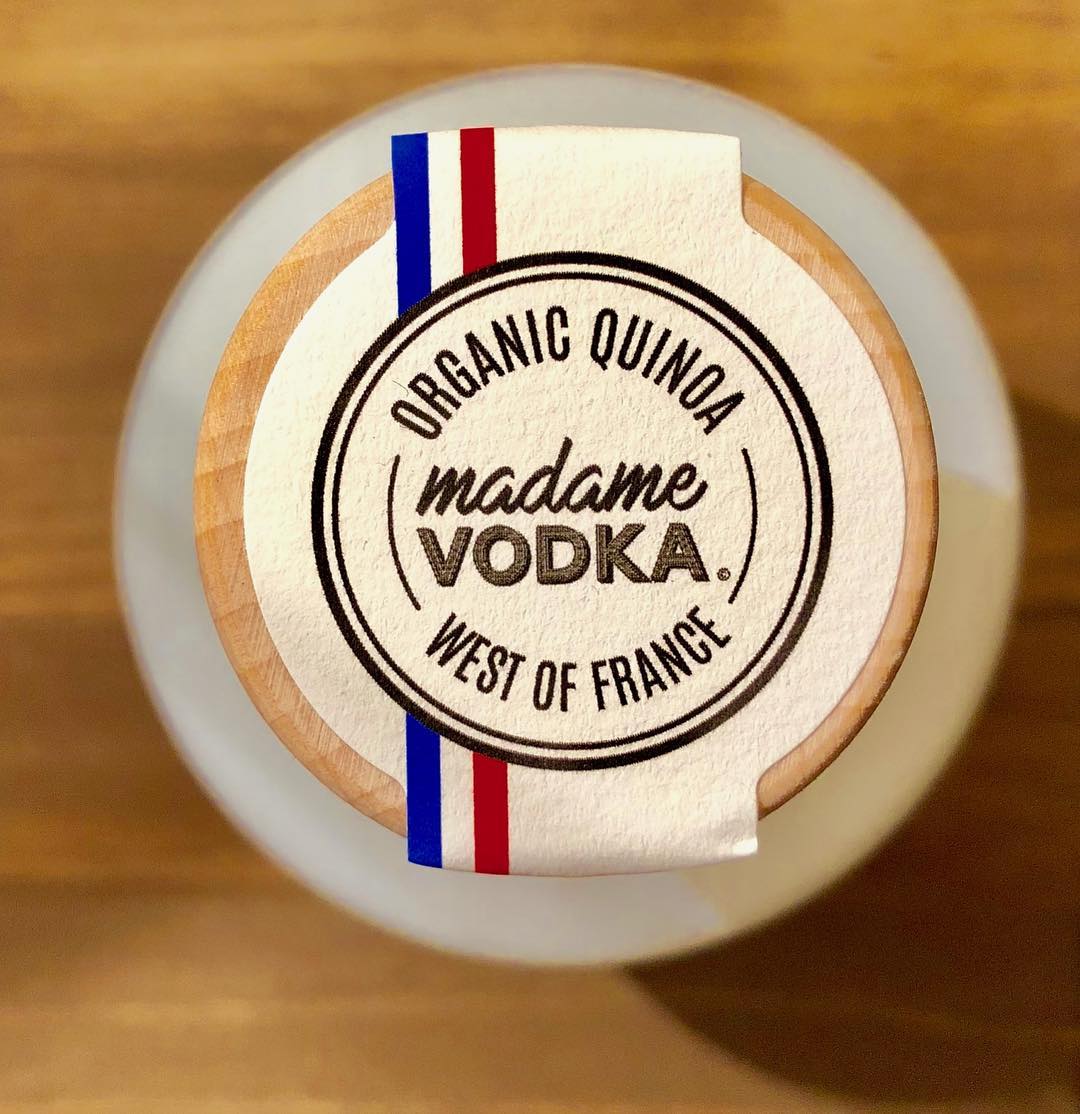 Like Monsieur Gin husband, Madame Vodka holds gluten-free and vegan contents, this is also the first French spirit to be only distilled with nationally harvested quinoa, initiating a brand new way of making Vodka. Then, in order to reach the purest result as possible, the distillation is processed in a copper alambic, before a reduction carried out with local Gensac-La-Pallue spring water. Once the operation is ready, you would admire that each of their bottles are numbered, reinforcing the exclusive and handcrafted side of the production.
Thanks to a delicate and precise tradition, this Madame Vodka has abilities to express the more innovative olfactory wedding between for sure a creamy but supple quinoa background, quickly followed by chestnut and pecan nut effusions. Once your glass is filled, you may certainly feel a smooth and harmonious texture, really coherent to the nose. This results to a delicious and surprising tasting, where the long finish is remarkable in your mouth. On top of that, Monsieur Gin may be appreciated either pure on the rocks, as cocktails or even frozen with a bite of caviar.
More information on the official website, where you may explore the entire selection in the online store.
---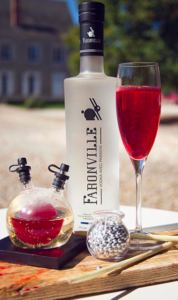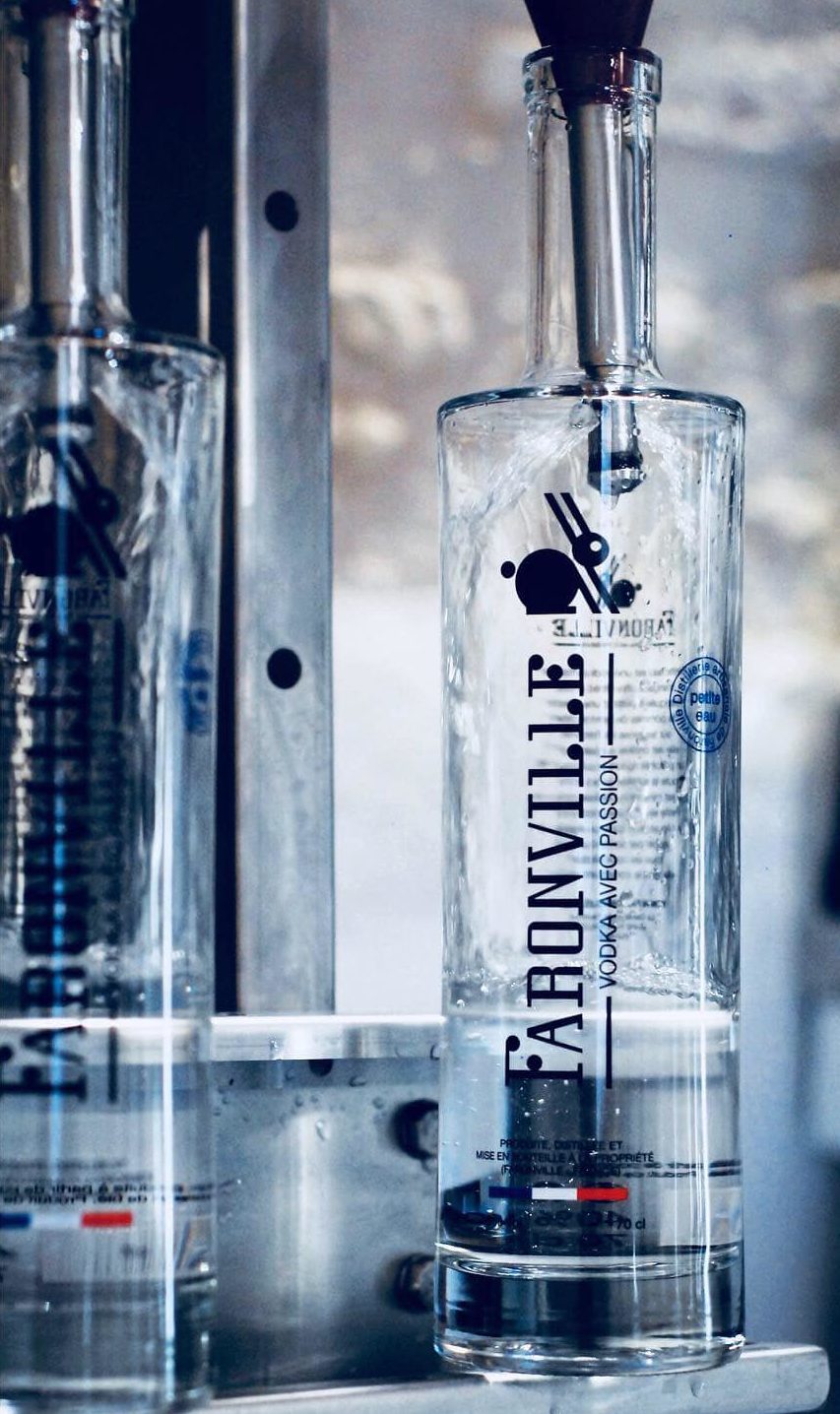 Amazingly, Faronville is the only French potato based Vodka whose manufacturing is completely carried out in the same area, from the raw material production, directly harvested at the farm until the ultimate bottling at the distillery.
This value chain is not a detail, since it permits to obtain a fully local and agricultural nectar, to be distinguished by the subtlety of its aromas while you enjoy the pleasure of its soft taste (photo credits: Pauline Leluc for Faronville).
Moreover, the aromatic richness is provided by the several varieties of potatoes available in the homonym Faronville locality, situated close to Orléans. Thus, these vegetables are selected, depending on strict content criteria of size, simply due to the fact that they are considered as essential to the final balance of this singular Vodka.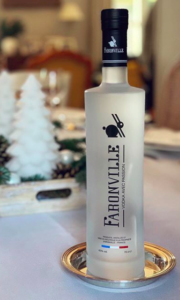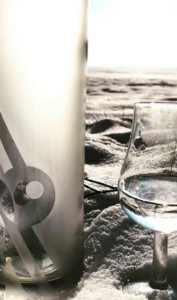 Since the harvest step, these potatoes are sorted, cleaned and then washed, in order to get the optimal conditions for their distillation. Thereafter, they are cut and then heated between several temperature stages, so that a real enzymatic reaction may be provoked, to transform starch into sugar. This process anticipates the fermentation of the potatoes, alimented with some French high standard yeast, producing an alcoholic solution, ready for a high-standard distillation process!
The golden touch is finally obtained from a double distillation, combining a wheat alcohol and potato mash, in a precious alambic. The result is two versions of this fine French artisanal Vodka Faronville, as real identifiable and elegant heraldic emblems of an ancestral spirit tradition.
You may start your discovery with the Faronville Premium, an unfiltered potato Vodka, rich with gourmet and aromatic notes. Indeed, this floral juice holds a sustainable finish, delicately lingering on vanilla flavors. Respecting the traditional Polish Vodka recipe, mostly due to its classic 42° intensity, you may either appreciate it as an aperitif or digestive, at ambient or slightly cooled temperature. Either available in 70cl and 50cl formats.
The second alternative would be the Faronville Petite Eau (40% vol., which is this time an ultra-cold filtered potato Vodka. Based on this statement, the gustative introduction is supposed to be frank on the palate. Furthermore, you may surely perceive it as mineral and smooth, those aspects would eventually position this item deep in line with the Russian style.
40°
level, this
Vodka Petite Eau
is naturally suitable for a pure
cold
tasting, accompanied with
caviar
or any
smoked fish
. Unless, you had a preference to marry it (preferably as a major
constituent
) with other ingredients inside one of the possible
cocktails
. Available in
70cl
and
50cl
formats.
More information on the official website, where you may explore the entire selection in the online store.
---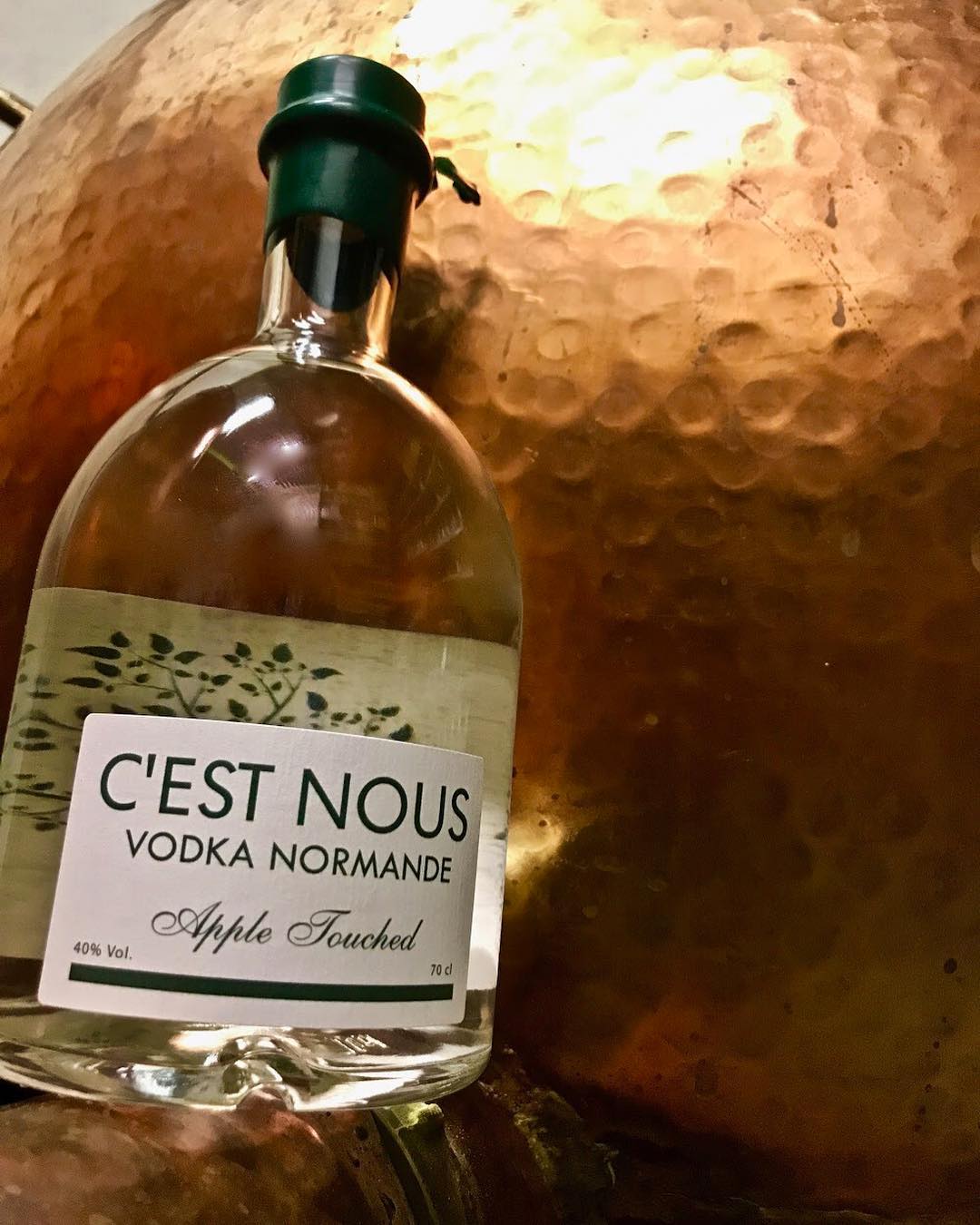 Did you taste the first ever Vodka, distilled in Normandy? After their Gin, we described on the so-called article, the C'est Nous company proposes you their Vodka, deeply recognizable thanks to its native apple touch. Still settled in Caen, this artisanal and family manufacture, launched in 2016 by a British citizen and a sommelier lady, tends to extend its range with a popular spirit (photo credits: C'est Nous).
Thus, the C'est Nous team wished an aromatic Vodka, dressed with an endowed beautiful freshness and a suave texture. Like their Gin, they designed their French wheat alcohol, for its purity, within a slow distillation in a copper pot still. Therefore, the juice should pass through apple slices, to provide a certain round and fruity touch. Before being bottled, this C'est Nous Vodka would be kept in stainless steel tanks, for a certain period of time in order to obtain a worth flavored maturation and harmonization. Indeed, the patience is essential, to switch into a round and pleasant elixir, where its lightly fruity notes express at first sight before a herbaceous happens as a long finish.
Therefore, you are invited to enjoy this tasty artisanal Vodka, in a cocktail form, either lengthened with the help of a blender or simply appreciate at most the bitterness and warmth of the apple, on the rocks. Available online, 40° for a 70cl edition.
---