Spend a nice night in the Hotel François Premier of Cognac, and enjoy some local cocktail delights at the Bar Louise by Octo and at Poulpette restaurant!
10 min read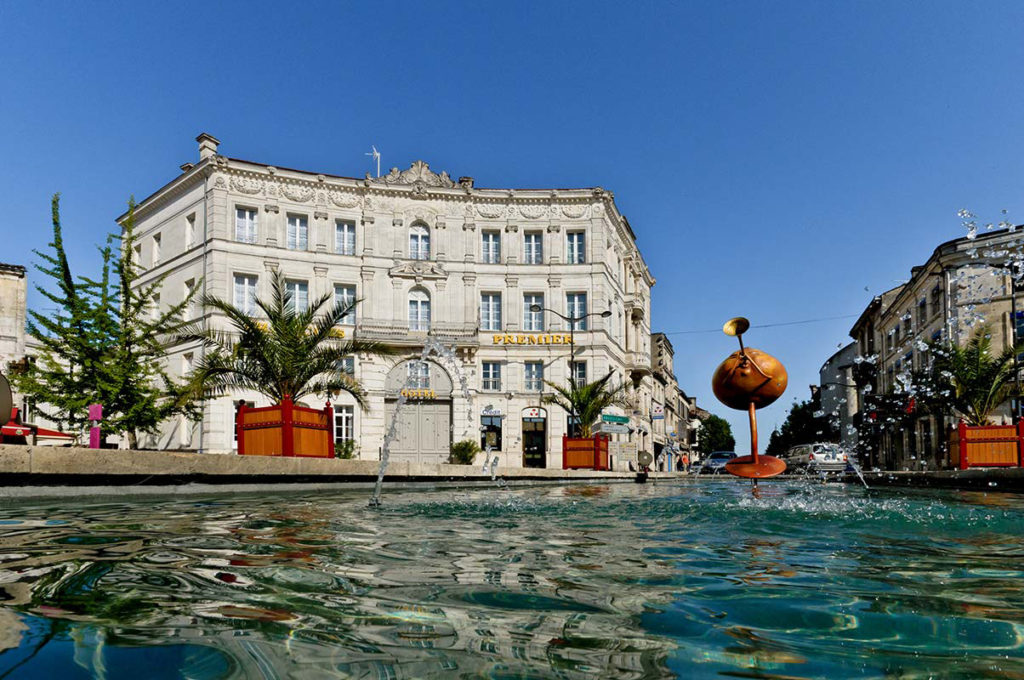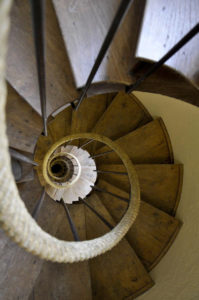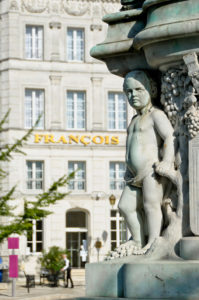 Wherever you walk through the city center of Cognac, you are never far from illustrious Cognac houses and their guided visits (as seen in our previous article), but also many quality places to stay, plus to spend a fine lunch or diner.
Therefore, we propose you here a selection of addresses to experiment alone or with someone, to get the best of this Charente spirit, between vineyards and Atlantic Ocean. In this suggestion, you would learn more about the 4-star Hotel François Premier and its culinary concept of Bar Louise by Octo, followed by the closeby Poulpette restaurant. Nonetheless, don't miss to watch our video below, including the interview of the Poulpette chef, Antoine Vernouillet (cover photo credits: Hotel François Premier). By Alex Plato
---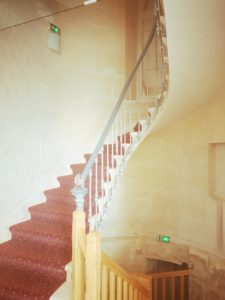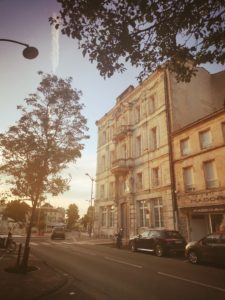 After seven years of closure for renovation in 2005, the Hotel François Premier, located in the eponymous fountain place in the center of Cognac, had risen again from its ashes in 2012. Basically inaugurated in 1870, this charming mansion had ever been a private building, passing from hand to hand, before switching into a touristic hotel (photo credits: Alex Plato).
Then, it was successively called Hôtel des Voyageurs, when it was once mainly dedicated to a British clientele, notably sustained by a free trade treaty signed between France and England in 1860. Then, the place logically became Hôtel de Londres around 1900, before taking the name of François Premier, thus the King of France, who was born in Cognac, back in time around 1494.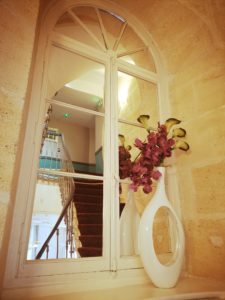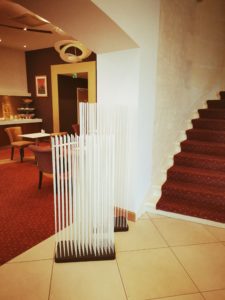 By the way, the Hotel François Premier hosted many celebrities between its walls. In between, the illustrious Charles de Gaulle, then only a lieutenant, stayed there during ten days in October 1914 to recover from an injury. Perhaps this would also be the right place to recover from your injuries too, or at least find the necessary rest to re-energize yourself?
In another hand, thanks to its central and strategic location, the hotel had subsequently been hosting a few movie stars at the Cognac Crime Film festival, which was launched in 1982. Nowadays, you are the star to have the opportunity to stay a couple of days or more, to comfort your stay in Cognac. Feel free to spend some time in the lobby, with its high ceiling and circular sofa, unless you prefer to sit in the quiet garden, behind the private parking (12e a day).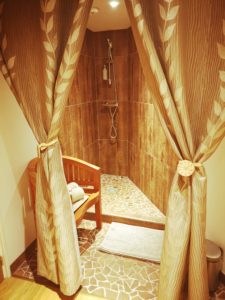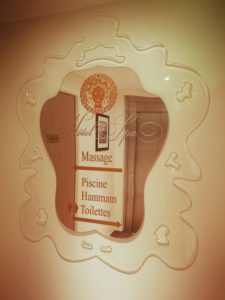 Otherwise, don't miss to eliminate your calories at the tiny gym room and after your efforts, to book your relaxing hour in the SPA space. In this underground area, adorned with exposed stone walls, awaits for you an enlightened pool with some random currents, allowing you to swim, nearby the turkish bath. Adding to this, also on reservation, a cocooning massage cabin, where you could experiment a joyful and peaceful moment under the delicate hands of skillful and graduated massager.
In the meantime, wouldn't you think about organizing here your upcoming corporate conferences, in the new seminar space. Indeed, the plenary room can accommodate up to 200 people in a surface of 105m2, fully equipped with sound and light. As well dedicated to any kind of business or general meetings, residential seminars and of course pleasant cocktails.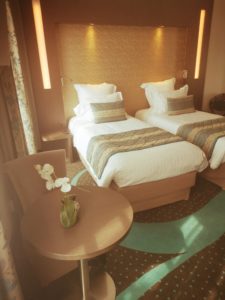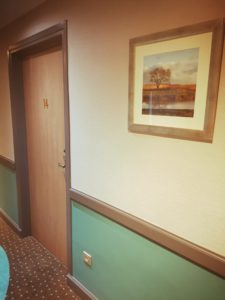 Regarding 26 rooms and 4 suites, they melt well with fine and bygone architecture of the edifice, reinforced with a contemporary turquoise touch. Thus, they have been designed and furnished with comfort, thanks to their different elements, such as individual air conditioning, along a King Size or Queen Size bed, where you may feel at ease to watch TV on a 32-inch LCD flat-screen, while sipping a Cognac shot from the minibar or from the Nespresso coffee machine. This offer could be completed at any time by a tailor-made service (room service, free wifi, safe), to eventually fulfill your courtesy tray or additional needs.
Moreover, a large bathroom plus a double gazing on windows would contribute to spend a glamour evening, especially if your room faces the animated Place François Premier, where you could benefit of the atmosphere of this old quarter of Cognac.
The morning after, a
brunch
is served on a large
buffet
for every taste, composed of
local
fresh products (cheese, fruits, dairy) but also international
delights
(pancakes, marmelade). A good way to start your day on the right step and perhaps start your first
connections
!
Hôtel François Premier Cognac / 3 Place François 1er, 16100 Cognac (France) / Phone : 00 33 (0)5 45 80 80 80. More information on the official website.
---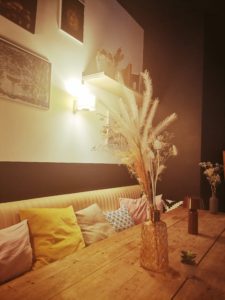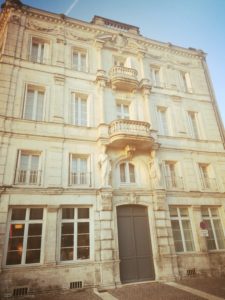 Still nested in the heart of the Hotel François Premier, the Bar Louise has always been a meeting place for anyone willing to appreciate fine cocktails. Renown as the first Cognac cocktail bar opened in 2012, the Bar Louise was originally within the Hotel François Premier, nonetheless the place implemented an independent access in the summer of 2017, to preserve its chic and relaxed atmosphere. Thus, in a contemporary interior, that would be soon renovated, we invite you to discover the new Octo concept.
Lately impulsed as a brand new tasting experience, animated by a collective of young gastronomy enthusiasts shared by 8 hands (for octo), with the goal to pair a particular dish with a dedicated cocktail. These matchings naturally evolve and switch according to the inspiration of the moment.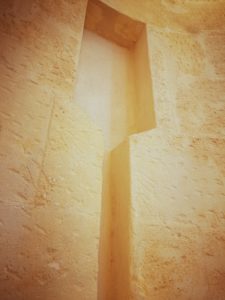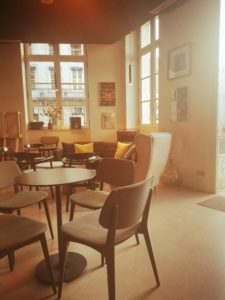 An occasion to taste the pleasures of local flavors, thanks to the association of two chefs and mixologists. For your information, the mixology team is reinforced by the endless imagination of Germain Canto, who formerly worked for the Barber Shop in Sydney and who had already a glance of the Bar Louise in its previous version, completed by Flavien Faure, the new bar manager, able to introduce you to the regularly updated and creative cocktail offer, mostly based on the richnesses of Cognac, but also highlighting other local spirits, along fresh and homemade products.
Icing on the cake, the place also includes a selection of fine wines, beers and a gourmet and experimental proposal to accompany your tasting of Cognac based cocktails (some examples pictured below).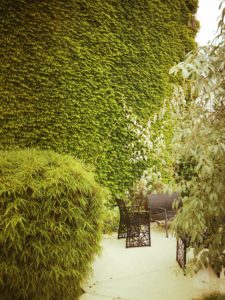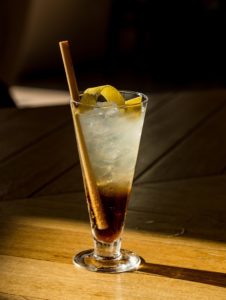 Therefore, in this cosy place, aerated by a summer terrace, shared with the Hotel François Premier, you're invited to experiment a variety of delicious surprises, hidden in three different formulas (of 3, 5 and 7 courses), to enjoy the right essence of this avant-garde concept.
For instance, you could start to get the inner feeling of this bewitching place by a welcoming appetizer, composed of foie gras balls, highlighted by the spicy touch of gingerbread crumbs, along lemon confits and tile. Indeed, in order to break the fat taste of the foie gras, a first cocktail is proposed here to balance this ensemble. Here, a mix has been imagined between Cognac Quintard, completed by some vegetal notes of lippia dulcis syrup (a detoxifying plant expressed in 4 stages). This alloy brings in a way, a taste of bitterness before an aroma of sweetness offered by mint, before a final fireworks display with some extracts of squeezed lemon.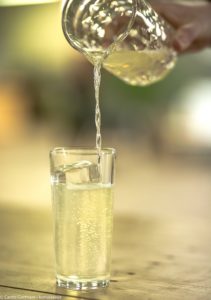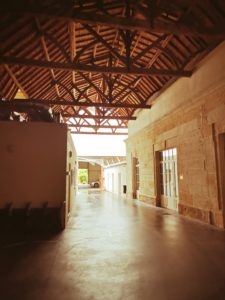 Then, let's try the brown mushroom (maybe in tribute to the torulas, the Cognac mushrooms?), next to three ravioli made with some local faisselle, bathed in a shiitake and ginger broth and all supplanted by a rungia mushroom plant (from the same mushroom producer). An entry highlighting sweet and sour flavors, immediately enhanced by a Sidecar cocktail, aged in oak barrels in the local Octo workshop, to recall the woody side of the mushroom taste.
Following this, let's get to the hot point with a smooth river trout and its Gensac caviar, sauced by some white butter adorned with Pineau des Charentes. A local touch reinforced by many saviors of typical mashed potatoes from the nearby Ré Island, along grilled asparagus.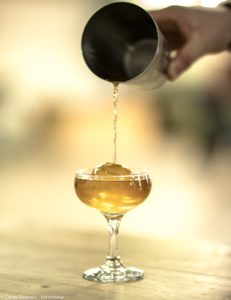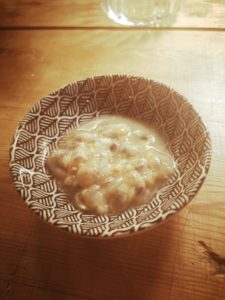 Along this trout delight, a vegetal and floral cocktail, starring a blend of several spirits, such as a Cognac Petite Cigüe from Fanny Fougerat, some Covert figs liqueur, Sake and a touch of verjuice.
For an other warm sensation, a duck breast (straight from Saint Romain farm) has just been roasted in front of you with some honey, flavored with reduced orange juice, carrot purée plus orange confit. Such a real Asian influence accommodated with an other amazing cocktail, surprisingly composed here with flavors of the same duck breast, whose juice had been extracted from its cooking and recovered to infuse the Cognac basis (starring this famous mixture where fat has disappeared, a concept called fat wash), simply added by verjuice.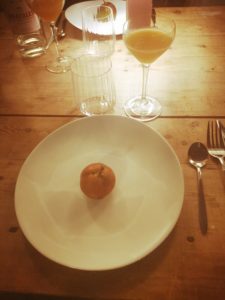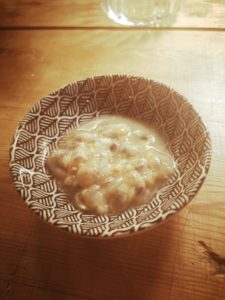 In the team, you may also count the pastry chef Sébastien Paris who may be able to concoct you a dessert based on sensea passion flower, followed by a surprising passion fruit shell to break down, to reveal in the meantime, a wedding of smooth diplomat and passion creams. As a loyal companion, a cocktail in the same tone has been proposed whereas it is the only cocktail without Cognac of the set, since it is composed here of Melifera Gin (that we already reviewed in this previous article), joined by the exotism of passion fruit, squeezed lemon, as well as a timut pepper syrup.
On top of that, let's get into a selection of 3 creamy chocolate points, including a mix between roasted cocoa nibs, a darling pecan nut and drown in a Valrona chocolate ganache, completed with charming honey tiles. In fact, this course is the perfect one to be enhanced with Cognac Martell XO.
At last, why don't you add a local touch to achieve your gourmet diner with an authentic Gâteau Charentais, with its citrus marmelade? This festive cake, once reserved for special occasions, is tempered here with a detox note of Barley coffee, completed by milky oolong tea, Cognac and verjuice.
Bar Louise
by
Octo
, 1 Place François 1er, 16100 Cognac (France) / Phone: 00 33 (0)7 80 91 50 04
---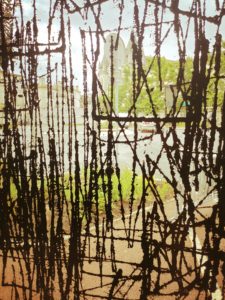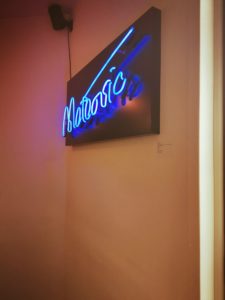 Then, crossing the street and we find another amazing address. Within the framework of a cosy restaurant room, full of metallic and jazzy arrangements, nestles Poulpette, preserved on the left bank of Cognac, thanks to windows scratched with some Pop Art. Garnished with Lacoste leather upholstery for chairs, ceramic crockery, Bleu Acier steel counter, by Antoine Vernouillet and Amandine Bernanose who wished to make their restaurant, located at the entrance to Cognac, an authentic opportunity to showcase the remarkable know-how of collaborating craftsmen.
Initiated by Antoine Vernouillet, who got various culinary trainings in many fine addresses in Brussels and Paris, before disembarking in Cognac. He notably learned with the Japanese chef Inada, where he retained the quest for the inner essence of fresh products since there is no cold room in Poulpette. In the other hand, the team supplies from a permaculture market gardener, tending to adapt organic sourcing, even for their wines.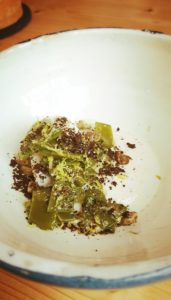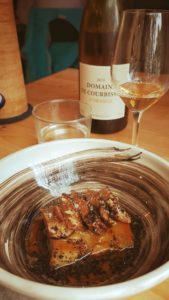 In addition, presenting an offer of contemporary artworks to acquire, you are thus cut off from the World and you would then be able to better concentrate on your lunch, only served only during the weeks (photo credits: Alex Plato).
A series of starters composed of salty-peppery foie gras, followed by a candied eggplant and covered with grilled Dordogne rabbit liver, drizzled with this Japanese Ponzu sauce revisited with local Charente sauce (including Meyer lemon, infused bone and Kombu seaweed) and timed with olive breadcrumbs. All proudly accompanied by an original orange wine, straight from the Minervois, cleverly complementing with its lemony and dry grapefruit flavors, the citrus notes of this starter with sweet exotic accents.
Then, in a sublime blue ceramic bowl stands a thin tender slice of line cod, embellished with a tasty portion of tarama to enhance its iodized flavors, balanced by a bouquet of snap beans and its crunchy capers.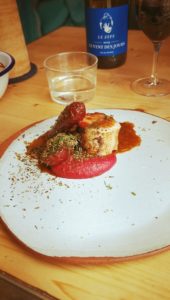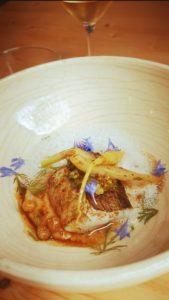 Regarding the upcoming dishes, here is revealed another slice of the creativity of the team which expresses itself on this fusion alliance, around a yellow pollack, coming straight from the port of La Rochelle, precisely in La Cotinière. Smoothed in the heart of a chickpea accord, composed of an emulsion of poultry broth, local Dompierre carrots and flavored by fresh caraway and then some blueberry flowers.
If you are more meaty, why not let yourself be tempted by this filet mignon from the Green Mountains? Grilled at the roots, and flavored with different variations of always local beetroot from Angeac-Champagne, including a portion of the formanova variety, bewitched by its beetroot purée, plus covered by its homemade coffee smoked oil. A bittersweet accord that goes perfectly with the first 2019 vintage wine produced by Le Zeff, named Le Vent des Jours, fully in Malbec, straight from the equally gastronomic region of Cahors.
desserts
is proposed between an aerial
vanilla
cream, fulfilled with roasted
poppy
seeds and
blueberries
, along a
basil
sorbet. This charming
ensemble
to enjoy with an amazing
Cognac Fins Bois
shot from
2001
, from
Domaines
Grosperrin
, which represents the beginning of the transition of this
house
between father and son, into an
organic
agriculture.
Then, a last under the modern dome light, inspired by Jean Prouvé, sip one of the organic cafés by Coffee Cultures.
Poulpette, 46 Avenue du Maréchal de Lattre-de-Tassigny, 16100 Cognac (France) / Phone: 00 33 (0)5 45 82 22 08 / Open from Tuesday until Saturday, from 12pm to 2pm, from Wednesday until Saturday, from 7.30pm until 8.30pm.
---