Learn more about Savoy wines thanks to the Vin de Savoie appellation
9 min read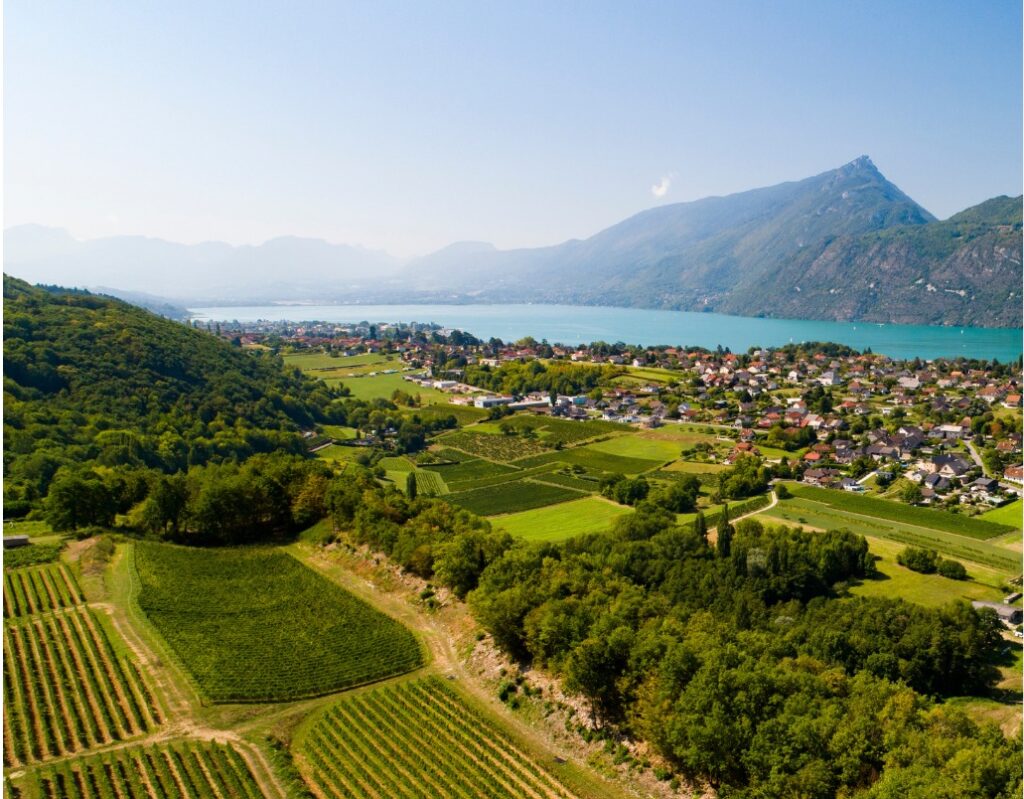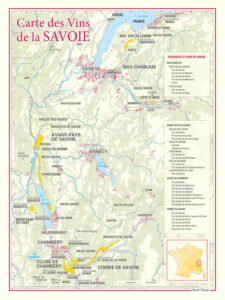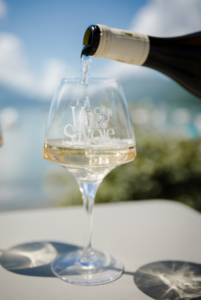 Although Savoie is a historical region, despite recently becoming French, it is also a famous region of wine production. Known under the AOC des Vins de Savoie appellation, labeled in 1973, this territory pursues a relatively rich wine-growing tradition, with a vineyard that already extended over 20,000 ha, at the end of the 19th century.
Indeed, you would easily notice here that this vineyard has the particularity of being mainly composed of altitude vines and therefore generally preserved from any casual pollution. That's why we invite you to better discover this third French vineyard in size, which even supplies around 30 million vine plants per year to other French and foreign wine regions (photo credits: Pauline Pineau). By AP
---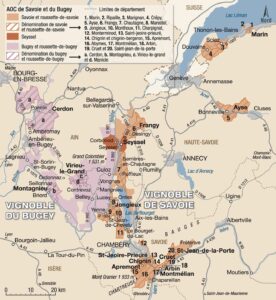 More concretely, this Savoie vineyard is located at an average altitude of 1,500 meters, including around 36 peaks over 3,500 meters. Indeed, Savoie belongs to a high mountain region, where the Quaternary glaciers have modeled wide valleys, logically privileged for vine planting. Adding to this, we could count to an average sunshine exposition of 1,800 hours, which is quite comparable to other wine regions in France. Those weather conditions provide to those vines a good energy supply, leading to good grape maturity.
As a result, this complex and contrasting climate, endowed with a mountainous and sometimes rude climate, offers to this Savoie vineyard many interesting facets and some unique disturbances. Those particularities mostly result from the various influences from the crossing climates, whether those are oceanic, Mediterranean or continental. Without forgetting that the heterogeneous reliefs, visible in this large region, contribute to the formation of microclimates, supported by a regime of passenger winds, which could either bring rain and also good weather. On top of that, we could find the viticultural origins of Savoie, rooted in the Gaul's period, before the Romans developed new viticultural techniques around their main communication routes.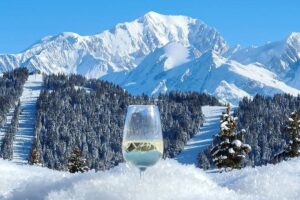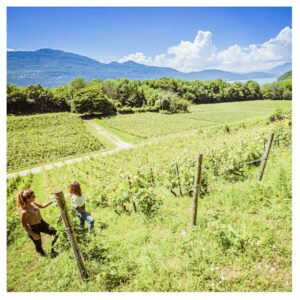 Thus, many of them crossed Savoie, transforming this wine area into a new eldorado, essentially with the expansion of Christianity, from the 4th century. Indeed, the communion ritual required sufficient wine production, leading to the constitution of proper wine estates around abbeys, monasteries and priories, mainly from the Middle Ages.
Therefore, that's quite naturally that religious communities devoted themselves to wine experimentation and production, with the aim of improving the quality of Savoyard wines. After a certain redistribution of agricultural lands, following the serfdom abolition, new personal initiatives allowed the expansion of regional vines. Thus, we could have observed a progressive fragmentation of this Savoyard vineyard, from the 16th until the 18th century, extending from the fertile soils situated in plains, up to altitudes close to 1,000 m. These extensions, accompanied by plantations of mediocre grape varieties, led Savoie to a situation of heterogeneous overproduction, due to a wide variety of grape varieties, grown under various conditions and altitudes.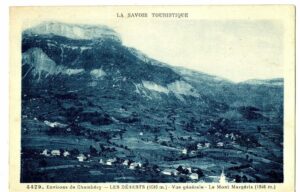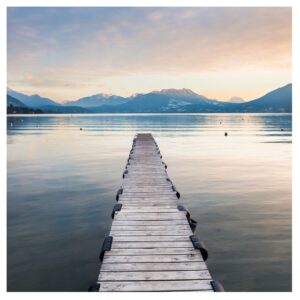 Nonetheless, this situation continued until 1860, when Savoie got reattached to France and at this occasion, local wines began to align with standard French wine styles. This was such a short-lived normalization since phylloxera disease appeared in 1877, in parallel with downy mildew in 1878 and powdery mildew in 1880. This sinister episode was remedied by the emergence and importation of American rootstocks, discovered at the end of the 1880s. From this vast replanting movement, this Savoyard vineyard was rebuilt thanks in particular to technical progress and the new pruning processes of vines, leading to a certain quality research and a surface concentration, which did not stop until now.
By the way, if you wish to learn more about this fascinating history of Savoyard wine, do not hesitate to visit the Regional Museum of Vine and Wine, located in Montmélian. This cultural site, under renovation for the moment, offers a varied collection of wine-growing tools, from the 18th century until now, as well as a centerpiece made up of a 17th century press. In the same place, don't miss the Pierre Galet Alpine Ampelography Center, which carries out tests on old, hybrid or forgotten grape varieties.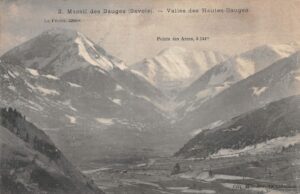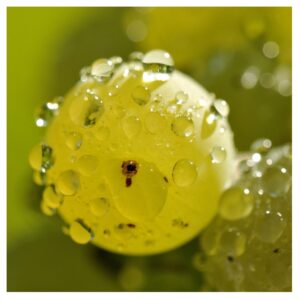 Now that you know more about history and geography, you have to know that Savoie vineyard is spread over three AOPs, settled over around twenty geographical denominations and over four French departments, of course. For information, you may have the opportunity to visit nearly 70 wine estates, ranging from the Savoie department, which concentrates around 80% of this vineyard, followed by Haute-Savoie (on the southern shore of Lake Geneva), Isère and finally the department of Ain.
Therefore, we mostly find vines around the Côte d'Arve, in the Usses Valley and on the banks of the Rhône river . It is also established on the western slope of the Montagne du Chat (Marestel, Monthoux, Jongieux) and the Cluse de Chambéry, which also overflows the Isère river. Without forgetting that the geographical names of Montmélian, Arbin, Cruet and Saint-Jean-de-la-Porte benefit from a south-eastern exposure on the right bank of the Combe de Savoie.
Vin de Savoie
, Chambre d'Agriculture, 40 Rue du Terraillet, 73190 Saint-Badolph (France) / Phone: 00 33 (0)4 79 33 44 16. More information on their official
website
.
---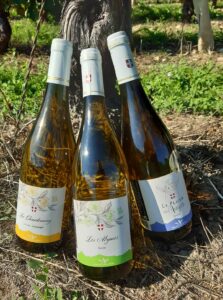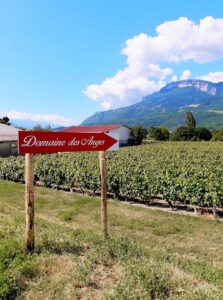 Located close to the Isère area, at the foot of the Mount Garnier, the Domaine des Anges is nestled in the small hamlet of Mûrs, precisely in the commune of Marche (Porte-de-Savoie). Naturally surrounded by a mountainous landscape, those vineyards are spread through the best exposed slopes of the Molasse hills along some alluvial terraces, not far from the Bauges and Chartreuse subalpine massifs. Therefore, this Domaine des Anges holds vines which are planted at an average altitude of between 250 and 500 meters.
Perfect to develop emblematic AOP Savoie wines, such as white wines, composed of three grape varieties, which are Jacquère, Aligoté and Altesse. The result is dry and aromatic wines with floral and balanced aspects (photo credits: Domaine des Anges).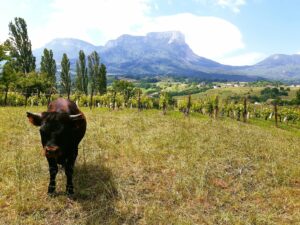 Apart from this, red wines are as well produced there, well appreciated thanks to their light tannins, full of spicy and fruity notes, due to their Mondeuse and Gamay components.
---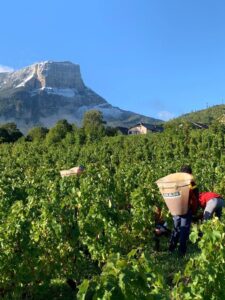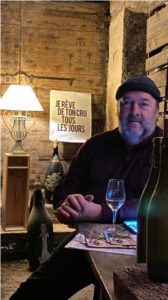 Here is another domain facing the Mount Granier… The Domaine Jean Masson became expert in Apremont wine production, since this estate has been located on this largest mountain landslide in Europe, since 1248. This geological particularity determined the massive relief of this terroir, full of rocks and torrents, either of pure water but also sometimes of mud (photo credits: Domaine Masson).
Indeed, those details have visibly shaped those clay-limestone hillsides, where are planted those vines. This subsoil typology, stried by countless veins, contributes to this Apremont fine micro-vinification, pursued there by more than 200 years of tradition. For your information, this Domaine Masson is proud to propose no less than 12 distinct Apremont cuvées, all vinified separately.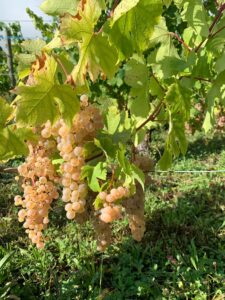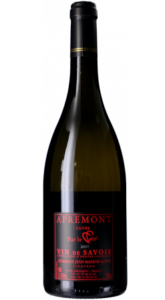 Thus, this philosophy of parcel micro-vinification sublimates the nuances of the surrounding micro-terroirs of this exploitation. The result is a range of wines that allows you to discover more precisely the Jacquère variety in all its forms. Therefore, this species is renowned to be light but tense, plus round and powerful in the same time.
For instance, with this Coeur d'Apremont cuvée, you can feel the absolute weediness of its soil and its aged vines (80 years on average). This powerful white wine is characterized, in your palate, by various fruity notes of candied but also citrus and exotic fruits.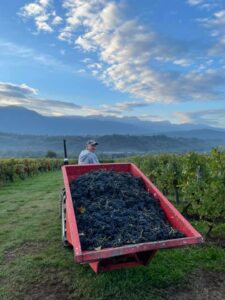 The Cave de Cruet offers the largest Savoyard cooperative (240 ha), founded in 1939, located in the Combe de Savoie, in the south part of the Bauges massif (photo credits: Cave de Cruet).
This entity is proud to share the modernism of their installation, which allows to fully express their traditional know-how, resulting from more than 80 years of experience. For instance, they own a proper production unit, able to supply cuvées throughout the year. For instance, they propose a beautiful sparkling rosé cuvée, baptized L'Élégante du Cruet. Only composed from Gamay, this aromatic and naturally sweet nectar is the result of a natural fermentation. Thus, following an ancestral method, the juice was fermented until 8% alcohol by filtration and under a temperature control in the bottle (ancestral method). It would surely charm you with the freshness of its robe and its red fruits flavors, the time of an aperitif.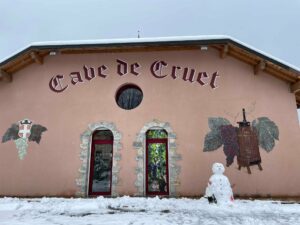 More information on their official website.
---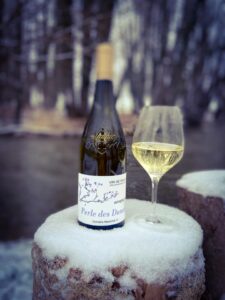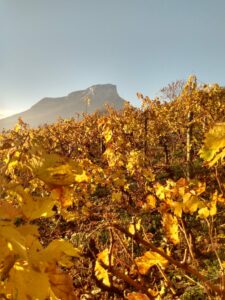 Located on the heights of Apremont, the DomaineJean-François Maréchal has been created in 1989. Spread around ten hectares of hillsides, all converted to sustainable agriculture, where is mainly produced white, rosé and red wines. Among them, you may find the illustrious Apremont, Roussette de Savoie and even a Crémant, all resulting from a manual harvest and a rigorous selection (photos credits: JF Maréchal).
For instance, we propose you to discover their own Apremont Perle des Dames, comes from a plot, situated on a very sunny hillside and from a unique white grape variety, so typical of Savoie, which is called Jacquère. At first sight, you can't miss its luminous golden dress, before exploring its explicit fragrance made of flowers and peaches.
Then, you would be undoubtedly seduced by its aromas of white currants and grapefruit, displaying a certain minerality and a fresh length in mouth.
More information on their official website.
---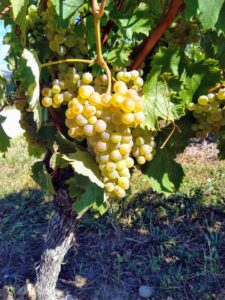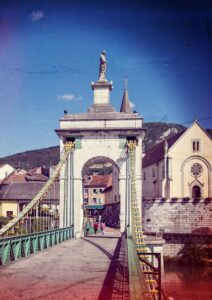 Only spread over 80 ha on both sides of the Rhône river, between 200 and 400 meters above sea level, the Seyssel wine appellation barely represents 5% of the Savoie vineyard. This appellation used to become famous thanks to its two flagship Altesse and Molette (or Jacquère) grape varieties, plus its multiple sparkling wines (photo credits: Ain Tourisme and Yanick Lartigue).
Enjoying a particularly favorable climate, and land from glacial alluvium or sandy molasses, those Seyssel wines have been produced since the 14th century and became the first Savoie appellation to be labeled as AOC, in 1942.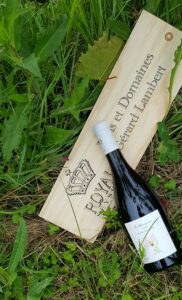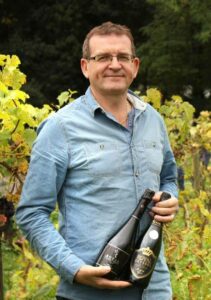 Here, we are glad to discover Les Caves de Seyssel initially founded in 1930, just before the AOC obtainment of this territory, turned into Domaine Gérard Lambert in 1988. This couple wished to pursue a certain tradition, notably with the development and vinification of the Royal Seyssel range, existing since 1901 (photo credits: Domaine Lambert).
Among their different cuvées, the domain proposes a unique 2020 micro-cuvée, rich of a beautiful straw yellow robe with silvery green reflections. Baptized Nuance d'Altesse, this organic wine, aged in gray amphora, appears as limpid and brilliant with a beautiful appearance.
Once in your palate, this wine expresses some fresh notes of white-fleshed fruits (apple, pear, peach), but also hints of apricot and citrus.
---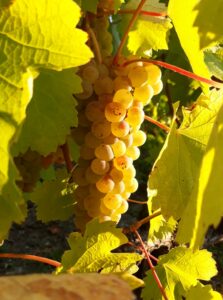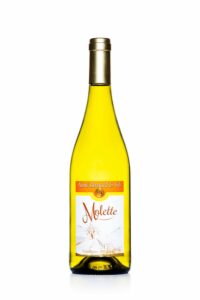 In an other hand, the Domaine Aimé Bernard estate is located in Corbonod. This village of the Ain department hosts no less than 90% of this Seyssel vineyard. This domain has been led by the brothers Laurent and Loïc Bernard since 2007, over a surface of 16ha. This brotherhood had opted for a HVE conversion, where are produced a dozen of cuvées (photo credits: Domaine Aimé Bernard).
Among them, don't miss their monogrape Molette vintage, later harvested then, from 2020 which appears as a pleasant white wine. Its golden yellow color unveils green reflections, revealing aromas of fresh quince, almond and lemon. Completed by a saline and mineral final touch, this citrus alike cuvée, to keep between 4 and 5 years, would ideally accompany a platter of seafood or traditional Savoyard raclette.