Enter the Maison Drappier in the Côte des Bar, as the favorite champagne from the Général de Gaulle!
7 min read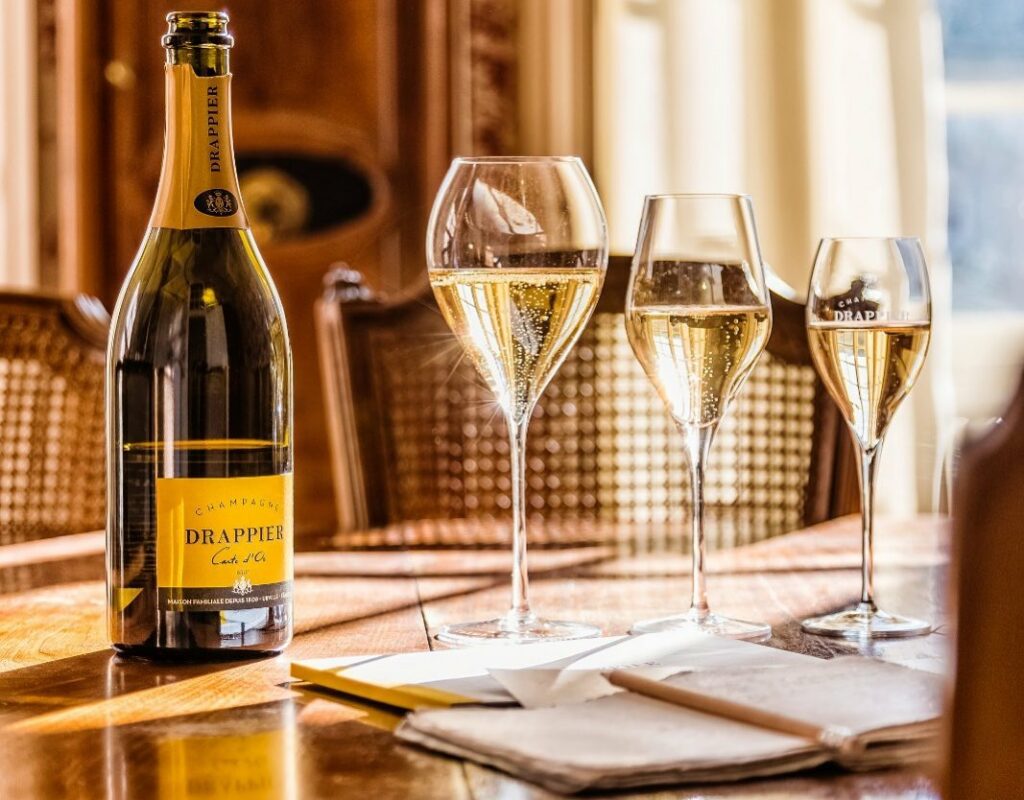 Following our previous article about champagnes from the Côte des Bar appellation (read our article here), we invite you this time to immerse in the beautiful galaxy proposed by the Champagne Drappier, member of the Vignobles & Signatures network.
By AP
---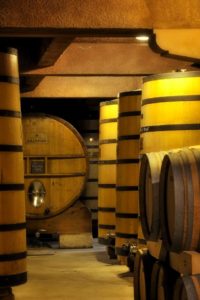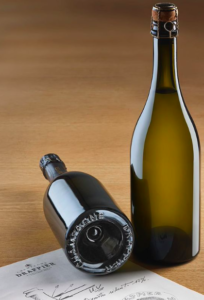 Another family story within the Champagne Drappier whose longtime tradition has been maintained for two hundred years, the same tribe. For instance, they always had the common vocation to produce their own branded Champagne wines (photo credits: Drappier).
With the wish to highlight the tiniest details that make the difference, the team always focused on
technical
tools, the most able to reveal the natural assets of their
wines
, with supposedly less artifice. As we stay in the
Côte des Bar
, the
Pinot Noir
is still king and is naturally a historic
grape
variety employed by the
Maison Drappier
. Moreover, their property was formerly occupied by the
Cistercian
monks of
Clairvaux
, that's why you may find there some intact 12th century vaulted
cellars
, with the possible mission to preserve and mature these
Champagnes
.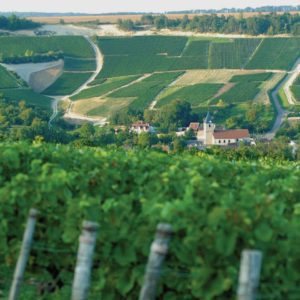 For your information, the Drappier family adventure started with the birth of Rémy Drappier in 1604 who, like Nicolas Ruinart, was a cloth merchant in Reims. However, it was not until 1808 that his ancestor François Drappier moved to Urville and began to operate a vineyard which today covers an honorable surface of 55 ha (and 40 ha in associated contracts), of course spread through the Côte des Bar appellation but also the Montagne de Reims and the Côte des Blancs.
Therefore, the village of Urville became the headquarters of this sparkling family, founded by the Gallo-Romans who brought the vine culture to this region, 2000 years ago and probably, even if there is no proof, the Arbane species. This is even where they eventually started to plant Pinot Noir in the early 1930s. So that this grape variety represents nowadays no less than 70% of the family vineyard and nearly three quarters of the grape varieties of their direct surrounding terroir. Although, just after the historic frost of 1957, when nearly the total vineyard collapsed, a portion of Pinot Meunier was introduced, more resistant to springtime frosts.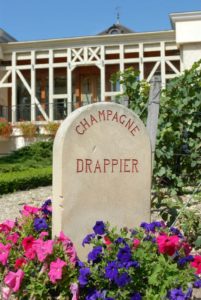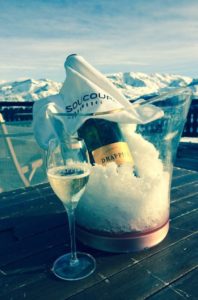 Then, a first Carte d'Or cuvée was launched in 1952, as a real evocation of quince jelly, this full Pinot Noir Champagne shares the same contents with the Champagne Rosé before seducing the General de Gaulle. By the way, in homage to the illustrious French character, Maison Drappier dedicated one of its great vintages to him. In 1988, deep cellars dug in the chalk of Reims under Napoleon III joined the family property to house the greatest cuvées.
Thanks to particularly well exposed and powerfully limestone plots, also known as the Kimmeridgian soils that are also found in Burgundy, Drappier may have the chance to produce very expressive wines. Nourished with natural composts, these home grapes are really taken care, along extremely rare grape varieties, such as Arbane and Petit Meslier.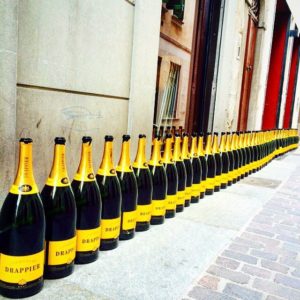 Therefore, after a subtle game of clever dosages between appropriate grape varieties, exclusively extracted from the first presses, those unfiltered wines may build these Drappier nectars. Adding to this, just a little sulfur is used in homeopathic doses, as one of the lowest parts in the entire Champagne zone, offering wines with more natural colors and more aromas. In addition to respect anyone's health, this philosophy leads to generate a fine and subtle effervescence. Thereafter, once the grapes have been vinified, the Maison Drappier insists to employ some of them to complete the several expedition liqueurs. These slowly remain in oak barrels for more than 15 years, being added to the final juice at the time of disgorging, in order to accentuate the length in the mouth and to gain more purity, since the high concentration of this liquor means that very little of it can be used.
Lately,
Michel Drappier
imagined an
organic
cuvée
(
Ecocert
certified) as a tribute to
Saint Bernard de Clairvaux
. Originally baptized
Clare Valli
as the name given by
Saint Bernard
to the
Abbey
, he founded in 1115. By the way, this abbot introduced the
Pinot Noir
variety to the region, where he even decided to
vinify
and age a bunch of
wines
matured in the cellars of this
Abbey
(from 1152), property of
Drappier
now.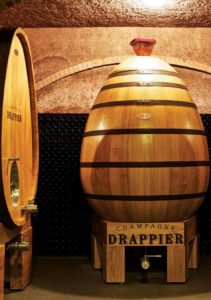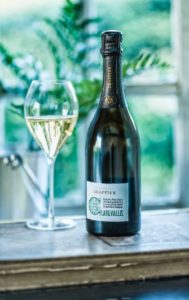 In fact, this Clarevallis cuvée is a blend of Pinot Noir (75%), completed with a touch of Chardonnay, Pinot Meunier and especially Pinot Blanc (also called Blanc Vrai). This grape variety, which had almost disappeared in the whole Champagne zone, brings an exuberant fruity touch.
Moreover, the main part of this Clarevallis jewel is matured in stainless steel vats, in order to preserve the crunchiness of the fruit, but some of the wines are also vinified in wooden barrels made from oak, extracted from the nearby Orient Forest (read our article here). Then, after a slow fermentation, allowing very fine bubbles to be obtained, this Clarevallis Drappier cuvée would disgorged and dosed as a real Extra Brut Champagne, starring only 4g of sugar per liter, thanks to a liqueur made from organic cane sugar.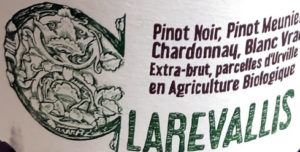 As far as we know, this
Champagne
enjoys a white gold dress, updated by a very fine and persistent
foam
, whose
elderberry
,
violet
, along
floral
and
spring
notes are perceptible from your nose. Embellished with an omnipresent
minerality
, softened by the maturity of a brilliant
Pinot Noir
.
On top of that, you may appreciate its fresh and floral palate delicately displaying from this Champagne, a touch of citrus, before a sustainable and bitter finish.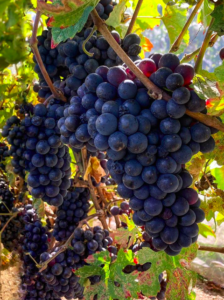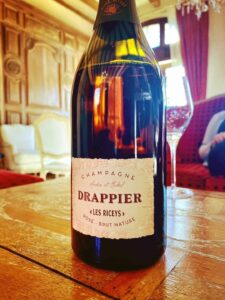 In case you would like to get beautiful sensations from a fruity rosé champagne, we invite you to discover the Brut Nature Rosé Les Riceys reference. This fruity champagne offer beautiful sparkling sensations for your finest dinners, notably due to the very specific maceration operated in whole grapes, giving to the Pinot Noir juice a deep color and an aromatic concentration.
For your information, this delicious cuvée is solely composed of Pinot Noir harvested in Les Riceys village, still located in the Aube department and particularly renowned for its rosé grape terroir, since ages.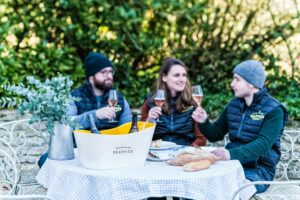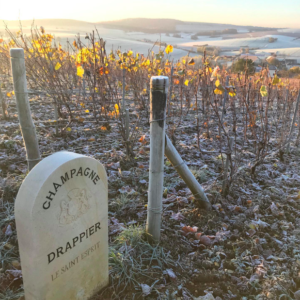 Therefore, the Drappier domain wished to propose a brand new expression of this so-called terroir within this Brut Nature Rosé, while combining a certain "bleeding" tradition and vinification without any sugar dosage.
Thus, for this cuvée, the maceration of the whole grapes needed 48 hours before the pressing process, where only the first press wines are selected and blended, even including a quarter from a perpetual rosé reserve juice. Then, the wine aging is half carried out in stainless steel vats and half in oak barrels, for more aromatic complexity and communion.
For instance, you would undoubtedly be seduced by the ample and intense aromas of candied morello cherry and violet syrup, with a delicious finish marked by white grapefruit flesh and even lavender notes. In fact, this Brut Nature Rosé – Les Riceys would kindly accommodate with any type of salad, fine cheeses or fruit cakes.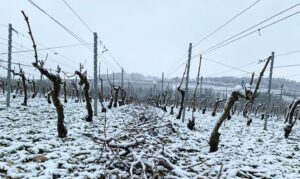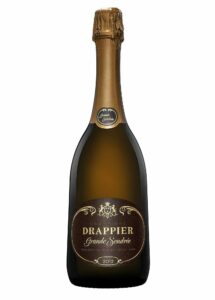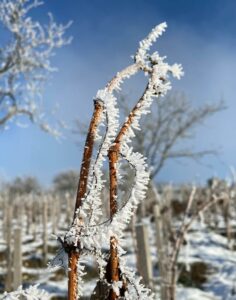 Following our previous mention from the Champagne Grande Sendrée 2010 in our millesimes selection (read our article here), we are glad here to introduce you the 2012 edition. Still fully made from a wedding of grapes from Pinot Noir and Chardonnay, issued from a set of plots, based on limestone soils, called crayots, dating from the Kimmeridgian Jurassic era.
The bottles are still presented in a Louis XV-shaped bottle, revealing the expression of various grape varieties and terroirs from vines, either cultivated in organic and sustainable viticulture methods. Therefore, the Grande Sendrée 2012 juice, proposed by Maison Drappier, still comes from the first press and extracts vinified by gravity. A part of those wines (35%) are aged in barrels, this Extra Brut champagne is low in dosage (4.5 g/litre).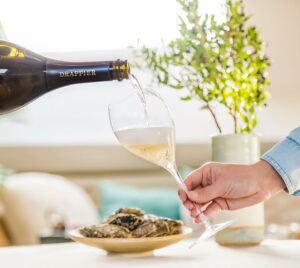 Nonetheless, based on a
malolactic fermentation
, this
champagne
was aged during an honorable period of 9 years. Adding to this, its added
dosage liqueur
was longer aged in wood during 15 years, which is quite rare for
Champagne
.
The result of this long term development leads to an attractive fragrance, full of notes of cherries, combined with aromas of white flowers and vanilla.
Thereafter, its palate develops a beautiful complexity that even extends to a bucket of mineral and spicy accents. Thus, we recommend you to enjoy this elixir as an aperitif, but also with seafood or cheese, with an ideal tasting temperature of 8°C.