Our selection of Millesime Champagnes to celebrate anything at any time of the year!
12 min read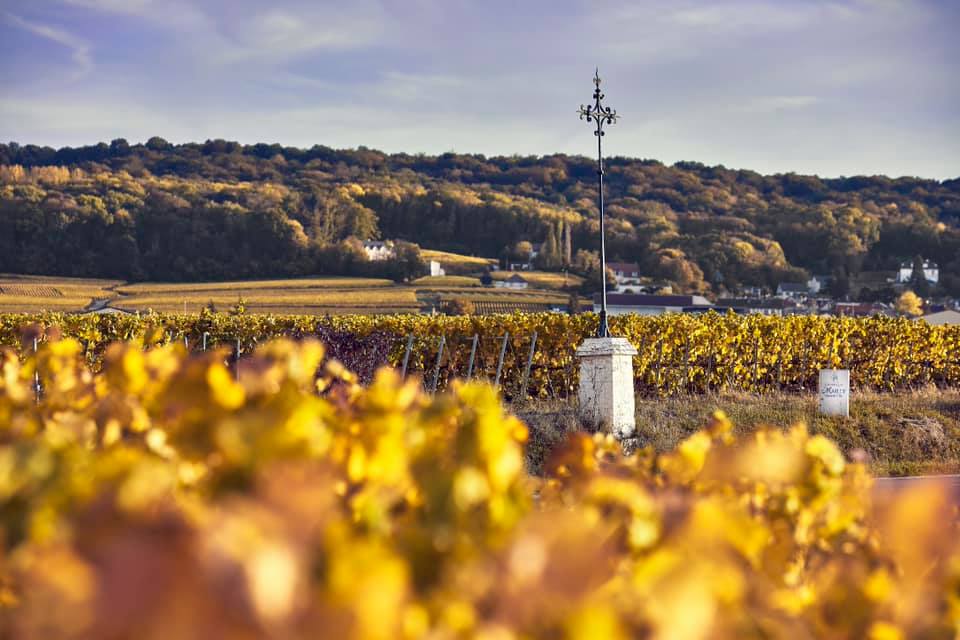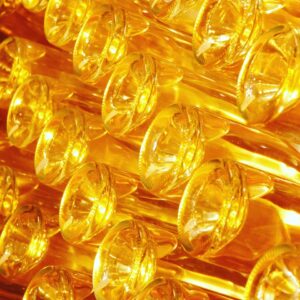 The notion of millesime in the Champagne area, such as also in wines, refers to the year in which the grapes were harvested and the production of the wine was launched. Although the indication of the related vintage is optional on the bottles' labels, it is frequently used because it is an important guidance and can reveal many details about this dedicated year. Therefore, those millesimes or vintages would undoubtedly express the climatological conditions of that year, which could help you to follow the aging of those wines and eventually set the best time to open and taste them (cover photo credits: Champagne Mailly).
In another hand, your future millesime would also provide you information on the level of quality of this wine, and beyond the communication regarding the climatic conditions, some items may offer tell you more about winemaking techniques or specific universe, in relation to this year. We invite you here to discover some of them, in a chronological way. By AP & AL
---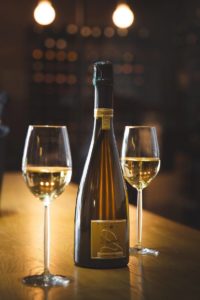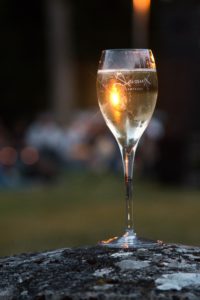 As a starter, we couldn't pass through some champagne and spirits to enjoy any sparkling and joyful time of the year! That's why, we send you some bubbles from the Côte des Bar appellation (that we have already covered in this article). Starting with the Champagne Devaux house, founded in 1846, which is considered as one of the flagship cooperatives of this Aube department. For your information, most of their blends are composed of Pinot Noir grape variety but not only, since you also find some brilliant millesimes editions.
Therefore, we are glad to propose you a taste of their Cuvée D 2009, known as the flagship cuvée of Champagne Devaux, composed of at least one third of reserve wines and mainly aged in casks (photo credits: Devaux).
This juice skillfully combines the roundness of pinot noir grapes, representative from the Côte des Bar and the elegance of chardonnay, extracted from the various areas of the Côte des Blancs, Montgueux and the Côte des Bar.
Thus Cuvée D 2009 presents aromas of white fruits and spices, softened by a finish reminiscent of some toasted brioche and vanilla. Once in mouth, you would be pleased to discover its fresh, sweet and creamy palate, reinforced with a beautiful aromatic persistence. A perfect blend dedicated for an aperitif or even to accompany a fine diner, since this Cuvée D perfectly matches with spicy dishes or a chocolate dessert. Available in 75cl, 150cl and 300cl.
More information on their official website.
---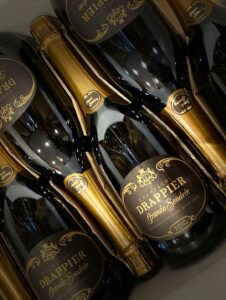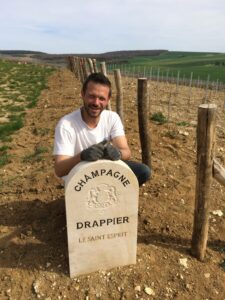 Then, a good proof that time has been very effective with the fine product of the Grande Sendrée, edition 2010 imagined by the Champagne Drappier. Unless this domain is spread in the south of Reims, over 100 hectares of vines, divided between its old vines in the Côte des Bar and its intense Pinot Noir presence in the Montagne de Reims and its delicate Chardonnay as well in the Côte des Blancs, this Champagne Grande Sendrée 2010 comes from a set of plots based on limestone soils, called crayots, dating from the Kimmeridgian Jurassic era.
For your information, in 1836, these archipelagos of plots unfortunately underwent into a fire which ravaged the surrounding village of Urville. That's why this special flamboyant cuvée takes its name from an original spelling error but that lead to a brilliant jewel revealing the expression of those old grape varieties and terroirs (photo credits: Drappier).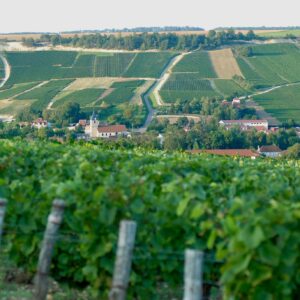 Therefore, we invite you to discover this charming juice, conserved in a Louis XV-shaped bottle, born from vines cultivated in organic and sustainable viticulture, even cradled with good sunshine. As far as we know, this champagne continues the experimental homemade philosophy that already expressed with submarine cuvées (pictured upon) and here is the result of a blend between Pinot Noir (55%) and Chardonnay (45%) varieties. It is proposed with a low sugar dosage (5.5 g/litre) but a malolactic fermentation, allowing to age the contents over 7 years, with the adding of a homemade speciality in terms of a dosage liqueur old of 15 years.
Once adopted, you should feel its fragrance, displaying a bewitching aromatic bouquet with velvety notes of honey, acacia and beeswax, before eventually revealing explicit flavors of candied red fruits and hawthorn, for a mineral final moment. This reference is recommended to be appreciated during an aperitif time, but also match with main dishes or even fine cheese, rather served at 8°C.
---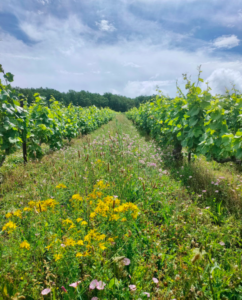 Still in the Côte des Bar, let's get back to the brilliant juices from the Chassenay d'Arce cooperative… For instance, we are pleased to present you their amazing Millesime 2012 still in Blanc de Noirs form, a full Pinot Noir cuvée, as the identity grape of the Côte des Bar area, which finds its place in their Les Caractères range. As we have already in our article about this domain (read here), this is mainly cultivated under an organic viticulture, notably through soil grassing between the rows and around plots, in order to promote the development of biodiversity, fighting any kind of erosion and reduce risks of diseases (photo credits: Chassenay d'Arce).
In fact, this single-varietal champagne was vinified in thermoregulated stainless steel vats, and aged during 10 years on lees, with an expected sugar dosage of 5 g. Therefore, admire its frank and generous personality as offered through a balanced depth provided by the fertile terroir of the Arce valley, which gives to this nectar more tension and visible luminosity, thanks to a light golden color with slight amber reflections. Beneath its countless fine bubbles, you could feel at first sight its expressive and powerful fragrances of yellow fruits and white flowers, facing a certain maturity illustrated with mineral, smoky and marzipan notes.
On top of that and inside your palate, discover a frank and supple introduction, balanced with a fleshy and concentrated substance, recalling fresh notes of yellow fruits, pursued by this mineral and slightly woody finish.
At last, we advise you to serve this champagne under a temperature between 8 and 10°C, since this item may perfectly accompany your seasonal dishes such as cold meats, mushroom-based starters and any other types of simmered culinary preparations.
---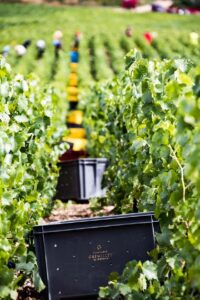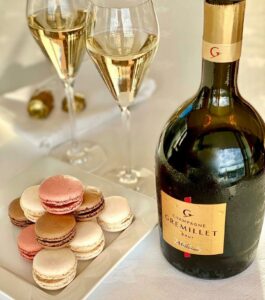 Still in this flourishing 2015 year, we offer you the opportunity to explore more worthy millesimes, starring various styles, from other Champagne houses. That's why we decided to introduce you here the millesime 2015 generated by the Champagne Gremillet, which has just been waking up from 5 years of peaceful resting on lees (photo credits: Gremillet).
Following its illustrious Côte des Bar appellation, we may find here again the only presence of Pinot Noir variety, naturally leading to an authentic Blanc de Noirs champagne. This elixir is able to express all its character and invites you to discover a 2015 vintage cuvée, displaying multiple flavors.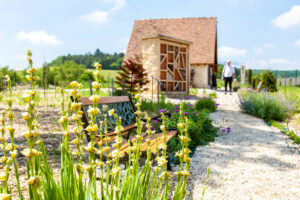 Rich in maturity, this juice has been vinified using the best Pinot Noir grapes of the exploitation and only the first press of the harvest integrates the constitution of this champagne, endowed with well-developed and gourmet aromas. Adding to this, this ensemble has been completed by a selection of alcoholic fermentation at 16° and malolactic fermentation at 18° in temperature-controlled stainless steel vats, before a minimum aging of 36 months. Without forgetting a typically brut dosage of 7 g/l with an expedition liqueur, made from wine (back from a circle). The result is a lovely shiny and luminous golden yellow robe, filled with fine and dynamic bubbles. Don't miss its floral fragrance enhanced with ripe fruit, before conveying us to a round and well balanced taste, with a sustainable and lively final touch. Therefore, this champagne is ideal to appreciate, before 4 years, for an aperitif or for a dinner with regional dishes or a fruit cake.
Icing on the cake, don't miss to visit (duration: 1h30) on last weekend of May, their arboretum (pictured nearby), accompanied by a tasting of 3 of their cuvées (price: 10€/person).
More information on their official website.
---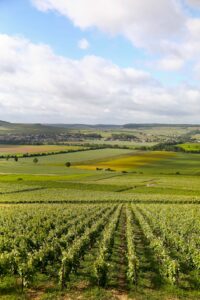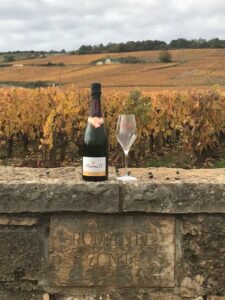 Once again on the 2015 timeline, why don't you have a look to the Marina D. champagne house? Here is another player established on the gracious slopes of the Marne Valley (read our article here about this area), near Dormans, more precisely in Vandières and Vincelles.
For your information, an Élégance millesime champagne is promoted by Marina D. conveyed by her initials and her sense of quality, from her 6 ha of vineyards, exploited under a High Environmental Value (HVE) process, since 2017. Therefore, this domain is part of the Sustainable Viticulture group in Champagne (VDC), with the goal to respect the environment, preserving biodiversity and reducing energy costs. estate with our own press (photo credits: Champagne Marina D.).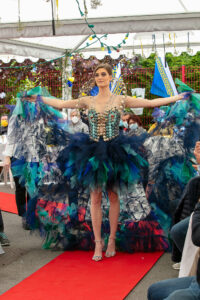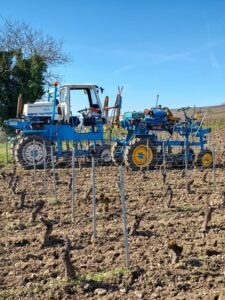 For your information, Marina D. enjoys to develop her champagne with her own grapes, and wishes to mix different notions of terroir, tradition and innovation. In those terms, the team develops a wide line of original capsules to collect, this even lead to a collaboration with the designer Elena Viette who imagines dresses made with capsules. That's why, by the way, a capsule exchange day would take place on June 18th, 2022.
We invite you to discover their wide range of champagne references, composed from the 3 main grape varieties, which are Pinot Meunier, Pinot Noir and Chardonnay. In the case of the Élégance 2015 cuvée, this champagne is a Blanc de Blancs, which is only made of Chardonnay. Harvested in 2015, those grapes offer a floral nose reviving scents of pear, cinnamon, clove and even fresh butter, able to provide a subtle complex taste, thanks to a moderate dosage and a dynamic effervescence, reinforced by a good length.
More information on their official website.
---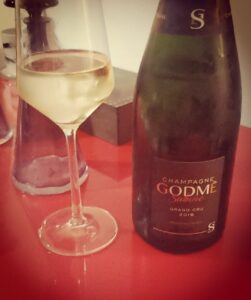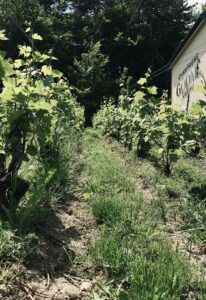 Without forgetting the year 2016 conveyed here by a Grand Cru house, also reviewed in this article about this large Champagne domain, created in 1930, around the Montagne de Reims, exactly in Verzenay, a Grand Cru classified village. Thus, the structure of this millesime 2016 by Champagne Sabine Godmé has the talent to propose an expressive Extra-Brut (5 g/l) blend of Chardonnay (60%) and Pinot Noir (40%), which have been harvested in the best plots and aged for a minimum of 4 years in the property cellar.
This 2016 vintage may be considered as a really expressive champagne that would easily stimulate your senses with its sensual appearance, letting raise an elegant bead of fine bubbles. After this passage validated, take some time to get into its wide open buttery and fruity scents of cooked apples and eventually apricot compote.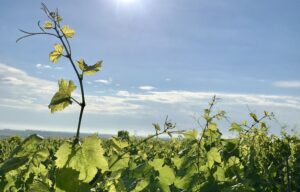 In fact, this nectar would undoubtedly seduce you by the flexibility of its assets, supported by supple and balanced aromas of those previously cited white fruits but also an iodine aspect, before a long and crystalline final fireworks. All those elements are meant to highlight the inner characters of the premium Chardonnay grapes, to find in this wide Champagne area (photo credits: Champagne Godmé).
As you would have probably understood, this is a true gastronomic champagne, able to happily accompany your aperitifs and your hot shellfish starters, such as oysters, cockles and scallops.
---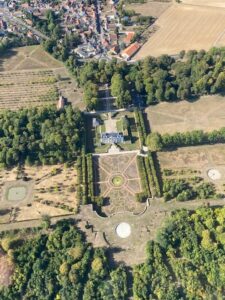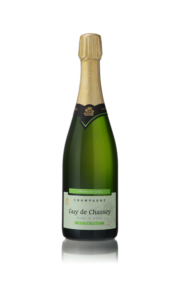 Still in this Grand Cru section (our full article here), we are glad to introduce again the Guy de Chassey domain, located in Louvois since 7 generations, again in the heart of the Montagne de Reims. In this village, the Queen Marie-Antoinette even stayed a couple of nights and now belongs to the 17 Grand Cru labelled villages. Recently, this family affair issued an Extra Brut champagne, also Blanc de Noirs, logically only composed of grapes of Pinot Noir Grand Cru, from the 2017 harvest (photo credits: Guy de Chassey).
This fresh edition has been ageing during 4 years, without any malolactic fermentation nor expedition liqueur but has been evolving thanks to a manual riddling, has been awarded with 2 stars in the Guide Hachette. From outside, admire a beautiful golden dress, this champagne benefits from no sugar addition, but nonetheless holds an expressive nose, carried by matured white fruits and a nice touch of candied citrus.
Then, this wine
sensation
is led by a nice tension of pretty
aromatic
notes (
mandarin
and
lemon
marmalade) with a more
mineral
finish. Therefore, the food
pairing
is perfect for all types of
hot dishes
and
shellfish
.