After Alain Senderens, L'Archestrate restaurant gets reborn in Paris, with the chef Martin Gomès-Leal
5 min read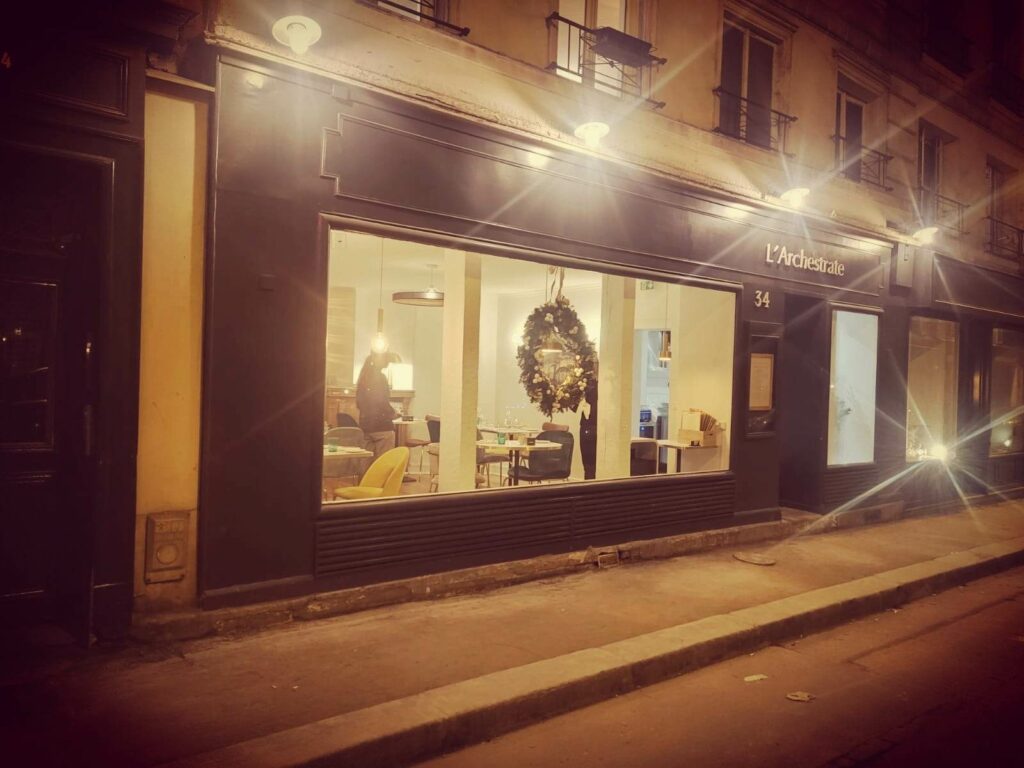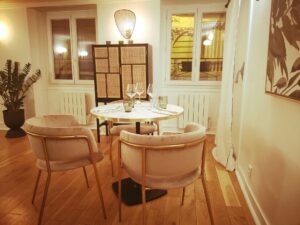 Located at number 34 of the historical rue de Bourgogne, behind the French National Assembly in Paris, we invite you to discover a new unmissable Parisian culinary address. Indeed, replacing the old Savarin and here renamed L'Archestrate, after the original and emblematic name in the gastronomic world of the former Michelin-starred restaurant of Chef Alain Senderens. This enigmatic Greek name was thus able to rise from its ashes, in particular thanks to the initiative of several women. Indeed, the entrepreneur Agathe Vaissière, who already manages the restaurant Le 122, wanted to establish a more confidential appendage of the latter mentioned place, by taking over this small establishment with 25 seats spread over two floors. Distributed by an elegant period staircase with incredible charm, this place with incredible charm is a tribute to the antique Greek gastronome Archestrate from Gela, a fervent traveler is best known for being the author of one of the oldest cookbooks, simply entitled "La Gastronomie". By AP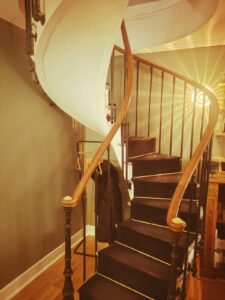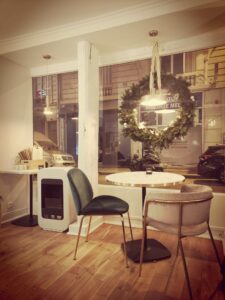 De facto, nestled in a bright space, thanks to large bay windows, echoing a variation of colors around yellow and blue tones, this restaurant offers a kitchen open to the street. Once inside, take a seat around one of the marble tables, in one of these seats of different shapes and materials, comforted by a background small vintage wooden bar. Upstairs, you can admire a small room with the same spirit of 50s style, this joint space can thus accommodate random privatizations (photo credits: AP & PDF).
Knowing that travel around Greece and the Mediterranean areas are constant sources of inspiration for the team of this new kind of restaurant, its sensory identity for this inn has thus been entrusted to Martin Gomès-Leal.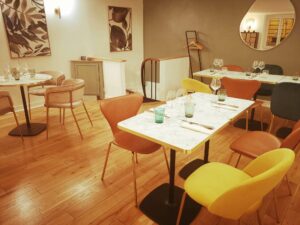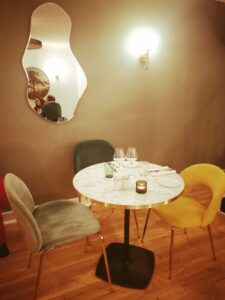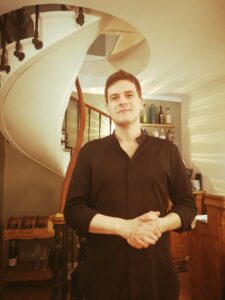 At the age of 30, this young chef has notably gained much experience during his 8 years in London, where he occupied many positions (from waiter to manager) in prestigious establishments, such as the Berners Tavern but also the no less famous Île Rousseau, in the eponym Four Seasons Hotel in Geneva. Claiming a certain freedom of creation, this esthete of taste aims to cook as much as possible local products, and to innovate around forms and original aromatic accords.
This philosophy has been made possible since its arrival in February 2023, following his predecessor the talented Shirley Duthilleux, thanks in part to the search for new taste sensations, through the inspiration into his latin roots, especially with the use of spices, olive oil and different types of Mediterranean vegetables.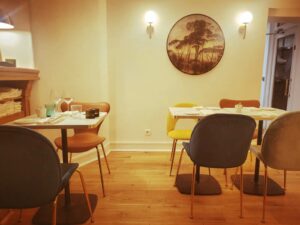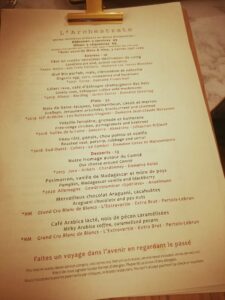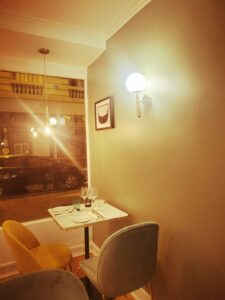 A set of raw materials that revisits, in a way, the precepts quoted in the recipes of another illustrious gastronome Brillat-Savarin, directly influenced by the century of Pericles. This is why, while browsing this appetizing menu, which varies according to the seasons and the Chef's inspiration, you would have the pleasure of discovering an à la carte choice or a surprise menu, as a concentrate of some of these dishes, brought together in a 3-course proposal for lunch or 5 sequences during a dinner.
The icing on the cake, for 20 euros more, let yourself be guided for a food and wine pairing, through three glasses of wine which will associate the different dishes of these two formulas.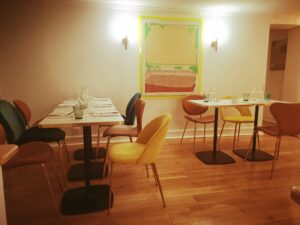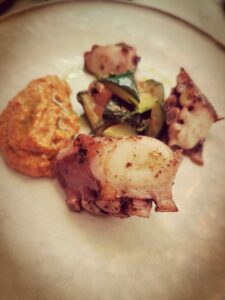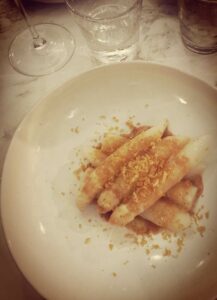 As far as we are concerned, we had the proposal of a tasty and fresh 2020 edition of a red wine from the Irancy appellation, issued by the Franck Givaudin domain, an elixir that went perfectly with our springtime composition.
It is clear that a hint of talent and dazzle were there, since our surprise appetizer, with an alloy around gingerbread and orange condiments, trout gravlax and salicornia. Before, engaging with a variation around wild white asparagus (notably starring bottarga), topped with a miso and lemon. Unless you opt for grilled octopus, highlighted with a sweet and sour wedding between zucchini, grapefruit, and sprinkled with small shoots of red pesto.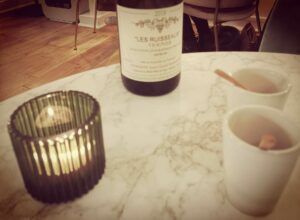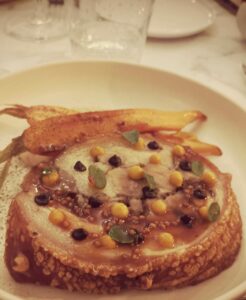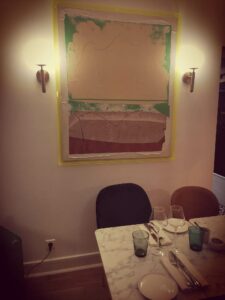 Unless you prefer to opt for a new interpretation of vitello tonnato, in a pink version this time, embellished with some basil dressing.
Then, let your senses buds warm up with the first step of your Terra e Mare accord of your formula in 5 sequences, carried by an unexpected shape of pork belly. This traditional piece of meat is here enhanced with a roasted carrot, softened by black garlic condiment and a handful of coco beans, spread in and around for more gustatory sensations inside your palate.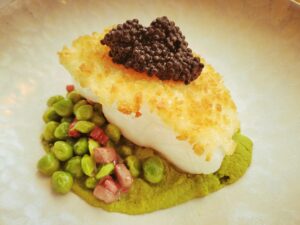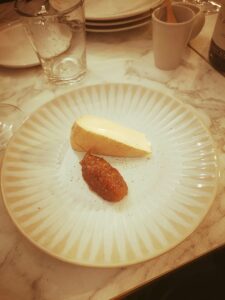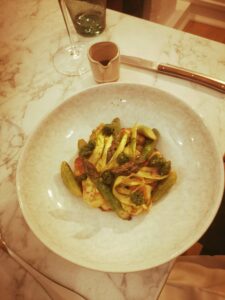 The alternative resides in a roast cod fillet (pictured upon), cooked in butter à la minute, accompanied with a variation of peas, along duck breast also drowned in this vegetable juice, without forgetting a mass of herring eggs as topping.
In another hand, on the menu, an alternative can also be tempted with an original selection of green asparagus gnocchi, cooked with a tasty olive oil, and proposed with a delicious morel puree. This charming ensemble is finalized by the bitter from wild garlic pesto. On top of that, you couldn't resist to a creamy piece of cheese from the Abbay de Cîteaux cheese, offered with a compatible spiced apple chutney.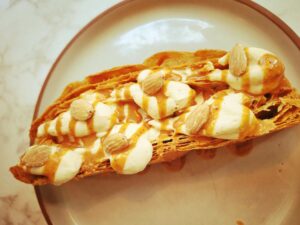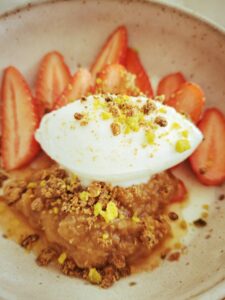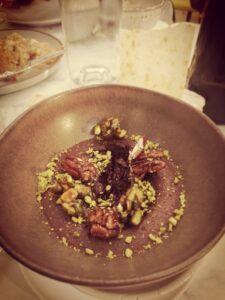 On top of that, you wouldn't be allowed to leave the premises if you don't taste the incredible centerpiece revisiting the illustrious Millefeuilles pastry, this time embodying a new revolutionary shape, flavored with generous vanilla seeds and praline almonds. Last but not least, a selection of desserts is also up for grabs, via another interpretation of an Araguani chocolate variety made Fondant au Chocolat. This breathtaking fudge unveils a smooth texture, crunched with caramelized pecan nuts and even pistachio powder.
Another option resides in this fabulous sculpture displaying a few Gariguette strawberries, covering a rhubarb compote, topped by a fresh blanc-manger and again its chopped pistachio.
L'Archestrate
, 34 rue de Bourgogne, 75007 Paris (France) / Phone: 00 33 (0)9 50 58 42 91. More information on their official
website
.