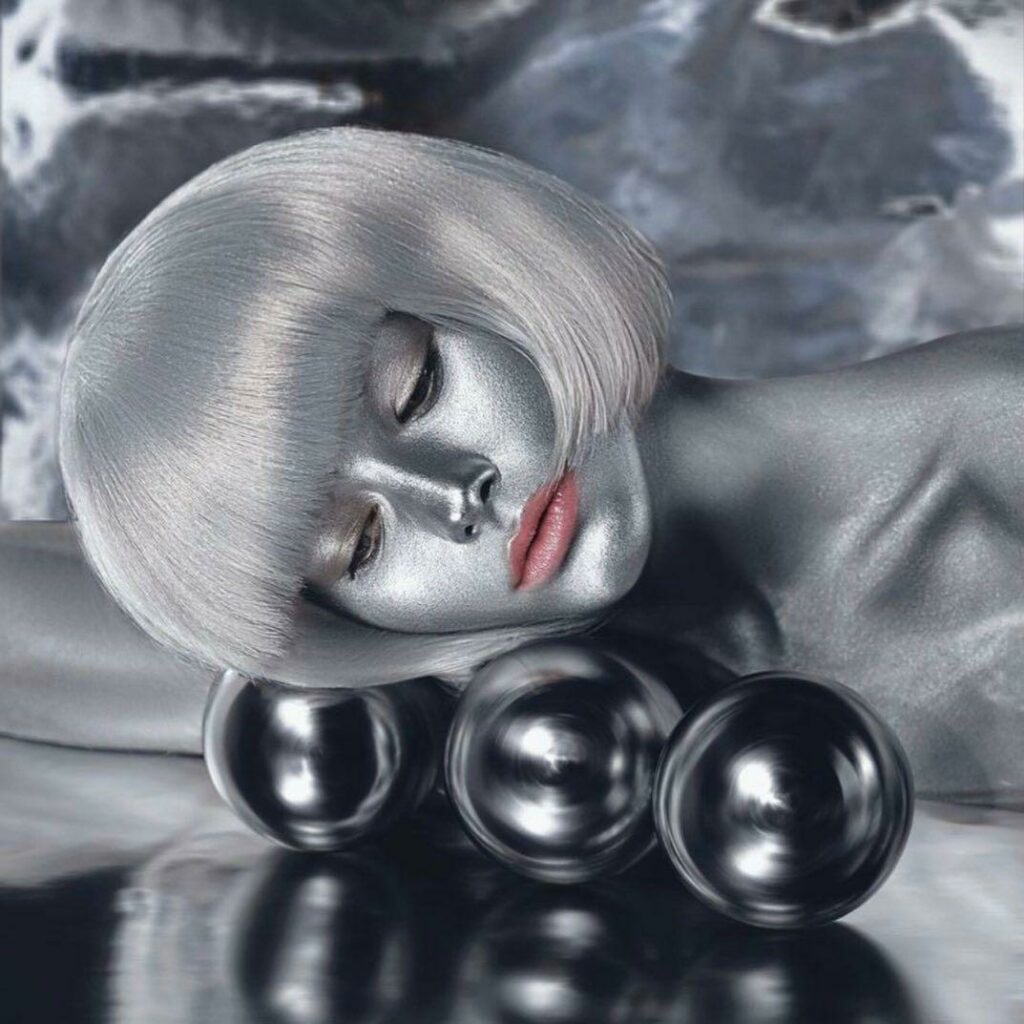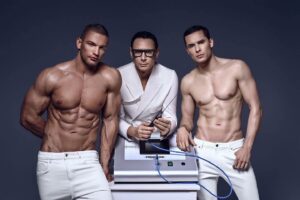 Founded in 1994 by Valerio Matano, PromoItalia proposes a wide selection of medical-aesthetic products and services. Strong of a long experience in this sharp medical beauty industry, mostly based on knowledge, innovation, and inclusiveness, embodied by a team of medical experts, PromoItalia wishes to propose beauty solutions for everyone, whatever the budget and physical condition.
Already famous for proposing Nucleofill, as natural high purified and high viscosity bio-stimulating gels for overall rejuvenation and regeneration of the skin, PromoItalia has more than one trick to sleeve, with a large offer, also introduced here by its CEO and founder Valerio Matano, in this interview, targeted to answer to countless beauty and esthetic medicine problematics, guaranteed by some of the latest the scientific breakthroughs. By AL
---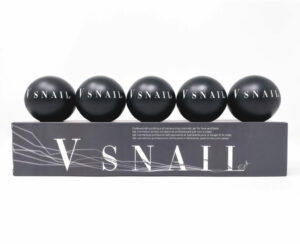 If you believe into natural benefits, we start by presenting you one of the first PromoItalia's innovation, conveyed by snail slime. This illustrious natural material is renowned to be efficient for many aspects, notably for reducing the first signs of skin aging, while preventing skin damage caused by dryness and many other urban causes (which can be pollution, among others…). Icing on the cake, this cream tends to restore and preserve your skin's moisture barrier (photo credits: PromoItalia).
Baptized as V Snail, this cream, based on a specific snail slime, exclusively produced in Italy, is the result of the R&D efforts operated by the VM's laboratory. The promises of this product are clear, since these snails are "cruelty free" bred, according to strict procedures, applying a particular attention to their healthy nutrition and living conditions, since they have grown in a clean environment, with a meticulous care and particularly, away from any kind of pollution.
Furthermore, this V Snail anti-aging cream contains a delicate cosmetic formulation, composed of specific ingredients, which were selected for their refreshing benefits and complimentary effects with snail slime. Among them, you could count on fractioned hyaluronic acid, Indian lotus flower and aloe vera extract, all of them are paraben, perfume and nickel-free, and can be applied even on the most sensitive skins. That's why, be ready to obtain a lifted effect for a fresher look.
Each box contains 5 globes, starring 15ml each.
---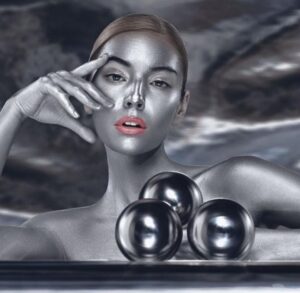 In another hand, discover this time a precious metallic formulation, named as V Metall line, in order to get a brand new and rejuvenated skin. This technological solution, for aesthetic cosmetic application, is the answer from an increasing demand of top-quality formulations.
Therefore, we invite you to try this sophisticated and innovative creations emanating from this V Metall line, designed to be used in synergy. For instance, this V Metall Skin System line is composed of two complementary cosmetic products, which are V Metall Mask and V Metall Hydroserum.
This combined beauty ritual is composed of an alloy of precious metals, whose efficiency is made to protect your skin and even improve its appearance. The results can be obtained even from the first session, since its substances of colloidal silver, polypeptide diamond and colloidal platinum can activate the natural mechanisms of your skin and avoid any environmental stressor that can cause dry skin. Then, you would observe that your skin would be purified by removing impurities and dead skin cells, for a firmer and fresher look.
Adding to this, a special silicone mask can be applied as an extra, for a better modulation and conveyance of the products' cosmetic ingredients.
A full box may contain:
• V Metall Mask 5 x 15 mL
• V Metall Hydroserum 5 x 5 mL
• 1 V Metall Cover (Silicone Mask)
---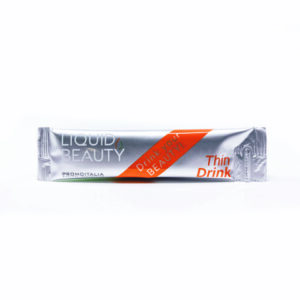 Apart from this, we invite you to taste and eventually adopt the ready-to-drink beauty Thin Drink, still imagined by Promoitalia. This dietary supplement is based on various active ingredients, which are all designed to integrate nutrition and support the main functions of your body. Therefore, in this drinkable stick pouch, you would find an exclusive formulation, all set up in this practical single-dose stick.
For your information you would find chromium and zinc that both contribute to the normal metabolism of macronutrients, while choline contributes to lipid metabolism. In another hand, grapefruit and green tea promote the drainage of the random body fluids, without forgetting the action of guarana able to stimulate your global metabolism, apart from being useful for the balance of your body weight, complementary to green coffee which holds an antioxidant, tonic and metabolic support action. At last, ginger extracts would dynamise your gastrointestinal motility and the elimination of random gases, before being enriched by tyndallized lactic ferments.
30 sticks per box.
---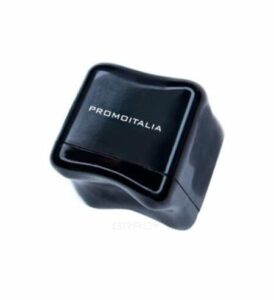 Last but not least from this list, we introduce you here the cryotherapy anesthetic solution proposed by PromoItalia. Indeed, the Black Ice Cube is an accessory, to be frozen, developed to support cosmetological processes and aesthetic medicine, whose cold temperature has an anesthetic effect on your skin. Therefore, this small elegant cube is able to maintain a low temperature of -11°C during 30 minutes, to apply on your visage and even your whole body, before and during your random aesthetic care procedures (notably laser sessions and for filler injections).
In fact, the application of this cube is aimed to reduce any kind of eventual sensitivity and even prevent the appearance of edema and redness effects, essentially thanks to its inner inorganic and organic salts. Also compatible with biostimulation and biorevitalization treatments, this reusable cube is also used for lip care, whether that can be tattooing or bioregeneration operations. The use of this ergonomic accessory appears to be easy since its plastic material prevents any gel burning nor any sliding on your skin.
Pack of 5 Black Ice Cubes. More information on their official website.
---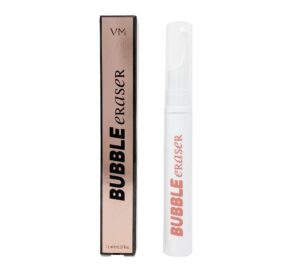 Another innovation is proposed by
PromoItalia
, baptized
Bubble Eraser
. This cosmetic product represents an instant solution for
aging signs
removal on your
skin
. Thanks to its unique
formula
, this cream instantly fills in your random
wrinkles
and even
fine lines
, visible in and around your
visage
, but not only… And this, for a
temporary
period, since the
tensor effect
of the
skin
would remain active, until your next face or body
cleansing
.
Indeed, thanks to the action of polypeptides, silicate and magnesium microspheres, you would naturally be able to appreciate the action of this tube with its applicator tip, easy to carry and apply everywhere you go, without any contraindications nor side effects.
Tube of
15ml
. More information on their official
website
.
---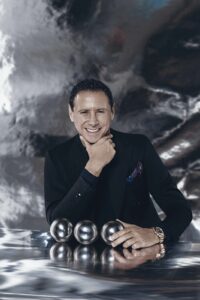 It's time now to discover more about the story and projects of PromoItalia, thanks to a couple of enlightenments from his founder Valerio Matano.
– Can you tell us more about the history of PromoItalia?
Promoitalia Group was founded in 1994 in Naples at a time when the market of aesthetic medicine was still in its infancy. At the end of university I started looking for a job and I found in a newspaper an advertisement for sellers of products in the field of aesthetic medicine. In those years, doctors began to use these products without having a proper methodology. Today, Promoitalia Group boasts a 360° experience in the medical beauty industry. The engine that drives the company's activities is the continuous search for excellence: from exclusive formulations and designs to the research and implementation of the latest scientific innovations. The company offers the latest innovations in the fields of medicine and cosmetic surgery, ensuring the best methodologies, technologies and scientific solutions in the industry.
– What gave you the inspiration to create PromoItalia?
My goal is not to chase competitors, but to anticipate the times and create new niches. For this reason Promoitalia can be considered a pioneer of the sector. "Innovation is our obsession", this is the motto that has always guided us. We offer unique and highly reliable products, thanks to 30 years of experience and a great passion for the sector and especially thanks to constant investment in research. Not for nothing, over the years some famous pharmaceutical multinationals have bought our know-how of some of our products.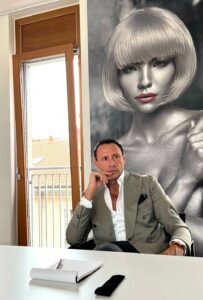 – What are the main activities of the company and some of the latest innovations?
Our products are dedicated to cosmetic doctors-plastic surgeons, dermatologists, etc. but for us it is essential to disclose above all the methodology. For this reason we have created our Academy, in Via Montenapoleone in Milan, a space dedicated to high-level medical-scientific training. The masterclass experience offers physicians a highly targeted training and immediate understanding. After attending the course, the doctor is able to put into practice the techniques learned by offering his patients the most innovative treatments on the market in step with the times.
– You have opened an office in Paris, where regular workshops are organized. What are your expectations regarding the French market?
France, like Italy, is one of the countries in Europe where aesthetic medicine is highly developed. With our constant presence at local congresses, our network of agents and beauty specialists, the open days in our offices in Paris, we aim to cover the territory in a capillary manner by bringing the innovation of our products to doctors and clinics.
More information about his actuality on his official
Instagram
profile.