Stay green! Our selection of electric and hybrid cars available in France!
14 min read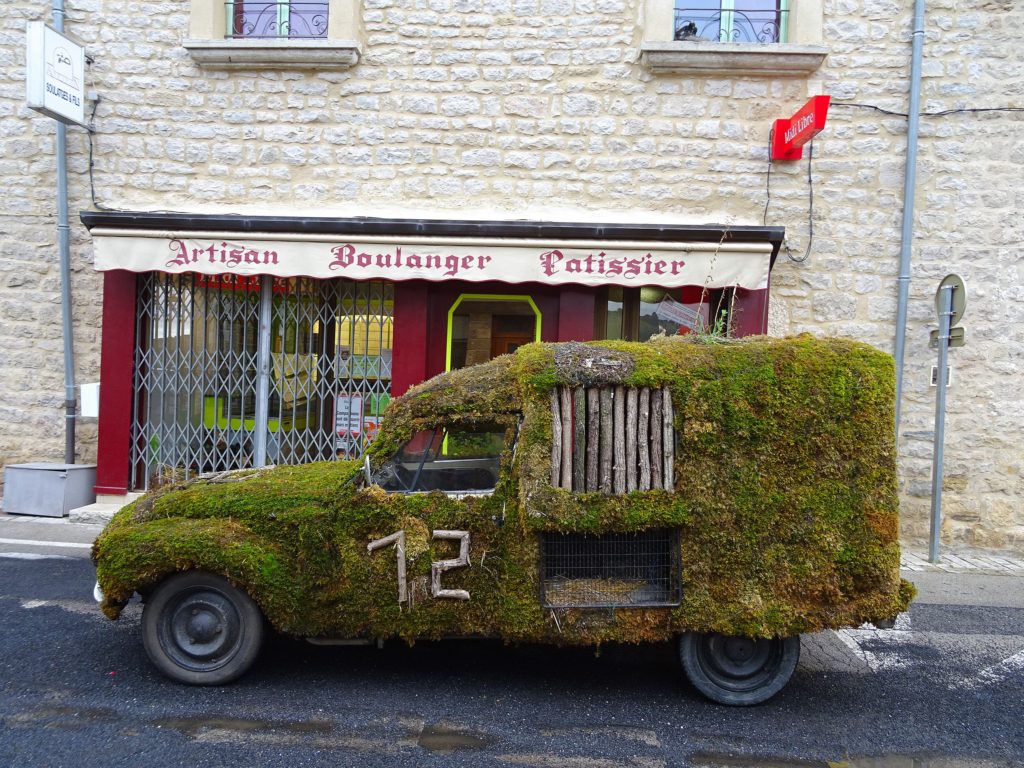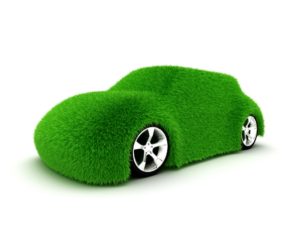 The end of oil could happen much sooner than you think. Not only for an inevitable lack (we don't get fooled twice by the oil peak of the 1990s), but also by a rapid transition regarding electric mobility. Originally just a dream, this unquestionably became an inescapable element to take into account, notably in many polluted zones or where oil switched into an inaccessible commodity. For your information, Sheikh Zaki Yamani, who was the Saudi Arabia's petroleum minister in the 1970s and by the time, did not believe in this prevision, finally said that the Stone Age did not end for lack of stones. At multiple occasions, History has proven so far that he was right, unless it takes time to move from one era to another. We offer you here the possibility to become actors of this sustainable transition in the automobile field, while proposing you a selection of models from many famous constructors, that we have tried and approved for you (cover photos: Metal Working). By Jean-Marie Cathelain, HP & Alex Plato
---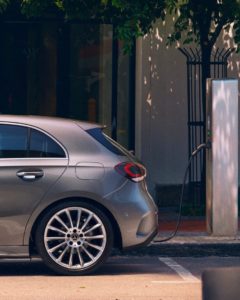 We start our green tour with the German manufacture Mercedes-Benz and its new A-Class 250e EQ Power, an amazing plug-in hybrid car. Pursuing a desire to launch more than 20 plug-in hybrid variants of models from 2020, Mercedes pays many efforts to succeed this challenge, and it seems to work by now!
Belonging to the third generation of the compact A-Class family, this upcoming version has been therefore enriched with this so awaited EQ plug-in hybrid technology, also a premiere in this segment. Furthermore, you would be charmed by the interior presentation, still sober but welcoming with its digital double panel, which remains unique in this category. This concentrate of high-tech facilities is omnipresent, from the dashboard (featuring the data of electric consumption), passing by the exterior mirrors, able to warn you in case of blind spots, until the wheel (notably to switch the functions) where you could as well count on the Active Lane Keeping Assist system. This option alerts you by vibrating the steering wheel, when you cross a broken or continuous line. Don't also miss the Thermotronic system, allowing you to control and set the temperature of your vehicle, while notably following the movements of the Sun. A complex but useful computer system, that requires a slight adaptation time, in order to handle with more fluidity this high level of technology, available on board (photo credits: Mercedes-Benz & Alex Plato).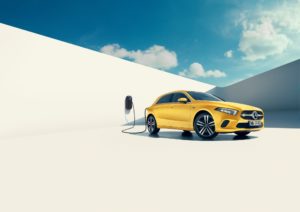 Then, you would be ready to enjoy the
four-cylinder
structure, alongside an electric motor of
75 kW
, directly settled under the
automatic
gearbox and fed by a
15.6 kWh
battery. This
function
, located below the back seats, only weighs 150 kg and is assembled by the
Accumotive
subsidiary, from
Germany
. This
electric
presence has the consequence to minimize the space in the storage
boot
, since it turns now into a capacity of 35 liters, which is in the bottom bracket for this type of
vehicle
. Although, this
appendix
offers an autonomy of 70 kilometers in electric mode, for a dynamic 218
horsepower
. On top of that, don't hesitate to use the
deceleration
phases to recover some precious
energy
, either
manually
possible via the pallets or
automatically
, where the recovery is partly carried out by
cameras
. At last, the performance of this hybrid
A-Classe
is similar to the
gasoline
version, with a potential of 6.7 s to get to 100 km/h, for a maximum speed of 240 km/h using
oil
, versus 140 km/h based on the
electric
mode.
The result is a lot of savings in terms of consumption, since the average fuel needs are about 2l/100 km when you're in hybrid mode, for CO2 emissions of about 33 to 34g/km. Although, don't forget it's a heavy powerful car, so if you run out of electricity, the level of fuel use would easily rise to 8l/100km.
More information on the official website.
---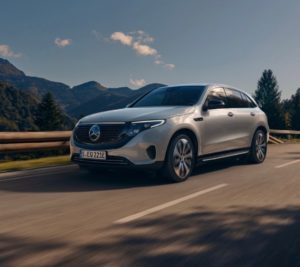 We keep on with the energy impulsed by Mercedes-Benz, still proposing here an immediate acceleration towards an electric future! Proud of its 100% electric drive mode, the EQC model offers a whole new driving experience, thanks to its silence and its fluid design, embodying the stylistic language of its innovative technological label EQ.
Faithful to its tradition, Mercedes-Benz has produced its own electric range, baptized EQC, a real success that combines comfort, performance and a certain pleasure of driving, along a latest cutting-edge safety technology. Moreover, this model easily allows to reach 300 km of autonomy. Wedged behind the large dashboard which plants the new interior of this Mercedes range, we have access to its bare but efficient digital functions which, all in one allows a tactile touch. Although, we feel that the power is there, equipped with two electric motors, the EQC line is able to reach the speed of 100km/h, in only 5.1 seconds. Therefore, the 80 kW capacity of its batteries allow a respectable autonomy of more than 300 km on the motorway and close to 400 km on a mixed circuit (photo credits: Mercedes).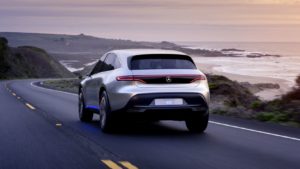 Just like BMW and the VW Group, Mercedes-Benz pays many efforts to get involved in the deployment of the charging network of Ionity terminals, which at the same time compensates the last withdrawal of Corridor on motorways, and thus allows ultra-fast recharges, dedicated for EQC, thanks to an expected performance of 110 kW. For instance, you could have filled from 10% until 80% your batteries, in less than 40 minutes and in good conditions. Otherwise, you may charge at home, unless you better install a 7 kW socket, in order to refuel during the night for example. On top of that, according to many models of this category, the heat pump distributes the desired temperature, without excessively harming to the autonomy of your car.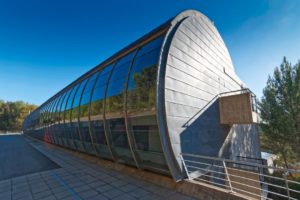 The energy recovery pallet is practical and efficient, such as the braking function. In addition to this, we would also remember its absolute soundproofing, which can either preserve a certain silence to discuss between passengers and appreciate the finesse of the sound system. Plus, since the seats heaters are very efficient among other devices, there's no need to remind the road qualities of the SUV, allowing an unparalleled driving comfort.
For your information, back in 1902 in Nice, the first letters of the upcoming name of Mercedes was registered for the first time, in order to market the automobiles of Emil Jellinek, the founding father of the Mercedes-Benz brand. Today, established in the technological cluster of Sophia Antipolis, just a few kilometers away from Nice, Daimler AG has just settled its brand new Design Center.
Therefore, the endless Mercedes-Benz's creativity and artistic imaginary would take root in the sunny French Riviera and announce the design of tomorrow.
More information on the official website.
---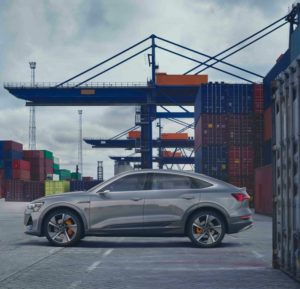 Another German juggernaut, Audi has just opened a new chapter in its endless History with the new Audi e-tron. More than a 100% electric vehicle, the new Audi e-tron embodies an avant-garde vision of mobility, which may be more efficient, connected and sustainable. Plus, for the first time in automobile, the Audi e-tron is equipped with virtual mirrors (in option), along other assets designed to meet your needs.
In fact, this e-tron version developed by Audi has already created a buzz among multiple users of this model, all over the world. That's why, Audi has decided to develop its own electric motor, in order to compete as much as possible in this category and thus, its entire design reflects this motivation. With a slender shape, the E-Tron may almost be regarded as an extra-terrestrial with its 4.90 m of length. From the wheels, a solid attitude is much explicit, comfortably installed in a premium upholstery. Based on our experience, this SUV is practical for supervising driving, and moreover nothing could be left out thanks to an advanced instrumentation system. On top of that, don't miss another special feature, its original exterior mirrors have been replaced by cameras (photo credits: Audi).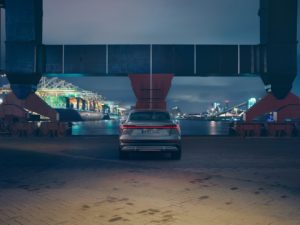 Once inside, what a surprise to benefit of this
comfort
, imagined by the
designers
and enhanced by the visible calm of the
vehicle interior
, allowed by a certain
aerodynamics
shape. Nonetheless, the two
motors
, placed on each axle, provide a permanent
all-wheel
drive, so-called
e-quattro
. Promising an absolute
control
of your directions (whatever the conditions) and leading to an unparalleled
handling
and
driving
efficiency, among a
sporty
and
traction
devices, in all conditions. Logically, at least
95 kW
battery is needed to energize this technological
ensemble
, belonging to range, quite close to the previous
Mercedes
models, by offering approximately 300 km of autonomy on the
motorway
and a little more on mixed
circuits
. Last but not least, the fluidity and responsiveness of the
E-Tron
would you make forget its massive weight. For example, braking is pretty easy to handle and then, you wouldn't have much difficulty to tame the
machine
. Cherry on the cake, you could also benefit from the excellent
soundproofing
ability inside this
space vehicle
, where you would savor time.
More information on the official website.
---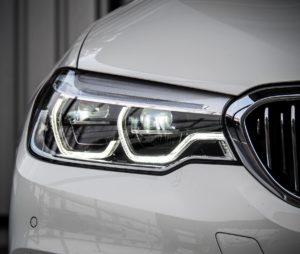 Still from Germany, the hybrid and rechargeable version of the 530e offers an interesting transition, before reaching electricity, while extending your capacity of kilometers. Furthermore, without any charging issues, notably for long distances, you would find all the qualities of a typical BMW road car (photo credits: BMW).
As a matter of fact, the BMW 530e is equipped with a hybrid plug-in, completing the battery pack of 9.3 kW. This additional energy is supposed to provide a theoretical expected autonomy (in all electric) of about 50 km. Moreover, this symbiosis allows some all-electric urban journeys, enriched with an excellent combination between notions of interior comfort and more global finishes.
As a reminder, the simple hybrid mode was already able to compete with some random diesel models (in terms of consumption), but here the rechargeable hybrid solution brings a real plus, thanks to a greater contribution inherent to the electric motor.
However, an efficient
technology
only at the condition that the
battery
is properly recharged on the regular
electrical
network and not via the
heat engine
mechanism. Of course, the
530e
has not been planned yet to get fully
electric
, but it introduces you at least to the basics of
electromobility
and during our immersion in some
urban
streets, the
electric
mode gave us the impression to appreciate driving, nested in a premium
comfort
and an appreciable
silence
. By the way, new upcoming versions are expected soon, starring more performing
batteries
, normally aimed to overcome a
longevity
of 70 km, as a very encouraging progress.
More information on the official website.
---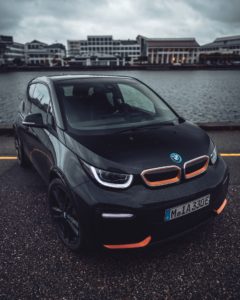 If you're looking for more compact perspectives, its little sister may surely fulfill your needs. Therefore, the BMW I3 is one of the pioneers of electromobility when the German company once dared to develop an original model, built with a clear environmental desire, completed by some a couple of lightweight and recycled materials (photo credits: BMW).
In the environmental logic, BMW abandoned the thermal extension system that could be obtained as an option. As a replacement, a larger battery was installed to compensate the resting space. Basically dedicated as an urban car, the I3 is, in our opinion, more suited to suburban or city routes, where it excels more. Its driving height offers an interesting visual panorama, its small width makes it easy to slip through and its guard height fits well to the different obstacles or speed bumps, strewn on some categories of roads. Thus, once on the way, we can admit that this model behaves very pleasantly, but for longer trips, its autonomy would unfortunately be a bit short.
Moreover, the architecture of this car is quite original and may confuse more than anyone, with these innovative rear doors. By the way, History would certainly remember this particularly avant-garde model, which could be one day exposed, as a real recycling automobile ambassador. For example, the I3 may pass to posterity in a museum, eventually presenting a selection EV pioneers.
equipment
as well as the dashboard
computers
are really efficient, clean and of high quality. Although, we regret a lack of
ventilation
at the rear which can be uncomfortable in certain conditions, but taller
drivers
would be comfortable inside the massive volume of this
vehicle
. The modular
trunk
is very practical, especially when you go
shopping
or just transport some
bulky items
, not to mention the small front
trunk
which can also provide small services.
More information on the official website.
---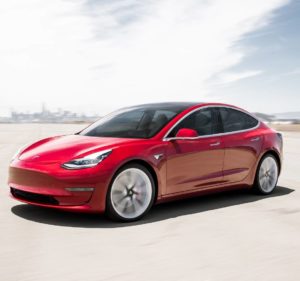 Tesla Model 3, the electric magic… Everyone had once dreamed about it, and Tesla did it. Some of you would not longer consider it as an automobile but a concept. Anyway, this Elon Musk's gem wouldn't leave you indifferent, since it actually provides the best charging network, that anyone could hope for. Indeed, the charging network, developed since the early days, has succeeded to fulfill a real energy proximity (photo credits: Tesla).
With the Tesla Model 3, you would have undoubtedly the opportunity to enter the Californian legend, with a more affordable budget dedicated for any green car enthusiast. For this new model, enjoy a panoramic view, starring a windshield of a monumental size, which proposes an excellent CX of 0.23.
The design team has decided to furnish this contemporary interior in a high-tech and minimalist way, allowing five passengers to find a comfortable welcome. On top of that, the storage space, distributed in the rear and front trunk, appears as very adequate for several conveniences.
In addition to this, along its own extended charging network, the Tesla's immense interest stands in the digitization of the different functions. Here, almost all buttons and the dashboard were eliminated, in favor of an extremely intuitive and ergonomic interface, which is still extremely efficient and operational.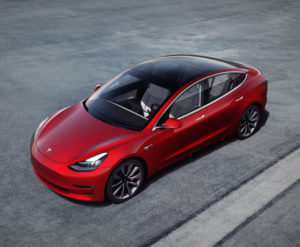 Therefore, this network permits to recharge your
vehicle
in a very easy way, even when you plan to
travel
abroad. Indeed, the network of these
Tesla Superchargers
is constantly expanding and aims to cover, exponentially and efficiently, a larger
territory
. This very useful service allows your
Tesla
, depending on the model, to reach an average
autonomy
up to 500 km, completed by a process that feeds the
battery
on the way, which can save many precious minutes.
Once behind the wheels, discover the key points of this charming vehicle, such as the autopilot navigation, allowing an automated driving (under control), the car parking assistance and auto exit mode, along the automated lane change mode on the motorway. Not to mention, the breathtaking motor performance, that can easily reach 100km/h in 3.4 seconds for the performance version, and 4.6 seconds for the long-capacity version. Moreover, as many other sports cars, many insurance companies warn occasional drivers, due to the huge power, embodied by this Model 3, requiring a minimal control.
More information on the official website.
---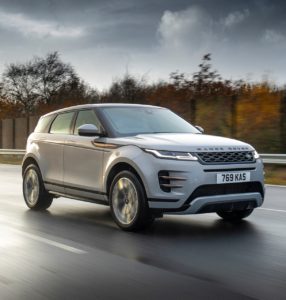 Then, let's make a step in United-Kingdom with the legendary Range Rover firm, which also took the step into the green automobile, with a hybrid rechargeable model. In other terms, such a giant leap in comparison to the proportion of this vehicle.
In the luxury galaxy, the electromobility has taken another significant step forward, and following its compatriot Jaguar, the constructor Range Rover as well opted for a sustainable commitment. Before the arrival of their electric range, let's talk about the mechanics of this machine to go back in time, stuck in such an electric revolution.
The result is a successful cocktail able to bring a certain driving pleasure and astonishing flexibility. Of course, you have to prefer the economy mode and rather a low key driving to maintain a decent consumption for this type of muscled car, usually burn around 10 l of fuel for 100 km. Therefore in this electric mode, you may reach more than 40 km of distance, and that's even not too bad, especially if you mostly plan short urban or daily trips.
As far as we know, the maneuverability of this hybrid Range Rover is really impressive, while remaining agile, silent and handy, despite its large size (photo credits: Land Rover).
Range Rover
immediately wakes up. Would this ancestral
British
constructor soon have discovered the
alchemy
formula for transforming ancient desert
camels
into
racers
?
More information on the official website.
---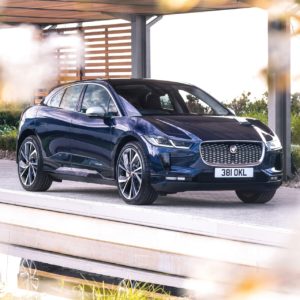 I-Pace, for bond of pleasure. Jaguar has finally entered the 100% electric world with a first master stroke: the I-Pace. Racy, distinguished and feline, the model of the English firm has great assets to seduce.
At first sight, we couldn't miss its subtle and curved line, pursuing the brand's hallmark. In addition, and fortunately for this template, the handling of this Jaguar is much impeccable, either on regular roads and on highways. Of course, passing over the other vehicles is such a child's boy for this sports car. This in any conditions, it literally calls the shots.
Regarding the comfort side, the bucket-type seats may surprise you since they come close to the passengers, but in the mean time, can get tamed. Moreover, the luxurious finish naturally remains in the line of excellence of the British manufacturer, and we invite you to admire the fittings are elegant and without frills. In an other hand, we particularly appreciated its sound level, among the lowest on the market, which allows you to savor the musical tunes launched in an exceptional sound system. The model does not leave the entourage indifferent during its outings, but always in sobriety and discretion (photo credits: Jaguar).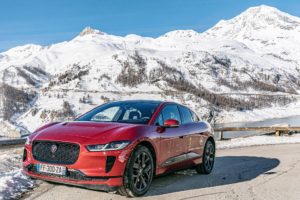 In summary, its performances are bluffing. Nonetheless, you mind to pay attention to the random speed limits, especially for the ones of you who are easy on the accelerator. Thus, its quick speedings may be able to leave any other sports vehicles away. Otherwise, we appreciated the available mode to raise and lower the guard height. Although, despite its 90 kW of batteries, do not expect to count on more than 300 km of autonomy on the motorway, just with the use of the comfort mode. However, this mode optimizes the previous recharging function and at least tends to recover as much as possible the energy, lately offered by the charging station.
At last, we hope that you could soon benefit of the upcoming ultra-fast charging networks such as Ionity, which are starting to extend in some European regions. Whereas the old charging terminals would be nothing more than a resting place.
More information on the official website.
---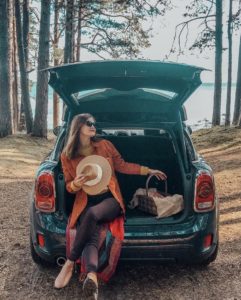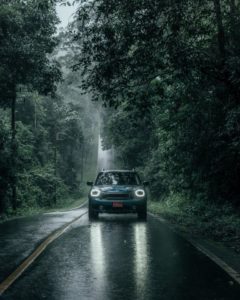 Still British in the spirit and in the allure, the hybrid Countryman developed by Mini reminds us of its mythical origins of its first versions, all acclaimed by generations of drivers. Admire here its British green as great ambassador of a certain countryside spirit from the United Kingdom, and feel like a real Gentleman farmer!
Indeed, the retro look of this timeless English brand can't hide tradition and as soon as you got the keys, you would adopt this Countryman and bring this new traveling companion nearly everywhere. Reinforced by the bi-motorization, featuring a rechargeable hybrid device, as an always appreciable complement, especially when you want to save energy in urban ways and logically protect the Planet (photo credits: Mini).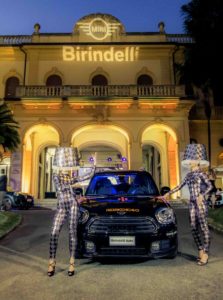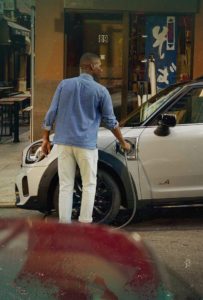 As far as we know, this
Countryman
is very versatile and adaptable, alternatively in easy
mobility
for the city, also transforming into a
van
for the
countryside
or even as a
wagon
, when you wish to transport some bulky
luggages
. Whatever you decide to go, the
driving
remains pleasant, comfortable and modern and you can be sure that your
vehicle
would well grip the
road
on all terrains, even the
wettest
ones.
In order to make this electric dream possible, the lithium-ion battery is installed under the back seat, notably for an optimal weight distribution. Although the battery reduces of 45 liters the trunk volume and also slightly reduces the height and width of the seats. However, that's not a big deal, since these backseats remain operational, according to the 40/20/40 format, unless it's no longer possible to slide the bench seat to modulate the space.
consumption
side, it's reasonable, particularly if you get supported by the
electric
motor promising about 40 km of
autonomy
, with a full
battery
. If you count
recharging
it at home, it would require approximately 3 hours to reach an ordinary
power outlet
to get back to the level of 100%.
More information on the official website.
---